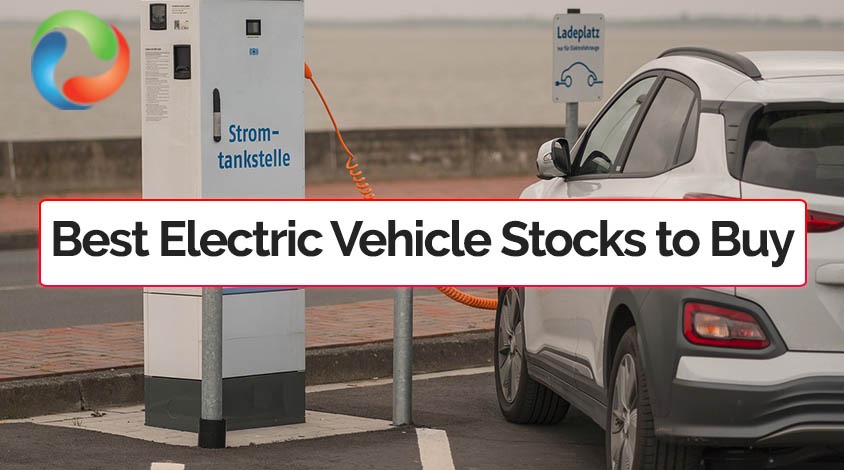 The Electric Vehicle market has soared since the new US government announced its plans to invest billion dollars in the sector. President Joe Biden has called for $174 billion in government spending to boost EVs, including $100 billion in consumer incentives.
After a decade of rapid growth, in 2020 the global electric car stock hit the 10 million mark, a 43% increase over 2019, as per the report of Global EV Outlook. China, with 4.5 million electric cars, has the largest fleet, though in 2020 Europe had the largest annual increase to reach 3.2 million.

Source: Global EV Outlook
There are plenty of investment opportunities to take advantage of this rapidly growing sector. Moreover, with every automaker planning to invest in electric vehicles, the sector would boom. Here we have compiled a list of 7 best EV stocks to invest in today.
List of 7 Best EV Stocks to Invest in 2023
1. Tesla Inc.
Tesla builds all-electric vehicles along with infinitely scalable clean energy generation and storage products.  It has been the dominant player in the EV sector and is the preferred choice of users.
Tesla's approach towards the EV sector is what makes it the dominant player today. Instead of building an affordable car, the automaker focused on making a unique car that would create enough attraction to increase demand for electric vehicles. Today it has been more than a decade that Tesla has been designing battery-powered vehicles and using software to make the batteries more efficient. 
Recently the CEO of Tesla, Elon Musk announced the most advanced high-volume electric vehicle production plant in the world is under process in Germany. This is a huge step forward for the company as Germany is the Global auto hub. This move of Tesla will directly hit the Germany-based automakers and Tesla's strongest competitors, which include Volkswagen, Daimler, and BMW.
Tesla reported its quarterly earnings, recently:
Revenue of $11.96 billion

Net income of $1.14 billion

The company produced 206,421 vehicles in the second quarter. And out of those, the company delivered 201,250 vehicles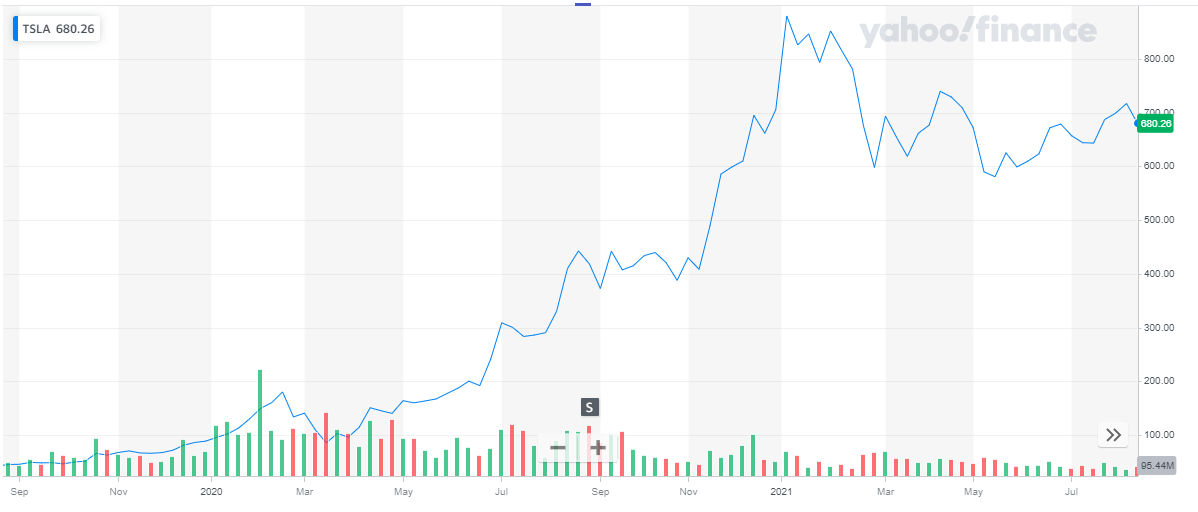 The company also announced in this quarter that it will start production of its Cybertruck (an EV pickup) in 2022.
Tesla has a market valuation of over $673 billion. Its stock is currently trading at around $680.
The company continued to make profits despite the economic meltdown due to COVID-19. The share of the company, dropped by 50% initially but since then it has shown astounding growth. Today the stock is higher by more than 2.5 times as compared to the pre-pandemic price.
Tesla has been beating expectations by reporting profits continuously for the past 2 years. Despite the challenges of the supply chain and its losses because of its Bitcoin investment, the company stands firm and profitable. This is a clear indication of a profitable and one of the best EV stocks of 2023. Solar energy firms have led quarter's stock market gains. Checkout best solar energy stocks to buy now.
2. Ford Motor Company
Ford is a global company that designs, manufactures, markets, and services a full line of connected, increasingly electrified passenger and commercial vehicles:  Ford trucks, utility vehicles, vans and cars, and Lincoln luxury vehicles.  The company is pursuing leadership positions in electrification, connected vehicle services, and mobility solutions, including self-driving technology, and provides financial services through Ford Motor Credit Company.
Ford has recently planned to increase its investment in EVs from $22 billion to $30 billion by 2025 as part of its plan to lead the EV sector. Ford plans to achieve a sales target of which 40% is EVs. Its list of electric vehicles include:
The all-electric Mustang Mach-E is available to order now. 

The E-Transit – an all-electric version of America's best-selling van – will debut in late 2021. 

The F-150 Lightning, America's best-selling truck, will launch in spring 2022
Also read: Best Stock Forecasts & Prediction Services
Ford has electric vehicle manufacturing footprints across the world. The EV manufacturer recently posted its quarterly earnings report:
Revenue of $26.8 billion

Net income of $553 million

EPS $0.13
The company reported that its all-electric Mustang Mach-E holds the second biggest market share in the U.S. among all EV SUVs and was also named "Electric Vehicle of the Year" by Car and Driver.
Ford Motor is currently values at $50 billion and its share is trading roughly at $12.55.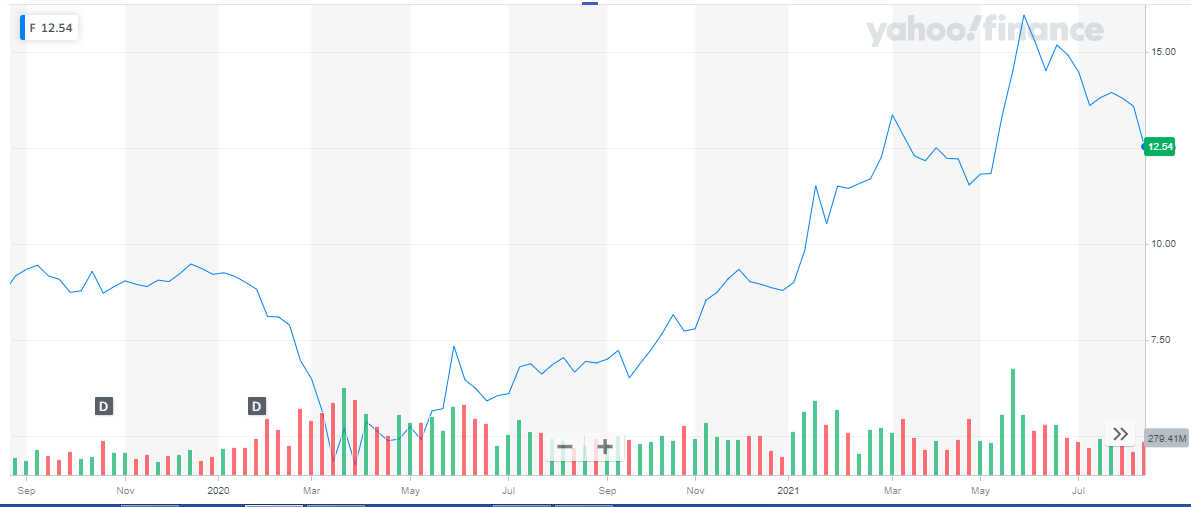 With big plans for the future, Ford's plans exceed make it big in the EV sector. Hence Ford is one of the best EV stocks to invest in today.
Thinking to invest in bonds? Get to know whether its a good decision to invest in bonds or stocks.
3. General Motors
General Motors is one of the world's largest auto manufacturers which makes and sells cars and trucks worldwide under well-known brands such as Buick, Cadillac, Chevrolet, and GMC.
GM is actively investing in an all-electric future. General Motors announced that it would increase its investment in electric and autonomous vehicles to $35 billion through 2025.  The automaker plans to launch 30 new electric vehicles by 2025. GM is all equipped to design, engineer, and produce EVs for every style and price point. In addition, the company is establishing grounds for competitive advantage in batteries, software, vehicle integration, manufacturing, and customer experience. There are many stock advisory services that recommends few of the best stocks to its members and subscribers. 
GM recently reported second-quarter results:
Revenue of $34.2 billion

Net income of $2.8 billion

EPS of $1.90
The company has had faced issues with Chevrolet Bolt EV, which has been recalled twice due to fire hazards. Due to this, the company posted lower than expected revenue. Nevertheless, the automaker managed to post 2 times the revenue as compared to the same period last year.
Currently valued at approx. $70 billion, the stock of GM is trading at $48.8. The stock has risen by roughly 13% from the start of the year till now.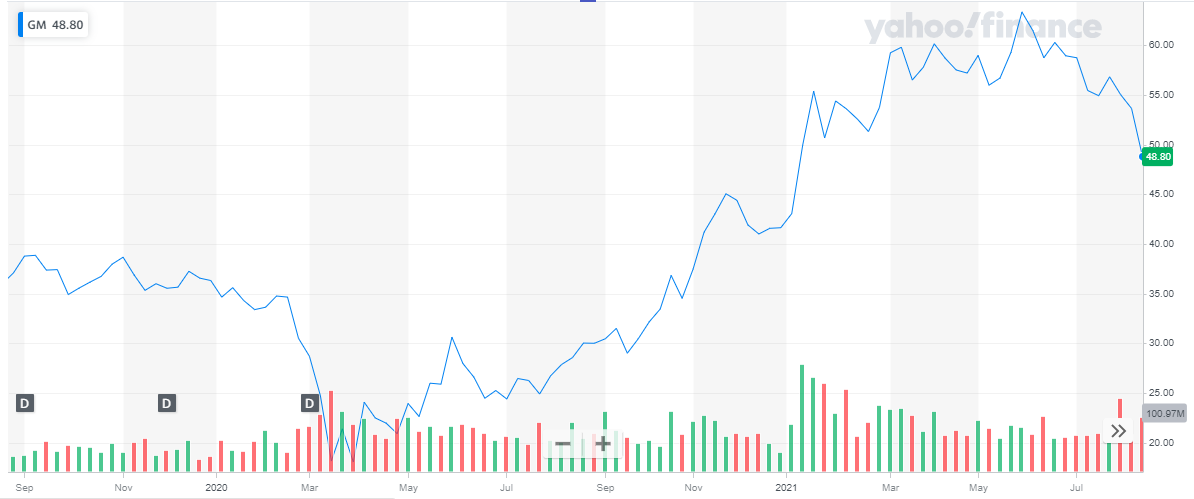 With one of the highest investments in EV manufacturing, GM motors are all set to mark its position in the industry. With great growth potential in near future, GM is one of the best stocks to invest in today.
Always do research and consider few crucial parameters that you as an investor should look into before selecting a crypto signal provider. Get to know best vaccine stocks to invest in now.
Read more:
4. Volkswagen (VWAGY)
Volkswagen is amongst the world's top-selling carmakers. The Volkswagen Group comprises 12 brands from seven European countries: Volkswagen Passenger Cars, Audi, SEAT, ŠKODA, Bentley, Bugatti, Lamborghini, Porsche, Ducati, Volkswagen Commercial Vehicles, Scania, and MAN. The Group operated around 120 production plants across the globe that churn out more than 40,000 vehicles every weekday on average.
Volkswagen Group has plans to be the global market leader in e-mobility. In line with these plans, the carmaker has planned to invest a total of 35 million euros (roughly $41 million) in EVs. Moreover, the company plans to launch 70 pure e-models by 2030, out of which 20 have already started.
The company posted results for the first half of 2021:
Revenue of 129.7 billion Euros (roughly $152 billion )

4.7 million vehicles sold
Volkswagen has a market valuation of around $164 billion. The share of the carmaker is currently trading at $32.67.The stock has risen by approx. 57% from the start of the year.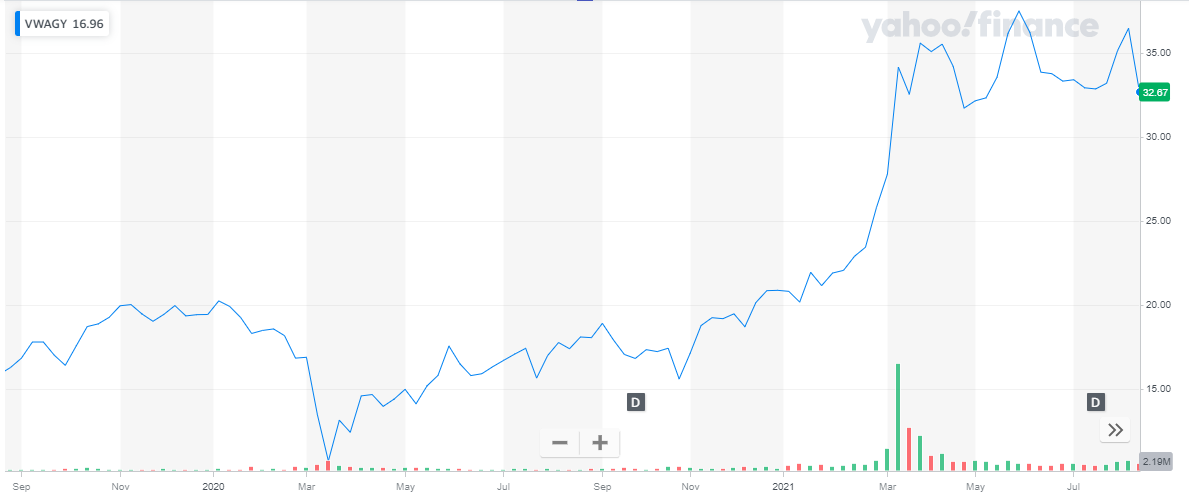 Being one of the largest carmakers, Volkswagen increased presence in the EV industry will be notable for consumers and the industry as a whole. At $32.67, Volkswagen is one of the best EV stocks to buy today. Get to know the list of crypto mining companies that are leading the industry.
Read: Best Gold Trading Signal Providers.
5. Magna International Inc
Magna is a mobility manufacturer specializing in automotive components. It is the largest automotive part supplier in North America and the third-largest in the world. Magna has designed and produced countless components for nearly every major automaker on the planet. n the electrification of vehicles especially, Magna is developing unique and scalable solutions that target issues current OEMs face in terms of efficiency and cost.
Magna has taken a modular approach to its electric vehicles. This approach allows Magna to work with its OEM customers and provide the most suitable configuration of electric drive that best fits the vehicle. Magna's manufactured parts can easily be inserted or removed according to the vehicle category. Magna has started the development of its new manufacturing facility in  Michigan, which will build complex battery enclosures for the all-new 2022 GMC Hummer EV. This development project shows Magna's ability to deliver a full-system solution to automakers supporting their focus on a lower emissions future. Using stock indicators, and stock signals one can make wiser decisions in understanding the underlying market dynamics.
Magna recently posted its second-quarter earnings for the year 2021:
Sales of $9.0 billion

Net income of $424 million

Earnings per share $1.4
The market capitalization of Magna is at $23 billion. The stock of the company is currently trading at $77.66.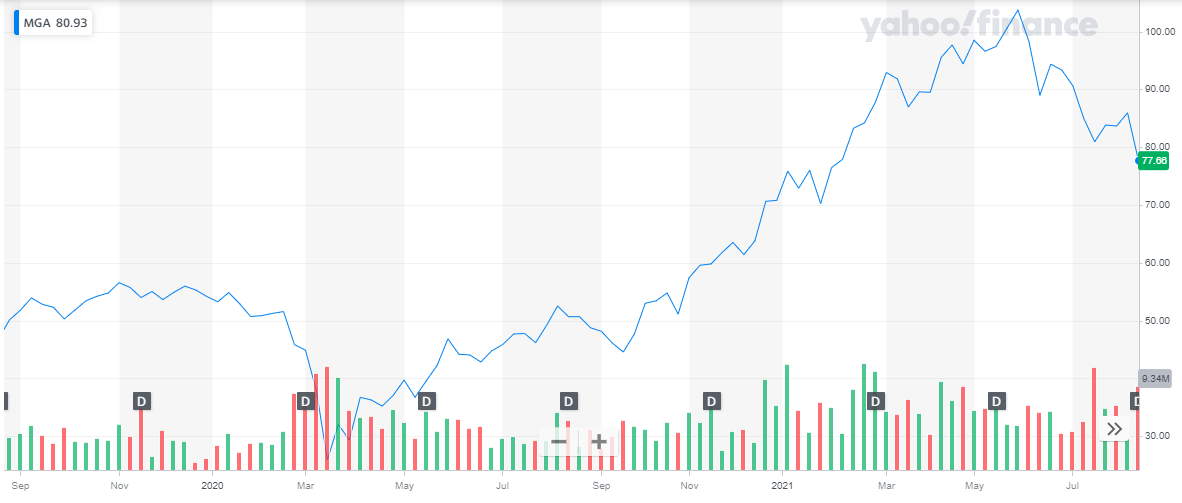 Magna's modular approach makes it unique amongst other auto components manufacturers. Even though the company does not manufacture EVs, the company's automotive components are used in EVs. With the new development facility to start production in 2022, the company is expected to boom alongside the EV industry. Magna is undoubtedly one of the best EV stocks to invest in 2023.
Investing in best ETFs is one of the most easiest and safe investment option.
6. NIO
NIO Inc. is a pioneer in China's premium electric vehicle market. We design, jointly manufacture and sell smart and connected premium electric vehicles, driving innovations in next-generation technologies in connectivity, autonomous driving, and artificial intelligence. Their first model was developed and introduced in 2016 which helped the company position itself as a premium brand.
China has been operating in the electric car segment for many years. And Nio enjoys the benefit of sustained government investment in the sector. Nio can order parts inexpensively from China's diverse array of electronics manufacturers and auto parts suppliers.
No plans to deliver three new electric models next year, including its first sedan, the ET7. Nio has chosen Norway, which is an EV hotspot as its first country to start its global supply of EVs. Nio's flagship electric SUV, ES8 will be available to Norwegian customers from September 2021. 
The company recently posted quarterly results:
Total Revenues reached RMB 8,448.0 million (US$1,308.4 million)

Net loss was RMB 587.2 million (US$90.9 million) 

EPS was RMB 0.42 (US$0.07)
The company delivered 21,896 vehicles in the second quarter.
Nio has a market capitalization of over $60 billion. The share of the company is currently trading at approximately $37. The company's stock kicked off the year 2021 on a very positive note and continued the bullish trend for the first two months. The stock dropped down in March'21 and has faced multiple ups and down till today.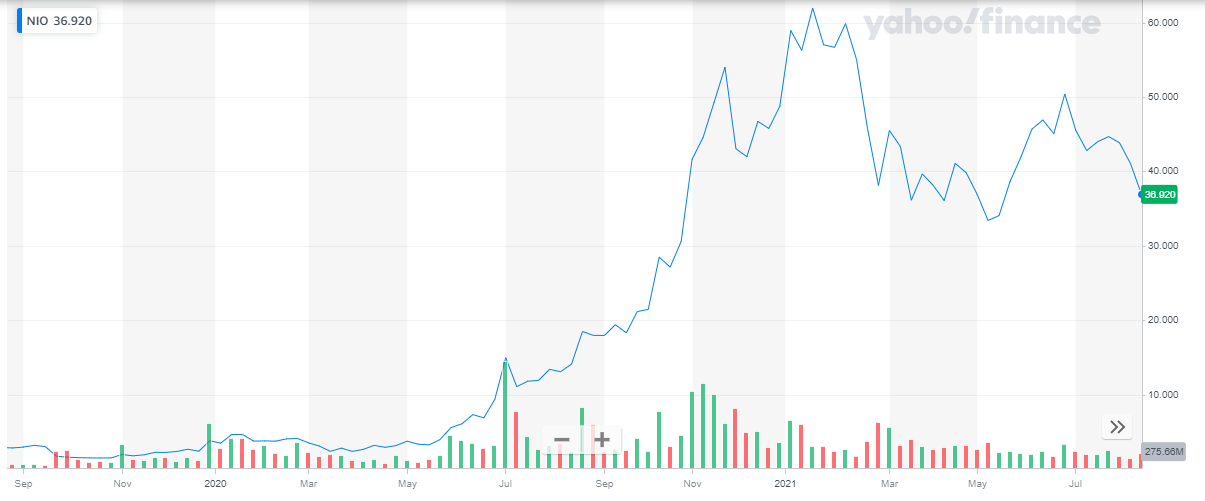 With the company's international expansion, Nio has broadened the horizons for its EV. With the EV demand rising, Nio's stock has great growth potential. It is currently one of the best EV stocks to invest in today.
Many traders prefer to manage their trades themselves. but there are comprehensive trading platforms to carry out trades.
Read more:
7. XPENG
Xpeng or Xiaopeng Motors is a Chinese electric vehicle manufacturer that designs, develops, manufactures, and markets Smart EVs that appeal to the large and growing base of technology-savvy middle-class consumers in China,
The Zhaoqing facility of Xpeng is under expansion which will increase its production capacity, from 100,000 units to 200,000 units per annum, with government assistance. This will enable the company to capture the anticipated increase in consumer demand for its smart EVs.
The company has recently announced the development of XPeng Motors Wuhan Smart EV Manufacturing Base. Wuhan's strategic location as an auto manufacturing and distribution hub will benefit the EV manufacturer boost their supply chain along with sales and distribution network.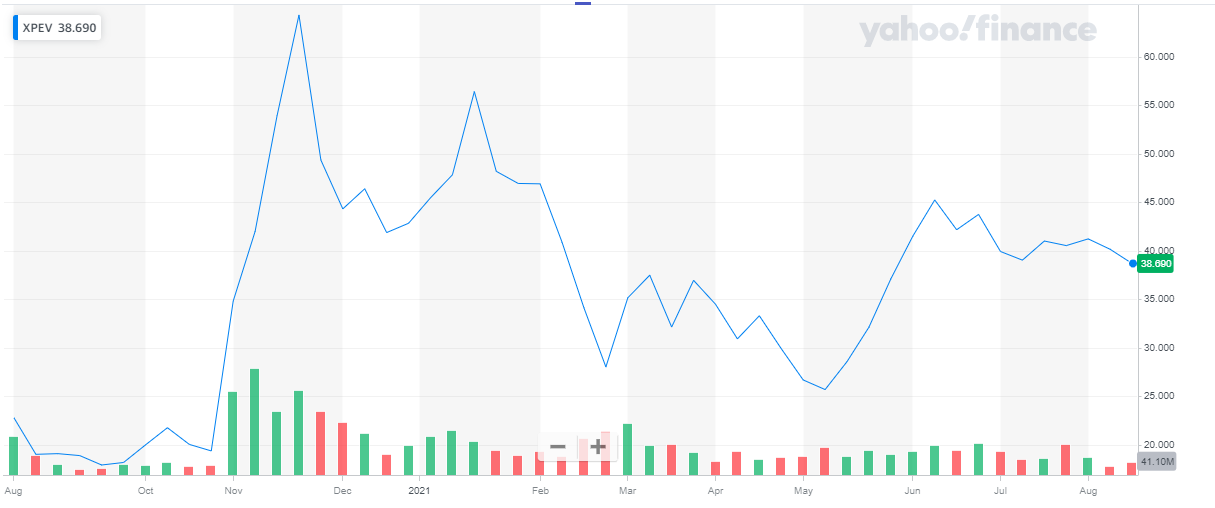 At a market capitalization of $33 billion, the company's stock is currently trading around $38.69. 
Smart EVs are booming in popularity in China and competition is heating up in the electric vehicle industry. Backed by government assistance and a booming industry, XPENG is expected to soar in near future. XPENG is one of the best EV stocks to invest in today. Checkout some of the best oil and gas ETFs to buy now.
Get to know the best covered call stocks to buy now.
Conclusion
The Electric Vehicle sector has a great future outlook and is a growing sector. Since president Joe Biden's has announced its green policy which promotes EV, every automaker is investing heavily in manufacturing EVs. The above-listed seven names have established a good presence in the EV sector in this short period. To give a huge boost to your investment portfolio and benefit from their growth, the best time to invest in them is today. 
Disclaimer: None of the information published in this article should be construed as investment advice. Article is based on author's independent research, we strongly advise our readers to always do their due diligence before investing.
Read More:
Back