Renewable energy stocks have been very popular in the year 2020 and their popularity continues to increase in 2021. The newly elected president of the United States Joe Biden is a big supporter of renewable energy resources and has big plans for the clean energy sector. Biden administration has pledged to invest $2 trillion into the development of renewable energy technology over the next four years. Biden plan on making America a net-zero-emissions country by 2050. As a result of Biden's plans towards a renewable energy sector, major oil and gas projects in Alaska were pulled back.
Goldman Sachs predicts that capital expenditures in the renewable sector will surpass the capital expenditure in the oil and gas sector. This will happen for the very first time in history. Talking about shifting from oil and gas to renewable energy sources, Chevron plans to build 500 megawatts of renewable energy plants to power some of its global plants. BP and Chevron, the two giants of the oil and gas sector, have joined hands to fund a Canadian geothermal energy company called Savor.
As we always do at Elliottwave-Forecast, we look at the stock market as a whole. We track over hundreds of instrument around the world to get a more complete forecast.
Sources of energy are shifting. Far-sighted investors have started shifting their investments with the changing demand to gain from the future trends of the market. According to a report by IEA, renewable energy sources, especially solar, will be supplying 80% of the global electricity by the year 2030.
1. NextEra Energy (NEE)
NextEra Energy Inc operates the third-largest nuclear power generation fleet in the United States and is the largest generator of wind and solar renewable power globally. NextEra Energy continues to move aggressively into the energy storage space which is a complementary renewable power technology. The company claims that its renewable output is greater than wind and solar output. This line of business is growing and is expected to take the company along with it. NextEra has solid growth prospects for the future.
NextEra owns Florida Power and Light (FP&L) and through FP&L it plans to invest $65 million in the pilot project for the production of green hydrogen from solar power. The target for this pilot project to complete is by 2023. The company has shut down its last coal-fired power plant.
Investors on Wall Street have NextEra Energy stock amongst the top green energy stocks to buy in 2021.
Study the price movement of NextEra Energy Stock of last two years in the below chart: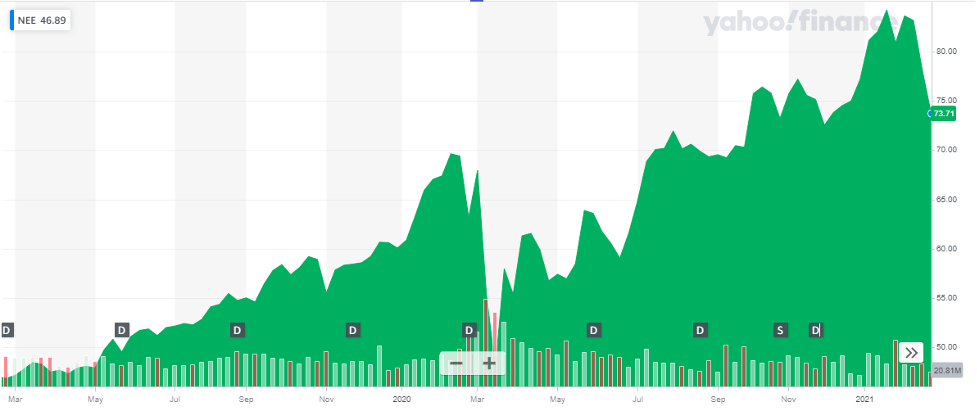 2. Renewable Energy Group Inc. (REGI)
Renewable Energy Group is a global producer and supplier of renewable fuels like biodiesel and renewable diesel, renewable chemicals, and other products. EG is committed to being a long-term leader in bio-based fuel and chemicals. It has announced to increase the production capacity of one of its plans. Renewable Energy Group is evolving to meet the demand of customers and deliver sustainable fuel solutions.
The price of the stock of Renewable Energy Group Inc is on an upward trend and has gained more than 260% from last year till date. Moreover, its solid liquidity position makes its financial position very strong.
Study the price movement of First Solar Stock of last two years in the below chart: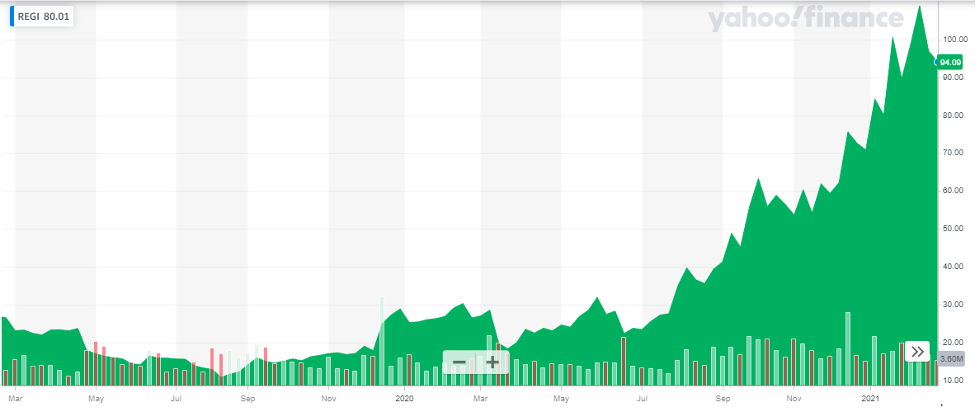 3. First Solar Inc (FSLR)
First Solar is a leading global provider of comprehensive photovoltaic ("PV") solar energy solutions, which use its advanced module and system technology. The Company's integrated power plant solutions deliver an economically attractive alternative to fossil-fuel electricity generation today. First Solar is categorized as one of the most profitable solar energy providers with a promising future.
First Solar has developed the world's first EPEAR-rated PV module. This Series 6 has revolutionized the industry's benchmarks for quality, durability, reliability, design, and environmental performance. In the last quarter of 2020, First Solar started shifting the focus of its operations towards specializations of solar panel manufacturing. Since then, the gross margins of the company have started improving and have risen. This shift in focus has been in perfect alignment with Biden's government announcement of investment in renewable energy.
Study the price movement of First Solar Stock of last two years in the below chart: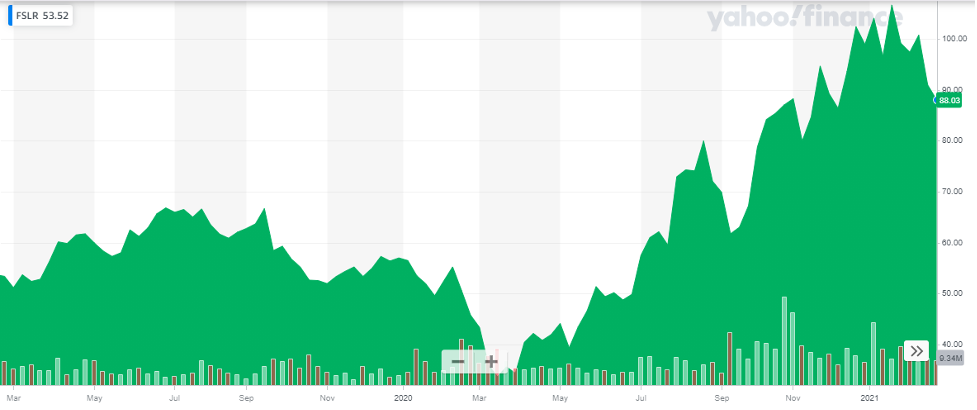 4. Plug Power Inc (PLUG)
Plug Power is building the hydrogen economy as the leading provider of comprehensive hydrogen fuel cell turnkey solutions. The Company's innovative technology powers electric motors with hydrogen fuel cells amid an ongoing paradigm shift in the power, energy, and transportation industries to address climate change and energy security, while meeting sustainability goals.
Plug Powers has been accredited with building the first commercially viable market for hydrogen fuel cell technology. It recently raised $2 billion through share issuance which is considered the largest bought deal in the cleantech sector. The ability to raise such huge amounts of cash reflects investor's confidence.
You may also like reading: Fibonacci Retracement, Extension & Trading Strategies
Plug Power has purchased United Hydrogen Group and Giner ELX in the year 2020. Its fuel cells have been preferred by companies like Walmart to whom it will be providing fuel cell-powered vehicles for its eCommerce network. With PLUG providing GenKey hydrogen and fuel cell solutions to giants like Walmart at its logistics centers, investors' confidence is expected to spike. Plug Power is on the right track of its vision to become the leader in the Global Hydrogen Economy
Study the price movement of Plug Power Stock of last two years in the below chart: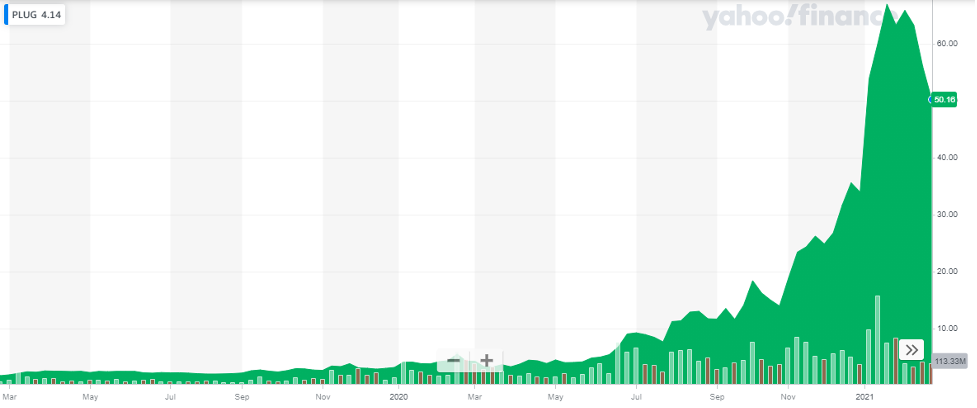 5. Canadian Solar Inc. (CSIQ)
Canadian Solar Inc is one of the world's largest solar technology and renewable energy companies. It is a leading manufacturer of solar photovoltaic modules, provider of solar energy and battery storage solutions, and developer of utility-scale solar power and battery storage projects with a geographically diversified pipeline in various stages of development. It has a Module capacity of over 16 GW and Cell capacity of around 10 GW and 17 manufacturing facilities in Asia & America.
Canadian Solar has raised $230 Million through IPO in 2020. These funds will be contributed towards expanding the manufacturing capacity of the company. Canadian Solar recently announced that it has sold ownership interest in its Hays and Jenner solar projects to BluEarth Renewables. This project will be using Canadian solar bifacial modules and singles axis trackers. This project will commercialize solar technology in Canada.
Study the price movement of Canadian Solar Stock of last two years in the below chart: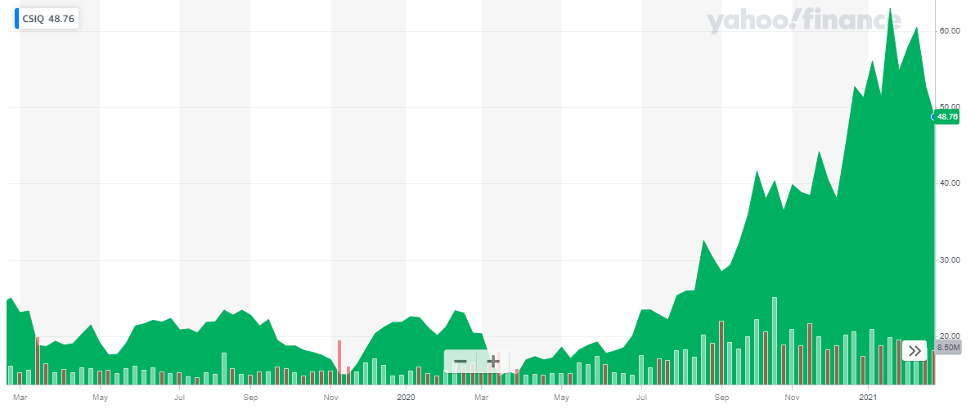 6. Daqo New Energy Corp. (DQ)
Daqo New Energy Corp is a leading manufacturer of high-purity polysilicon for the global solar PV industry. Daqo's manufacturing facility is highly efficient and technologically advanced. Located in Xinjiang, China, it has a production capacity of 70,000 metric tons.
Daqo New Energy Stock is currently very stable and is considered undervalued by analysts. This means that the stock price is expected to rise and allows investors to buy at a lower price today. Moreover, the earnings of the company are expected to double in the current year, which makes Daqo New Energy a more attractive investment.
Study the price movement of Daqo New Energy Corp Stock of last two years in the below chart:
7. Enphase Energy Inc. (ENPH)
Enphase Energy, Inc. is a provider of energy management solutions. It is engaged in designing, developing, manufacturing, and selling microinverter systems for the solar photovoltaic industry. Its semiconductor-based microinverter system converts direct current (DC) electricity to alternating current (AC) electricity.
Enphase has shown remarkable improvement after its cash crunch in 2016. It has been consistently improving its gross margin, its net income has risen and revenue growth exceeds its competitors. Enphase's smart choice of partnering with solar module manufacturers results in low costs and increased revenues. Its strong performance in the year 2020 resulted in a massive growth in stock price. Its current increase in price from last year is around 270%.
Study the price movement of Enphase Energy Inc Stock of last two years in the below chart: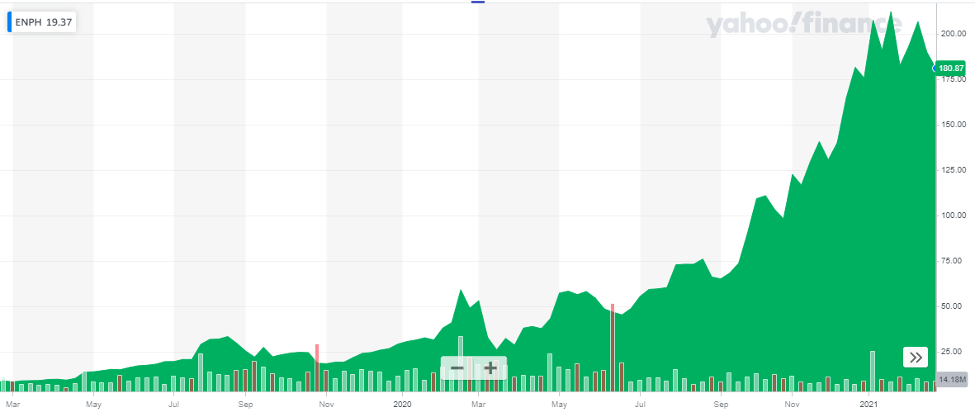 8. FuelCell Energy Inc. (FCEL)
FuelCell Energy is a global leader in sustainable clean energy technologies that address some of the world's most critical challenges around energy, safety, and global urbanization. Its fuel cell solution is a clean, efficient alternative to traditional combustion-based power generation, and is complementary to an energy mix consisting of intermittent sources of energy, such as solar and wind turbines. FuelCell supplies to utility companies, municipalities, universities, hospitals, government entities/military bases, and a variety of industrial and commercial enterprises.
Also read: Forex trading vs Stocks trading.
FuelCell stock has improved tremendously since last year, reporting a 785% increase in stock price till today. The company's performance has been slow and it has been unable to generate profits. Moreover, fuel cell technology companies have to face many practical challenges. Keeping in view its astounding growth, investors should wait for the company's operational performance to improve before taking any action on its investments
Study the price movement of FuelCell Energy Inc Stock of last two years in the below chart: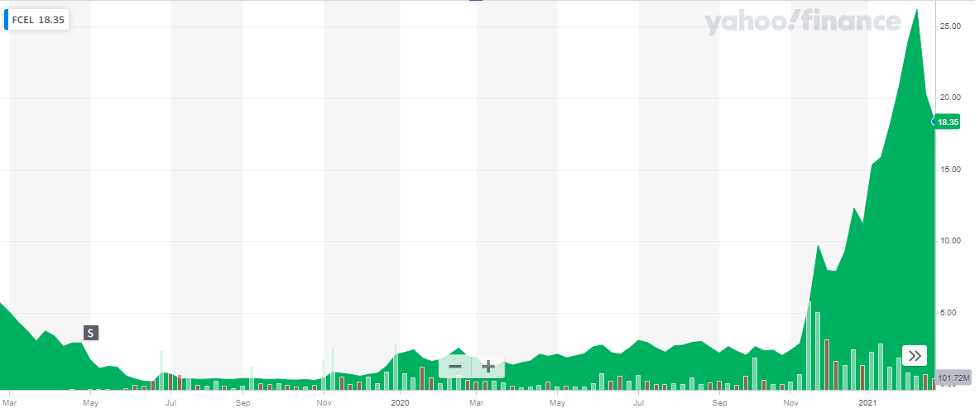 9. JinkoSolar Holding Co. Ltd. (JKS)
Study the price movement of JinkoSolar Holding Co. Ltd Stock of last two years in the below chart: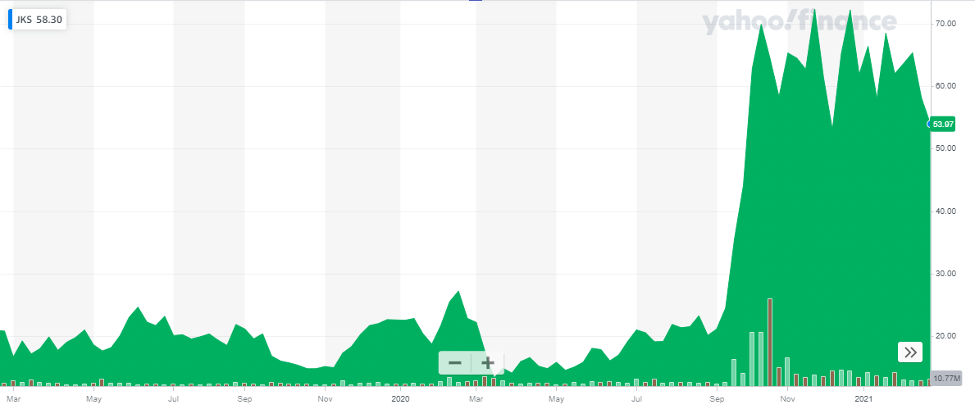 10. Ameresco Inc (AMRC)
Study the price movement of Ameresco Inc Stock of last two years in the below chart: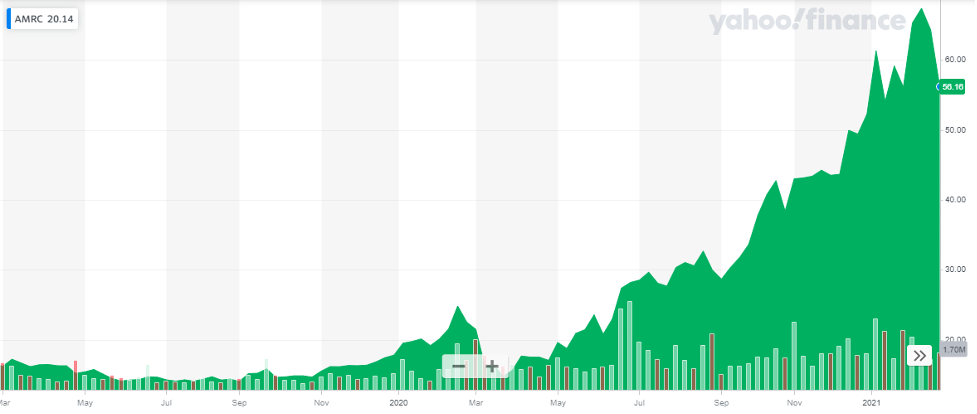 11. Bloom Energy Corp. (BE)
Study the price movement of Bloom Energy Corp Stock of last two years in the below chart: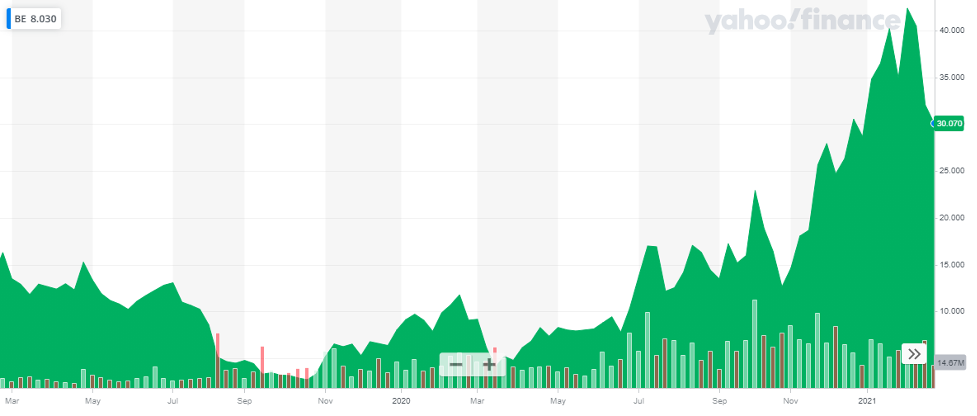 12. Gevo Inc. (GEVO)
Study the price movement of Gevo Inc for the last two years in the below chart: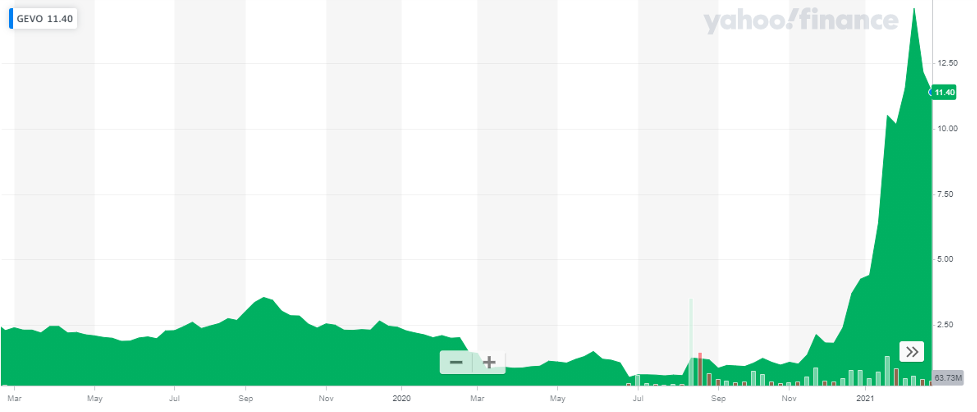 Disclaimer:
None of the information published in this article should be construed as investment advice. We strongly advise our readers to always do their due diligence before investing.
You may also like reading:
Back