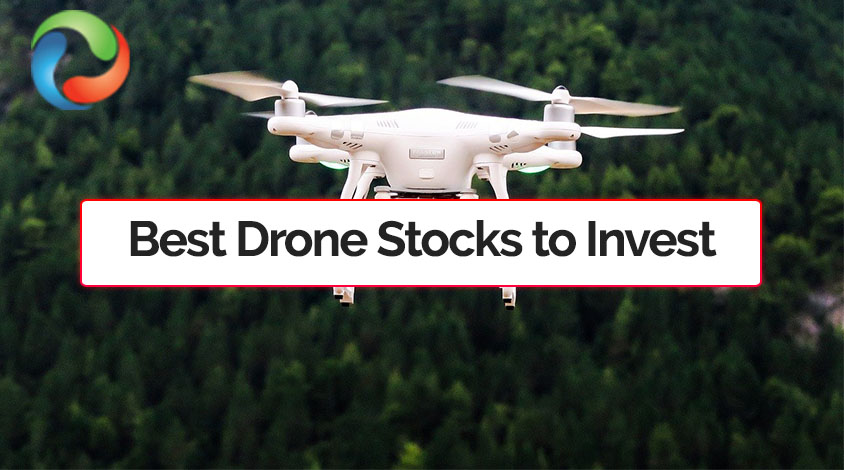 Drone Technology is one of the heavily invested technology by the military. Drone technology is expected to become a part of life for everyone in the coming years. This technology is expected to be used in a variety of routine activities which include, but are not limited to, photography, racing, farming, and package delivery. The Federal Aviation Administration (FAA) 2019 Aerospace Forecast report expects the commercial drone market to triple by 2023.
List of Best Drone Stocks to Invest
Investors who are looking to benefit from the rising technology by earning profits should consider the below list of drone stocks for investment:
1. AgEagle Aerial Systems Inc (UAVS) 
AgEagle Aerial Systems Inc. is one of the leading commercial drone technology, services, and solutions providers. They provide metrics, tools, and strategies that are needed to implement solutions through the use of the drone. AgEagle Aerial Systems Inc. delivers to people like you and me who can benefit from drone-enabled solutions in daily life. AgEagle Aerial Systems aims to be the leading commercial drone design, engineering, manufacturing, assembly, and testing companies in the United States. Moreover, it focuses on earning the trust of people by becoming the world's trusted source for turnkey drone delivery services and solutions. Get to kn0w about best cryptocurrencies to Invest in
AgEagle Aerial Systems was considered a penny stock by investors and the total valuation of the company was less than $10 million. In the year 2020, when news spread about AgEagle Aerial Systems Inc. working with Amazon a retail delivery drone in near future, changed the fate of the stock. Till today of Ageagle Aerial Systems is on an upward trend with an astounding 1600% increase in price from last year.
Find below the stock performance chart over the last 2 years: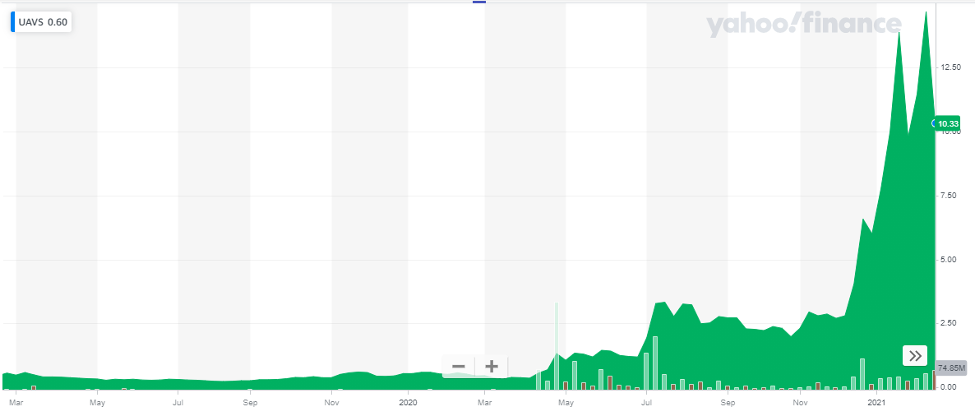 2. EHang Holdings Ltd. (EH)
EHang is the world's leading autonomous aerial vehicle (AAV) technology platform company. EHang aims to provide safe, autonomous, and eco-friendly air mobility access to everyone. EHang's customer base includes various industries and it provides commercial solutions to them like air mobility which includes passenger transportation and logistics, smart city management, and aerial media solutions. EHang's mission is to continue to make daily life better with smart technological solutions.
Ehang is categorized as a very good investment for long-term investments with an expected increase of approximately 350% in the next 5 years. EHang's share was traded at around $13 in December and it soared to $129 on 12th Feb 2021. On 16th Feb 2021, Wolfpack research issued a report accusing EHang of fabricating sales and claiming many of its partnerships as false. This resulted in the stock price dropping 63% in one day and the stock which opened at $124 closed at $46.3 on 16th Feb 2021. EHang reverted a few days later saying all these claims are false and they plan on taking legal counsel to pursue legal actions against Wolfpack Research for its malicious act and false allegations.
The report issued by Wolfpack Research is a risky report which lacks validity. We expect a solid response from EHang management and a strong comeback of the stock once the Chinese New Year holidays come to end.
Find below the stock performance chart over the last 2 years:

3. Drone Delivery Canada Corp (TAKOF)
Drone Delivery Canada is a pioneering technology company that is in the business of designing, developing, and implementing commercially viable drone-based logistics systems. Their technology is targeted for government use, commercial use, and industrial and retail customers around the globe. Drone Delivery Canada aims to be the premier drone delivery company at an international level. It is set on redefining the traditional logistic system with the introduction of drone technology. Through their drone-based logistics systems, Drone Delivery Canada is offering a cost-effective way to deliver cargo by reducing shipping time and reducing costs.
Analysts believe that the stock of Drone Delivery Canada is trading below its fair value. This is a good indication for investors that prices are likely to rise. Its cash holdings are pretty great with zero debt as reported in its balance sheet on September 2020. The stock price of Drone Delivery Canada is on an upward trend and has shown an improvement of more than 150% from last year till today.
Wall Street Analyst's stance on Drone Delivery Canada Corp stock is "Moderate Buy".
Find below the stock performance chart over the last 2 years: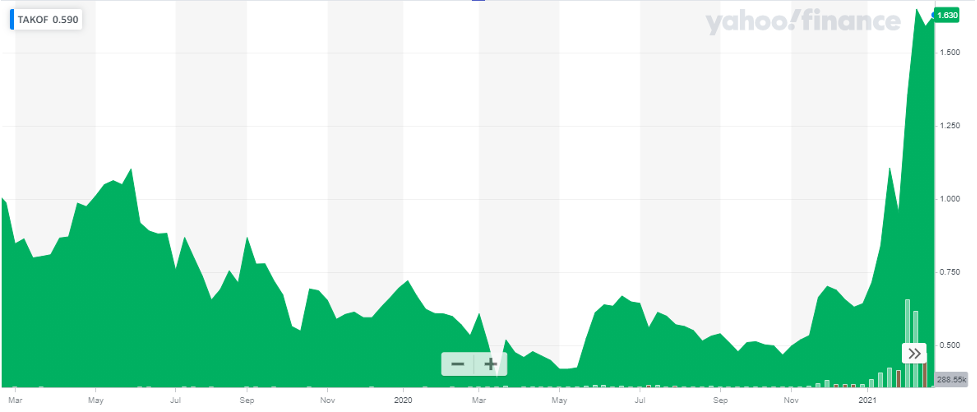 4. Plymouth Rock Technologies (PLRTF)
Plymouth Rock Technologies, Inc. focuses on developing security screening and threat detection technology solutions using radar imaging and signal processing technology. It is engaged in developing and deploying the latest electronic surveillance devices in the field of military, civil and private threat detection markets. The Company is developing next-generation threat detection solutions and Unmanned Aircraft Systems (UAS). Plymouth Rock Technologies aims to provide engineering-driven solutions for our safety problems. They work in collaboration with the government, law enforcement, and military and are on a fast track in innovative safety solutions for national security, defense and space systems
Plymouth completed testing for their CODA-1 system which has been designed to detect various concealed weaponry on a person. This system has been created to assist United States Government Security. Plymouth is set to continuously create technology-driven solutions to enable automation in processes and for this, it has always remained in news. Recently a Plymouth Rock Drone completed a UN mission in Somalia in record time. Also, they have recently announced the completion MediMod for Emergency Biological and Vaccine Transport. MediMod is an active insulated refrigerated storage module that will assist the government in deploying Covid vaccines to remote areas. In the future, it is expected to assist in the transportation of blood, human transplant organs, and various vaccines across cities and remote destinations
Plymouth has been in the news in this current year and is on an upward track in terms of stock price movement.
Find below the stock performance chart over the last 2 years:

5. Parrot (PAOTF)
Parrot is today the leading European group in the fast-growing industry of drones. It creates, develops, and markets wireless products for the retail and professional markets. Parrot currently manufactures and supplies Civil drones which are retail leisure quadcopters and cutting hedge professional solutions. Parrot is the only company that manufactures the drone and provides the service and software to its clients. Its drones are known for their high performance and ease of use. Parrot is currently focused on providing its drone technology for the agriculture market, Defense and Security and 3D Mapping, Surveying and Inspection
In July 2020, Parrot partnered with WISeKey leading global cybersecurity and IoT company. This will integrate advanced digital security solutions into Parrot's growing range of ANAFI drones. The stock price hit a new high on 22, January 2021 hitting $8.72. The stock price of Parrot is on an upward trend since last year and has shown an increase of approximately 150% since last year.
Find below the stock performance chart over the last 2 years: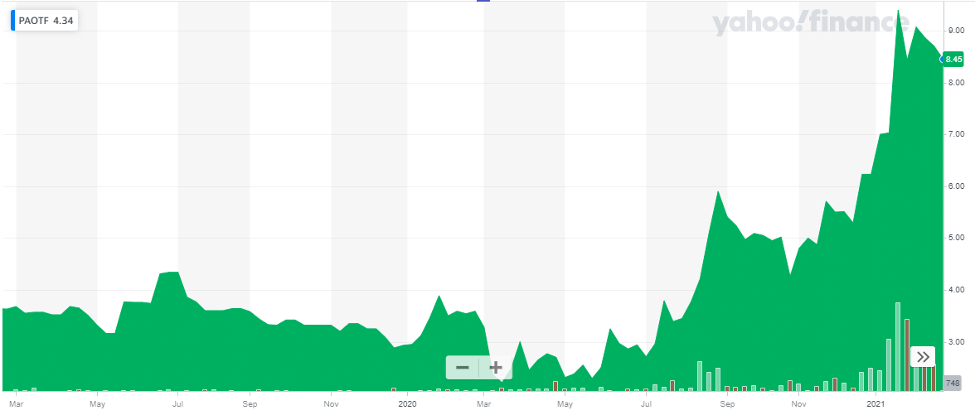 6. Ambarella (AMBA)
Ambarella is a fabless semiconductor design company that is focused on creating low-power, high-definition (HD) and Ultra HD video compression, image processing, and computer vision, processors. Ambarella's products are being used for a growing number of applications and services within video security, driver assistance, and autonomous driving systems, among others.  Ambarella's low-power System-on-Chips (SoCs) offer high-resolution video compression, advanced image processing, and powerful deep neural network processing to enable intelligent cameras to extract valuable data from high-resolution video streams
Ambarella's system on chips is apparently among the best options for extracting data from video, and their applications should grow along with the proliferation of recording video streams that are likely to occur over the coming years.
Amazon has included Ambarella amongst its partners in building an ecosystem of hardware-accelerated machine learning/AI devices This AWS Panorama appliance and device software development kit is designed to assist companies to add computer vision to on-premises cameras.
On 1st Feb 2021, Ambarella stock soared 11% because analyst Andy Buscaglia claimed that the company is progressing faster than expected. A good portion of Ambarella's stock is owned by institutional investors which itself is very solid credibility in the investor's world. Analysts believe that Ambarella is on a positive streak in terms of stock performance and company performance. If the company continues to outperform as expected, the forecast target price of Ambarella might need revision as they will rise more than expected. Get to know about list of best forex brokers for trading
Find below the stock performance chart over the last 2 years: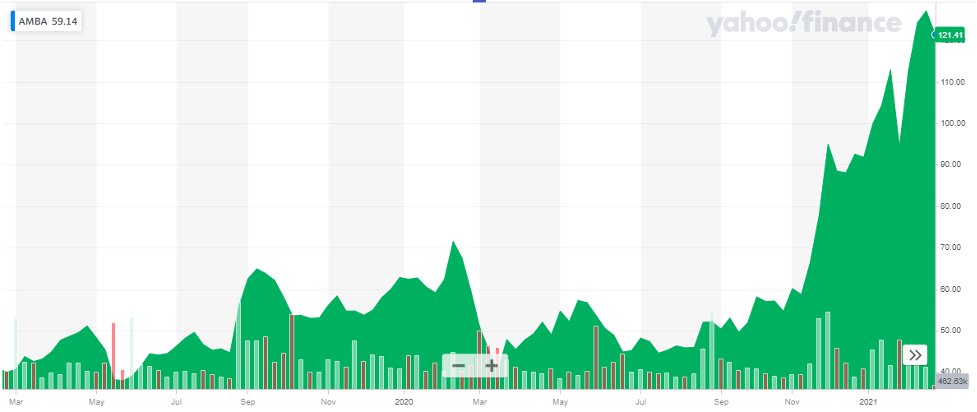 7. AeroVironment (AVAV)
AeroVironment Inc (AVAV) is a leading producer of military drones. It focuses on the supply of unmanned aerial vehicles (UAVs) to government agencies. AeroVironment Inc is one of the only companies with drones as their only business line. It currently is on the top of the market with an approximate $3 billion market capitalization.
With the US military increasing its investments in drone technology, AeroVironment Inc is expected to grow tremendously. Moreover, with an impressively strong balance sheet that shows zero long-term debt against its massive cash holdings, investors' interest further spikes in this stock. Get to know about best trading and forex signal providers
Find below the stock performance chart over the last 2 years: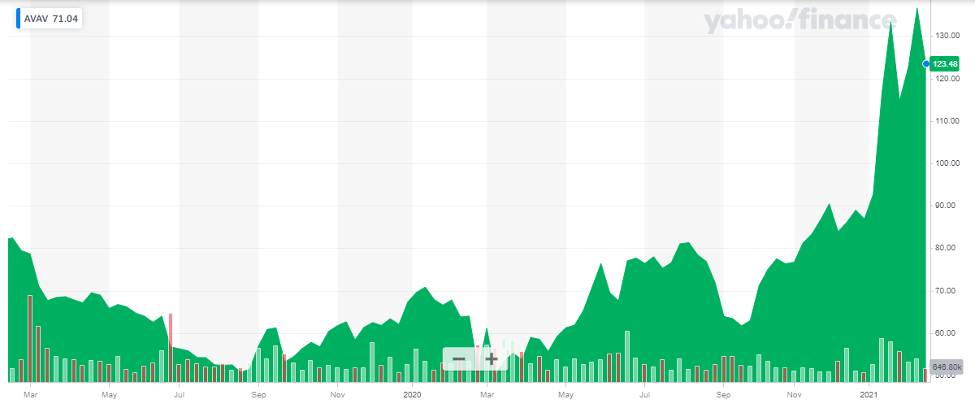 8. Kratos Defense & Security (KTOS)
Kratos Defense & Security Solutions, Inc develops and fields transformative, affordable technology, platforms, and systems for United States National Security-related customers, allies, and commercial enterprises. Kratos takes pride in its vision of the future of technology. It works on projects where it holds expertise which include unmanned systems, satellite communications, cybersecurity/warfare, microwave electronics, missile defense, hypersonic systems, training, combat systems, and next-generation turbojet and turbofan engine development.
The deal with Air Force in 2019, has highlighted Kratos in the drone's stocks arena and increased investor's interest. Goldman Sachs predicts that Kratos' drone business could grow 10 times larger by 2025.
Find below the stock performance chart over the last 2 years: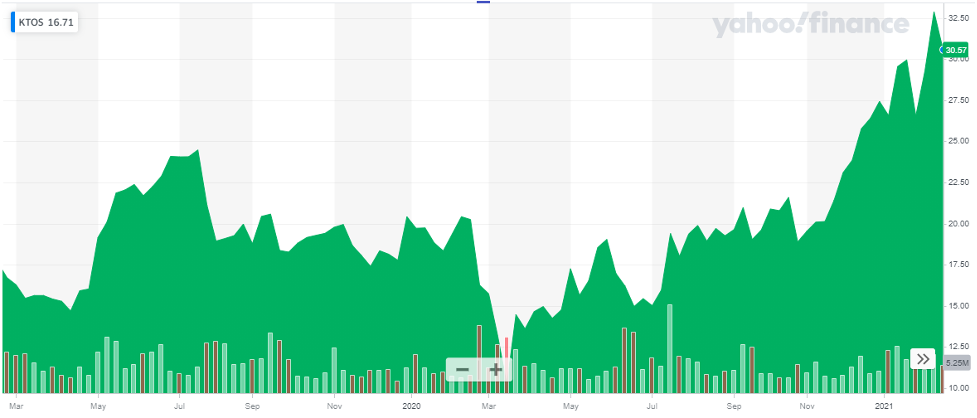 Other Drone or Drone Related Stocks to keep an eye on in 2022
Nvidia Corp. (NVDA)
Boeing (BA)
GoPro (GPRO)
Lockheed Martin (LMT)
Global UAV Technologies Limited (YRLLF)
Draganfly Inc (DFLYF)
Bantec Inc. (BANT)
Disclaimer: None of the information published in this article should be construed as investment advice. Article is based on author's independent research, we strongly advise our readers to always do their due diligence before investing.
You may also like reading:
Back