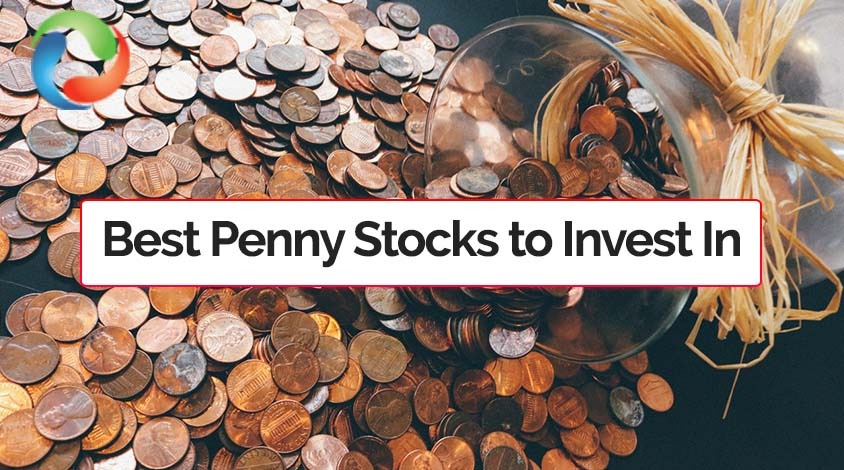 Volatility should be the favorite play for those who choose to trade in Penny Stocks. Penny stocks, which are stocks traded under $5, are usually of small companies which have a low trading frequency. As an investor, you will see fewer buyers of penny stocks in the market which makes it low on liquidity. As a result, you might face difficulty selling penny stocks at a price that aligns with the market price. Therefore, penny stocks can make you large amounts of profits but there is an equal amount of risk involved of you losing a huge amount of your investment in a short period.
Pros and Cons of Penny Stocks:
| | |
| --- | --- |
| Pros | Cons |
| Many excellent companies are trading for very low and have a very solid future. | The majority of Penny Stocks have low performing companies on the back |
| Penny stocks with strong prospects have big price changes within days. | The market of Penny Stocks has very low requirements and regulations which allows entry of poor performing companies very easy. |
| Investors can purchase thousands of Penny stocks in a very small amount. | Very low trading frequency. |
|   | Rapid and Huge price movements in a short span of time. |
List of Best Penny Stocks to Invest
We have compiled a list of Penny stocks for 2021, which are worth investing:
1. Boxlight Corp
Boxlight Corporation is amongst the leading provider of technology solutions for the global learning market. The company develops, sells, and services its integrated, interactive solution suite including software, classroom technologies, professional development, and support services. The vision of Boxlight Corp is to improve the learning experience for students and create engagement in classrooms to enhance student output.
Boxlight Corp reported a $9.5 Million revenue for the previous quarter and earnings per share of $0.09. Since last year when COVID became a pandemic, the stock of Boxlight has shown a tremendous improvement. It has increased by more than 250% since then making it one of the best penny stock to buy now. Get to know about fibonacci retracement, extension & trading strategies.
Find below the stock performance chart over the last 2 years: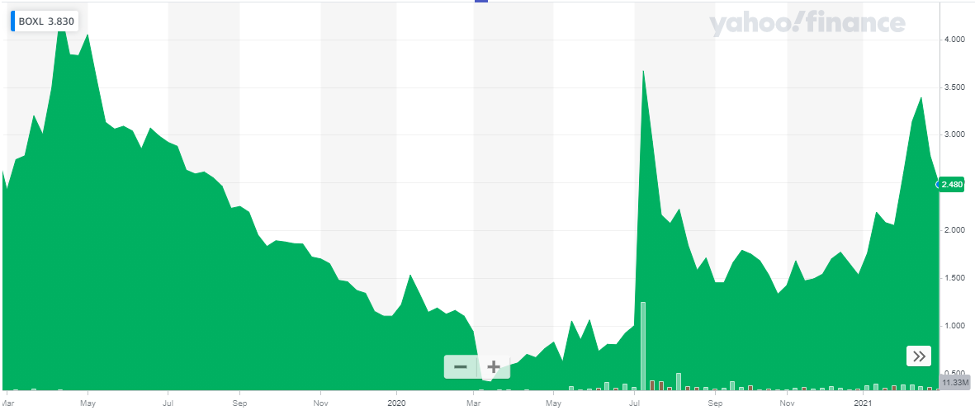 2. CloudCommerce Inc
CloudCommerce is leading the new age of data-driven marketing technology with the integration of software and services. With SWARM, a proprietary audience-driven business intelligence solution, the company can analyze a robust mix of audience data to help businesses find who to talk to, what to say to them, and how to market to them.
CloudCommerce has recently announced that it has officially launched aiAdvertising, Inc. AiAdvertising is owned by CloudCommerce which makes use of Artificial Intelligence. It helps the company with an improved SWARM solution and also aims towards cutting advertising costs by half. CloudCommerce Inc. is paving way for a bright future by making use of AI in today's data-driven digital marketing campaigns and is on the road to become one of the best performing penny stock. Get to know about best drone stocks to invest in.
Find below the stock performance chart over the last 2 years: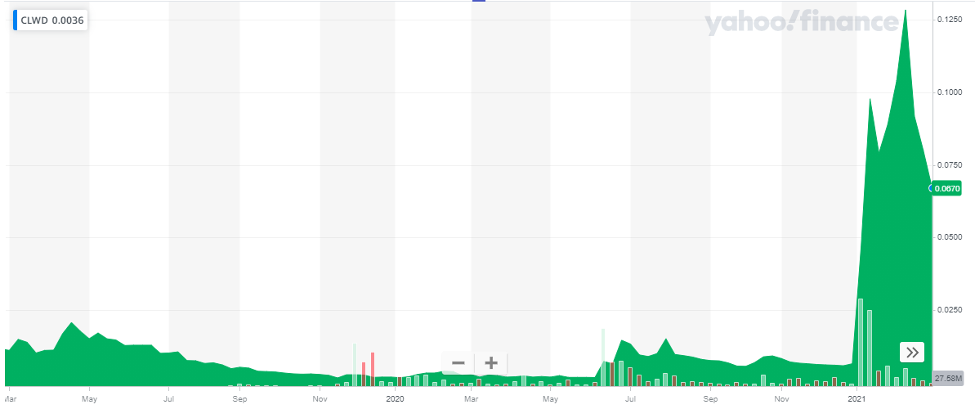 3. Zomedica Corp
Zomedica is a veterinary health company creating products for dogs and cats. The company's USP is that it focuses on the unmet needs of clinical veterinarians. Zomedica's product portfolio includes innovative diagnostics and medical devices. Zomedica Corp. aims to enable veterinarians to achieve higher productivity and higher revenues while providing better service to the animals in their care.
Adoption of pets has increased during COVID which has increased the demand for veterinary services. The pet care market associated with diagnostic services is expected to reach $2.8 billion annually by 2024. Zomedica Corp plans to become a leading operator in this line of business and plans to launch a new tool this year, Truforma, which will help veterinarians detect adrenal and thyroid issues in dogs and cats. The stock has already doubled in 2021, and a successful launch of its new tool might push it up even higher. The current industry demand and the Zomedica's future plans  makes it one of the best penny stock to buy now.
Zomedica recently raised $173.5 Million through a public offering of common shares. They plan to use the money in making Zomedica operations better and to provide better services to customers. Get to know about relative strength index – basics and RSI trading strategies
Find below the stock performance chart over the last 2 years:

4. First Majestic Silver Corp
First Majestic is a publicly-traded mining company focused on silver production in Mexico and is aggressively pursuing the development of its existing mineral property assets. The Company owns and operates multiple mines and the total production from all these mines are estimated to be around 12.5 to 13.9 million silver ounces or 20.6 to 22.9 million silver equivalent ounces as in 2021.
In the first four weeks of January 2021, shares of First Majestic Silver Corp started to rise and attracted the attention of many investors. WallStreetBets and Reddit started recommending this stock to investors to buy. The reason for this soaring price was the company reported the 2nd highest silver production in Q4 2020. In February investors lost interest in this stock and the momentum of the trading decreased.
Learn about head and shoulders patterns trading guide.
Find below the stock performance chart over the last 2 years:

5. Cielo Waste Solutions Corp
Cielo Waste Solutions Corp. engages in refining landfill and municipal and commercial waste into a renewable diesel in Canada. It uses landfill waste, tires, plastics, wood shavings, and paper products to produce renewable Kerosene, highway diesel, and naphtha.
Cielo Waste Solutions Corp recently announced its first major sale of renewable fuels with a purchase commitment for 900,000 liters of renewable diesel. The aggregate price of this sale is CAD 1,500,000. The company has begun expanding its operations by contracting with multiple parties. The feedstock that Cielo plans to use is the world's most available and inexpensive feedstock which will minimize the cost of production.
The company's EPS is moving in a positive direction and the Reddit analysts claim this stock to be currently undervalued. With slow progress in the short term, it's expected to grow in long term. Get to know about list of best forex brokers for trading
Find below the stock performance chart over the last 2 years:

6. Clickstream Corp
ClickStream is a technology company that is in the business of developing apps and digital platforms that disrupt conventional industries. The company's initial offering WinQuik is a free-to-play synchronized mobile app and digital gaming platform. The platform is designed to enable WinQuik users to have fun, interact and compete to win real money and prizes. ClickStream's other app HeyPal is a language learning app that focuses on "language exchanging" between users around the world. The USP of this app is that they enable user learning by matching them together with native speakers of their target language.
The company's IOS app HeyPal is currently live in 10 countries and they plan to launch it in 5 more countries by March 15th, 2021. WinQuik users have also increased by 33% in the past two weeks, as reported by the company. Clickstream Corp has recently launched its website and they plan on putting a solid foot down in their line of business. This makes Clickstream Corp one of the best penny stock for 2021.
Find below the stock performance chart over the last 2 years:

7. Gold Resource Corporation
Gold Resource Corporation is a gold and silver producer, developer, and explorer with operations in Oaxaca, Mexico, and Nevada, USA. The Company targets low capital expenditure projects with the potential for generating high returns on capital.
Gold Resource Corp completed 10 years of operations and takes pride in generating over $1 billion in revenues. It has been giving back to its shareholders in form of dividends. The company declared a dividend of 1/3 of a cent per common share as a monthly dividend for February 2021. Up till today, a total of $115 million has been issued as dividends. The company reported a net income of $4.4 million with revenue of $90.7 million and gross profit of $12.5 million from continuing operations for the year ended December 31, 2020.
The stock has remained pretty volatile since its huge drop after achieving a peak price in March 2020. With Covid shutting down operations and the company transitioning to a single mine operation, the company's performance has slowed down. The current Don David Gold mine has great growth potential that should not be overlooked. The stock is highly correlated to the gold price, and it is crucial to trade GORO based on the gold price. From investors Gold Resource Corporation is one of the best penny stocks to invest in. Get to know about bonds vs stocks – where to invest in
Find below the stock performance chart over the last 2 years:

8. VerifyMe, Inc
VerifyMe, Inc. is a global technology solutions company delivering brand protection offerings to mitigate counterfeiting, product diversion, and illicit trade.
The major concern for an investor is that VerifyMe is reporting net losses and is unable to achieve breakeven. According to industry analysts, the company is expected to achieve breakeven in 2022. Despite its net loss situation, the company has managed a stellar debt-equity position with debt being a mere 0.8% of the equity. This reduces the risk of investing in the loss-making company. According to the earnings, EPS is expected to rise next year; EPS has been growing continuously at almost 60% per year over the last five years. VerifyMe Inc is one of the best penny stocks to invest in and is expected a to grow positively in future. get to know about elliott wave  theory.
Find below the stock performance chart over the last 2 years: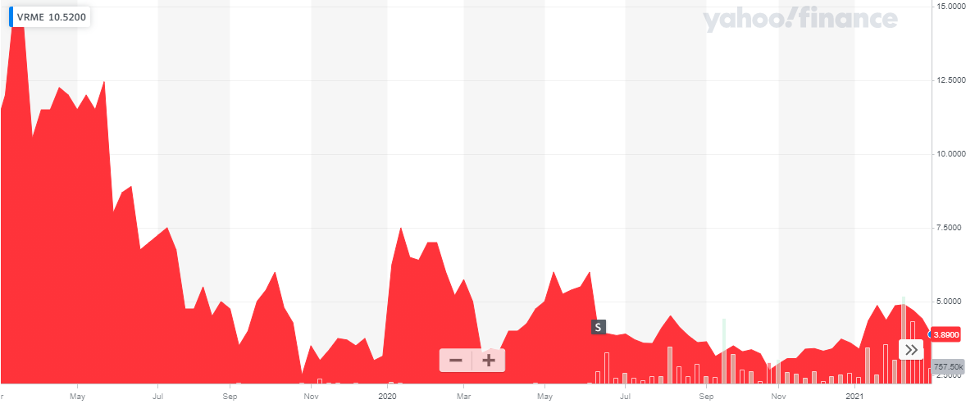 Other Notable Stocks to consider investing:
RF Industries, Ltd.
Solitario Zinc Corp.
Exela Technologies Inc.
Conduent Inc
9F Inc.
Resonant Inc.
Ideanomics Inc.
Peak Fintech Group Inc.
SunHydrogen Inc.
Loop Insights Inc.
You may also like reading:
Back