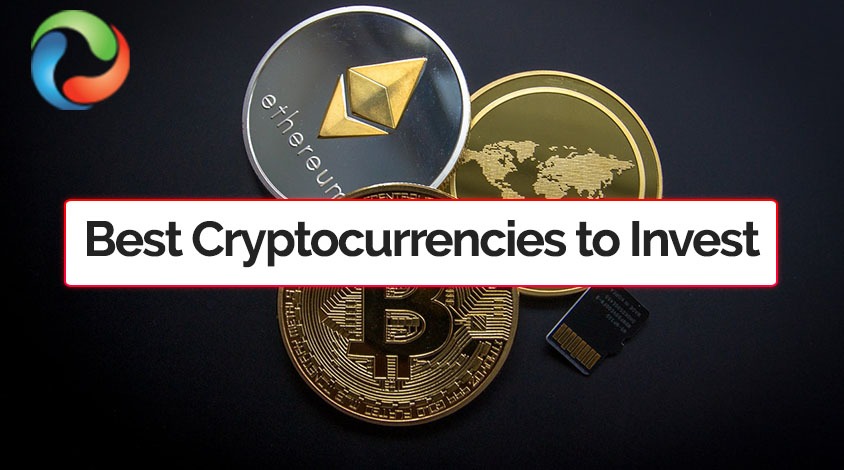 Cryptocurrencies are being traded in the market for quite a while and have proven to be one of the most profitable investment opportunities. They have outperformed traditional stocks and other commodities like gold, in terms of profits. Cryptocurrency is a digital currency that can be used as a medium of exchange. It makes use of strong cryptography to secure online transactions. What makes cryptocurrency a high-risk investment is that it has no centralized system that manages and maintains its value. Its value is determined by user demand in the digital world. If the price starts dropping, there is no stopping it from going to zero.
The global pandemic of 2020 followed by lockdowns and global recession created a lot of challenges for the global economy and the financial markets. In 2020, many investors chose cryptocurrencies over traditional financial instruments as a hedge against economic recession. Get to know all about cryptocurrencies.
Why invest in Cryptocurrency?
Digital currency exceeds traditional currencies in terms of transaction speed, low fees, and transparency. Here are the top 5 reason that makes cryptocurrency attractive to investors:
Cryptocurrency can be bought in smaller fractional denominations enabling you to start investing in very low amounts
Cryptocurrency exchanges and brokers are open 24 hours a day and 7 days a week which makes them available round the clock as opposed to Forex, Commodities, and Stocks brokers.
The transaction details of cryptocurrency are available and visible to everyone involved
Cryptocurrencies have comparatively lower transaction fees.
Investors can diversify their portfolio by investing in different cryptocurrencies. This reduces their exposure to risk
There are more than 5000 cryptocurrencies in the market today; some have made headlines and some are still unknown to many. Here we have compiled a list of the top 10 cryptocurrencies you can buy in 2022. Get to know about best forex brokers for trading.
List of the top 10 cryptocurrencies to invest in 2022
1. Ethereum (ETH)
Ethereum was founded in 2014 and within 6 years it has risen to the top with continuously rising prices and increasing market capitalization. Ethereum is an open-ended, decentralized, blockchain-based, public software platform that facilitates peer-to-peer contracts, known as Smart Contracts, as well as Decentralized Applications, known as DApps. It runs on its cryptocurrency called Ether and requires individuals to own a digital wallet called Ethereum Wallet.
Ethereum transaction time is pretty fast; it takes only 15 seconds to process. It is the most liquid cryptocurrency with a comparatively higher trading cost. Being most liquid means that you can always find a buyer for Ethereum when you are looking to sell. Moreover, Ethereum has a loyal team and community at the backend which makes it a stable and strong investment in the long run. Get to know head and shoulders pattern trading guide.
Ethereum market capitalization skyrocketed to more than $150 billion by January 2021 and its price has shown an astounding 600% increase in price in the last year. Ethereum's closing price on 15th February 2021 was $1,779.79. Investors predict the price to cross $1,900 by the end of 2021.
2. Bitcoin (BTC)
Bitcoin is one of the most famous and the first cryptocurrency to become available on the market for buyers. They have dominated the market since they were mined in January 2009. It is the world's top cryptocurrency which makes up approximately two-thirds of the cryptocurrency market. In these 10 plus years, Bitcoin has proven itself to be the most volatile cryptocurrency. It collapsed to $3,234 in 2018 after hitting $20,000 in December 2017 and recovering to $19,857 in 2020. Despite its volatility, Bitcoin remains the top choice for individual investors which makes its demand continuously increasing hence the price. Get to know about rise of cryptocurrencies.
What makes Bitcoin risky is its sensitivity to macroeconomic movements. The cryptocurrency lost more than half its value in the US Stock market downfall. The benefits of Bitcoin surpass its risks which makes it attractive to investors. Bitcoin gives autonomy to the investors who can control and spend their money without an intermediary authority like a bank or government. Bitcoin transactions are discreet; public-key cryptography masks the real identities of the individuals. Moreover, the peer-to-peer focus enables the user to receive money from anywhere in the network with ease and no approval of an external authority is required.
The recent tweet by Ellon Musk, CEO of TSLA, which mentioned Bitcoin, created a rush of investors for BTC which shot its price by approx 20% the same day. Recently the electric car maker has invested $1.5 billion of his company's money in Bitcoin. Moreover, he has announced that TSLA will start accepting payment for its product in Bitcoin soon. One of the largest manufacturing includes cryptocurrency as a mode of payment. It is likely to attract a whole new set of investors and will lead to BTC being traded as a successful digital currency.
Bitcoin runs on a very secure network. The network is based on unchangeable, unbreakable, and incorruptible mathematics formula which raises the security of the platform. This platform is called the Blockchain ledger which operates without any human involvement. The blockchain ledger is self-sufficient and runs on its own. Get to know fibonacci retracement and trading strategies.
This ledger constitutes mathematical blocks with encrypted information of all transactions in the digital network. All bitcoin transactions are backed by a system of complex, immutable data on high security which protects it from hackers. This virtual operating system makes it very tricky for people to understand hence the hesitation in investing in it.
Bitcoin's current market capitalization is more than $700 billion and the closing price on 15th February 2021 was $47,945. Its yearly performance shows an amazing 350% increase. Analysts predict that its price will cross $100,000 by end of 2021.
3. Dogecoin (DOGE)
Dogecoin was created in 2013 as a joke and was named after the popular meme based on a dog. It quickly turned itself as a means to move money and capital from one cryptocurrency exchange to another. Dogecoin is one of the most talked-about cryptocurrency by the CEO of Tesla, Ellon Musk.
Dogecoin is amongst the top 10 cryptocurrencies in terms of market capitalization. It has been labeled as the fun and friendly internet currency in the crypto world. It is majorly used for tipping interned users. Dogecoin follows the trend of the cryptocurrency market. It rises and falls as per the ongoing market trend. There is no cap to the supply of coins and thus the coin can inflate infinitely. Get to know about best penny stocks to invest in.
Dogecoin has a market capitalization of more than $9 billion. It showed an amazing increase in the value of 380% in the last year. In the current year, Dogecoin has shown great performance and the closing price on 15th February 2021 was $0.0566. Analysts predict the price to rise to $0.4 by the end of 2021.
4. Monero (XMR)
Monero is considered unique in the cryptocurrency world because of its ability to make all transactions untraceable. It is a permission-less open-source blockchain. Monero is successful in maintaining the privacy of all its investors because it updates its technology every six months. This way the developers can introduce all advanced cryptography in their systems. It is one of the best choices for investors seeking privacy with their investments.
A cryptocurrency that is secure and maintains confidentiality is the demand of the future. The need for a private and untraceable cryptocurrency is bound to arise and Monero is offering all this to investors today. Moreover, Monero has the advantage of being fungible meaning 1 unit represents the actual value of 1 XMR just like other fiat currencies. Also, Monero has the advantage of faster transaction speed and lower transaction charges. A strong community at the backend, makes it's a stable and less risker cryptocurrency option. Get to know all about bitcoin buying the dips at the blue box area.
Monero has a market capitalization of over $2.5 Billion. Its closing price on 15th February 2021 was $227.51. From last year, Monero has increased more than 250% in value. Analysts have mixed views upon its price by the end of 2021. Some predict the price to rise above $250 while others forecast near $155.
5. TRON (TRX)
Founded in March 2017, Tron is a decentralized blockchain platform that aims to create a free, global digital content entertainment system. It expects to provide the public with an easy and cost-effective way of sharing digital content. Tron creates peer-to-peer networks by the bridge the gap between the content creator and the consumer by removing the middle man.
With only three years in the crypto world, Tron's price is continuously going up. It has recently acquired the popular torrenting site, BitTorrent. Few months before the acquisitions the rumors kicked the price upward to $0.09 from 0.02. In the few years of existence Tron is seen to react instantly to any positive news surrounding the founder and Tron itself. Tron has been accepted as Samsung's blockchain KeyStore, which has made it put a sloid foot down in the world of cryptocurrency.
Tron has a market capitalization of over $2 Billion. It closed at $0.0507 on 15th February 2021. It has shown a 93% increase in value from the previous year. Analysts predict a positive year with Tron rising to $0.21-$0.3 by December 2021.
6. Litecoin (LTC)
Litecoin has been named the silver of cryptocurrency due to its well-established platform and huge following. Since its launch in 2011, it has secured and maintained its position in the top 10 cryptocurrencies (by Market Capitalization). This fact alone indicates the great future potential and a good investment avenue. The community of the crypto world claims that the trend of the Altcoin season is set by Litecoin. Altcoin season is the bullish trend of the cryptocurrencies.
What makes Litecoin an attractive investment is its faster speed than Bitcoin, comparatively lower fees than other cryptocurrencies, massive profits during a bullish trend, and a continuing top position in the crypto world. Moreover, its strong connection with Bitcoin and its limited availability in the digital world spikes investor's interest.
During the year 2019, Litecoin rose by 500% from $20 to $140 making it one of the best performing years for the cryptocurrency. At the start of 2020, Litecoin showed great performance despite the stagnant market and has started the year 2021 with a good performance and has already reached a new high after 2017.  Litecoin closed at $207.68 on 15th February 2021. It has a market capitalization of over $11 billion. It has shown a 92% improvement over the past year. Analysts have positive views about it claiming that it is all set to give tough competition to other cryptocurrencies. Some analysts predict that price will touch $200 while others forecast a massive increase in price and will cross $350. Trading stocks can be  very rewarding, in terms of returns, but it is a high-risk activity. Without proper knowledge of the trading floor and how it operates, you can face heavy financial losses.
7. Bitcoin Cash (BCH)
Bitcoin Cash was introduced to the market in 2017 and is supposed to be a functional currency rather than a store of value like Bitcoin. It is one of the most bigger and popular Bitcoin forks. With only 3 years in the market, it has maintained its position in the top 10 cryptocurrencies and even scored a position in the top 5 in terms of market capitalization. Within few months of launch, Bitcoin Cash reached its peak price nearing $4000. Bitcoin Cash price history proves that it is one of the most volatile cryptocurrency. Its association with Bitcoin and the demand in the crypto world makes it a worthwhile investment.
Bitcoin was created to be used as a digital currency but it has evolved as an asset. It can process larger transactions unlike Bitcoin and this feature is expected to make Bitcoin Cash a medium of exchange on daily transactions.
The cryptocurrency closed at $712.43 on 15th February 2021. It has shown a 57% in the last year rising from $226. It has a massive demand with a $9 billion market capitalization. Analysts are very confident about its performance with an approximate 70% increase in price is predicted and the year is expected to close at $675.
Forex markets are brutal and uncertain territories to explore but at the same time, it offers an immense opportunity to build wealth, prosperity, and enable you to achieve your financial goals in no time.
8. Cardano (ADA)
Cardano is one of its kind and the first academic peer-reviewed decentralized blockchain solution which runs on its native currency ADA. Cardano entered the market in 2014 and has shown amazing performance since the start. Its goals match that of Ethereum, which targets financial intuitions instead of individual investors. Cardano has been titled the Ethereum of Japan as the majority of its investors are Japanese.
Cardano has been at the top of innovation in the crypto asset category. This attribute has given it incredible price growth. What makes Cardano an extremely valuable asset to multiple sectors of the economy is the use of programming languages that is adopted by military personal and multiple high-profile industries. It has a great team of developers and the most respected researchers, cryptographers, and engineers.
Cardano has a massive market capitalization of more than $21 billion. It rose an astounding 400% last year and closed at $0.8610 on 15th February 2021. Cardano has shown amazing performance over the years and analysts forecast the price to reach $3.5 by the end of 2021.
9. Stellar (XLM)
Stellar was launched in 2014 and operates as an alternative to cross-border payment. It is an excellent option for individuals who are interested in unbanked access to wealth along with ways to transfer money with minimal fees. Stellar allows multiple currencies to trade across the same financial network.
Its partnership with Deloitte, IBM, and Stripe has paved its way to a global digital payment rail through which it can transfer money anywhere in the world in any currency. Its super-low transaction costs make it an attractive investment for investors.
Stellar increased tenfold in value within one year of launch. It reached an all-time high of $0.93 in 2018 but lost more than 70% of this value in a few weeks-times. Stellar performance in 2020 has been considered good and has kicked off 2021 well also. Its recent upsurge in price has placed it amongst the top 10 list of the world's biggest cryptocurrencies.
Stellar has a market capitalization of over $8.8 billion. It has risen tremendously over last year with an approx. 180% increase in price. Stellar closed at $0.493 on 15th February 2021. Analysts forecast that Stellar will trade between $0.45 and $0.5 by December 2021.
10. Dash (DASH)
Dash entered the cryptocurrency market in February 2014. It aims to be a functioning cryptocurrency instead of digital gold. Its focus has been on providing investors the ease of use with smooth and fast transactions. The InstantSend feature of Dash separates it from its counterparts and makes transactions quick. With the evolution of digital payments and many financial institutions seeking faster modes of payment, Dash has massive potential to be a hit.
Dash has seen tremendous ups and downs in its price movements. From a price of $12 in 2016, Dash rose to $109 at the start of 2017. During the crypto bubble, it rose further to a surprisingly high price of $1,500. When the bubble burst and the market fell, the price of this skyrocketing cryptocurrency dropped to a staggering $40 within a year.
The closing price of Dash on 15th February 2021, was $257.75. It has a market capitalization of more than $1 Billion. In the past 1 year, it lost half its value during the pandemic but has recovered fully up till today. Analysts predict that Dash will dip in value in the year 2021 but is expected to show remarkable performance in coming years.
It is quite evident that investment in alternative assets like cryptocurrencies has increased in popularity over the years and sometimes outshine traditional assets by providing far greater gains.
Get to know bonds vs stocks where to invest.
11. Binance Coin (BNB)
Binance Coin was launched in 2017 by the Binance cryptocurrency exchange. Binance exchange is the world's largest crypto exchange in terms of volume. Binance Coin is used for paying the Binance transaction charges and is also used to trade other cryptocurrencies. In less than 1 year, Binance Coin rose up to a billion-dollar company in the crypto world. 
Binance Coin is amongst the top 5 cryptocurrencies of the world. During the year 2019, it was the leading cryptocurrency. The performance of this cryptocurrency exceeded Bitcoin and Ethereum. Binance Coin took a massive climb in 2021 when it peaked at $646. It showed a staggering 1,370% increase in price in the first five months of 2021. Despite the huge drop in price after that, the cryptocurrency has managed to climb back to the previous highs and is currently trading at $575. The below chart shows the outstanding performance of BNB over the past 2 years.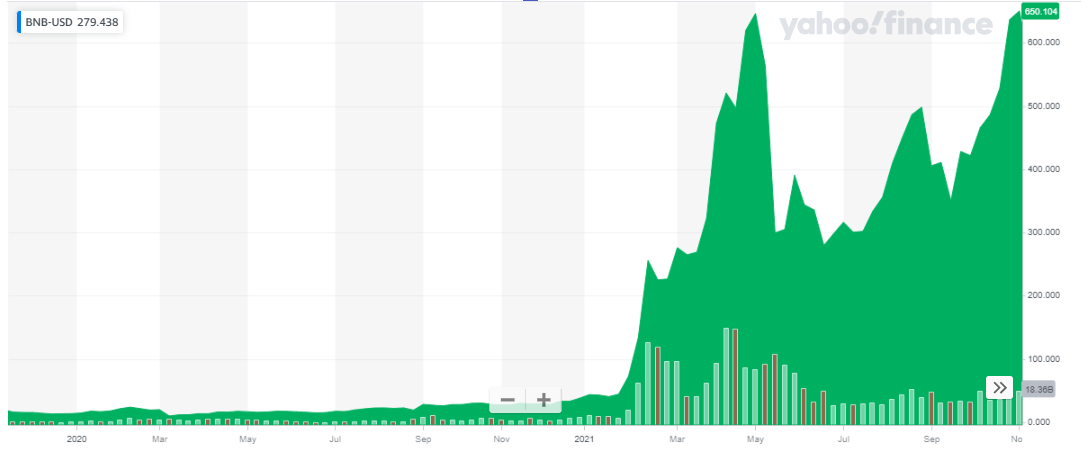 Binance initially created 200 Million BNB tokens. They have a burndown policy according to which every quarter Binance uses 20% of its profits to buy back the Binance Coin in circulation. They plan to do this for 50% of the coins in circulation, which total up to 100 million tokens.
Binance Coin is an excellent investment. It is the major building block of the entire Binance blockchain platform. The Binance platform is continuously growing and expanding its reach throughout the globe. And alongside the reach of BNB is growing too.
12. Polygon (MATIC)
Polygon, previously known as MATIC network, is an interchain scalability solution that gives an infrastructure for creating blockchain networks that can interface with each other. This platform offers adaptability and scalability of alt chains along with Ethereum's security, liquidity, and interoperability. 
While Ethereum 2.0 is under development, Polygon has emerged as the best practical option. Also because of good throughput and low gas cost incurred by clients and developers has risen its popularity. 
The Polygon token is known as MATIC. It is the base resource of the Polygon system. Matic is used for exchanging payments and storing tokens to protect the Polygon network.
The MATIC token has a current circling supply of around 5 billion. This coin is available on the majority of the well-known decentralized trading platforms as well as centralized-based trading platforms. Some top names include Binance, 1inch Exchange, and Coinbase Pro. Moreover, major changes are coming for this cryptocurrency. The process of purchasing is getting simpler soon. By making it accessible in both fiat and crypto this cryptocurrency will be simpler to trade.
Matic has a market capitalization of $11.5 billion. The coin is currently trading at a price of $1.66. The below chart shows the hike in price in the current year. From a price of $0.019, the price has risen by more than 8000% in less than a year.
13. Solana (SOL)
Solana is known in the cryptocurrency space because of the incredibly short processing times the blockchain offers. It is a decentralized blockchain that is built to enable user-friendly apps for the world. Solana offers high transaction speed, a strong team at the back end, a financially stable cryptocurrency with a good store of value. The outstanding appreciation in the Solana coin has made this coin reach the list of top 10 cryptocurrencies by market capitalization. 
SOL is the native currency of the Solana blockchain. It is used to validate the network transactions, secure the network and run the on-chain programs. Solana is also considered the top competitor of Ethereum which is currently amongst the top 2 cryptocurrencies. The growth trend of Solana is excellent and investors might see this cryptocurrency mimicking the growth of Ethereum. 
Solana is making some excellent partnerships that prove that this cryptocurrency is creating a solid space for itself within the crypto world. The first one is with FTX to develop a next-gen Defi exchange. Next is with Chainlink for building a super-fast oracle and the third is with Tether to bring a stable USDT to Solana's ecosystem.  
Solano has a market capitalization of over $65 billion. From the price of $3.4 at the start of 2021, this cryptocurrency is currently trading at $212. The explosive growth of almost 6000% in less than a year has made this cryptocurrency investor's top choice. 
Solana is amongst the fastest-growing cryptocurrencies. With its transaction fees extremely low, it makes an excellent choice for investors who can invest with low capital.
14. Polkadot (DOT)
Polkadot is a scalable heterogeneous blockchain. It creates a scalable blockchain architecture (which can grow with increasing demand for it). Different blockchains with unique functionality can interact with each other based on a shared security system, laying the foundation for the next generation internet
DOT token is a native cryptocurrency of the Polkadot blockchain. What makes DOT token unique is that it gives complete control over the ecosystem to its owners. Also, DOT owners are rewarded according to their behavior. This mechanism ensures that only those people stay in the ecosystem that is interested in the trade. And finally, DOT offers parachains which are binding tokens. This is a form of a proof-of-stake algorithm.
The DOT cryptocurrency has 2 versions in circulation: the old and new ones. The old version is around 10 million and the remaining is the new version. The total supply of this cryptocurrency is around 1 billion now.
Polkadot has a market capitalization of around $41 billion. Its coin is currently trading at $41.73. The growth of this coin picked pace in December 2020. The coin kicked off 2021 at a price of $9.8 and has shown an outstanding appreciation of 325%.
15. Avalanche (AVAX)
Avalanche is a Decentralized Finance (Defi) platform that allows interoperability between third-party tokens. Essentially, Avalanche is a blockchain-based platform where issuers can transact their tokens and at a low cost. It is a comparatively new blockchain network but has aspirations to become a global network that is fast, censorship-resistant, secure, and easily scalable.
Avalanche possesses itself as an Ethereum competitor. And when compared with Ethereum, the Avalanche system is fast which can handle many transactions in less time.
AVAX is the main cryptocurrency of the Avalanche ecosystem. This cryptocurrency has been created to secure the blockchain. AVAX can also be used to pay fees with, and by staking the tokens, users receive rewards.  720 million AVAX tokens scheduled for issuance. Of these, 360 million tokens were mined at launch.
AVAX has a market capitalization of $24.2 billion. This cryptocurrency is currently trading at $110. The below chart shows the explosive growth of AVAX in 2021. The cryptocurrency kicked off the year 2021 at a price of $7.2 and has appreciated by more than 1400% in less than a year.
Disclaimer:
None of the information published in this article should be construed as investment advice. We strongly advise our readers to always do their due diligence before investing.
You may also like reading:
Back