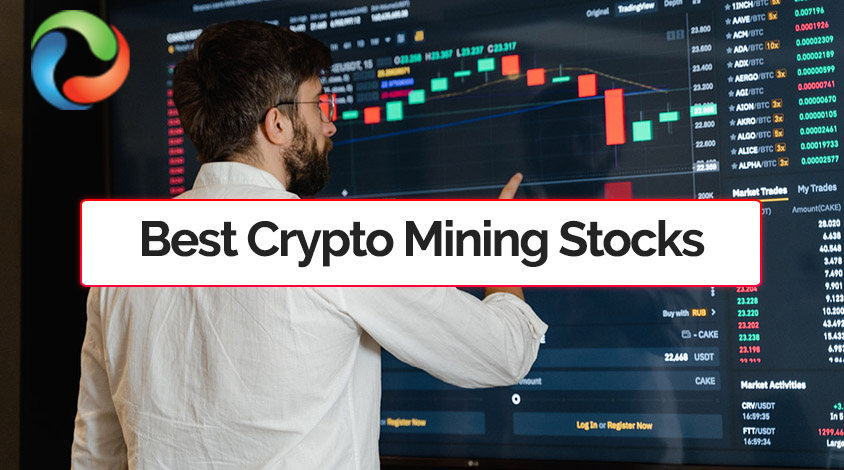 Bitcoin, Ether, and Dogecoin are the few top names that come to mind when talking about cryptocurrency. The fast increase in the price of these cryptocurrencies has attracted a lot of public attention and there has been a significant increase in user base. Users can buy cryptocurrencies from exchanges but it is also possible to mine the coins through one's computer by solving complex mathematical problems.
What is Crypto Mining?
Blockchain is the technology via which these currencies are built. It is more like a public ledger that holds all cryptocurrencies and is secured using complex encryption methods. The person who creates new coins on the blockchain ledger is called the miner. To get new tokens of cryptocurrency on Blockchain, the miner has to solve complex mathematical puzzles which verify the virtual currency transactions. These transactions are updated on the decentralized blockchain ledger. And the miner earns cryptocurrency coins. By mining new coins, the circulation of cryptocurrency increases. There is no guarantee of success but a good crypto signal provider will contribute to your financial security.
What to look for in Crypto Mining Companies?
Crypto mining companies require a substantial amount of capital to invest in processing power and electricity to complete the mining process which includes complex calculations. Ten years from today, crypto mining will be even more in demand. With the rise in crypto mining companies, it is very important to understand how miners work, what distinguishes them, and what factors affect them. After all, not all mining companies are the same.
The factors that directly impact a crypto miner's profitability are:
Cost of Hardware – Miners have to invest a lot of money into high-end semiconductors. And they have to keep track of the fluctuating cost of the hardware to buy at the lowest possible rate.

Cost of Energy- Mining requires huge amounts of megawatts to run computations. Therefore, finding the cheapest source is important. Moreover, with the increase in renewable energy sources, using green energy is more important.

Price of cryptocurrency – The price of the digital currency directly impacts the price of the stock of the mining company
Give a read to a list of the Best NFT Stocks that can earn you great returns if you invest in them today.
Pros and Cons of Crypto Mining
Bitcoin is the world's most popular cryptocurrency. It is also the first digital currency to ever exist. Today there are more than 100 cryptocurrencies in circulation. Let's discuss the pros and cons of cryptocurrency mining:
Pros
The best thing about mining cryptocurrency is that the owner has full authority over its asset and can use it in any way and can trade it any time of the day. Get to know best day trading opportunities that make your day trading journey convenient and rewarding.

The cost per transaction is very low. And there are no restrictions or higher costs of cross-border transactions.

There is a risk of counterfeit money as it is a digital asset.

The processing time is very quick
Cons
You have to learn a lot before you understand the technique of mining cryptocurrencies. Blockchain technology is a complex structure and requires good handling. Tech sector is huge and increasing by the moment.

The energy consumption for mining is very high. Also, the cost of equipment, that are powerful mining rigs, is very high.
Cryptocurrency is on the rise. The value of all cryptocurrencies passed $1 trillion in early 2021. Despite the huge drop in the price of the leading cryptocurrency Bitcoin, the value of this industry is still high. The demand for cryptocurrency and crypto mining companies is continuously rising.
List of Best Crypto Mining Companies
Below we have compiled a list of crypto mining companies that are leading the industry.
Marathon Digital Holdings Inc (MARA)
Marathon Digital Holdings aims to build the largest mining operation in North America at one of the lowest energy costs. By working on one of the prime shortcomings of mining, Marathon Digital is here to stay and lead in the crypto world.  By using Marathon Digital, investors can get exposure to Bitcoin, without actually dealing with holding the asset directly.
Marathon has a very exclusive growth strategy which it has set for itself to become the largest mining operation in North America.
Improve Bitcoin production by increasing hash rate

Continue to "de-risk" the business by becoming more resilient to potential declines in the price of BTC
The below chart shows the Historical and Potential Hash Rate Growth of the mining company.
As of September 1, 2021, Marathon's mining fleet has produced approximately 1,757.9 newly minted bitcoins during the current year. Estimating the value of Marathon's current bitcoin holdings, as per the price on September 1, 2021, that is approximately $49,800, current bitcoin holdings stand at approximately $333.4 million. Investing in stock or currency can make or break an economy.
The bitcoin production of Marathon is as below: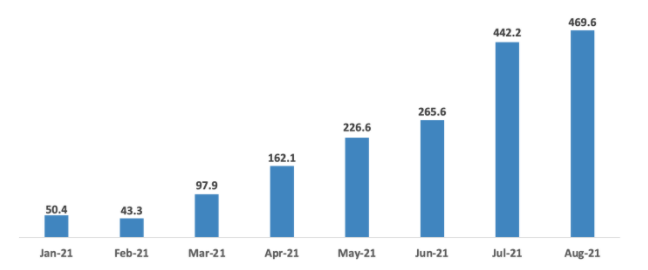 Company officials believe that the company is well-positioned to scale its hash rate from its current level of 2.3 EH/s to 13.3 EH/s by mid-next year. Marathon is doing well and smartly investing and earning from the rise of digital currencies.
Read more:
Hive Blockchain Technologies
HIVE Blockchain Technologies is the first publicly traded crypto miner. It was previously only registered on Toronto Exchange and has recently been listed on Nasdaq.  The company gained popularity because of its efficient use of 100% green energy to mine both Bitcoin and Ethereum. HIVE strives to create long-term shareholder value with its unique HODL strategy, bridging the blockchain and cryptocurrencies to traditional capital markets. It is among the largest and most diversified cryptocurrency miners. With the demand for AI technology increasing, investor interest in Artificial Intelligence stocks has also increased.
The performance of the Hive Index for the 12 months ending 31st August 2021 is as below. The Hive index has outperformed crypto indexes and S&P 500 index.

Hive index even outperformed Bitcoin and Ethereum in 2020, as shown in the below chart:

Hive holds a very healthy balance sheet which provides great security to its investors. Out of the total portfolio, 33% of the assets lie in bitcoin, rest is liquid cash. The company currently holds 1,030 Bitcoins. The below graph shows the growth and production of BTC over these past months:

In FY 2021, HIVE generated an income of $66.7 million, from digital currency mining. The company mined 595 Bitcoin and over 96,300 Ethereum during the year ended March 31, 2021. The total value of digital assets is worth $57.5 million at year-end. Hive is rising on the ladder of success in digital currency mining and giving an excellent return to its shareholders. Right now it is the best time to invest in this crypto miner to enjoy higher returns in the future.
Canaan 
Canaan Inc. is a bitcoin mining hardware manufacturer based in China. This company invented and delivered one of the first cryptocurrency mining machines incorporating application-specific integrated circuit (ASIC) technology. In 2013, the company released and mass-produced its first ASIC Bitcoin mining machine. In 2018, Canaan released the world's first 7nm ASIC chip, providing energy-efficient computing equipment to the cryptocurrency mining industry. 
In the recent quarter of 2021, the company reported net revenues of $167.5 million and net income of $37.9 million. Net sales are the highest quarterly sales for the Bitcoin miner maker since its IPO in 2019. Total computing power sold, during this quarter, was reported at 5.9 million Thash which is up by 126.9%. The company has set a new mark of computing power sold. The increase is major because of an increase in the number of Bitcoin mining machines being delivered driven by strong market demand.
Canaan has recently received from HIVE Blockchain Technologies Ltd. ("HIVE") purchase order for 4,000 bitcoin mining machines. And the company expects total revenues to have a sequential increase of 10% to 30% for the third quarter of 2021. Use the tools and indicators to get educated and to make well-informed decisions for investments.
The stock of Canaan is currently trading at around $5. When the Bitcoin price rose to its highest, the stock of Canaan also rose and reached up to $34. The below chart shows the stock performance of the company.
Ebang International
Ebang International Holdings Inc. is a blockchain technology company with strong application-specific integrated circuit (ASIC) chip design capability. With years of industry experience and expertise in ASIC chip design, it has become a leading bitcoin mining machine producer in the global market. 
The core businesses of Ebang International are:
Crypto exchange platform

Miner Business

ASIC Chip Design
The company also focuses on miners for non-Bitcoin cryptocurrencies such as Litecoin and Monero. They plan to continue to invest a lot of resources in applying innovations in blockchain technology.
In their last financial report, the company issued full-year results of 2020:
Total computing power sold in the fiscal year 2020 was 0.50 million TH/s, a huge decrease from last year

Total net revenues in the fiscal year 2020 were US$19.00 million, an 83% decrease from last year.

Net loss in the fiscal year 2020 was US$32.11 million
Ebang International stock is currently trading at around $1.87 on the Nasdaq exchange. The below chart shows the performance of the company's stock.

Riot Blockchain
Riot Blockchain, Inc. is a Bitcoin mining company, supporting the Bitcoin blockchain through rapidly expanding large-scale mining in the United States. The company plans on increasing its Bitcoin mining hash rate and infrastructure capacity.
Riot currently has a deployed hash rate capacity of 2.2 EH/s utilizing approximately 73 megawatts (MW) of energy. Riot has 3,600 more S19 scheduled for deployment by the end of September 2021 which is expected to increase our self-mining hash rate capacity to 2.6 EH/s, utilizing approximately 83 MW of energy.
The below chart shows the Bitcoin mined: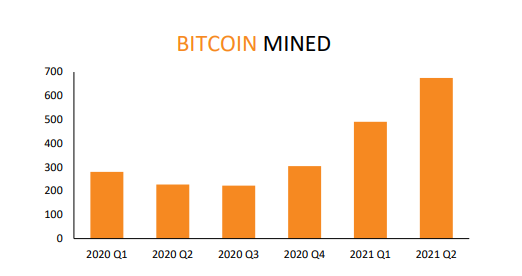 The company posted its quarterly report:
Increased mining revenue by 1,540% to a record $31.5 million

Net income of $19.3 million

Total cash and Bitcoin of $195.4 million as of June 30, 2021
The astounding increase in financials is the result of the absolute focus of the company on Bitcoin mining and growth in its mining operations.
In May 2021 Riot announced the acquisition of Whinstone U.S., a Bitcoin mining infrastructure company. As a result of this acquisition, Riot will be able to create one of the largest hosting and mining companies in North America, as measured by developed and future capacity.
The Company is expanding and upgrading its mining operations through industrial-scale infrastructure development and latest-generation miner procurement. Riot anticipates achieving a total hash rate capacity of 7.7 EH/s.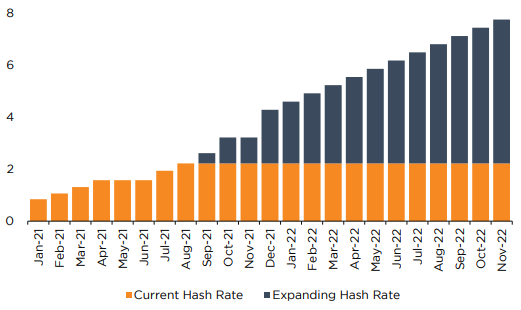 This demonstrates Riot's commitment to being a market leader by building one of the largest and most efficient Bitcoin mining fleets in the industry.
The stock of Riot is currently trading at $25. The stock rose to $70 when the price of bitcoin peaked in March 2021. The below chart shows the stock performance of Riot in the past 2 years.

Forex and stocks are very volatile markets and have high trade frequency. Read more about forex vs stock trading.
Hut 8 Mining Corp
Hut 8 is North America's oldest and largest digital asset miner. The company has grown from a single partnership to one of the largest bitcoin miners globally, with the most self-mined bitcoin held along with expanded Ethereum mining and diversified revenue streams.
Hut 8 has one of the most established and largest operations in the mining game. They provide cutting-edge computing infrastructure to host our partners' cryptocurrency mining needs.
As of September 2, 2021, Total Self-Mined Bitcoin Held Revenue Stock stands at 4,450. Total Contracted Hashrate for BTC Mining is currently at 2.5E/H PH/s. 
As per the recent quarterly report:
Revenues of CAD 33.6 million (roughly $26.4 million)

Net loss of CAD 14.4 million (roughly $11.33 million)
The stock of Hut 8 is currently trading at $8.1. The stock, as seen in the below chart, is currently on a rising streak. 
Bit Digital
Bit Digital, Inc. is a sustainability-focused bitcoin mining company with global mining operations representing a currently-owned maximum hash rate of 1,920 PH/S. 
The company recently entered into a co-mining agreement with Blockfusion USA, Inc., which features vast hash power without a big carbon footprint. This partnership will increase Bit Digital's hash rate of up to approximately 1.2 Exahash
In the first quarter report of 2021, the company posted:
Revenue of $43.95 million, from bitcoin mining

The number of bitcoins earned was 1,013.40

Net income was reported at $35.79 million 

Earnings per share were $0.74 for the quarter
The company has mined 3,086 bitcoins since its inception. The below chart shows the mining of Bitcoins over the period:
Bit Digital is fully committed to powerful Bitcoin mining operations. At the current price of $7.19, Bit Digital is an attractive stock to buy. The below chart shows the stock performance of the company.
Conclusion
The Digital Currency market continues to rise. Mining companies offer investors a chance to take advantage of the growing industry without actually buying the digital currency.
Disclaimer: None of the information published in this article should be construed as investment advice. Article is based on author's independent research, we strongly advise our readers to always do their due diligence before investing.
You may also like reading:
Back