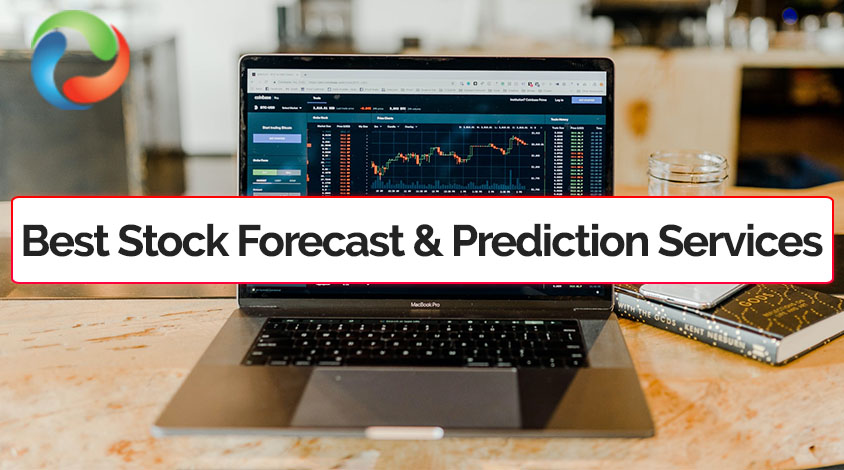 It is quite impossible for a regular investor like you and me to process all the investment-related noise out there. Retail investors have a loads of information at their fingertips out there. This information is needed if investors like us want to build and manage a diversified portfolio
Stock Market forecasters make use of market and economic news, long-form technical analysis from experienced market participants, and powerful tools and help regular investors make potential investment decisions on their own. Here we have compiled a list of the best stock market forecasters which offer accurate data, up-to-date news, superior tools for stock chart analysis, market research, online trading, and a whole community of traders.
Elliott Wave Forecast is one of the largest technical analysis firms in the world. They cover all asset classes in their services which include forecasts and signals for Forex, Commodities, Cryptocurrency, World Indices, U.S. stocks & ETF. Elliot Wave Forecast uses the blue box approach in their analysis. Their chart shows the right side tags and sequences tags which protect members by picking the right side to trade. Blue Boxes are areas where the two sides of the Market i.e. both Buyers and Sellers agree in a reaction. Those areas are based on a combination of the Market Nature, Fibonacci Extensions, and Sequences. Many traders are guilty of entering the market at a stage that we call the middle. They suffer losses because of not knowing the area where both sides agree and knowing these areas is the key to success.The experienced team of Elliot Wave Forecast was the brains behind this approach. They have been efficiently using it in their research and analysis reports they offer to their members with great success ratios.
Elliott Wave Forecast comes wth a 14 Day Trial while their Stocks and ETFs forecast and best signals subscription ranges from $99.99/month to $199.99/month. Some of the key features of the subscription plan include:
Regularly updated charts for 26 US Stocks and ETFs – 1 Hour charts updated 3 times a day; 4 Hour charts updated 5 times a week. Daily & Weekly charts updated over the weekend.
Live Analysis session which explain the bias of the market, alternate possibilities and also act as a great learning tool. Also includes coverage of some of the Stocks and ETFs not covered on a regular basis.
Daily / Weekly videos
Signals based on High probability / Low-risk blue box trading areas.
Chat room support during US market opening hours and post-market hours.
Educational videos
Read: Best Gold Trading Signal Providers.
Client support is one of the most valuable services of Elliot Eave Forecast. They offer support to their members round the clock. Members can interact with the team member through members-only chat rooms and ask questions about the forecasts and also ask for updates between scheduled updates in the stocks and ETFs they are trading out of the covered Stocks and ETFs.  and various live interactive session where low risk / high probability trade setups are also shared.  Their approach towards research and round-the-clock support puts them in the top of the list of best stock market forecasts. Get to know the best covered call stocks to buy now.
Sean Goodwin, a member of Elliott Wave Forecast says
"Choosing Elliott Wave Forecast is the best investment decision I've made in my trading career."
According to Edwardo
"In just a few months my trading has transformed as a result of the learning I've been able to achieve through these guys. Highly recommended!"

Read:
Motley Fool
Founded by the Gardner brothers in 2002, Motley Fool is known for its impressive track record and dedication towards helping investors choose stocks that grow over time. Motley Fool caters exclusively to every investor and guides them with quality commentary about stocks, accurate advice, and offer their premium services. Additionally, this platform provides all its investors with an online investing community, CAPS, which allows members to track stocks, interact with other like-minded investors and build equity portfolios.
Motley Fool offers market-beating returns. They do this by hand-picking stocks, which according to their knowledge, will perform better in the long run. Then they provide easy-to-comprehend, yet detailed reports on these stocks and offer their personal opinions about why the particular stock is a superior investment in the long run.
At $99, the investor gets access to the following for a whole year and make investment fast and easy for you:
2 stock recommendation each month – Motley Fool will do all the research for you
5 minutes a month to tune up your portfolio
Expert analysis and recommendation of new investing trends
Moreover, they offer a 30-day money-back guarantee if members are not satisfied with their service.
Motley Fool is a renowned name in the stock market. It has been recognized by Wall Street Survivor as:
"The Motley Fool Stock Advisor ranks as our #1 Best Investment Newsletter for the third year in a row."
 3. Zacks Investment Research
Zacks Investment Research is a premium service offering tools, stock picks, and stock research enabling investors to create a high-performing portfolio of stocks. It is one of the highest price stock forecast and prediction services in the market. They provide a comprehensive service covering trade recommendations for short-term trading through income investing and longer-term growth investing strategies.
At $249, per year, Zacks Investment Research offers:
Zacks #1 – A list of Top Picks
Zacks Premium Screener – 45 predefined screens
Style Scores – All Stocks on the Zacks #1 list are ranked according to value, growth, and momentum
The Focus List – This is a 50 – stock portfolio featuring high long-term earnings potential. This is an extremely valuable list for investors who are interested in building a portfolio to buy and hold
Industry Ranks
Zacks Earnings Expected Surprise Prediction (ESP) filter – This identifies stocks with the highest probability of earnings in the upward direction. This filter feature also guides about stock price surges
Equity Research Reports
Zacks Investment Research offers great value for money with the high-quality research and stock recommendations it offers to its members.
Morningstar
Morningstar is a large investment research organization with more than 8,000 employees spread across 29 countries. Morningstar is best for those investors who are interested in investing in mutual funds and ETFs. They offer a lot of free content on their website. In addition to it, Morningstar also offers a premium membership priced at $149/year. The major offerings of its premium membership include:
In-depth research on 600,000 securities
List of Best Investments – Stocks and Funds categorized separately
What makes Morningstar more attractive is that it offers lots of data and analysis to its members. This analysis comes with Morningstar's rating. They do not limit their members with a narrow list of the best stocks to invest in. Their huge data and analysis help members make investment decisions on their own. The members can decide after understanding the fundamentals of each investment. Fundamental Analysis is different from the typical chart-reading technical analysis. With Morningstar research, investors can be more precise and careful with their investments.
Morningstar's rating system is accepted widely within the investment market of the country. A huge testimony of the quality of research Morningstar provides can be recognized from the fact that many brokerage houses, within the US, use Morningstar's rating scale for mutual funds.
Read more:
Trade-Ideas
Founded in 2003, Trade Ideas is a powerful stock tracker/scanner that provides several-day trading opportunities. Trade-Ideas has incorporated artificial intelligence (AI) powered Robo-advisor titled "Holly Grail" on its platform. This AI technology can analyze millions of simulated trade scenarios in the quickest possible time and recommends trade ideas.
Trade-Ideas is one of the most popular standalone scanners on the market. The platform provides a long list of built-in scans that provides practical trading opportunities to investors. Moreover, it also gives investors the flexibility to set their strategies or set up a unique mix of built-in strategies without any hassle. Trade-Ideas is an excellent fit for day traders. It can be used for almost all types of strategies investors want to use. All it requires is quick action from the investor's side.
Trade ideas offer 2 paid packages, standard, and premium. The standard package costs $1,068 per year its main features are:
Simulated trading
Up to 500 price alerts
Streaming trade ideas
The live trading room, and more
The premium plan costs $2,268/year and its main features include all the standard package features plus the following features:
Holly
Backtesting tools
Autotrade on Interactive Brokers with a subscription to Brokerage Plus
20 simultaneous charts (the standard plan only gets 10)
Trade-Ideas is a huge game-changer in the field of investments. The concept of an AI robot scanning the financial markets hunting for trade ideas in a new one. Holly can analyze the market from several angles. This Robo-advisor can judge investments from short, long, expensive, cheap, fundamental, social, and technical perspectives. Holly makes recommendations before the market opens. Its trade ideas have a probability of success of more than 60%. The list of recommended trade ideas includes both long and short trades.
The team of Trade-Ideas is always available for support and every new member undergoes training on how to use the software. Members can always arrange one-to-one sessions for more help
As an investor all you need to do is use the list of trades, the Holly Grail comes up with and enjoy the results. No need to read long reports, no need to do hours of research. All that is required is to put the Robo-advisor on scan overnight and in the morning, you have a ready list of trade.
Seeking Alpha
Seeking Alpha offers a stock market news, analysis, and research platform to all its members. It was founded by a former Wall Street analyst, David Jackson, in 2004. The founder saw a gap in the buy-side research for investors. Filling this gap, Seeking Alpha makes use of crowdsourced analysis and creates high-quality research content for retail and institutional investors.
Seeking Alpha offers free registration and provides a lot of data free of cost to its members. It also has subscription-based premium membership priced at $29.99 per month or $19.99 if prepaid for the annual subscription. In this premium package, members get full access to all the services offered by Seeking Alpha, unlimited conference call transcripts, articles, and investment tools. It offers the below services:
Seeking Alpha's ratings and factor grades
proprietary quant ratings
Factor Scorecard for each stock, best ETFs, and REIT
Dividend Grades for top dividend stocks
The rating stock screener
Lists of top stocks
Author's recommended Stock List
Notable calls – Daily dose of the best long and short ideas
Seeking Alpha offers professional and expert opinions upon a range of stocks. They provide unbiased research reports highlighting all the pros and cons of investing in a particular company. Seeking Alpha gives the investor full liberty to make calculated decisions based upon their research and recommendations.
Read more:
Stock Rover
Stock Rover is for all types of investors. It offers powerful investment research and analysis tools. It is one of the most comprehensive fundamental analysis and portfolio management platforms in the market. What makes Stock Rover one of the best stock forecast platform is that it enables investors to set up custom metrics for their portfolios
Stock Rover excels at finding, evaluating, and comparing investment opportunities. The paid plans they offer start from $7.99/month to $479.99 for 2 years. The paid plans are designed to cater to both beginner ad advanced traders. In addition to it, they offer a unique set of built-in tools along with a highly customizable logic-driven metric builder. Stock Rover is a good investment that provides great value for money spent.
The features of their plans include:
Stock, Index, And ETF Data – An incredible amount of in-depth data available. Investors can make use of both technical and fundamental data and set their custom metrics. This enables the investors to make well-informed investment decisions
Charts – Detailed charts according to investment portfolios
Stock Screener – With a Premium Plus subscription, investors will have access to more than 600 fundamental and technical parameters which can be used over 14 screens available on this platform
Alerts – Built-in email alerts. These are impressively versatile and are not just limited to price alerts
Stock Rover is the best website for value, growth, and income investors. For long-term investors, it is the best stock forecast for 2023.
InvestTech Research
InvestTech is dedicated to helping investors earn higher profits and lower risk exposure through its research reports. It uses the approach of a "safety-first" strategy which reduces the number of risks investors take all the while making profits. Making use of a time-proven propriety model and objective analysis, InvestTech has proved itself to be a pro in accurately predicting market risk – trend shifting from bullish to bear and vice versa.
InvestTech aims to not only maximize returns but also maximize risk-adjusted return. The past performance of InvestTech is solid proof within itself that InvestTech predicts the market like no other and guides its investors accordingly.
InvestTech has been ranked as Number 1 by Hulbert Financial Digest in long-term performance. It has also been awarded the "Best Stock Market Letter" in 2015 by Kiplinger's Personal Financial Magazine.
InvestTech offers 24-hour customer support through its private hotline. It offers all its services free of cost which makes it more and more attractive for investors. Amongst the top picks for stock forecasts and prediction services for 2021, InvestTech surely is on the list.
Conclusion
The market is full of stock market news, updates, stock market predictions, and forecast. In the plethora of information, the key to success is finding the right information and applying it accurately. Our above-mentioned list of "Best Stock Forecasts and Prediction Services" are our top picks which can help you find the information you are looking for and guide you when to take action in the stock market. They offer a wide variety of services which makes the money spent worthwhile. Customer reviews talk a lot about what to expect from them. Every customer who has used the services of the above-mentioned stock forecasters has shared positive reviews. Their services have been acknowledged and used by many investors and they undoubtedly are a great investment you will make to build your investment portfolio.
The following factors were taken into account while hunting the list of top stock forecast and prediction sites.
Customer Support
Value for Money
Availability
Quality of Service
Customer Happiness
Trading Strategy
Note: The list of providers were researched by Shayan, who is an experienced freelance researcher on Financial Markets.. All products listed were reviewed based on the aforementioned criteria and solely based on his independent views and opinions.
Disclaimer: None of the information published in this article should be construed as investment advice. Article is based on author's independent research, we strongly advise our readers to always do their due diligence before investing.
You may also like reading:
Back