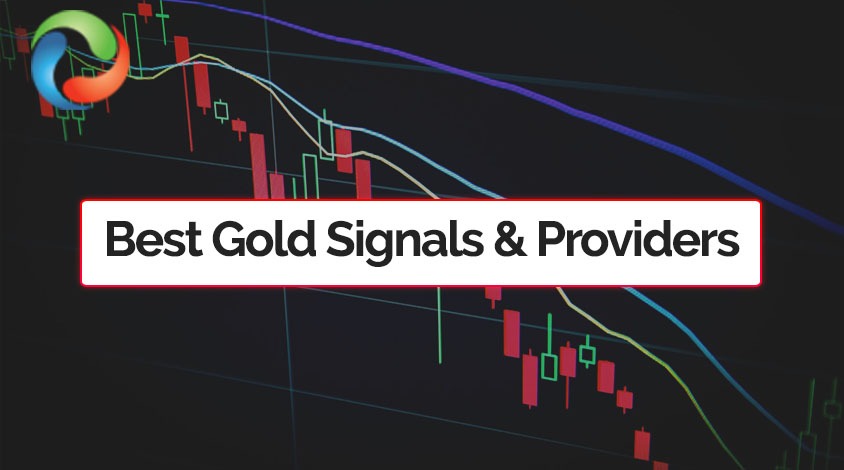 Gold is an incredibly popular market. It is a relatively stable asset for investment. The market has seen some big moves over the years. We shared a list of Best Gold Stocks for our readers previously.
A few techniques that prove helpful in trading gold are
Relative Strength Index – RSI has been explained in detail here at Relative Strength Index – Basic and RSI Strategies. RSI gives investors the confidence to invest.  A value above 70% means the market is pretty heated and below 30% means the sell-off of gold has gone too far and is expected to stop. The only issue with RSI is that in a highly trending market RSI can put you out of position too early or make you enter the position too early. Another key use of RSI is to determine whether a cycle is complete because a 5 waves impulse cycle needs to end with momentum (RSI) divergence and a corrective cycle needs to end without momentum (RSI) divergence). One of the companies we researched use this technique with perfection to determine if a cycle is over or not and hence allows trades to maximize their profits and also keeps them from entering too early.
Moving Averages – Moving averages work well in trending markets. It is one of the simplest technical indicators to look out for. If the price of gold falls below the moving average, then it's a signal for sale. Similarly, if the price of gold falls above the moving average it is a buy signal.
Read: Best stock signals and providers.
Moving average convergence divergence (MACD) – MACD is based on 2 trend lines. One trend line is the difference between the 26-period exponential moving average (EMA) from the 12-period EMA. The second line is a nine-day moving average of the MACD line. The crossover between these 2 lines gives buy and sell signals.
Swing Sequence: Impulsive sequence runs in 5,9,13, 17 and so on and corrective sequence runs in 3,7,11 and so on. Understanding and properly counting the swing sequence can result in good trading opportunities.
Elliott Wave Forecast is one of the largest technical analysis firms in the world. Based on its recommendations and customer reviews, Elliot Wave Forecast has now become a renowned name in the financial market. Their team of more than 10 analysts is dedicated to providing comprehensive forecasting with forex and trading educational courses to its members.
Elliot Wave Forecast takes pride in its disciplined methodology. Their right-side system along with blue boxes is one of the key components of its trading signals and the secret behind their long-term success with its members. The team of analysts can guide the members and subscribers to position themselves for proper entry and exit in the markets. Moreover, their customer support and 24-hour availability to its members make this firm the best gold trading signal provider.
Their typical Gold trading signal follows the logic below:
Identify the trend, also known as Right Side.
Use Green Right-Side tag for buying and Red-Right side tag for selling.
Well defined entry and stop loss levels. Entering the trade at 100% extension with stop above or below 161.8% extension.
Blue box area is a high probability and low risk entry area and about 80% of the times will produce a reaction in 3 waves at least which allows trades to eliminate risk on the trade
Signals include Entry, Stop and take profit target.
Trade management once trade is filled.
Below is an example of blue box chart in Gold which resulted in a trading signal and was presented with Entry, Stop and Take profit target to members.
Also read: Best Stock Forecasts & Prediction Services
Gold 240- minute chart from June 4, 2021
A move into blue box was expected before rally resumed.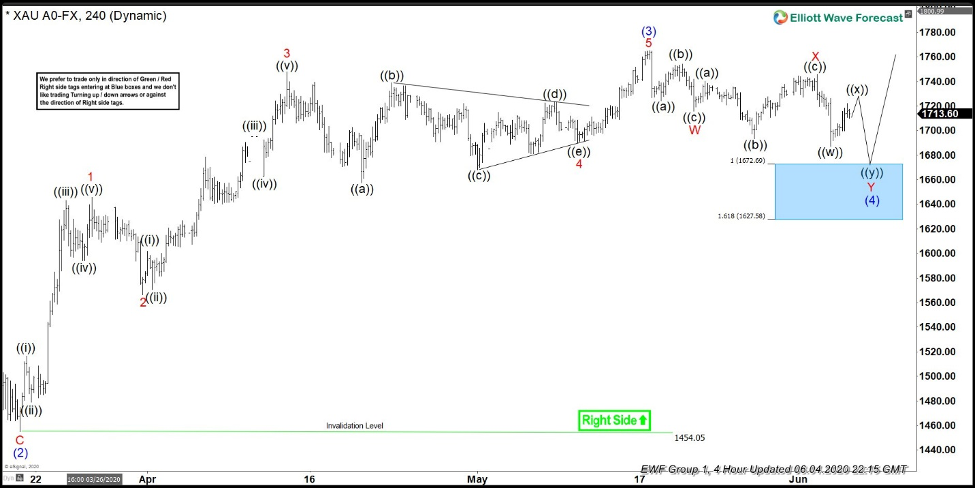 Gold 240-minute chart from Jue 14, 2021
Price reached the blue box as expected and rallied $70 in the next 10 days resulting in nice profits and allowing traders to eliminate risk on the trade.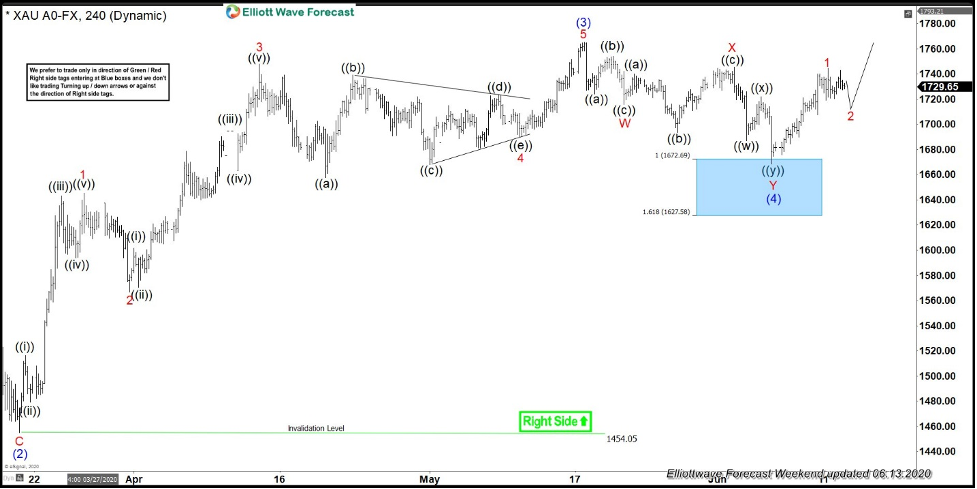 Elliot Wave Forecasts offers a lot of content and analysis for free to its subscribers. Their team of analysts is regularly reviewing Stocks, Commodities, best ETFs to buy, Forex, Bonds, Crypto-currencies to invest and sharing their valuable forecasts with its subscribers. Get started with your 14-day Trial. For detailed analysis, trade setups, technical videos their membership packages start from $99.99/month to $399.99/month. If one needs subscription only for Gold, Silver, Copper and Oil along with Forex majors, some majors Indices and US 10-year note, then subscription prices range from $99.99/month to $199.99/month.
Elliot Wave Forecast provides expert advice and opinion to its members and has emerged as one of the best forecasting websites. Their frequency of charts and detailed analysis makes Elliot Wave Forecast unique in the market, hence one of the most preferable Gold Trade Indicators and trusted by 10,000+ successful traders.

Read more:
2. Signal Skyline
Signal Skyline profits from its subscriber's investments. They have a personal approach towards the investment of each of their subscribers. Hence their team always goes out of its way to assist its members to help them make the most profitable choices. They have an easy policy to start trading with them:
Sign up
Receive Signal
Take profit
They provide daily signals and forecasts which are easy to comprehend for every member.
Signal Skyline offers great plans at a great price. Their plan prices start from $49/month to $757/month. They even offer a trial 7-day plan for $7. This is a great offer for investors who have doubts about their service and can buy the trial plan and get gold trading signals.
Signal Skyline offers great service at a very convenient price. Their simple approach towards customers gives them an advantage over their competitors in the market. Check out the best NFT stocks to buy now.
3. Gold Signals
Gold Signals is one of the renowned names in gold trading signals who are famous for their Safe Point Analysis. This approach towards Gold Trade Analysis helps them identify the most accurate BUY/SELL Limit Orders for spot gold trading. Their Limit orders enable traders to take quick action and save time on reading and analyzing charts. Gold Signals reflect complete transparency in their signals. They publish their trade signals publicly (after some time)
The team of Gold Signals is operating in the Gold Trade for a very long time. They have a history that reflects their amazing performance: they were trading in the gold market during the bull market in 2012 and the bear market in 2013.
They follow the below criteria in their gold trade signals:
It should follow the correct gold trend
It has a clear price entry. And a target with a good risk and reward ratio
It has a well-defined price stop level and time stop level
Gold Signals paid packages start from $149/month to $349/month. The team provides extensive support to its members and treat each member as a VIP. Investors with beginner's level knowledge about Gold Trading are given extra attention and more support. Signals are regularly sent via SMS and Email. Gold Signals has created a name for itself through its service in the market amongst the best Gold Trading Signal Providers.
Get to know the best covered call stocks to buy now.
4. HuracanFX – Gold Group
HuracanFX – Gold Group is a telegram group, which predominately offers gold signals. They have a good reputation for offering free gold signals also which enables investors to judge the feasibility of buying their paid packages. HuracanFX displays its trade setups to its members. This helps the members understand the foundation of the signal provided.
Their yearly package offers the below features at $44
Learn how to preserve your capital
NO Overtrading
Account set up advice ( account type for best results )
Trade alongside institutional price movements
Flexible payment plans
ONE TIME Fee to last your 12 Months
HuracanFX is a group where subscribers get regular trading signals. It is surely a reliable Gold Trade Signal Provider with a lot of free content for its member. This is a notable service of HuracanFX due to which it stands out amongst other Gold Signal Indicators.
Read more:
5. AltSignals
Alt Signals is one of the most popular Telegram Gold Signal Indicators. They not only provide trading signals but are also known for guiding novice traders to polish their trading skills. Alt Signals are known for their in-depth analysis and preference of quality over quantity. All their signals are backed by research and the expert opinion of their team. Their team of traders is strategic specialists who offer personal help and assistance to members who require management tactics for their investment portfolios.
At $280/month, Alt Signals provide the following features in its plan:
Daily Signals
1000 pips every month
Breakout Trades
HQ Signals
No PUMPS
No overtrading
In addition to the above features, members get access to
Swing and Breakout Signals
Trusted Signal Provider
Cornix Configuration Tutorial
Alt Signals have been appreciated by its members because of its excellent customer support. Their up-to-date information and up-to-date technology are the reason members of this Gold Trading signal group are satisfied.
6. Gold Trading Signals – By Marcus
Gold Trading Signals is a telegram group that is most popularly known for keeping its members regularly updated to world economic conditions which have a direct impact on gold prices. Moreover, their frequency of sharing trade setups is high, which makes it popular amongst traders. A higher number of trade setups enable traders/investors to gain a better understanding of how gold prices shift and when to make a profitable trade.
Read more:
7. MYC Forex & Commodities Signals
MYC Forex & Commodities Signals provide profitable gold signals along with forex signals. The main focus of MYC is to help its members generate consistent and sustainable returns. Hence, members of MYC can trust the team with their predictions which can earn them good profits. MYC shares market and technical analysis report daily. This helps traders better understand the trades and predictions of the analysts. Also, this helps traders earn better knowledge of the market. Also read: Best Trading and Forex Signal Providers
They have a free channel for all subscribers. Members can join this group to judge the quality of their signals and services before actually investing in their premium plan. Their paid plans start from $90/ month to $750 for a lifetime membership. Their premium customers get 24/7 customer service. And by this, they mean 24 hours a day and 7 days a week, irrespective of the time zones the traders belong to. The team assures all the queries of members are promptly responded
8. Gold FXCC
Gold FXCC is a global network that has been helping investors gain better knowledge of the trading in the forex and commodities market. They are a real-time telegram group that provides Gold Trading Signals to its members. They take pride in enabling their members to learn the skill set that can change the way they trade. Gold FXCC also provides one of the best trading experiences to its members.
Gold FXCC provides a full in-depth analysis of all trades along with every technique their analysts use to spot trends, identify opportunities and key areas in the market. They operate in 14 plus countries.
Their paid plans start from $49/month to $300 for one year. Their paid members also get access to 24/7 customer support.
9. Profits Hunter Signal
Profits Hunter signal is a Telegram channel. It sends high-quality gold trading signals on a daily basis. It sends about five signals on daily basis. But one limitation of this telegram channel is that not every signal performance is acutely accurate. In order to send 5 signals per day, this group's signal quality has experienced a downfall.
In addition to it, the group lacks educative material for beginner gold traders. Therefore, members who are there to learn and trade along the way are not suitable for this platform. 
However, for expert traders, the group provides ample signals. The regular traders can act upon the multiple signals received during the day and get ideas about profit generation from gold trading.
10. Loi's Gold Trading Room
This is another gold trading signal provider on Telegram. It provides trade setups and charts that are posted in the free group. The charts are incredibly precise and clear. It is an excellent platform for novice traders as they can better understand the ideas behind them.
This channel provides real-time signals which are posted with Entries, Stop loss (SL), Take profit (TP), and targets. Also, it offers real-time technical analysis of pairs traded with charts not available publicly. In addition to it, Loi's Trading Room provides private charts which are only for subscribers.
In addition to signals, it also provides educative material about risk management. Alongside, every trade idea given is of good risk-reward. This means the take profit targets are always more than the stop loss.
However, the free signals it gives out are very few, making it difficult to weigh the dependability and accuracy of the signals. Therefore, it gets difficult to identify how accurate its paid signals are. 
On the other hand, this group is an excellent source of information about the latest updates and ongoings of the gold market. And how likely these factors will affect gold prices. Therefore, it eliminates the need for a trader to keep up with the latest news and updates.
11. Forex Gold Alerts 
Forex Gold Alerts provides gold and silver forecast signals for Gold spot markets on daily basis. It assists its members in Gold Trading by providing accurate Forecast signals. Forex Gold alerts send gold signals twice on a daily basis in both sessions and the short-term forecast. 
It offers:
A free trial subscription:
In this trial subscription, Forex Gold Alerts offers
Daily Gold Forecast Alerts

Daily Silver Forecast Alerts

Monthly Gold Analysis

50 to 60 Signals per month

Basic Support by Email
In this basic subscription, Forex Gold Alerts offers
Daily Gold Forecast Alerts

Daily Silver Forecast Alerts

50 to 60 Signals per month

Monthly Gold Analysis

Basic Support by Email
In this trial subscription, Forex Gold Alerts offers
Daily Gold Forecast Alerts

Daily Silver Forecast Alerts

50 to 60 Signals per month

Monthly Gold Analysis

Priority Support by Email
It offers educative material on its website, alongside trade signals. The one thing that makes this website unique and adds to its credibility is it gives a detailed record of its past performance. Users can easily keep track of the signal's prior performance and decide upon paid subscription.
12. Gold Pattern
Gold Pattern is another renowned name in the gold markets. 
It also provides knowledge and basic guidelines about how to execute trades and how to make the best use of trade signals. It provides guidelines about the best currency to trade, the best technical indicators and charts to use in gold trading, and also suggests the best pairs to trade. 
In its paid gold signals, it specifies the entry point, to sell by market/buy by the market at spot price. All signals type order is (Market Execution) Execute immediately at the best available price. It also specifies the Take profit and Stops Loss.
Gold Pattern sends 1 – 5 gold signals every week. The Accuracy of its Gold signals is around 70 – 80% and its gold signals' average profits are (600 – 1600) pips monthly.
13. Apex bull Signal
Apex Bull signal is a telegram channel that has gained quite a name for itself because it has been offering some of the best gold signals over the last years. Its founder is a Wall Street pro and has built a respectable name for himself with his telegram channel Apex Bull Signal.
ApexBull has a lot of educative material and provides knowledge on a variety of financial topics. These help traders carry in their gold trading. The approach of Apex Bull is not only limited to gold trading but also to other markets. It offers advanced and unique trading strategies for investors. Furthermore, along with sharing gold signals with the community, Apex Bull offers one of the most advanced forex trading courses on the internet
14. FX London
FXLondon is a UK-based leading Gold, Forex, and US30 signal provider. 
It has a combined trading experience of 15 years making them one of the most experienced and trustworthy communities around. They are an excellent source of gold trade signals for the long term. 
It gives quick, accurate, informative daily signals. Their VIP channels produce very impressive results, often securing upwards of 10,000+ pips every month. It offers affordability, simplicity, activeness, and customer support inside its signal channels and community.
It offers educative material which helps sharpen the trade skills of investors and they get to learn from one of the best in the industry.
Overall FxLondon Provides
Daily short-, medium-, and long-term trades

Great Customer Support

87% VIP Signals accuracy

Successful Mentorship
15. Gold Signals.io
Goldsignals.io are a team of industry-leading traders, educators, and decision-makers. They started in 2018, tackling the toughest trade decisions, educational content, and trading strategies for the most sophisticated traders. They are dedicated to helping individuals who want to convert their dreams into reality. 
GoldSignals.io focus on accuracy rate, with no over-trading.  As well as this they focus on a good Risk to Reward Ratio. This means safe and consistent profitability for all traders. They provide signals every day and, in most cases, the team at Goldsignal.io don't over-trade. They prefer high quality over quantity. This signal provider has more than 5 years in trading and 14 years in trading together. Their business is fast growing and members from more than 180 countries and counting!
Goldsignals.io is run by a team of highly experienced traders. They provide the education their members need to make consistent and profitable trades from day one, with proper risk management principles!
They also offer forex signals and most months the team at gold signals tends to do well over 1000 pips in profit which stands for percent in point. This is a measure of movement in the forex markets, pips for different pairs have different values.1000+ pips monthly will generate at least 5-10 % profit monthly minimum with a safety risk size. 
They initially offer their members to start practicing on a demo account which is like fake money and then move to a real account once they understand the platform and learn from their mistakes. Once the members are ready, they suggest starting with over $300+ or $500+ This will give you a good amount to profit on each month as a beginner but as a more serious trader you should be looking to trade with 10-100k+ to make enough to cover your full-time income, remember making 5-10% a month seems small but on big cash, it adds up quickly with compounding, banks give you 5% a year! 
16. Gold Predictors
Gold Predictors is founded by Dr. M. Umair, an independent financial analyst with a single purpose, and that's to help educate everyone about the best ways to invest and trade in Gold and Silver. The founder has multiple years of experience in this field. He started sending emails to those interested in getting financial information, and those members eventually asked for a dedicated, online tool that would provide everything in a simple, appealing manner.
Gold Predictors is offering a web-based app where you can receive trading signals, free and premium articles, as well as all the content you need to stay up to date with trading information. Thanks to Gold Predictors, you get to stay educated in the ever-shifting world of financial trading, and they are constantly pushing the boundaries to deliver you an incredible experience every time.
They offer assistance to all types of traders. Whether you are new to the gold/silver trading world or a veteran, we are here to provide you with comprehensive information. At Gold Predictors, they can help short-term traders, and long-term investors, but also commodity traders and people in the Forex field as well.
17. Gold Trading.net
Goldtrading.net is a leading source of news and information for traders and investors interested in physical gold bullion and gold stocks. They aim to provide our readers with accurate and timely information, as well as in-depth analysis of the gold market, to help them make informed investment decisions.
Their website covers a broad range of topics related to gold investment, including market trends, price analysis, investment strategies, and news and events that impact the gold market. Their team of writers is committed to providing insightful and actionable content that can help our readers achieve their investment goals.
Their website covers all topics related to gold investing, including market trends, investment strategies, as well as the news and events that impact the gold market. The management are committed to providing insightful and actionable content that can help our readers.
They provide information about :
Gold Stocks

Gold ETFs

Gold Bullion

Gold Trading Signals
Conclusion:
Using Gold Trading Signal Providers is a smart approach for traders. This enables them to get access to detailed reports, in-depth analysis, and get regular updates of the Gold Market. However, it is very important for you as a trader to select the signal provider that is the right one for you. This list of "Best Gold Trading Signals and Providers" has been carefully selected after scrutinizing their quality of signals, trading strategy, their research and analysis, their customer service, the frequency of signals, risk and money management guidance and value for money. We recommend all our readers to do their research and comparison before investing their money in the Best Gold Trading Signal provider.
The list of providers were researched by Shayan who is an experienced freelance researcher on Financial Markets.. All products listed were reviewed based on the aforementioned criteria and solely based on his independent views and opinions.
Disclaimer: None of the information published in this article should be construed as investment advice. Article is based on author's independent research, we strongly advise our readers to always do their due diligence before investing.
You may also like reading:
Back