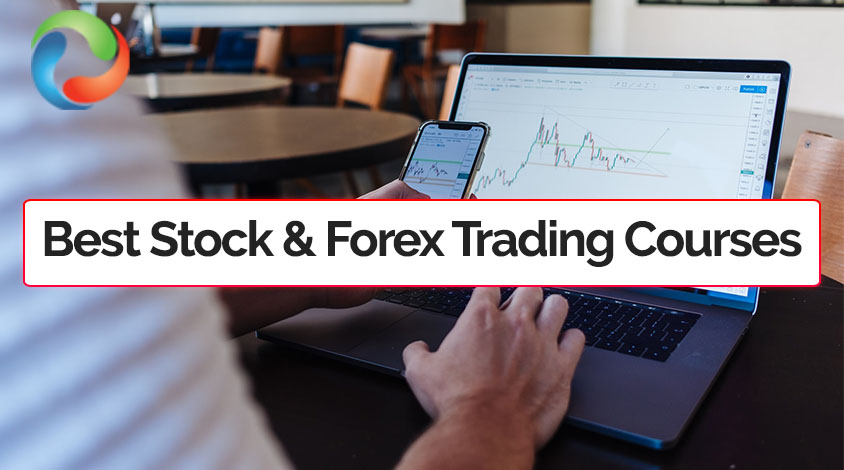 Trading stocks can be  very rewarding, in terms of returns, but it is a high-risk activity. Without proper knowledge of the trading floor and how it operates, you can face heavy financial losses. Today, when everything has shifted online, you don't need to join a college or start extra classes to learn the art of trading. There is a vast array of trading courses available online which you can join, each with its own merits and every course suitable for different types of traders. Get to know the list of indicators, which are very helpful and used by the majority of the traders in Forex Trading
While choosing an online trading course, you need to be extra careful before signing up as not every course is suitable for you. We have listed a few questions which every individual should seek answers to, before signing up:
Who is the Teacher?
The best trading courses are taught by professionals who are working in the field. Therefore, always sign up for courses that are taught by trading experts themselves.
What support tools will be used?
The best trading courses are those which offer support tools for students learning which can be an online forum where the students can interact with each other and discuss or other tools that can be used in contacting the trading coach.
What topics will be covered?
The best trading courses are those that teach specific topics and cater to a niche audience. Always read the course outline/description carefully to ensure you are signing up for a course that fulfills your learning goals.
Get to know the best covered call stocks to buy now.
Are the claims reasonable?
The best trading course will never provide 'guaranteed monetary earnings on the stock market'. These are signs of scammers. Avoid such courses.
Read: Best Gold Trading Signal Providers.
Our pick for the 10 best online courses which can take your learning of the trading market to new levels are below:
| | | | |
| --- | --- | --- | --- |
| No. | Course | Category | Cost |
| 1 | Educational Webinars and 1-1 Coaching by Elliot Wave Forecast Education | Beginner / Intermediate / Advanced | From $99.99 |
| 2 | One Core Program by Asia Forex Mentor | Advanced Trading | $997 |
| 3 | Textbook Trading by Investor's Underground | Beginner Trading | $997 |
| 4 | Warrior Starter by Warrior Trading | Beginner Trading | $997 |
| 5 | Accelerated Trading Course by Bulls of Wall Street | Intermediate Trading | $999 |
| 6 | Penny Stocking Silver plan by Tim Sykes | Beginner Trading | $149.95 |
| 7 | The Complete Foundation Stock Trading Course by Udemy | Beginner Trading | $129.99 |
| 8 | Bear Bull Traders | Intermediate Trading | $199 monthly |
| 9 | Elite Trader by Tradepro Academy | Beginner Trading | $219/month |
| 10 | 3 steps to profit by Options Geek | Beginner Trading | $397 |
Also read: Best Stock Forecasts & Prediction Services
1. Educational Webinar and 1-1 coaching By Elliott Wave Forecast Learning
Elliott Wave Forecast Education and Learning offers 6 in-depth educational webinar recordings (listed below) which cover topics like Elliott Wave, Cycles, Sequences, Market Correlations, Market Dynamic, Trend Trading Strategies, How to determine end of a cycle and how to avoid trading the wrong side (against the trend) of the market. Most popular Educational bundle is 4 Educational Seminar Recordings Bundle, it costs $499 and comes with a saving of $250. This package provides downloadable videos of all 4 educational seminars along with PDF of power point slides used in the webinars.
Learn Elliott Wave which is part of the 4 Educational webinar recordings bundle will teach you the basics of Elliott wave and even the more advanced techniques like how to use RSI to see cyles, upgrading and downgrading the RSI and using the RSI to differentiate between impulsive and corrective structures. You will also learn about Elliott Waves principle, basic Elliott Wave Structures, Motive waves, Zig zags (abc), Double Zig Zags & Triple Three Flats. Elliott Wave Structures & Swing Sequence webinar will help you understand impulsive and corrective sequences and how to use them in your analysis and trading. In other webinars you will also learn various Trading Execution and Risk Management techniques and learn to trade with 3, 7 and 11 swings.
Platinum Educational bundle includes ten hours of one-on-one training with the coach of Elliott Wave Forecast who is an analyst as well and it gives you a chance to learn first hand from someone who is analysing the markes every day. This one-on-one mentorship will enable you to take advantage of their experience and get the insight you will need. If you don't require 10 hours of One-on-one training, you can purchase the number of hours you require (1 hour minimum) without the need to purchase Platinum Educational bundle.
Trading Courses by Elliott Wave Forecast
| | | |
| --- | --- | --- |
| Course Name | Price | |
| Elliott Wave Structures & Swing Sequence | $99.99 | Enroll |
| Trading Execution Seminar | $149.99 | Enroll |
| 1 – 1 Training | $179.99 per hour | Enroll |
| New Elliott Wave, Correlation and Trading Execution Seminar | $199.99 | Enroll |
| Trading Right Side using Elliott Wave Theory, Cycles and Sequences | $199.99 | Enroll |
| Elliottwave, Market Dynamic and Correlations | $199.99 | Enroll |
| Learn Elliott Wave | $249.99 | Enroll |
| 4 Educational Seminar Recordings Bundle | $499.99 | Enroll |
| Premium Educational Package | $649.99 | Enroll |
| Premium Plus Educational Package | $1,199.99 | Enroll |
| Platinum Educational Package | $1,999.99 | Enroll |

Read more:
2. One Core Program by Asia Forex Mentor
One Core Program is taught by a well-recognized forex-trading expert Ezekiel Chew. This is an all-inclusive trading course that teaches market perspectives and provides insights into the forex market behavior. Ezekiel Chew teaches his students the same tips and tricks which he uses in his trades and earns 6 figures per trade. This program includes teachings about different trade strategies, trade management methods, lifestyle trading, trading psychology, and live trading. The ROI-driven approach of the trainer Ezekiel Chew is unique in the market. His numbers-driven approach has been appreciated by his students some of who are now full-time traders while some have become fund managers.
For $997 the One Core Program is all that you need to create your road to professional trading. This course teaches the actual workings of the market and is targeted at people who are serious about building a core skill in trading.
3. Textbook Trading by Investor's Underground
Investor's underground is one of the oldest stock trading course providers. The course Textbook Trading is one of its kind which is for those with only the basic knowledge of trading. This 8-hour long course starts by building the basic knowledge of the students and quickly takes to higher levels of learning about the application of trading tools and actionable trading setups. This course teaches you actionable lessons, versatile strategies, and real-life examples. It will build up your foundation of trading knowledge and help you get access to the right tool kits from the very beginning which will help you save time and money. It will teach you actionable setups by teaching you about high probability chart patterns, develop an efficient trading style, and pinpoint the best trading setups.
Before purchasing this course, we recommend you to give a detailed read to Investor's Underground free Beginner's Day Trading Guide. It is a free guide about basic trading topics like day trading, short selling, and stockbrokers covered in 8 videos taught by one of their team members.
Priced at $997, this course will give all novice traders the confidence to start trading and get the desired results.
Check out our list best day trading stocks in 2023.
4. Warrior Starter by Warrior Trading
The Warrior Starter course is a self-paced course divided into 15 chapters to help beginner traders grasp good knowledge about trading quickly and simply. This course is taught by the founder of Warrior Trading, Ross Cameron who has his unique trading strategies which he has learned, the hard way, over the years. This 20-hour course will cover all topics which will give a novice trader the basic knowledge about the intricacies of the trading floor and how it operates. This course gives a detailed overview of the trading floor thorough topics like technical indicators, risk management, picking stocks, and scanning for opportunities in the market. It will give you access to Real-Time Trading Simulator and Live Trading Chat Room which will enable students to put their trade learning into actions instantly. This will give the benefit to all students to start their trading journey with a low upfront cost and a comprehensive program.
The additional benefit that the Warrior Trading platform provides is remarkable customer support. It has a team of experienced traders who are readily available to assist you with any technical issues, course queries, or trading-related questions in the quickest way possible.
Priced at $997, this course will kickstart your trading business while providing expert assistance for all your queries.
5. Accelerated Trading Course by Bulls of Wall Street
Bulls of Wall Street offers intensive training on the trading floor through a different style of trading. This course is for day traders who are interested in learning everything about becoming a full-time trader. The unique thing about this course is that it helps you find the right broker with whom you can work. The trainer Kunal Desai, is an expert trader who focuses on this niche learning and is involved with every student who joins his program to provide him support in his daily trades. Kunal, along with his team of trainers provides personalized support throughout this course. Through this course, you will get access to the trading chatroom, live market commentary, and over 20-hours of on-demand content.
This course teaches you how to define your trading style by teaching you the market cycles. It also includes learnings on trading methods, risk management, analyzing indices, calculating risk and reward, trade journaling, the psychology of trading, and Kunal's Market Scanning Technique.
For $999, this course will set you on the right path to trading success.
Read more:
6. Tim Sykes Trading Program
Tim Sykes is a self-made millionaire trader who practices and teaches the art of trading penny stocks. He is known for his million-dollar earning through trading while he was studying at Tulane University. In this course, he teaches all his hard-learned strategies, tips, and tricks to students so that they can benefit from his experience right from the start.
This course is for those individuals who want to manage small trading accounts and yet aspire to earn big. Hence the niche of penny stocks. With this course, the trainer Tim Sykes challenges the common belief that penny stocks and dangerous and teaches the right way of trading them
This program teaches you the fundamentals of trading penny stocks and how the teacher Tim Sykes applies it in his daily trades. The knowledge helps you understand the market better and to spot entry and exit points. At $149.99 you will get access to chatrooms, daily watchlists, and real-time trading alerts. You can also access the 6,000+ video lesson library along with new weekly lessons.
The TIM Trading Challenge is an exciting thing that you can try in the future.
7. The Complete Foundation Stock Trading Course by Udemy
Udemy is one of the most popular online learning platforms that offer multiple courses in different fields. In this course "The Complete Foundation Stock Trading Course" you will learn about the growth of the stock market, how it separates, the psychology of trading, strategy, and risk management.
This course offers 9.5 hours long on-demand video content which will enable you to understand the operations of the stock market better than others. Through this course, you will get a professional insight about how to filter the noise of the countless trading and understand how traders think. This day trading course will help you master technical analysis and you can read and comprehend Candlestick Patterns, Chart Patterns, Volume, and Technical Indicators like a pro.
Prices at $129.99 this course will guide you towards the right path on how to be a successful trader while earning consistent profits.
8. Bear Bull Traders
Join the Bear Bull Traders community and take your trading to next level. Bear Bull Traders offers a learning platform for intermediate traders who are interested in taking the next step in their trading activities. This platform teaches all members the 3 pillars of success which are: Technology, Strategy, and Psychology. The members can choose the best equipment and tools for them which match their trading purpose. This further is built up in a personalized trading strategy. And lastly, Bear Bull Traders help members identify psychological pitfalls and how to avoid them.
At $199 per month, you will get access to the live chatrooms, all the basic and essential lessons, weekly webinars, and mentorship along with direct access to the psychology team. We recommend you purchase the 7 Day Test Drive at $39 which will give you access to the chatroom and live onboarding session. It will give you an exact idea of what to expect.
9. Elite Trader by TradePro Academy
The Elite Trader package will give you access to all the day trading courses at TradePro academy which include: forex strategy course, options strategy course, trading psychology mastery amongst others. This plan will further give you access to the Daily PRO trading room which will provide market and trade updates and the Elite Trading room, which will enable you to see the screen of TradePro professional traders. In addition to it, you will get monthly coaching and weekly webinars along with TradePro Community access.
At $219 per month, jump start your trading career by becoming an elite member of TradePro.
10. 3 steps to profit by Options Geek
3 steps to profit will teach you how to trade options and earn profit like the top 1% of the traders do. The founder of Options Geek is Felix Frey who is a Wharton graduate and a successful Wall Street veteran. With his niche learning point, Felix believes that financial education being taught in college is incomplete which lacks learnings about options trading. He focuses on this niche learning in this program and teaches about options and their trading. With this course, all students will be able to decide independently when to buy options and how to trade them. Through this program, you will be able to learn the tactics used by the top traders who profit with options trading.
At $397 this program will educate you about options trading which you have never learned in any university course. With this course, you can trade options like a pro.
Final thoughts:
There are plenty of websites and organizations that offer some great online forex trading courses however, based on research the real value lies in the paid options. Even though they say learning never ends but in order to ensure you're learning from the right mentors is extremely important and saves you a lot of time and money.
The above list of forex course providers is based on different factors some of which that were taken into account while formulating the list are trading strategy, experience of mentors, quality of overall service provided, customer success and happiness based on reviews by students and professionals, range of forex instruments covered and lastly but certainly not the least the availability of mentors.
The list of providers were researched by Shayan who is an experienced freelance researcher on Financial Markets.. All products listed were reviewed based on the aforementioned criteria and solely based on his independent views and opinions.
Have any other courses you'd like to include in the list? Let's know in the comments below.
Disclaimer: None of the information published in this article should be construed as investment advice. Article is based on author's independent research, we strongly advise our readers to always do their due diligence before investing.
You may also like reading:
Back