What is 5G?
5G is the fifth generation of wireless networking technology. With 5G users get high-speed internet with download speed up to 100 times faster than 4G. 5G is the future of connectivity. The tremendous growth in this sector is inescapable.  5G networks went online in 2020 but it will take years for this technology to be fully implemented.  We have discussed in detail about best 5G stocks.
What is the Future of 5G?
IHS Markit concluded that 5G deployments will have a positive impact on every industry and every sector. The research of IHS Markit focused on a longer period since the adoption of 5G-enabled business models will take time. IHS Markit forecasts that potential global sales activity across multiple industry sectors enabled by 5G could reach $13.1 trillion in 2035. This represents about 5.1% of all global real output in 2035. Moreover, 5G-enabled job growth is forecasted to be around 22.8M by 2035, and Global 5G CAPEX and R&D are expected to be $265B annually over the next 15 years.
5G stocks might be a potentially new concept on the stock market but its growth capacity is hard to ignore. Today many major telecoms, software, and hardware companies are on the path to upgrade their networks to 5G and start benefitting from it. Considering the recent deployment of this technology, this is a huge opportunity for investors to jump in right now to enjoy good profits in the future. As per McKinsey's report, 5G technology will be adopted by 25% of the world's population by 2030. Considering these facts, investing today in these stocks will reap multifold benefits in the coming years. There are many stock advisory services that recommends few of the best stocks to its members and subscribers. 
Best 5G Stocks to Buy in 2023
Here we have compiled a list of the best 5G stocks to buy in 2023:
Alphabet
Apple
Qualcomm Inc.
NVIDIA
Skyworks Solutions
Xiaomi
Broadcom (NASDAQ: AVGO)
Marvell Technology Group (NASDAQ: MRVL)
AMD (NASDAQ: AMD)
Analog Devices Inc. (NASDAQ: ADI)
Alphabet
Alphabet is the parent company of Google. Alphabet has joined the 5G league side by side with other major tech companies. Being one of the largest public company, Alphabet's vision and measures to adopt the 5G technology is different from others.
Alphabet has partnered up with external companies upon multiple 5G projects:
Alphabet's Google Cloud unit and Nokia partnered up to build 5G core network infrastructure. Through this network, Alphabet's business customers will be able to provide services like smart retail and automated manufacturing.

Google plans to work with Intel

to develop reference architectures and integrated solutions. This will lead cloud providers to roll out their 5G-enabled networks faster.

Alphabet also partnered up with Ericson to develop new 5G and edge cloud solutions for telecom companies and enterprise customers.

Alphabet is also planning to

use millimeter-wave radio transmissions to use in solar-powered drones. These radio waves have the potential to transmit data 40 times faster than 4G. Google is already testing 5G drones in New Mexico under this project titled SkyBender.
Using stock indicators, one can make wiser decisions in understanding the underlying market dynamics.
Alphabet is a trillion-dollar company. With a market cap of over $1.8 trillion, the stock of Alphabet is currently trading around $2,714. The stock of Alphabet is on a continuous bullish streak. The only major drop in price occurred during the early stages of COVID-19.  But soon the stock price recovered and resumed its upward ride.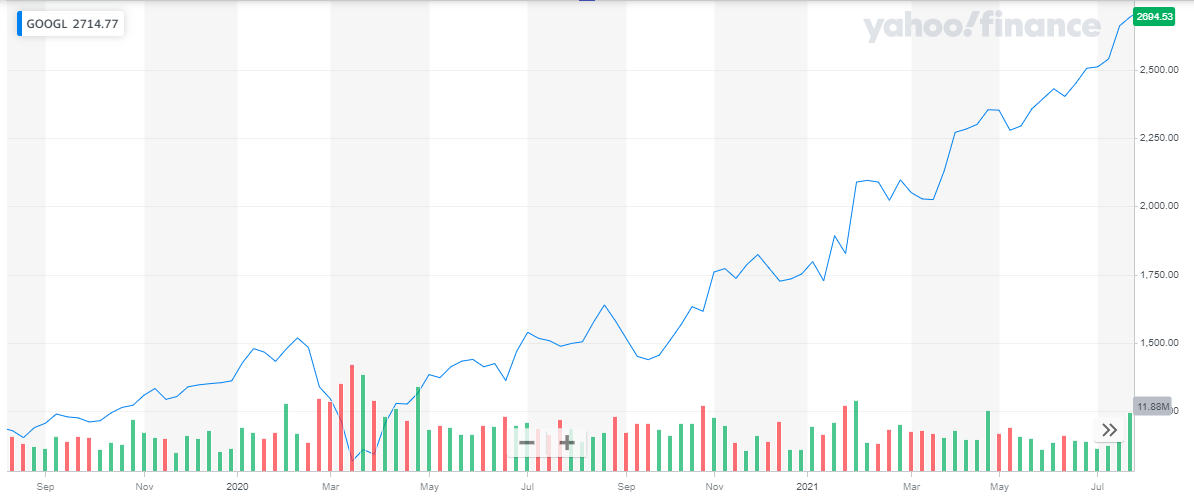 Alphabet has strict competition from Apple, Microsoft, and Amazon in the 5G technology adoption. Still, it stands as one of the best 5G stocks to invest in today. Google's ad-based business is one of the major revenue-generating segments and by offering faster internet connections, their ad-based business will get a huge boost.
Investing in best ETFs is one of the most easiest and safe investment option.
Apple 
Apple is the name that brought a revolutionary change in mobile devices with its iPhone. In addition to mobile devices, Apple produces other digital gadgets which include iPad, iPods, and Macs.
Even though Apple was late to join the 5G-race, but it is now competing fiercely with all other 5G enabled tech companies.  Apple's first 5G iPhone came out in 2020 and it will no longer introduce any new 4G models in coming years. In less than six months Apple has earned a position amongst the top 5G smartphones, since its launch of the iPhone 12 model that is 5G enabled. 
In its first quarterly report of 2021, the smartphone giant reported revenue of $89.6 billion a 54% increase year over year. In its second quarterly report of the year, posted in June, the iPhone maker posted record revenue of $81.4 billion, reporting a 36% increase year over year. In this quarterly report, the major highlight is the iPhone 12's success on the market. iPhone sales totaled $39.57 billion alone. Many traders prefer to manage their trades themselves. but there are comprehensive trading platforms to carry out trades.
Apple has a market capitalization of over $2.4 trillion, making it one of the largest public companies. Currently, its stock is trading at $146. During the peak pandemic days, the stock of Apple dropped to approx. $57. Since then it has been rising and has improved by more than 200% up till today.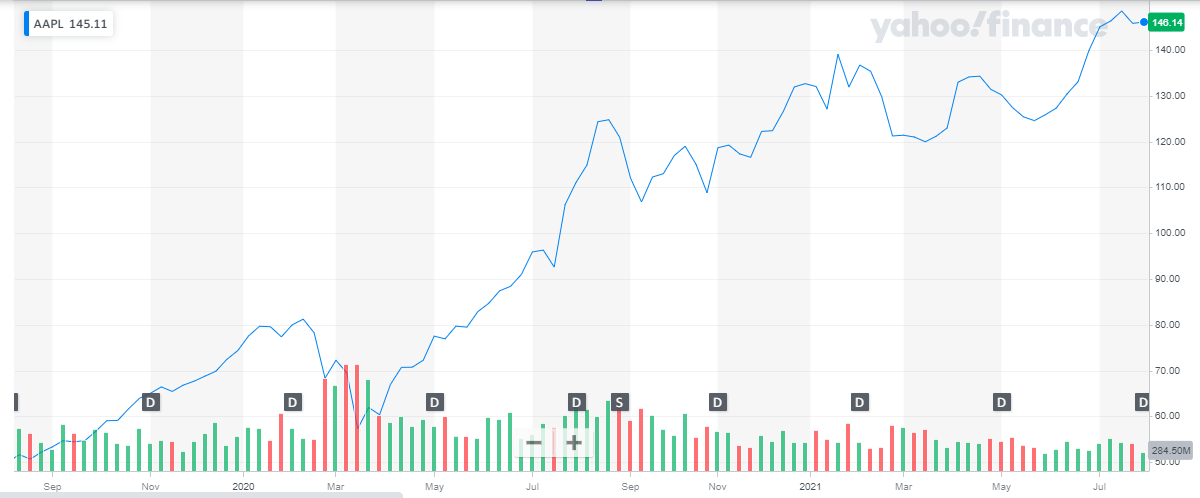 Apple had a very good start in the 5G space and has been very successful in establishing a solid foot in this market. With the current rate, the stock of Apple is set up for multi-year growth making it one of the best 5G stocks to invest in 2023. Get to know best vaccine stocks to invest in now.
Also read:
Qualcomm Inc. 
Qualcomm is one of the world's largest wireless technology companies. Being one of the major players in wireless technology, Qualcomm has been the driving force behind the 5G deployment and growth. The company's products and technology are used in the automotive, computing, IoT, and networking industries. Qualcomm has three main business units: Qualcomm CDMA Technologies (QCT), Qualcomm Technology Licensing (QTL), and Qualcomm Strategic Initiatives (QSI).
Qualcomm Snapdragon 5G Modem-RF systems are the world's first commercial modem-to-antenna 5G solution. This system is designed to provide maximum data speed and performance. It further supports superior call connectivity and coverage and also enables long battery life on mobile devices.
Get to know the best covered call stocks to buy now.
The $165 billion company continues to lead the way as 5G networks expand their coverage. Currently trading at around $146, the stock of Qualcomm has been on a bullish trend since the pandemic. From $60.9 in March'2020 the stock has undergone a more than two-fold increase up till today.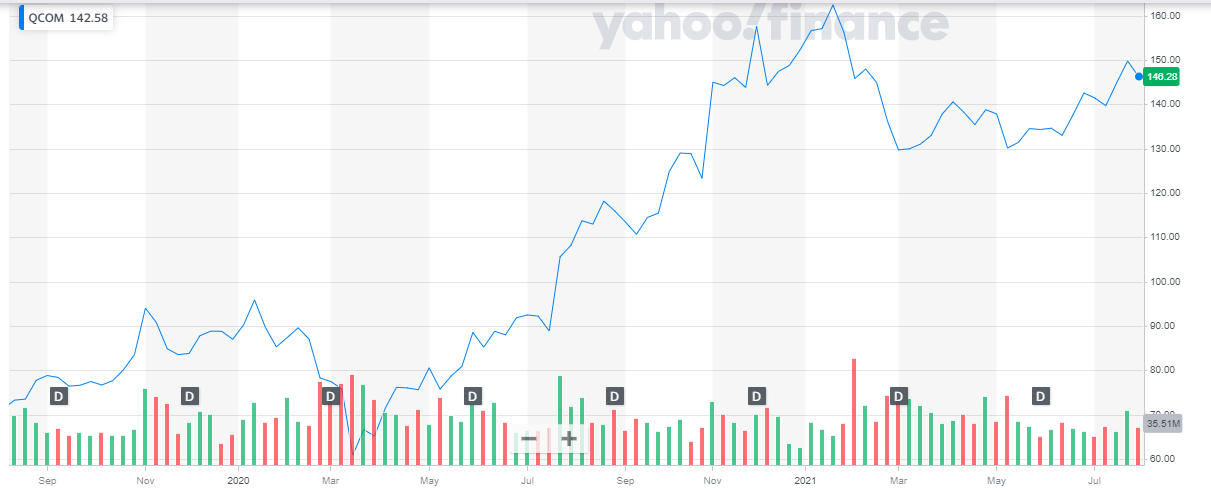 Qualcomm's 5G chips are used being used in Apple iPhone 12. They also power Android devices, including cheaper 5G phones. But recent news about Apple working on its own 5G technology has given a blow to Qualcomm's share price multiple times over the past few months. 
Qualcomm 5G-powered chips are also being used to power the world's first 5G personal computer. This will further lead to 5G chips and devices powering every new tech-powered product which include self-driving cars and augmented reality apps. The recent partnership of the wireless chip giant with China's company Tencent is a big win. Qualcomm is on the road to maintain its leading position in the wireless chip industry making it one of the most attractive 5G stocks to invest in today. At such a low price, comparing to other 5G stocks Qualcomm is a must-buy today. Checkout some of the best oil and gas ETFs to buy now.
NVIDIA
NVIDIA makes graphics cards that power computers and data centers. It is known for powering the next era of computing. NVIDIA powers the U.S.-based Summit, the world's fastest supercomputer, as well as the fastest systems in Europe and Japan. In addition to this, more than 130 supercomputers on the TOP500 list are powered by NVIDIA, including five of the top 10.
NVIDIA has been making its presence in the 5G space recognizable:
In April'21 NVIDIA announced that it is partnering with Google Cloud, Fujitsu, Mavenir, Radisys, and Wind River to develop solutions for NVIDIA's AI-on-5G platform.

In June'21, NVIDIA announced that it is partnering with Google Cloud to establish the first AI-on-5G Innovation Lab. This will allow the network infrastructure players and AI software partners to develop, test, and adopt solutions that will help accelerate the creation of smart cities, smart factories, and other advanced 5G and AI applications.
The chipmaker claims that AI-on-5G could add a staggering $13 trillion worth of productivity by 2035. Therefore, NVIDIA's 5G opportunity could start showing its results once the deployment of the solution commences on its platform, which is expected soon. Investors now have a hands-on approach to their diversified portfolios by using different stock market trading applications.
NVIDIA's market capitalization is around $507 billion. The NVIDIA stock is currently trading at around $203. The stock of the chipmaker company is on a bullish trend. When COVID-19 was at its peak, the stock dropped to $51.4, since then it has shot upwards. The share price has risen by 400% up till today.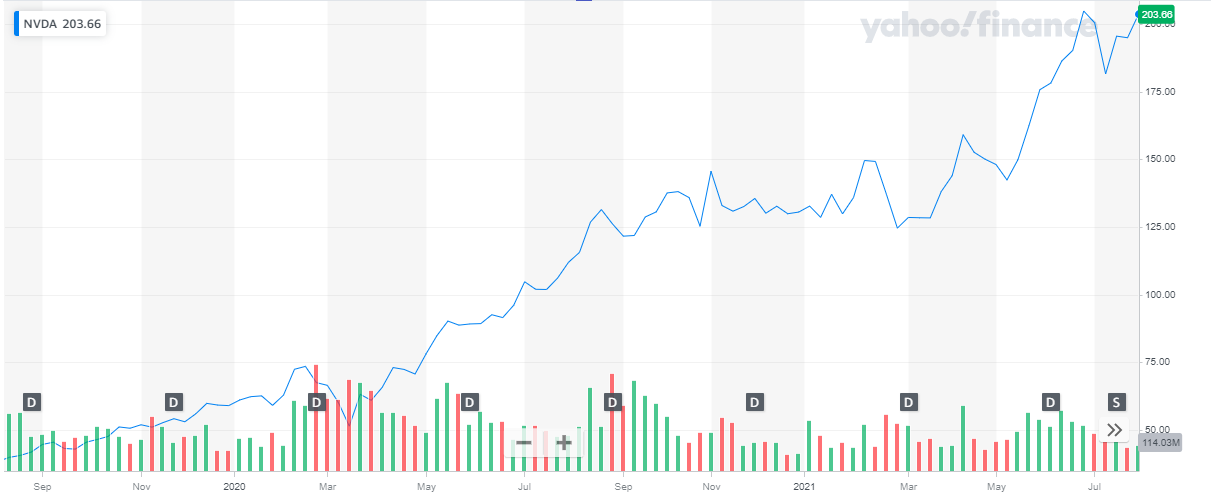 Investors can expect 5G to become another massive growth driver for NVIDIA. With the growth in video gaming data centers, 5G will further power the growth and the stock of NVIDIA. Currently, at $203, it is one of the best 5G stocks to buy with a great potential for growth in the coming years.
Read more:
Skyworks Solutions 
Skyworks is at the forefront of this 5G technology. Through their technological leadership, broad systems expertise, and operational scale the company is en route to develop solutions that will make the maximum use of 5G technology. From their innovative SKY5 unifying platform to their 5G small cell and multiple-input, multiple-output (MIMO) technology, the company's approach enables powerful high-speed end-to-end 5G connectivity. 
Skyworks supplies its chips to the top 5g smartphone manufacturer which include Apple, Samsung, and Xiaomi. The chipmaker's major source of revenue is from these customers, with Apple being the biggest contributor. With the iPhone sale skyrocketing, the Skyworks stock has risen tremendously. 
In its second quarterly report of 2021, the company has reported revenue of $1.172 Billion, up by 53% year over year. One of the prominent highlights of this quarter's results is their broad market portfolio. This segment includes the company's progression in other markets from consumer electronics to internet modems to connected industrial equipment.  With news about Apple focusing on developing its own 5G chips, the company has expanded its business to mid-tier manufacturers like Samsung, and Chinese manufacturers like Oppo, Vivo, and Xiaomi. Crypto currencies have proven to be one of the most profitable investment opportunities. They have outperformed traditional stocks.
Skyworks is a comparatively small company with a market cap of $30 billion. But with it being at the forefront of the 5G era, the company has great potential in the coming months. Currently, the share of Skyworks is trading at $186. Since the huge dip due to COVID-19 in March'20, the stock has shown a massive improvement of more than 200%.  The bullish trend of the company's stock can be observed in the below chart: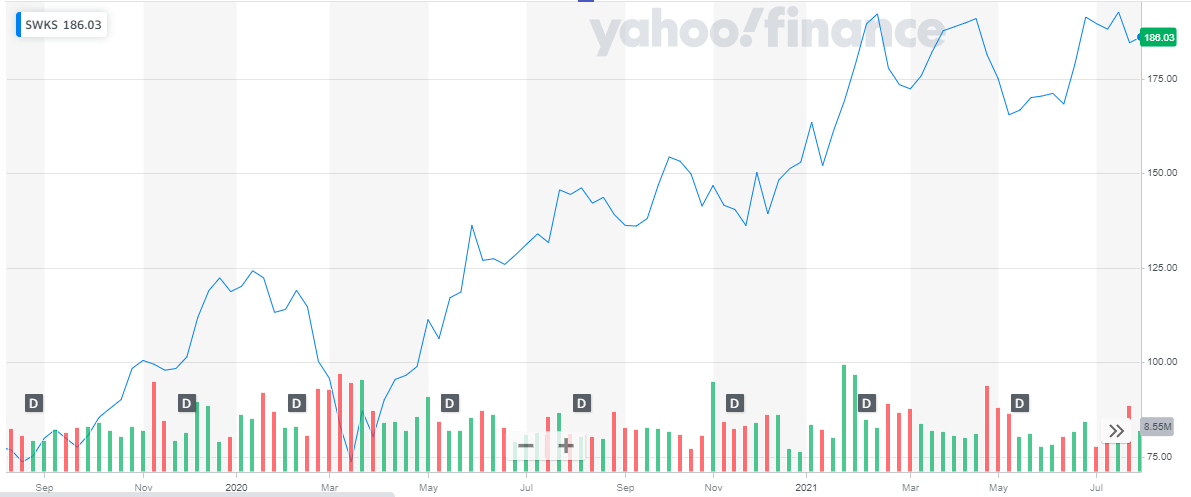 Skyworks has been smart enough to expand its business outside the smartphone industry to prevent itself from the looming threat of Apple taking away its business from them. Considering the upward trajectory of the stock of Skyworks, the stock is a great 5G stock to invest in today.
If you are investing in forex checkout some of the best forex brokers for trading.
Xiaomi 
Xiaomi Corporation was founded in April 2010.  It is an internet company with smartphones and smart hardware connected by an Internet of Things (IoT) platform at its core. Xiaomi ranked 3rd globally in terms of smartphone shipments in the fourth quarter of 2020. The company has also established the world's leading consumer AIoT (AI+IoT) platform, with 324.8 million smart devices connected to its platform, excluding smartphones and laptops. Xiaomi products are present in more than 100 countries and regions around the world. In August 2020, the company made the Fortune Global 500 list for the second time, ranking 422nd, up 46 places compared to 2019. It also ranked 7th among internet companies.
Read: Best Gold Trading Signal Providers.
Xiaomi recently joined the 5G club through its 5 G-enabled smartphones. Moreover, it also plans to join the ranks of companies that are making their 5G chipsets themselves. Xiaomi plans to launch its chipsets by end of 2021 or the start of 2023. This will be a huge step forward in the 5G race which will enable the smartphone manufacturer to better integrate of hardware and software. 
Currently valued at HKD 588 billion, the stock of Xiaomi is currently trading at HKD23.4. The launch of 5G technology gave a huge boost to the stock price which has picked up a bullish trend ever since.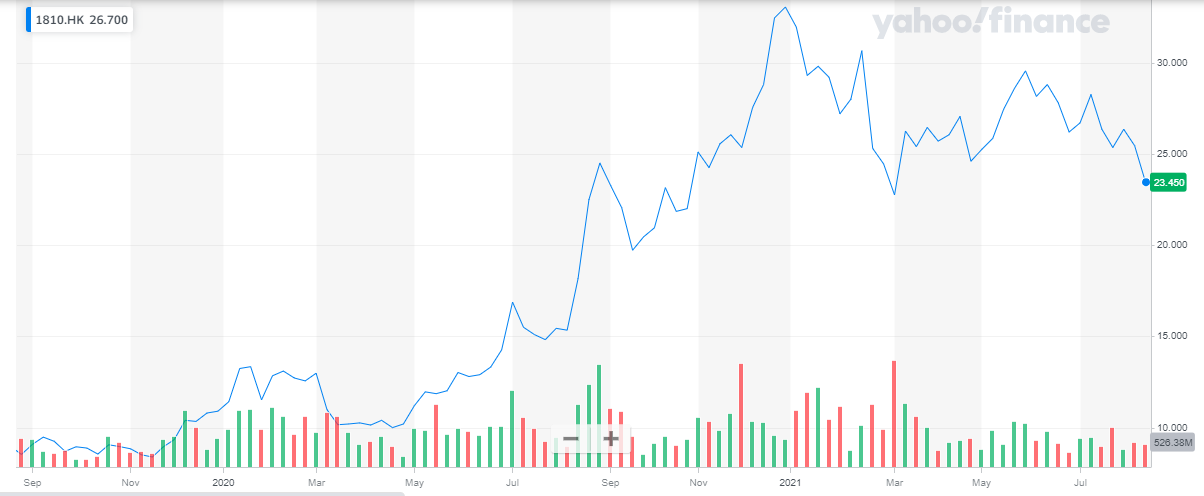 Xiaomi is an excellent 5G stock to invest in today. With the company's fast-paced movement in the 5G circles, the smartphone manufacturer has great potential to reach the upper ranks in the 5G race.
Broadcom (NASDAQ: AVGO)
Broadcom Inc (Broadcom) is a technology company that designs, develops, and supplies a range of semiconductor and infrastructure software solutions. The company's product portfolio includes storage adapters, controllers and ICs, wireless, wired and optical products. It also offers mainframe and enterprise software, and cybersecurity software focused on automation, enterprise, systematic cybersecurity, and factory automation. The company distributes its products through a network of distributors, contract manufacturers, original equipment manufacturers, and direct sales force. It has business presence in North America, Asia, Europe, the Middle East, and Africa. Broadcom is headquartered in San Jose, California, the US.
| | | | |
| --- | --- | --- | --- |
| | Q1 2023 | Q1 2022 | % Change  |
| Revenue | $ 8,915 million | $ 7,706 million | 15.7 % |
| Operating Income / Loss | $ 4,103 million | $ 3,108 million | 32 % |
| Net Income / Loss | $ 3,774 million | $ 2,472 million | 53 % |
| Earnings per share | $ 8.8 | $ 5.59 | 57.4 % |
Broadcom has a market cap of $ 265.17 billion. Its shares are trading at $ 626.5.
The stock started the year 2022 at the peak price of $ 665.41. The stock kicked off the year with a bearish run and continued to decline till it reached the low of $ 427.1. From here on the stock picked up pace and started its recovery journey. The stock closed the year at $ 559.13, representing a 16 % depreciation during the year.
In 2023, the stock continued to climb and last closed at $ 626.5 representing a 12 % appreciation till date.
Marvell Technology Group (NASDAQ: MRVL)
Marvell Technology Inc (Marvell) is a fabless semiconductor company that develops application-specific standard products. The company's product portfolio includes complex system-on-a-chip devices, and devices for data storage, network adaptors, physical trans receivers and switches. It also offers wireless baseband infrastructure, security processors, wireless networking, Storage Controllers for hard and solid-state disk drivers Storage Accelerators, host bus adapters, system on chip products. The company's products are used in the data infrastructure markets such as automotive, carrier infrastructure, data centers and enterprise networking and consumer markets. It has business presence in the Americas, Asia-Pacific, Europe and the Middle East. Marvell is headquartered in Wilmington, Delaware, the US.
| | | | |
| --- | --- | --- | --- |
| | FY 2022 | FY 2021 | % Change  |
| Revenue | $ 5,919.6 million | $ 4,462 million | 32.6 % |
| Operating Income / Loss | $ 238 million | ($ 347.7) million | – % |
| Net Income / Loss | ($ 163.5) million | ($ 421)  million | – % |
| Earnings per share | ($ 0.19) | ($ 0.53) | – % |
Marvell Technology, Inc. has a market cap of $ 34.3 billion. Its shares are trading at $ 39.48.
The stock started the year 2022 at $ 87.49. The stock started off with a bearish trend and continued to decline throughout the year. The stock eventually closed the year at the lows of $ 37.04 representing a 58 % decline during the year.
In the year 2023, the stock did recover but eventually fell again and last closed at $ 39.48 representing a small appreciation of 6.6 %.
AMD (NASDAQ: AMD)
Advanced Micro Devices Inc (AMD) is a manufacturer of semiconductor products. The company designs, manufactures, develops and markets high-performance computing, graphics, and visualization technologies. Its products portfolio includes desktop graphics, desktop processors, laptop graphics, laptop processors, chipsets, memory products, professional graphics and server processors. AMD markets its products under AMD, Athlon, EPYC, FreeSync, FirePro, Geode, Opteron, Ryzen, Radeon, and Threadripper brands. It serves to original equipment manufacturers (OEMs), original design manufacturers, system builders and independent distributors, add-in-board manufacturers (AIBs), public cloud service providers, and other contract manufacturers. The company has business presence across North America, Latin America, Europe, Asia-Pacific and the Middle East. AMD is headquartered in Santa Clara, California, the US.
| | | | |
| --- | --- | --- | --- |
| | FY 2022 | FY 2021 | % Change  |
| Revenue | $ 23,601 million | $ 16,434 million | 44 % |
| Operating Income | $ 1,264 million | $ 3,648 | -65 % |
| Net Income  | $ 1,320 | $ 3,162 million | -58 % |
| Earnings per share | $ 0.84 | $ 2.57 | -67 % |
Advanced Micro Devices has a market cap of $ 144.38 billion. Its shares are trading at $ 89.37.
The stock started the year 2022 at $ 143.9. The stock continued to decline throughout the year till it reached the lows of $ 55.94 in Oct-22. After that the stock picked up a recovery path and eventually closed the year at $ 64.77. Overall, the stock declined by 55 % during the year.
In 2023, the stock continued its slow and steady recovery path. Till date the stock ahs appreciated by 38 %.
Analog Devices Inc. (NASDAQ: ADI)
Analog Devices Inc (Analog Devices) designs, manufactures and markets analog, mixed-signal, and digital signal processing integrated circuits (ICs). It serves instrumentation, aerospace and defense, building technology, consumer, communications, healthcare, energy, security and surveillance, and automotive industries. Analog Devices markets products through direct sales force, independent sales representatives, third-party distributors, and through website. The company operates manufacturing centers in the US, the Philippines, Ireland, Thailand and Malaysia. Its business operations span across the Americas, Europe, Africa, and Asia-Pacific. Analog Devices is headquartered in Wilmington, Massachusetts, the US.
In March 2021, Analog Devices launched its Application-Specific Integrated Circuit (ASIC)-based radio platform O-RAN. The platform is equipped with the fundamental functionality required in an O-RAN compliant 5G radio unit.
AMD Reported its first quarter report for the year 2023:
| | | | |
| --- | --- | --- | --- |
| | Q1 2023 | Q1 2022 | % Change  |
| Revenue | $ 3,250 million | $ 2,684 million | 21 % |
| Operating Income | $ 1,131 million | $ 365 | 210 % |
| Net Income  | $ 961 | $ 280 million | 243 % |
| Earnings per share | $ 1.88 | $ 0.53 | 255 % |
Analog Devices has a market cap of $ 97.99 billion. Its shares are trading at $ 179.88.
The stock started the year 2022 at $ 175.77. The stock has been volatile in the past two and continued this behavior in the year 2022 also. Eventually the stock closed at $ 164.03 representing a 6.7 % decline during the year. 
In 2023, the stock picked up pace and started to rise. The stock has appreciated by 11 % till date.
Conclusion
The current 5G-race is a huge one. As an investor, the best thing we can do is predict based on current happening within the companies. The above list of companies has been selected based on the company's adoption towards 5G and how successful they have been up till today. Nevertheless, the list is not exhaustive as every tech company is adapting towards 5G and how well they perform in coming years only time will tell. We have to wait a few years to see which company is the most successful in this change in technology towards 5G. Investors should keep a watchful one on how the tech companies and telecom companies are responding and adapting to the next generation wireless technology.
Disclaimer: None of the information published in this article should be construed as investment advice. Article is based on author's independent research, we strongly advise our readers to always do their due diligence before investing.
You may also like reading:
Back