What are Value Stocks?
Value stocks are companies with share prices that are trading at a price that is lower than their intrinsic value. Investing in best value stocks is a smart investment strategy that can enable investors to capitalize on inefficiencies in the market which are not being reflected in the company's current performance. An undervalued stock has a lower market value than its intrinsic value.
Characteristics of a Value Stock
No single factor alone defines a value stock. As an investor, you have to research to understand which characteristics do the stocks follow. Value stocks are defined by the below characteristics:
– Low P/E ratios: Price-earnings ratio defines the current price of the company in comparison to the company's earnings. A low P/E earnings ratio indicates that the stock is undervalued.
– Performance of the company: Value stocks usually are established companies with a record of good financial performance.
– High dividend yield: A higher dividend than competitors is a sign of a value stock. But it can also be a sign of troubling financials. Hence a high dividend yield alone is not a sign of a value stock.
– Less Volatility: Since value stocks are trading at less than their intrinsic value, they are less likely to respond to news and events, hence are less volatile. You need to act quickly to take maximum advantage of an opportunity of volatile stocks.
According to a survey conducted by CNBC, value stocks are expected to perform better in comparison with growth stocks in the coming quarter. The below chart shows value stock vs growth stocks performance comparison.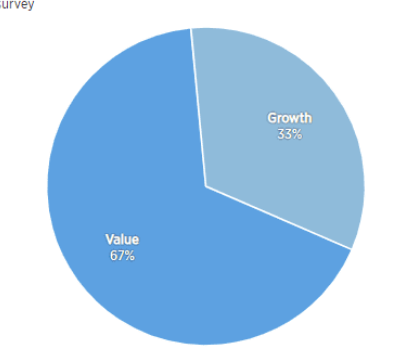 Investing in value stocks is a long-term investment. Hence, as an investor, you need to stay put and wait a while before you can benefit from your investment. There is also stock advisory services that suggest some of the best value stocks to its members.  Indicators and tools are used by both professional and regular traders, both to understand the market.
Best Value Stocks to Buy Now
Below is a list of value stock we have put together:
1. Merck (MRK)
Merck & Co Inc is one of the world's leading pharmaceutical health care companies. Its principal business is medicines, biologics, vaccines, along with consumer and animal products. Merck gained popularity when FDA approved its cancer drug under the name Keytruda. In addition to Keytruda, the company has another drug under the name Gardasil, which prevents head and neck cancer. Moreover, the demand for animal and livestock products of Merck has increased leading towards higher sales.
In its recent Q2 report, the company reported worldwide sales of $11.4 billion, a 22% improvement from last year. The cancer drug, Keytruda, has been the major growth driver, comprising roughly 37% of total sales. Merck & Co. maintains several long-term exploratory and fundamental research programs in biology and chemistry as well as research programs directed toward product development. There was a more than 100% increase in R&D spending in the current quarter. The company reported EPS of $0.48 for the quarter.
Merck has been regularly paying dividends to its shareholder. In its recent quarter, a $0.65 dividend per share was paid. For the year 2020, a total of $2.48 dividend per share was paid.
With a market capitalization of over $190 billion, the share of Merck and Co is being traded at around $75. As per the below chart, since March-20 the share of the pharma company is moving within the range of $69 and $82. Small-Cap stocks are the best investment for long-term investors.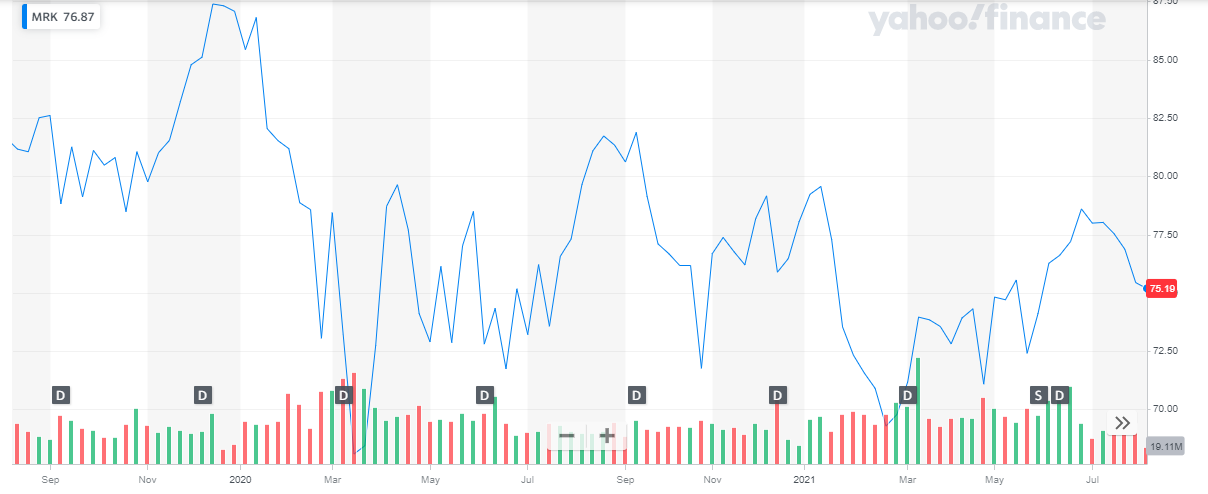 Merck continues to experience strong global underlying demand across its business. The company expects sales growth of 12% to 14% in 2021 with revenue estimated to be between $47 billion. With these forecasts, Merck and Co. is one of the best value stocks to buy now. Get to know the best vaccine stocks to invest in 2023.
Read more:
2. The Boeing Company
Boeing is the world's largest aerospace company and leading manufacturer of commercial jetliners, defense, space, and security systems, and service provider of aftermarket support. As America's biggest manufacturing exporter, the company supports airlines and U.S. and allied government customers in more than 150 countries. Boeing is organized into three business units:
– Commercial Airplanes
– Defense, Space & Security
– Boeing Global Services
In the recent Q2 report, the aerospace company reported revenues of $17 billion, a 44% increase from last year. Earnings per share were reported to be $0.4. In the year 2020, the company was under heavy losses due to the pandemic shutdown, and earnings were reported to be negative.
The airline industry has suffered massively due to COVID-19 and travel restrictions. Domestic flights are on the path to recovery but international flights are still lagging. Below is the growth chart of The Boeing company's flights:

The two fatal crashes in 2018 and 2019 that saw its 737 Max range grounded have caused the company some serious reputational damage. And with the pandemic leading to shut down in 2020, Boeing has been unable to maintain its growth and stabilize itself. Moreover, the piling-up debt of the airline company is a rising concern for investors. But the good news is that this debt is short-term and with the air travel restrictions slowly easing, the Boeing company is en route to becoming the titan of the airline industry that it once was.
At a market capitalization of $138 billion, the aerospace company is still one of the largest aircraft manufacturers, despite the losses. The share of the company is currently trading at around $235.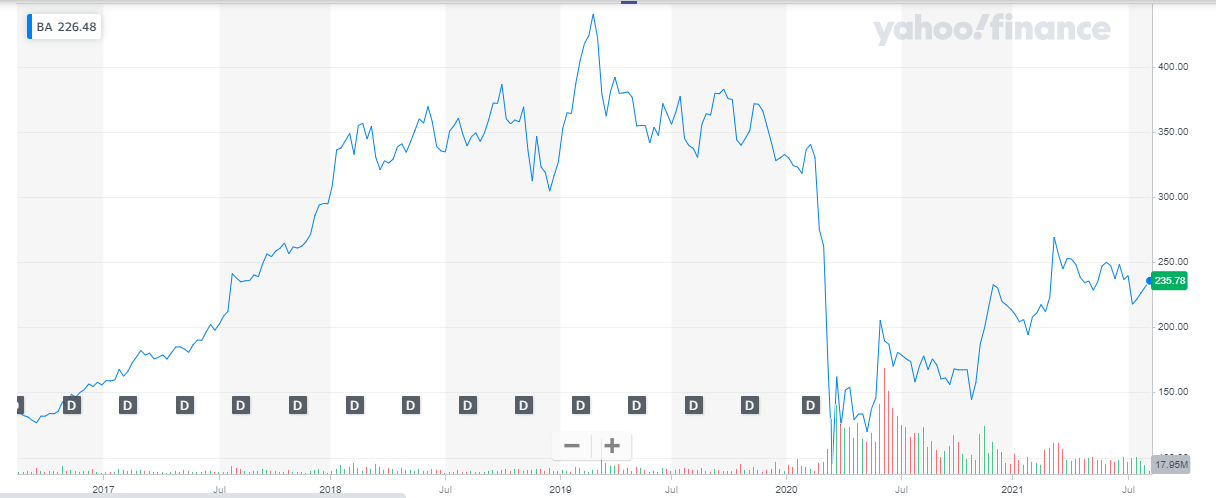 As the above chart depicts, the stock of Boeing was not hit hard by the plane crashes as it was due to shutdown during COVID-19. Still, the company has come far on the path to recovery and is one of the best value stocks right now. If you are confused between investing in stocks or forex, we suggest you to read stocks vs forex – which is the best investment.
Read more:
3. Huntington Ingalls Industries
Huntington Ingalls Industries is America's largest military shipbuilding company and a provider of professional services to partners in government and industry. For more than a century, HII's Newport News and Ingalls shipbuilding divisions in Virginia and Mississippi have built more ships in more ship classes than any other U.S. naval shipbuilder.
Huntington Ingalls recently reported second-quarter 2021. Revenues of $2.2 billion were recorded, reflecting an approx. 10% increase from the second quarter of 2020. Earnings per share were reported to be $3.2, compared to $1.30 in the same period of 2020. For the second quarter, the company issued a dividend of $1.14/share and has announced the same dividend for the next quarter. Huntington Ingalls has a long history of paying dividends which has been steadily increasing over time. Using stock indicators, one can make wiser trading decisions.

The year 2020, was full of challenges for everyone. Irrespectively, the company recorded another year of record-high revenues at $9.4 billion. The company proudly claims to have a strong balance sheet which gave them significant flexibility, particularly during the early months of the pandemic. Huntington Ingalls continues to mark its territory in the industry through the billion-dollar contracts they have earned:
– Newport News Shipbuilding was awarded a $2.2 billion contract for two Columbia-class submarine modules, as well as a contract for the single-phase delivery of aircraft carrier John F. Kennedy (CVN 79).
– Ingalls Shipbuilding was awarded a $1.5 billion contract to construct amphibious transport dock LPD 31.
– Ingalls was also awarded a $936 million contract to build an additional Arleigh Burke-class (DDG 51) Flight III guided-missile destroyer as well as a $145 million advanced procurement contract for amphibious assault ship LHA.
– In January 2020, Technical Solutions was awarded a contract with a potential value of $954 million to provide support for U.S. Air Force intelligence, surveillance, and reconnaissance requirements in the European and African theaters of operation. As demand of AI technology is increasing, interest of investors in Artificial Intelligence stocks has also increased.
– A joint venture led by HII Nuclear was also awarded a position on a $3 billion contract by the U.S. Department of Energy.
– At a market capitalization of around $8.34 billion, the share of Huntington Ingalls is currently trading at approx. $207. The pandemic hit hard on the stock price of the company as the share dropped from $277 to $159.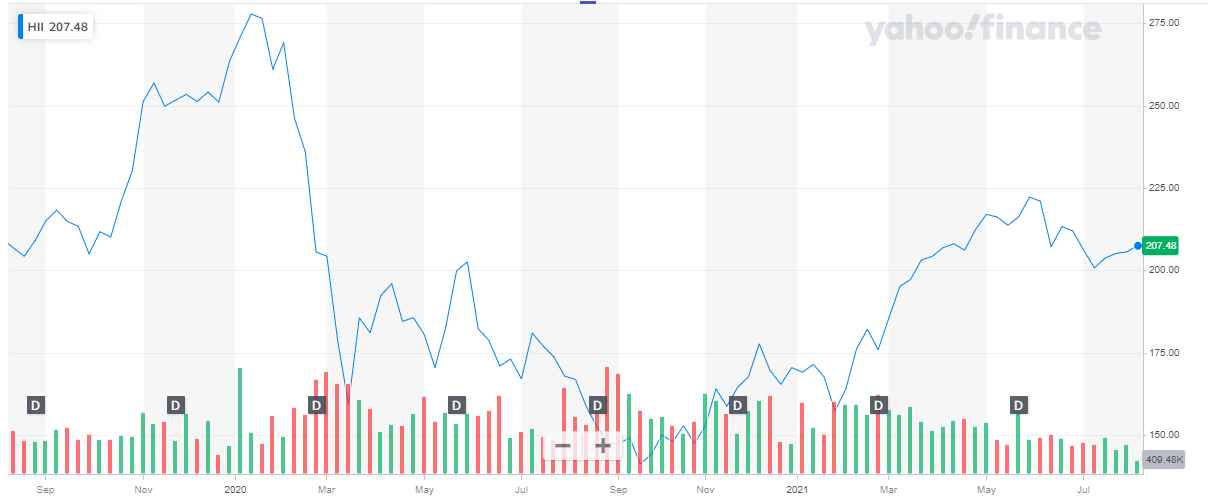 Huntington Ingalls has great potential for the future. Considering the billion-dollar contracts it has earned, the share is expected to rise high making it one of the best value stocks to invest in today.
4. AbbVie
AbbVie is a research-based biopharmaceutical company. The company is most popularly known through its drug Humira which is used to treat rheumatoid arthritis and other conditions.
The biopharma company recently issued its second-quarter report. The company delivered Net Revenues of $13.959 Billion, an approximate 34% increase from last year's Q2. EPS was recorded at $0.42, as compared to negative earnings last year. There are stock Market forecasters that use powerful tools and help regular investors make potential investment decisions on their own.
Amongst the health sectors, the drugs of AbbVie cater to, immunology is the major revenue contributor, near to 50%. Within immunology, the Humira drug contributes 90% towards the total revenue.
| | |
| --- | --- |
| | Net Revenue |
| Immunology | 22,153 |
| Hematologic Oncology | 6,651 |
| Aesthetics | 2,590 |
| Neuroscience | 3,496 |
| Eye Care | 2,184 |
| Women's Health | 673 |
| Other Key Products | 5,134 |
| Total | 45,784 |
Humira is a blockbuster drug of Abbvie. But with new competition rising and a biosimilar drug available in Europe, the sales of this drug are declining. But the bio-pharma company has been smart enough to launch two more immunology drugs, Skyrizi and Rinvoq, launched in the last two years. This will decrease the company's dependency on the sale of Humira and increase more avenues of growth for Abbvie.
Being a research-based biopharmaceutical company, spending upon R&D is very important for the company. In 2020, the company 14% of the total revenue is generated from R&D.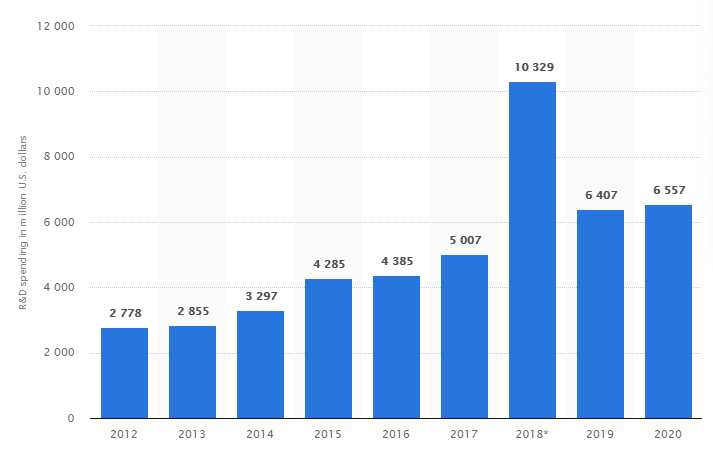 NFTs have recently become a compelling investment opportunity, get to know best NFT stocks to buy now.
AbbVie is one of the leading pharma companies. The Humira drug has been its top growth driver. With the company branching out to other drugs, AbbVie undoubtedly holds a strong place in the pharma industry.
AbbVie has a market capitalization of $201 billion. Trading at an approximate price of $114 the stock of the pharma company stays strong.
AbbVie stock is on a bullish streak for many months now. The share has been going strong since the drop due to pandemic and has great potential for the future. This is, without doubt, one of the best value stocks to invest in, in 2023. If you are thinking to invest in stock checkout best gold stocks to add gold to your portfolio. Read: Best Gold Trading Signal Providers.
Read more:
5. Norton Life Lock
NortonLifeLock is a global leader in consumer Cyber Safety. It is trusted by more than 80 million users in more than 150 countries. NortonLifeLock aims to protect and empower people to live their digital lives safely.
Quite recently, the antivirus company announced that it will be merging with Britain's Avast PLC. With this merger NortonLifeLock plans to create a new, industry-leading consumer Cyber Safety business, leveraging the established brands, technology, and innovation of both groups to deliver substantial benefits to consumers, shareholders, and other stakeholders. This news was warmly welcomed in the investor world and the share price took a huge jump upwards following the news. Tech sector has increased and people are now investing in tech stocks.
In their recent quarterly report, the company reported net revenue of $686 million, an approximate 12% increase from last year during the same period. Earnings per share were reported at $0.31, as compared to $0.24 of last year's quarter. The antivirus vendor has been regularly paying dividends, with the recent dividend paid of 12.5 cents
The market capitalization of NortonLifeLock is $15.27 billion. The share is currently trading at around $26.26. The stock has been performing well, as shown in the chart below.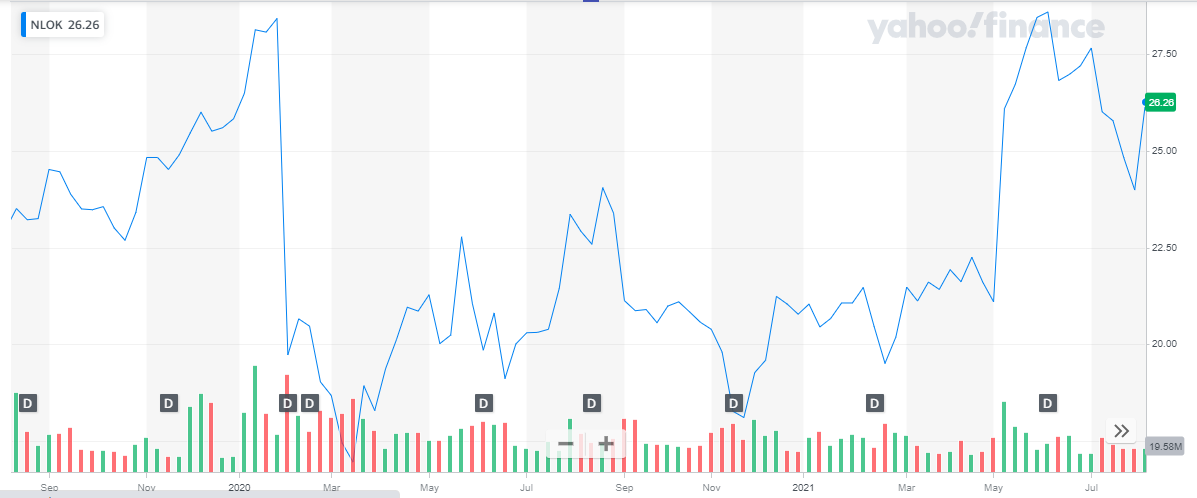 Now there are many stock market trading apps that help you with long term trading.
COVID-19 pandemic has left the general public more vulnerable to cybercrime, as a result, more and more people are seeking cybersecurity. With NortonLifeLock and Avast working together under one banner, the company has great potential to show explosive growth in the coming years. NortonLifeLock is, without a doubt, one of the best value stocks to buy in 2023. Penny stocks can also make you large amounts of profits.
Conclusion
Value Stocks and Growth stocks both are great investments. To invest smartly, as an investor, choose to diversify in value and growth stocks both. The above list of companies has been carefully selected based on the expected/forecasted explosive growth. Investing in them today will give a huge boost to your investment portfolio in near future.
Disclaimer: None of the information published in this article should be construed as investment advice. Article is based on author's independent research, we strongly advise our readers to always do their due diligence before investing.
Read More:
Back