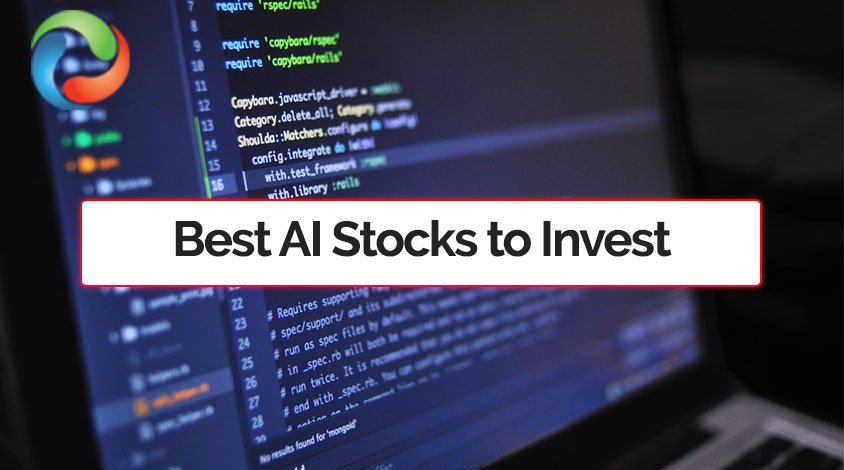 Artificial Intelligence is no longer a thing of the future. It is here and exists everywhere around us. Each one of us is currently using this technology in one form or the other. In the coming years, AI will transform the way we live and work. The best artificial intelligence stocks already make use of machine learning and neural networks. The growth of artificial intelligence is also enviable. The global AI market is expected to grow at a compound annual growth rate of 40.2% from 2021 to 2028 to reach USD 997.77 billion by 2028, as per Grand View Research
The value of AI-based companies can be identified from the fact that if this technology is removed from the company's portfolio, the companies' earnings and the stock price will take a deep dive. Moreover, the majority of the AI-powered companies are trillion-dollar businesses which fuel the economy's growth and will lead to an economic disaster.
With the demand for AI technology increasing, investor interest in Artificial Intelligence stocks has also increased.
Below are the list of companies, which are AI-focused. They are highly correlated with the AI industry and are one of the highest-growing AI stocks.
List of Best AI stocks For 2023
| | | | | |
| --- | --- | --- | --- | --- |
| Sr. | | Stock Symbol | Market Value ($) | Stock Price $ (As of 2nd July 2021) |
| 1. | Tencent | TCEHY | 712 billion | 74.19 |
| 2. | Twilio | TWLO | 67 billion | 388.68 |
| 3. | Splunk | SPLK | 23 billion | 142.29 |
| 4. | Nvidia | NVDA | $510 Billion | 819.48 |
| 5. | Microsoft | MSFT | $2 Trillion | 277.65 |
| 6. | Amazon | AMZN | $1.77 Trillion | 3,510.98 |
| 7. | Alphabet | Googl | $1.7 Trillion | 2,505.15 |
| 8. | IBM | IBM | $131.2 Billion | 140.02 |
| 9. | Apple | AAPL | $2.34 Trillion | 139.96 |
1. Tencent (TCEHY)
Tencent is the inventor of the WeChat app, which is China's biggest social media company. It is a tech conglomerate that is valued at more than $500 billion. It has recently established an artificial intelligence lab in Seattle which will boost the company's voice-to-text and virtual assistant offerings.
2. Twilio (TWLO)
Twilio, Inc. develops communications software, cloud-based platform, and provides services. Its products include Twilio flex, messaging, programmable voice, programmable video, elastic SIP trunking, and Io. The cloud-based platform allows developers to build real-time communications. The Super Network is its software layer that allows its customers' software to communicate with connected devices globally. It interconnects with communications networks around the world.
Read more:
3. Splunk (SPLK)
Splunk provides operational intelligence software that monitors, reports, and analyzes real-time machine data. Splunk is the world's first Data-to-Everything Platform which has been built to make life easy for users who analyze data to take appropriate measures based on the information derived. As an investor, you need to stay put and wait a while before you can benefit from your investment. Investing in value stocks is a long-term investment.
Go through a list of crypto mining companies that are leading the industry.
4. Nvidia
Graphics chipmaker Nvidia is one of the best AI stocks around. It is undoubtedly an undisputed leader in the global AI market. Nvidia makes the processors that operate this technology and it is one of those players, which is well-positioned and is the prime candidate which will benefit from the popularity of artificial intelligence technology.
Nvidia provides a complete end-to-end GPU (Graphics Processing Unit) computing platform for learning. GPUs are uniquely designed for AI. The graphic chipmaker continues to add AI-specific features in its GPU to ensure that its platforms are one of the best in the market. Nvidia's GPUs are virtually available for every major server maker and cloud service provider. They expand their business of AI rough partnerships with hundreds of universities and more than 3,600 startups through their Inception program. In addition to this, the company's Deep Learning Institute provides instruction on the latest techniques on how to design, train, and deploy neural networks in applications using our accelerated computing platform. Use the tools and indicators to get educated and to make well-informed decisions for investments.
Nvidia is a leader in global AI because of its investment in its Research and Development. The AI leader spends a good amount of money every year in R&D. Moreover, the company keeps on increasing the money invested according to the increasing demand for AI technology. The below graph indicates the expense in Million U.S. dollars in R&D over the past few years.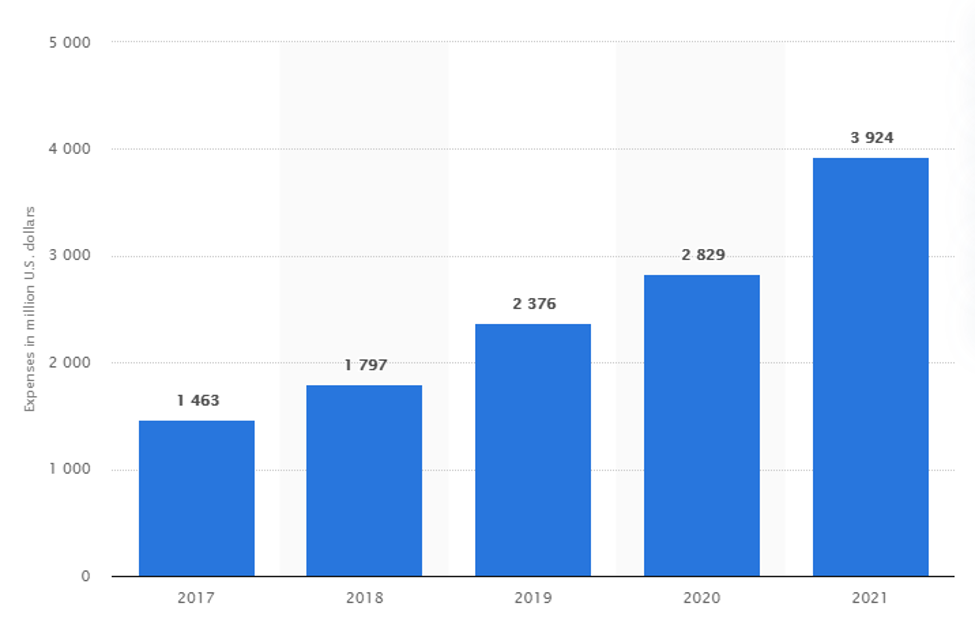 Source: Statista
Another noteworthy fact about the graphic chipmaker is that it spends a good portion of its revenue on R&D. For the fiscal year 2021, the below table shows the percentage of total revenue spent on R&D.
Q1
Q2
Q3
Q4
Total
Revenue
3,080
3,866
4,726
5,003
16,675
R&D
735
997
1,047
1,147

3,926

Percentage of Revenue spent on R&D
23.9%
25.8%
22.2%
23%
 

 

 

23.5%
The above statistics are noteworthy for investors. These financials assure a strong position for Nvidia in the AI market in the coming years. Nvidia is, without doubt, one of the best AI stocks to buy now.
Read:
5. Microsoft
Microsoft is another key player in the Artificial Intelligence community. The company uses AI for its cloud businesses, which is extremely dependent on Artificial Intelligence to deliver goods to various organizations, governments, businesses, and institutions. The vision of the company is "to enable every company to transform by bringing AI to every application, every business process, and every employee – and as a result, achieve more than it ever thought possible".
Microsoft has been making several strategic acquisitions and investments to accelerate the pace of AI development:
In May 2018, Microsoft acquired Semantic Machines. Semantics Machines is in the business of building conversational AI which is aimed to provide a more natural and productive user experience.
In June 2018, Microsoft acquired Bonsai. Bonsai's approach towards technology is unique. It is known for building 'brains' for autonomous systems.
In 2018, Microsoft acquired Lobe. Lobe is working to make learning simple and accessible for everyone.
In November 2018, Microsoft acquired XOXCO. XOXCO is a software design and development company known for its conversational AI and bot development capabilities.
In 2018, Microsoft acquired Orions System. Microsoft plans to integrate Orion's System into the Dynamics 365 connected store and the Microsoft Power Platform to enable retailers and other organizations to build and customize their own AI models
In April 2021, Microsoft acquired Nuance Communication. Nuance is a speech recognition software designer. The AI tools of Nuance are widely used in the health care market.
In addition to the above-listed development, Microsoft also is investing AI Patents. The company has a huge portfolio of AI Patent applications with thousands of inventions. As per the report by World Intellectual property Organization (WIPO), Microsoft has a 45% share in patents.
Microsoft's cloud computing software Azure is one of the biggest and fast-growing AI products. Azure is an integral part of the company's portfolio as it is trusted and used by the majority of Fortune-500 companies. Azure features modern AI tools and services designed to help developers and data scientists create AI solutions easily while maximizing productivity
Microsoft is one of the leading companies which spends heavily on Research and Development. The company's investment in R&D is shown in the below graph: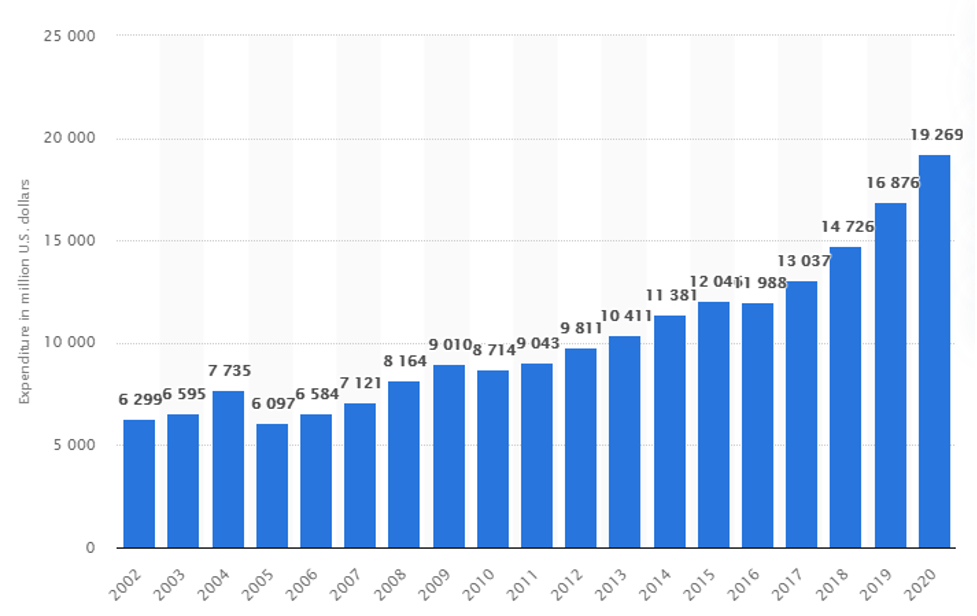 Source: Statista
Overall, Microsoft is leading in the field of AI research. It is on every investor's radar as one of the best artificial intelligence stocks to buy.  Check out a list of the Best NFT Stocks that can earn you great returns if you invest in them today.
Read more:
6. Amazon
Amazon is a multinational tech company that focuses on e-commerce, cloud computing, and digital streaming. Moreover, it is one of the most influential companies in the world. Amazon has gained fame in the AI market through the Amazon Web Services (AWS). The company dominates the e-commerce market through its AI technology.
Amazon Web Services reported $13.5 billion in annual operating profits for the year 2020. AWS's share in total operating profits is more than 60% of the total operating profits of the company.  Moreover, the AWS revenue, recorded at $45 billion was up by almost 30% year-over-year
The below graph shows the increase in the revenue from AWS.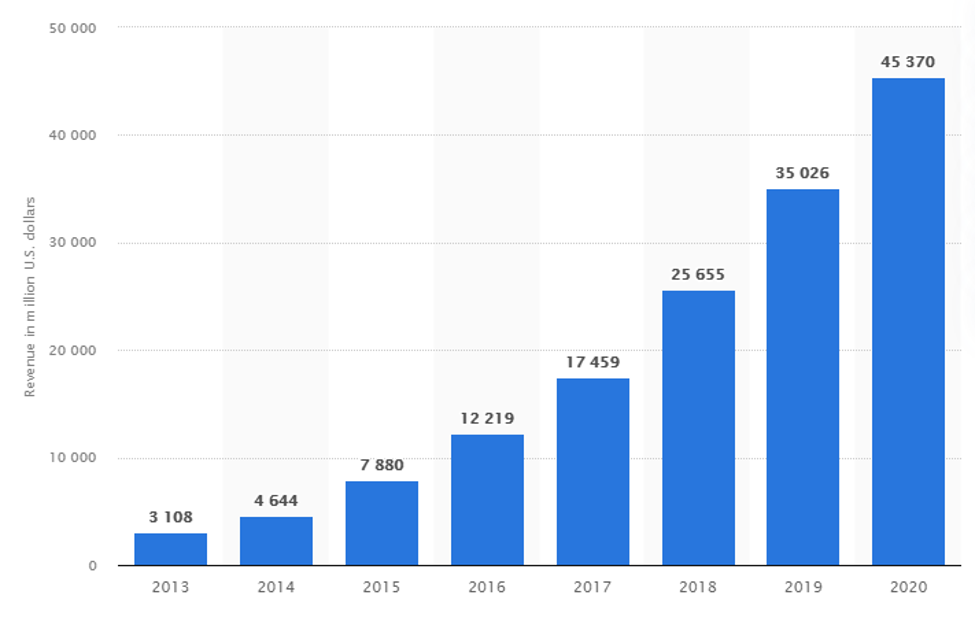 Amazon has adopted AI in a variety of its functions. It uses AI for voice-activated technology, Amazon Go, Amazon Web Services. In addition to this, the company is developing its infrastructure upon the artificial intelligence technology and its business continues to grow. With great future growth prospects, the stock of Amazon is not to be missed. Amazon is one of the top artificial intelligence stocks to invest in
7. Alphabet
Google is a name, not unknown to anyone today. This company smartly shifted its focus from a mobile tech giant to an AI-tech giant. Google has integrated the AI technology in almost all of its apps which include:
Google Maps
YouTube
Google Search Engine
Google Photos
With the inclusion of AI in all these apps used by the general public, the company has developed its name as a leading AI technology company globally. The AI giant also leverages technology such as Google Cloud and Deep Learning. Through these, the company can store and analyze data and incorporate it into AI technology to make the user experience better.
The recent developments of Google in the AI field include:
The launch of Vertex AI, an automated machine learning platform-
Launch of TPU v4 chip – It is expected to double the processing power of the current iteration and the new conversational language machine learning model
Launch of MUM (Multitask Unified Model) – it is expected to enhance the search capabilities for images, video, and in-context
The intention for Google's innovative team has always been to make work and life easier for the world. Over the years, Google has been making advancements in the AI field:
Partnering with tech providers – Google Cloud partnered with Emarsys to build a Real-Time Decision Framework
DeepMind, Image Recognition, and Google Cloud Video Intelligence
Machine Learning, AutoML, and TensorFlow

Google's Cloud AutoML- It is a machine learning product that enables developers to train high-quality models even if they have limited knowledge
TensorFlow – It enables developers to build their models for voice/sound recognition, text applications, image recognition, time series, and video detection.
The tech giant is also not behind in terms of spending in R&D. The below graph shows the amount of money invested by the company over the years in R&D: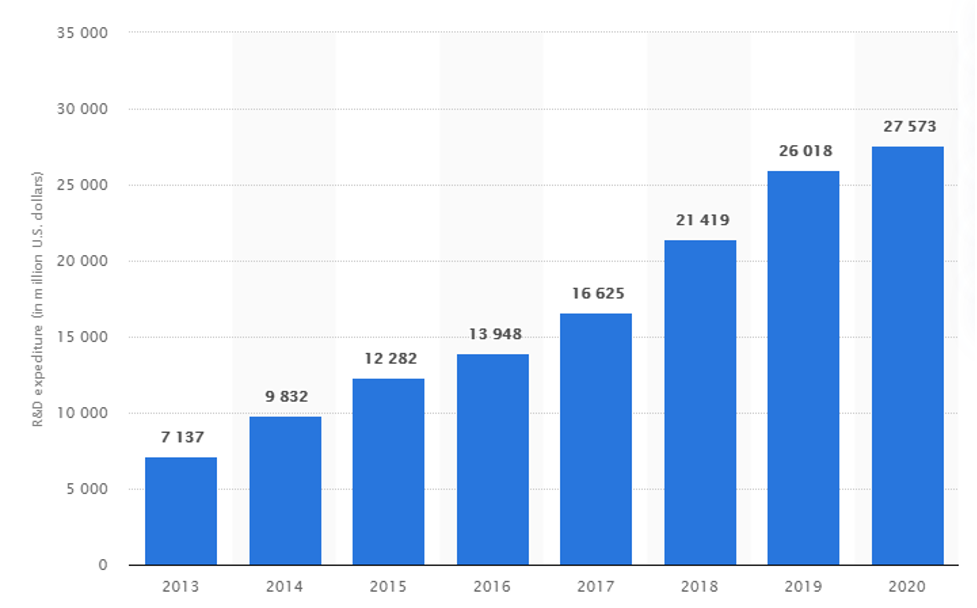 Google is working endlessly to enhance the user experience. They make use of technology to make life easier. With huge investments in the AI field which is expected to reap benefits in coming years, Google is one stock to watch out for as the best AI stock to buy now.
8. IBM
IBM is leading the artificial intelligence world. The company has been using AI for simplifying data collection, accessibility, analyzing, integrating, and optimizing systems across an entire business framework. IBM Watson is a data analytics processor that leverages natural language processing for analyzing human speech to understanding the meaning of human speech and syntax.
As per the recent report issued by IDC, IBM holds top ranking in the below categories:
AI Software Platforms
AI Application
AI System Infrastructure Software
IBM's investment in the R&D is shown in the below graph: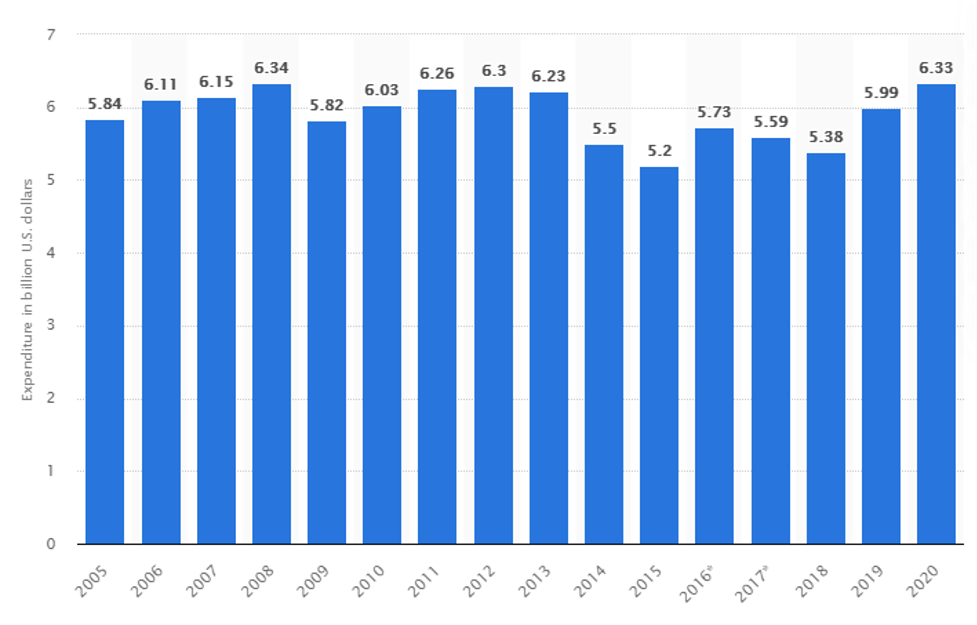 Source: Statista
IBM continues to improve itself in the global AI market. Its top ranking is proof of its smart products. With the future ruled by the AI world, IBM is one of the most in-demand artificial intelligence stocks today.
9. Apple
The name Apple is associated with iPhone. With its entrance into the market through mobile launch, Apple is now a tech giant which is paving its way in the AI field to keep up with the changing demands of users. Apple was the first one to launch Siri, an AI-powered assistant.
The iPhone maker has been using AI technology to improve customer experiences in every possible way. It is well-known for its application like face recognition, sleep tracking, app suggestions, and handwriting recognition. Apple is the only FAAMG that is leading the race of acquisitions of AI companies, according to the Global Data Report.
Apple has launched the following AI products which will give the company a huge push in the global AI market:
Overton – It is a Machine Learning platform. It is targeted towards engineers and is expected to support engineers in building, monitoring, and improving the production of machine learning systems
Apple iPhone Features – A lot of AI-powered features have been added to the iPhone. For example, remembering and reminding about your meetings, showing map recommendations, sorting images, recommending connecting pictures
Apple watch is a massive product and a big example of machine learning
Apple has also been investing huge amounts in its R&D. Apple Inc. spent a record 18.75 billion U.S. dollars on research and development in its 2020 fiscal year, increasing by about 2.5 billion from its 2019 total. Apple has great prospects. With Apple increasing its presence in the AI market, the investor should take advantage of this artificial intelligence stock today and include it in their portfolio
Final Word
Artificial intelligence can be seen all around you. It is changing the way we treat illness, live our daily lives, connect with others, run our businesses. The stocks listed above are some of the strongest players in the AI industry with great prospects.
Disclaimer: None of the information published in this article should be construed as investment advice. Article is based on author's independent research, we strongly advise our readers to always do their due diligence before investing.
You may also like reading:
Back