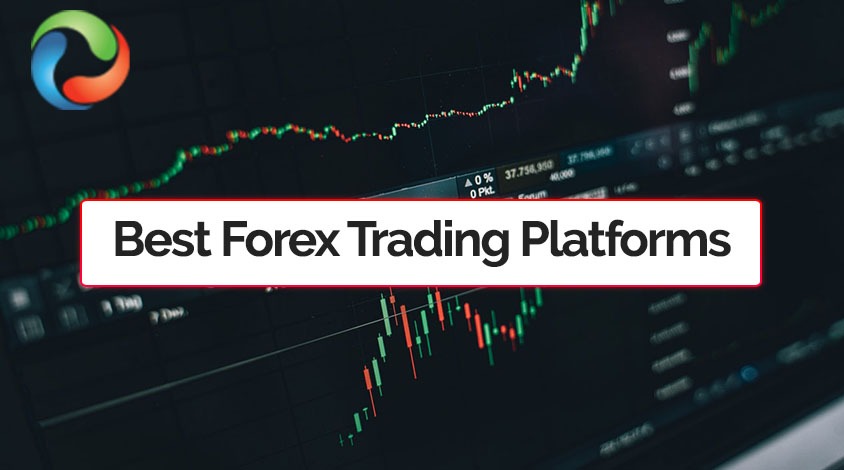 Active traders have good knowledge about the market and its trends. They also have enough hands-on experience to identify which trading strategy suits them, how much exposure to risk they can take and what is the cost they can bear. There are multiple brokerage firms in the market; a list of "Top Best Forex Brokers for Trading in 2022" is shared here.
Many traders prefer to manage their trades themselves. What they require is a comprehensive trading platform, where they can carry out their trades. Every stock trading platform is unique. Deciding which one to use for your trades usually depends on your overall trading experience.  The factors which usually contribute towards trading experience include investment options, trading tools, market research information, basic guidance/education, customer support, and ease of use for the trader. Forex indicators are constructive in making disciplined and informed decisions.
Based on these factors and our market research, we have shortlisted 6 names that are currently offering the best forex trading platforms to traders along with great trading experience.
1. TD Ameritrade
TD Ameritrade is one of the leading forex trading platforms in the market. It stands out because it offers an incredible trading platform, crisp market research, and very solid customer support and service. Its educative information and reports specially targeted to beginner-level traders along with an easy-to-use website, and a separate mobile app built specifically for everyday investors makes it the top choice for traders. Moreover, it offers its services across multiple countries; US Residents and Non-US residents both can open accounts with them.
TD Ameritrade has no minimum deposit requirement and charges zero commission on trades. TD Ameritrade offers the electronic platform thinkorswim to its traders. It is available on desktop, browser, and mobile. The desktop-based thinkorswim elevates the trader's experience and makes TD Ameritrade the best choice amongst forex trading platforms. The thinkorswim platform comes with the below features:
Thinkorswim Charts (Desktop) – There are dozens of charts available showcasing and analyzing real-time data and information of the market
Thinkorswim Trading Tools (Desktop)– TD Ameritrade offers a vast array of tools which include virtual trading with fake money, performing advanced earnings analysis, plotting economic (FRED) data, charting social sentiment, and backtesting with thinkOnDemand. Moreover, this trading platform also allows traders to create and conduct real-time stock scans, share charts and workspace layouts, and perform advanced options analysis.
Thinkorswim Earnings Analysis (Desktop) – This tool lets traders plot price action and volatility before and after previous releases. It helps traders plans ahead for earnings releases and assessing each company's results afterward.
Thinkorswim Tool (Web)– This newest addition provides an easy way for traders to quickly manage their accounts while accessing essential trading features. It provides a great number of advanced tools and functions.
Thinkorswim Mobile – It mirrors the thinkorswim desktop and provides traders with everything they view on the desktop platform
AI and Tech innovation – TD Ameritrade is one of the first forex trading platforms to offer Alexa Skill to its traders. It also is the first to integrate with Facebook Messenger and has also integrated with Apple Business Chat. Through its chatbox, TD Ameritrade is utilizing the AI technology
TD Ameritrade also provides extensive research to its traders, which include the following:
TV Network and Video
Market commentary
Autotrade
Social Sentiment
Community Feature
TD Ameritrade is in the process of merging with Charles Schwab which is expected to create new avenues and horizons for both companies. With this new merger, TD Ameritrade will climb up the ladder amongst its counterparts and is in line to become the top forex trading platform.
2. Interactive Brokers
Interactive Brokers is an institutional-grade trading platform that offers a variety of advanced trading tools. It offers access to 125 market centers across 31 countries. Interactive Brokers is equipped with the most advanced trading platform (TWS) for both desktop and mobile trading, both. It also offers the largest range of financial products to its customers. Its services are open for both US and Non-US Residents.
Interactive Broker offers minimum activity fees. Despite these charges, Interactive Brokers has been able to maintain its competitiveness in the pricing area amongst forex trading platforms in the market. It has no minimum requirement of its account.
Interactive Brokers provide their trading platform – Trader Workstation. This platform is packed with all the features covering all aspects of trading. Its features include:
Desktop Charting – The platform provides dozens of charts and multiple studies which enables the traders to be better equipped with the knowledge and make the maximum use of charts and analysis
Advanced Orders – Interactive Brokers allows and its platform supports complex orders for forex and CFD traders.
Platform Complexity – This platform is equipped with all the features and tools and traders can customize their trades accordingly. This high-level customization and possible configuration might seem complex to traders
Client Portal – The platform is accessorized with forex charts, forex news headlines and related economic calendar events, trading, and even syncing watch lists
Interactive Brokers is also recognized as one of those few forex trading platforms which provide the widest array of third-party research. Their research is very detailed and is a source of valuable information for traders. Their research includes:
Research Summary – Most of the research content is available on TWS and the Traders' Insight blog
Forex News – Market headlines and news from Reuters, Dow Jones, and Market News International (MNI) is available on the platform
Forex Research
Forex Videos – Informative videos from Bloomberg Television are available along with daily market updates from IBKR Traders' Insight, and The Fly Squawkbox Live podcasts.
3. E-Trade
E-TRADE is an innovative financial services company offering a full suite of easy-to-use online brokerage, investing and related banking solutions, delivered at a competitive price. Its unique feature is its two unique apps and the Power E-Trade Platform which caters to all types of traders – beginners, active trading, and options trading. Its services are currently limited to US Residents only.
E-Trade charges zero commission on trades but charges $0.65 per options contract.
E-Trade's powerful trading platform comes packed with many features. It is easy to use, equipped with all the required features and works fast and efficiently. Its features include:
Charts – The Power E-Trade trading platform charting engine is powered by Chart IQ, an excellent third-party provider of HTML 5 charts. This engine provides extremely smooth panning and zooming, integrated Trading Central (Recognia) technical analysis, 114 optional technical indicators, and 32 drawing tools.
Options Trading – Power E*TRADE offers its traders a unique balance of practical, useful, and excellent to use tools. Its makes use of StrategySEEK for screening and LiveAction for scanning.
Futures Trading – Great user-friendly feature for Futures Trading, where an order can be executed with ease
E-Trade provides in-depth market analysis for stocks, ETFs, mutual funds, bonds, and other financial instruments. It provides:
Ratings – Consensus Ratings from multiple third-party research
Market Happenings and Daily Insight
Market Commentary
4. Fidelity
Fidelity is a popular brokerage for a large variety of investment needs. It was founded in 1946. Fidelity is known for its low cost with a focus on educating the traders about investing. It is equipped with high-tech tools which makes Fidelity a great choice for traders. Fidelity provides excellent industry-leading research and an easy-to-use mobile app. These features make Fidelity the preferred choice amongst other forex trading platforms It is currently serving more than 32 million customers and is the top choice for everyday investors. The only limitation is that it is currently only serving US Residents.
Fidelity charges zero commission over trade and is also one of the few trading platforms which charge no additional fee for penny stocks. In addition to it, Fidelity also provides zero expense-ratio mutual funds and comes with no minimum deposit and a zero-expense ratio.
Fidelity's flagship platform, Active Pro is equipped with all the trading tools, traders need to manage their portfolios. Its features include:
Website Watch Lists – It includes streaming quotes along with more than 40 different tabs to choose from for data viewing. It is super easy to use and move around.
Charts – Fidelity's flagship platform has a very neat and clear display of charts. These charts make use of 22 different drawing tools, 166 optional studies, custom user profiles, chart trading, alerts, and notes.
Research is Fidelity's biggest strength. The website and its content are presented to investors in a manner that makes access easy. The key features of its research include:
Screening for trade ideas
Stock Research – Fidelity provides the broadest spectrum of research:16 third-party research reports for stocks and five for ETFs
Market Commentary
5. WeBull
Webull started as a research firm and has recently branched out into the forex trading industry. They currently offer stock trades at zero commission on both mobile and desktop. It offers a unique community-driven experience and has a well-designed easy to use trading platform. Their mobile trading app is a hit amongst young investors because of its ease to use. The one thing which limits the success of WeBull is that it is open for only US Residents only
WeBull imposes no minimum account balance requirement upon its customers, nor does it charge any commission on trades.
| | | |
| --- | --- | --- |
| Sr. | Feature | Charges |
| 1 | Minimum Deposit | $0 |
| 2 | Stock Trades | $0 |
| 3 | ETF Trade Fee | $0 |
| 4 | Options (Base Fee) | $0 |
| 5 | Options (Per contract) | $0 |
WeBull provides excellent research and analytics. They provide intuitive stock charts with plenty of technical indicators, stock signals and tools for customizing charts for trades and analysis. The web and desktop platform of WeBull provides the following features:
High-quality charts with technical indicators
Stock screener with a variety of features
Top-down market analytics
Rankings- Stock and Industry Strength, both
The daily level of net cash inflows into indexes
Active Trader Tools
The tools WeBull offers its traders are:
Web Platform Charting – Webull offers standard charting features, which include several different chart types, adequate drawing tools, 50 technical indicators, the option to add hotkeys, and grid layout format for comparison amongst multiple charts.
Market Replay – A unique feature offered by WeBull to its users. Traders can view stock chart time-lapse video replays of the day's price action.
Desktop Platform Features – The Webull desktop platform provides a high-level overview of markets alongside news headlines and consolidated analyst ratings.
This interface gives traders an insight into the market macrostructure–what's moving the market.
WeBull's trading platform has limited but very useful technical indicators:
Simple Moving Average
Exponential Moving Average
Bollinger Bands
Keltner Channels
Ichimoku Cloud
SAR
VWAP
Volume
MACD
KDJ
WeBull has its edge over other trading platforms in the market. Its unique features and easy-to-use platform make it one of the preferred forex trading platforms amongst traders.
6. Robinhood
Robinhood is a free-trading app that lets investors trade stocks, options, exchange-traded funds, and cryptocurrency. It is one of the best forex trading platforms for beginners. The newsletters and podcasts issued by Robinhood are educative and very vital sources of information for beginners. These combined with its easy-to-use mobile app gives Robinhood an edge over other forex trading platforms in the market. The only limitation of Robinhood is that its services are currently open for US Residents only.
Robinhood does not have a minimum account balance requirement nor does it charge any commission fee from its traders.
| | | |
| --- | --- | --- |
| Sr. | Feature | Charges |
| 1 | Minimum Deposit | $0 |
| 2 | Stock Trades | $0 |
| 3 | ETF Trade Fee | $0 |
| 4 | Options (Base Fee) | $0 |
| 5 | Options (Per contract) | $0 |
Robinhood is majorly for those traders who are new to the game. The tools and features it provides to its customers are:
Trading Tools – The trading tools and features on Robinhood's platform are best suited for beginner traders. The technical indicators are 4 in numbers with basic level charts.
Fractional Shares – Simplicity is Robinhood's greatest strength amongst the forex trading platforms. Its simple recurring tool lets traders automatically reinvest money according to your required period.
Research – Robinhood offers a list of stocks with recommendations under "People also bought". These are the safe and sound choices for beginners who accept low-risk investments
Robinhood Snack – Robinhood snack is all about information about the forex market in the form of newsletters and podcasts. It is one of the most prominent features of this platform. The team
Robinhood's mobile able is fast and easy to use. It includes the below features:
Watch Lists
Stock charts
Price alerts
Robinhood is amongst the best choice for beginner-level traders. Its simple platform and easily understandable research reports are the key features that make it stand out and become a part of one of the best forex trading platforms for beginners.
Conclusion:
Finding an accurate trading platform, which suits your trading needs and requirement is very important. It not only helps you achieve your investing targets but also educates you in increasing your portfolio worth. Choosing the right trading platform is not that simple. In this above list, we have carefully scrutinized and selected the best Forex Trading Platforms for you where multiple factors have been analyzed which include: ease of use, variety of tools available, detailed analysis, research reports, and mobile app trading and web platforms. Few trading platforms cater to non-US residents also and offer their services in multiple countries.
These are our top picks for the current year and we are hopeful they will benefit our readers in the best way possible.
Disclaimer: None of the information published in this article should be construed as investment advice. Article is based on author's independent research, we strongly advise our readers to always do their due diligence before investing.
You may also like reading
Back