Gold stocks are stocks of companies and funds focused on gold. The industry mainly comprises mining companies that dig up and sell gold.
There are many benefits to buying gold stocks instead of physical metal. The main draw is that these companies offer the potential of leveraged upside to the price of gold. When prices rise, these companies can increase their gold production and grow their total sales.
Below are some of the advantages and disadvantages of investing in Gold Stocks:
Why to Buy Gold Stocks?
Easily Liquidated – Gold stocks are traditional day stocks that can be easily traded
No Need To Store It – Since you don't own actual gold you don't have to worry about finding a secure place to store it
No Need To Insure It – Since you don't own gold in physical form, the risk of getting stolen is not there. Hence no need to insure it.
Disadvantages of Buying Gold Stocks
You Don't Own Any Gold: In case of any economic crisis, you will not have any gold to use to safeguard you from a liquidity crisis
Higher Risk Investment: Gold stocks are not entirely dependent on the price of gold. They are also dependent on the company, making the gold stock a high-risk investment
More Affected By Stock Market: Gold Stocks are ties to the stock market and investors cannot enjoy the benefit of gold prices rising during the stock market downfall.
Gold is a great addition to your portfolio.  Gold stocks along with some of the top ETFs for gold provide investors with an easy approach to benefit from gold prices. No doubt, investment in gold stock has its set of risks but it is a comparatively more rewarding source of investment.
Read:
Here we have compiled a list of Best Gold Stocks to Buy in 2023:
Franco Nevada (FNV)
Franco-Nevada Corporation is the leading gold-focused royalty and streaming company. The company owns the largest and most diversified portfolio of cash-flow-producing assets. Franco Nevada operates upon a very smart business model where the investors have limited exposure to cost inflation while providing them with the option of gold prices and exploration options.
As per SBMA, the demand for gold is expected to rise in 2021. This means gold mining will also rise and Franco Nevada is amongst the top gold miners. The company has a huge market capitalization of approximately $26 Billion. It has outperformed both gold equities and gold itself. The below chart shows how the FNV stock performance has been always above the S&P Global Gold Index and the Gold prices: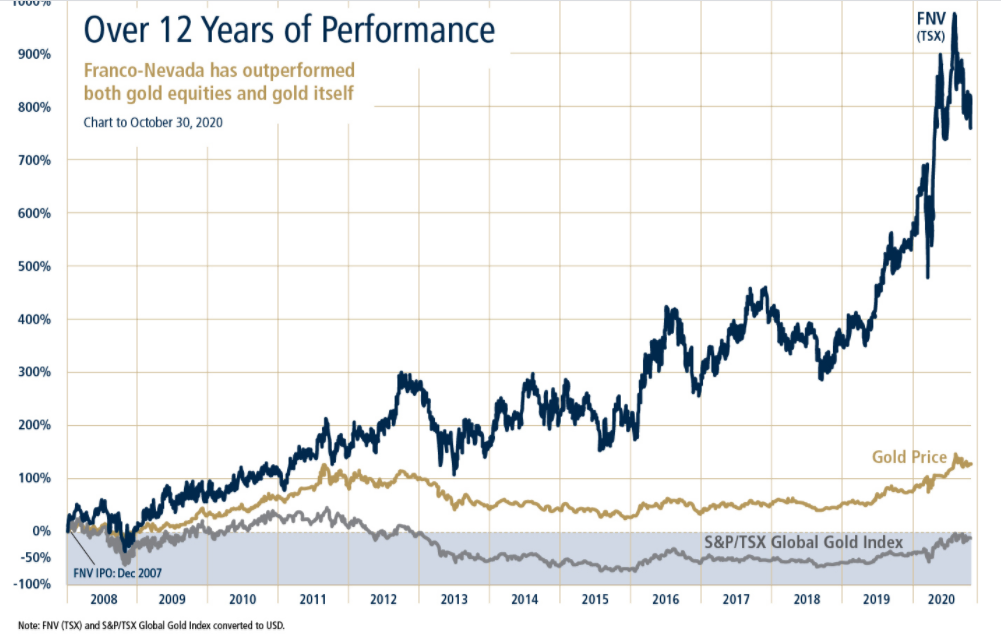 The stock performance of Franco Nevada for the last two years is shown in the chart below: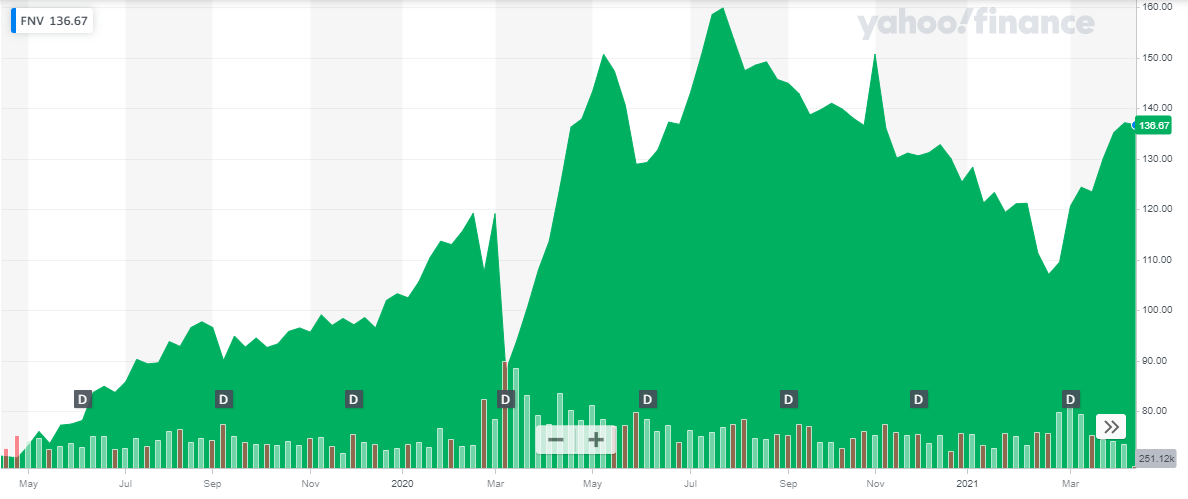 Based on its performance Franco Nevada is one of the best gold mining stocks to buy.
Get to know the best covered call stocks to buy now.
Sandstorm Gold (SAND)
Sandstorm is a gold royalty company with hundreds of royalty assets in a single investment. The company invests in viable projects and crafts custom financing solutions for mining companies who are seeking capital. The investors of the company enjoy the benefits of a diverse, cash-flowing portfolio of assets with minimum exposure to risks associated with the business.
Sandstorm Gold's fourth-quarter results were impressive. The company reported $29.7 million in revenues, as compared to $24 Million in the last quarter of 2019. Despite the pandemic lockdown, the company has shown great performance. The company's earnings have been growing at a massive rate and have outperformed the average industry growth rate.
The stock performance of Sandstorm Gold for the last two years is shown in the chart below: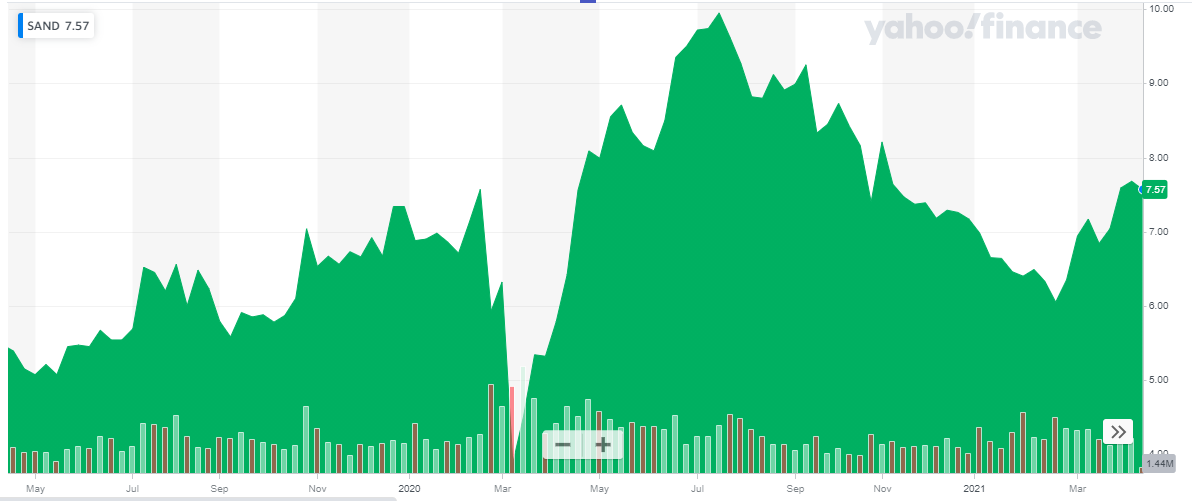 The company is debt-free and has a growing cash position. This makes Sandstorm one of the best cheap gold stocks to buy.
Also read: Bonds vs Stocks – Where to Invest in 2023
B2Gold (BTG)
B2Gold is a low-cost international senior gold producer. The company's operating segments include its mining operations and development projects.
B2Gold has a market capitalization of over $5 Billion. In its recent announcement of quarterly results (Q4 2020), the company reported a 53% increase in gold revenues as compared to 2019 last quarter results. In the company's annual report, B2Gold reported an amazing 17% increase in gold production. Despite the challenges of Covid-19 and the workflow being disturbed, the company manages to achieve better results.
The year 2022 has a positive outlook for B2BGold. The company is well-positioned for continued strong operational and financial performance. The expected production of gold is between 970,000 – 1,030,000 ounces.
Also read: Best Stock Forecasts & Prediction Services
The stock performance of B2Gold for the last two years is shown in the chart below:
B2Gold is an excellent long-term investment. Its performance in 2020 and the positive outlook for 2023, make it one of the best stocks to buy in gold category.
Barrick Corporation (GOLD)
Barrick Gold Corp. engages in the production and sale of gold and copper, as well as related activities such as exploration and mine development.
Barrick has a market capitalization of over $39 Billion. It has a huge presence in many of the world's most prolific gold districts. The company is expected to improve performance further in the coming years because of the major growth projects it has invested in. Moreover, the recent merger with Randgold has taken the company to the status of the world's largest bullion miner. Additionally, the joint venture with Newmont is expected to increase production by 1.8-1.9 million ounces of gold.
The company's stock was trading at $18.79 on March 11th, 2020, before Covid-19 hit. Since then, the company stock has risen considerably and is currently trading at above $20
The stock performance of Barrick Corporation for the last two years is shown in the chart below: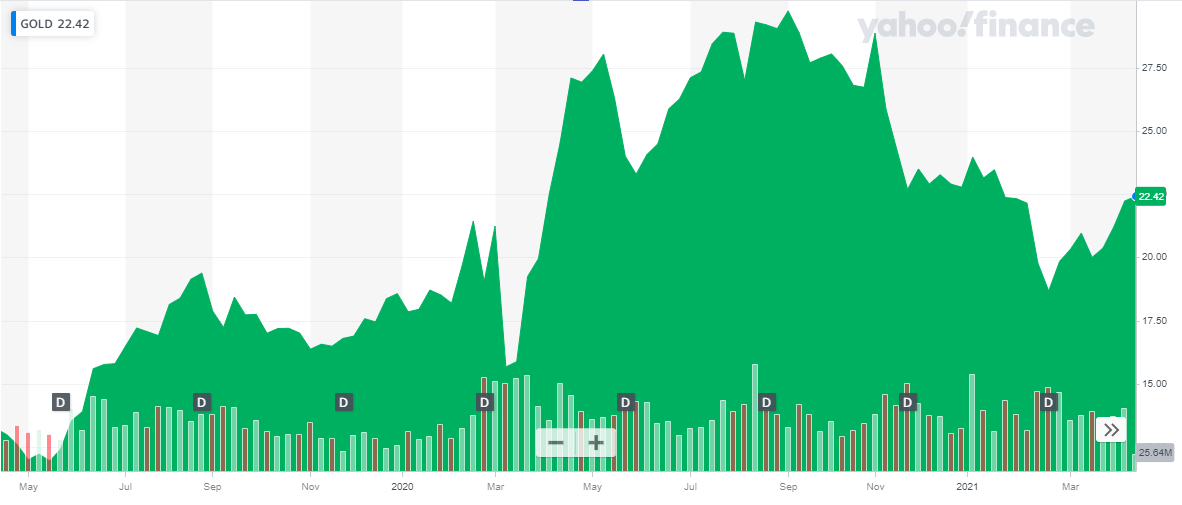 Also read: Best Tech Stocks to Buy
Kirkland Lake Gold Limited (KL)
Kirkland Lake Gold Limited is a gold mining, development, and exploration company. The Company mines one of the highest-grade ore bodies in the world with massive exploration and growth potential in the immediate area. Kirkland Lake Gold Camp has been producing for a very impressive 100 years.
Kirkland has a market capitalization of $10.2 Billion. Its recent release of the first quarter report of 2021, reported a solid production of gold. Moreover, the company has launched a new life of mine plan (2021 LOMP) for its Detour Lake mine. The Detour Lake Mine is expected to increase the production of gold at Detour Lake open pit mine.
The company reported solid cash reserves for the year ending 2020 with no debt. A company with no debt represents financial strength and qualifies this stock to be amongst the best gold stocks to buy in 2023.
The stock performance of Kirkland Lake Gold Limited for the last two years is shown in the chart below: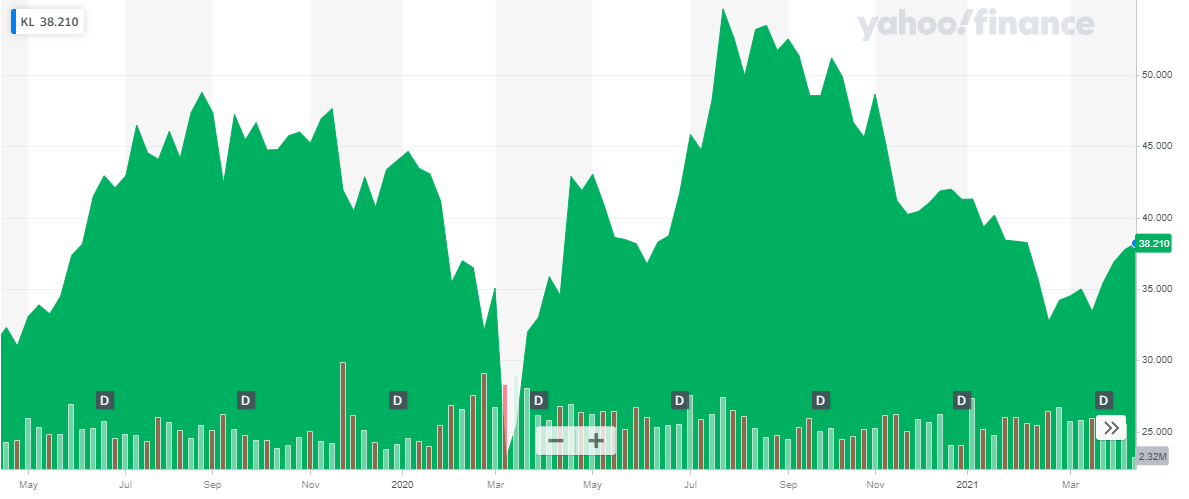 Read more:
SPDR Gold Shares (GLD)
SPDR Gold Shares offer investors an innovative, relatively cost-efficient, and secure way to access the gold market. SPDR Gold Shares is the largest physically backed gold exchange-traded fund (ETF) in the world. SPDR Gold Shares are intended to offer investors a means of participating in the gold bullion market without the necessity of taking physical delivery of gold and to buy and sell that interest through the trading of a security on a regulated stock exchange.
SPDR Gold Shares has a market capitalization of over $66 Billion. Since its inception in 2004, this ETF has performed amazingly with an average annual return of approximately 9%. This Gold ETF is directly linked to the price of gold. It will provide investors all the benefits of investing in gold without the hassle of actually buying and storing gold.
The stock performance of SPDR Gold Shares for the last two years is shown in the chart below:
Being the largest Gold ETF, SPDR offers investors a lot of benefits. With its huge market capitalization and is directly linked with the price of gold, SPDR is one of the best gold ETF to buy
As an investor, you need to stay put and wait a while before you can benefit from your investment. Investing in value stocks is a long-term investment.
Read more:
Newmont Corporation(NEM)
Newmont is the world's leading gold company and a producer of copper, silver, zinc, and lead. It has a market capitalization of over $53 Billion. The company has the industry's biggest gold reserves estimated at 94 million ounces.
Gold was a top-performing commodity in 2020. As a result, all gold companies have shown big bumps in revenues, income, and cash flow. The demand for gold is expected to rise in 2023 and the coming years. Newmont Corporation has set out a plan to meet up with this increasing demand. The company's multi-year business plan reflects steady growth in the production of gold and metal. The 2020 CSA results also place Newmont as the top-ranked gold miner for the sixth consecutive year.
The stock performance of SPDR Gold Shares for the last two years is shown in the chart below:
Newmont Corporation has better performance than its competitors. It offers a better yield and Price Earnings Ratio to investors. Newmont is one of the best gold stocks to buy in 2023.
Also check out: Best Renewable Energy Stocks to Invest
AngloGold Ashanti Limited(AU)
AngloGold Ashanti is an independent, global mining company with operations and projects on four continents. It is the third-largest gold producer globally. AngloGold Ashanti's Mponeng gold mine is currently the deepest in the world. Ongoing expansions are expected to extend the operating depth further. AngloGold Ashanti has a market capitalization of over $9 Billion
AngloGold Ashanti has a strong balance sheet with a huge decline in debt position as reported in 2020-year end reports. The company has better a liquidity position and is extending the average maturity of its debt. The company has paid very high dividends in 2020, more than 5 times, as compared to the dividend paid in 2019. Moreover, the Company aims to grow annual production in coming years.
The stock performance of SPDR Gold Shares for the last two years is shown in the chart below:
Disclaimer: None of the information published in this article should be construed as investment advice. Article is based on author's independent research, we strongly advise our readers to always do their due diligence before investing.
You may also like reading:
Back