What are Growth Stocks?
Growth stocks are companies that have a faster growth rate of revenue and earnings as compared to the industry's average rate or the overall market. Growth stocks are usually priced higher and investors earn through capital appreciation.
Usually, growth stocks belong to companies that are offering innovative products or services. These companies are gaining upon their market share or expanding into new markets. It is one of the best investment opportunities.
Key Characteristics of Growth Stocks
Growth stocks have the potential to provide excellent returns. The key to earning these returns is to be able to identify these stocks. Some characteristics of growth stock which can help investors identify these returns are:
High price-to-earnings ratio 

High earnings growth record

Volatility

Do not pay dividends 
Growth stocks have a higher price-to-earnings ratio than the industry's average. Also, they have a high earnings growth rate because of the growth potential in the industry the company is operating in. Moreover, these growth stocks are highly volatile. The risk of volatile stocks is mitigated through different investment strategies and diversifications. They respond quickly to changes in the market and economy hence they are riskier investors. Since these growth stocks belong to emerging companies or companies entering new markets, they do not pay dividends. The reason being the earnings are reinvested towards the future growth of the company.
Best Growth Stocks to Buy Now
Here we have compiled a list of the best growth stocks that can create a fortune out of your investments.
Shopify
Shopify is a commerce platform that offers a quick setting of online stores to sell products. It also offers customization of online stores and allows shop owners to even build everything from scratch through the Shopify App Store. Always use the tools and indicators to make well-informed decisions for investments. Shopify store owners can also sell in physical locations using Shopify POS, our point-of-sale app, and accompanying hardware.
The e-commerce platform has transformed since the lockdowns, travel bans, and retail closures.  As per Statista report, in 2020, retail e-commerce sales worldwide amounted to 4.28 trillion US dollars and e-retail revenues are projected to grow to 5.4 trillion US dollars in 2022.
The below graph shows the growth pattern of the e-commerce platform since 2014 and for the coming years.
Shopify has two major business segments:
Subscription Solutions – Customers commercialize their products via a monthly subscription fee,

Merchant Solutions – It is a global payment processing provider
The e-commerce company recently posted its second-quarter report. The financial highlights are:
Total revenue in the second quarter was $1,119.4 million, a 57% increase year over year

Subscription Solutions revenue was $334.2 million, a 70% increase year over year

Merchant Solutions revenue was $785.2 million, a 52% increase year over year

Earning per share was $2.24, as compared to $1.05 per share in the second quarter of 2020
The e-commerce platform is helping merchants and developers build the future of commerce on the internet. Moreover, Shopify offers improved shipping speed and accuracy. Shopify is boosting Shop Pay, which is now available to all merchants selling in the U.S. on Facebook and Google, even if they don't use Shopify's online store. The buy-now pay later option, Shop Pay Installments, enables merchants to provide buyers with increased flexibility and affordability at checkout. This gives significant benefit to merchants through seamless checkout experience and order values and lowers abandoned carts and direct integration of Shop Pay Installments with merchants' Shopify stores. If you have interest in tech, checkout some of the best AI Stocks to invest in. 
Shopify's valuation is at $186 billion. The stock of the online retailer is trading at $1,498. The below chart shows the stock performance of Shopify for the past 2 years. As we can see, the stock has been on a rising trend since the pandemic. The stock has increased by more than 300% since COVID-19 reached pandemic status. Like any other growth stock, the stock Shopify also has experienced multiple ups and downs reflecting volatility.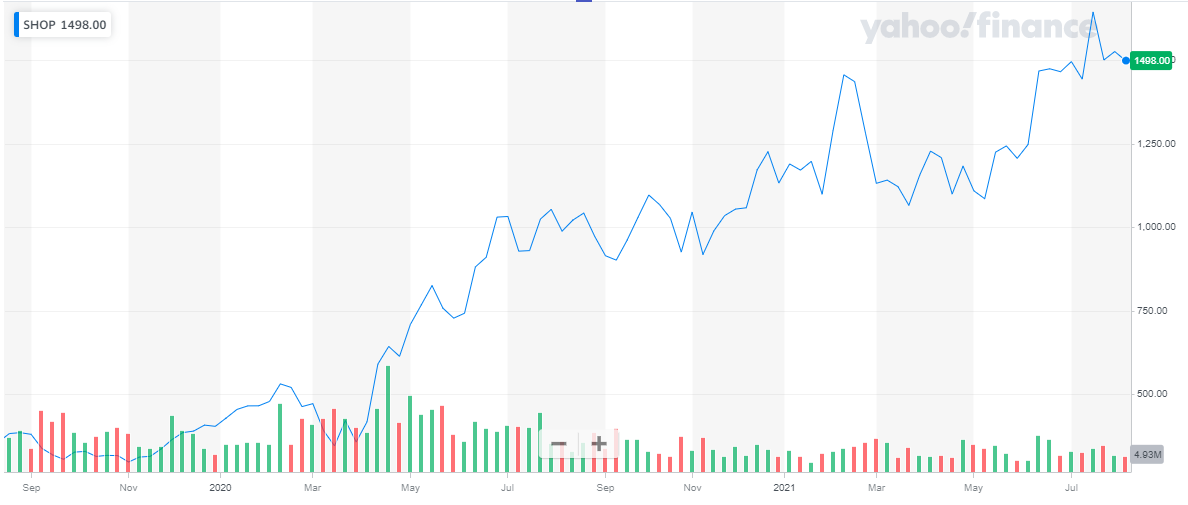 The company expects revenues to continue to grow despite the slight decline in online purchasing after the lockdown was lifted. Shopify is expanding into new territories to provide benefits to its merchants and provide a seamless shopping experience to customers. Shopify is an excellent growth stock to invest in today.
Investing in best ETFs is one of the most easiest and safe investment option.
Read more:
Alibaba
Alibaba is China's, and by some measures, the world's, biggest online commerce company. It is the most popular destination for online shopping, in the world's fastest-growing e-commerce market. Transactions on its online sites totaled $248 billion last year, more than those of eBay and Amazon.com combined. Alibaba is recognized as one of the most valuable tech companies in the world after it raised a staggering $25 billion from its IPO in the U.S.
As per Statista, the revenue of Alibaba group reached 717.2 billion yuan (approximately 109 billion U.S. dollars) in the financial year 2020. In their recent quarterly report, the company posted:
1.18 Annual Active customers

Revenues of 206 billion yuan ($31.8 billion approximately) were reported, a 34% increase in year-over-year

Net income decreased 8% and was reported to be 42 million yuan ($6.48 million approximately). The reason for this decline was the investment in strategic areas to capture incremental opportunities
if you are seeking a steady stream of income should invest in REIT stocks.
Commerce remains the major source of revenue, contributing 87% of the overall revenue.
| | | | |
| --- | --- | --- | --- |
| | Revenue (RMB Billion) | Revenue ($) | Weightage (%) |
| Commerce | 180.24 | 27.83 | 87.6 |
| Cloud Computing | 16 | 2.47 | 7.8 |
| Digital Media and Entertainment | 8.1 | 1.25 | 3.9 |
| Innovative Initiatives and others | 1.34 | 0.21 | 0.7 |
| Unallocated | 0 | 0 | 0 |
| Total | 205.7 | 31.76 | 100 |
Alibaba is currently valued at $512 billion. Its share is trading at $188.62 on the New York Stock Exchange. In the last quarter of 2020, the share of Alibaba peaked at $309 as customers' online purchases rose.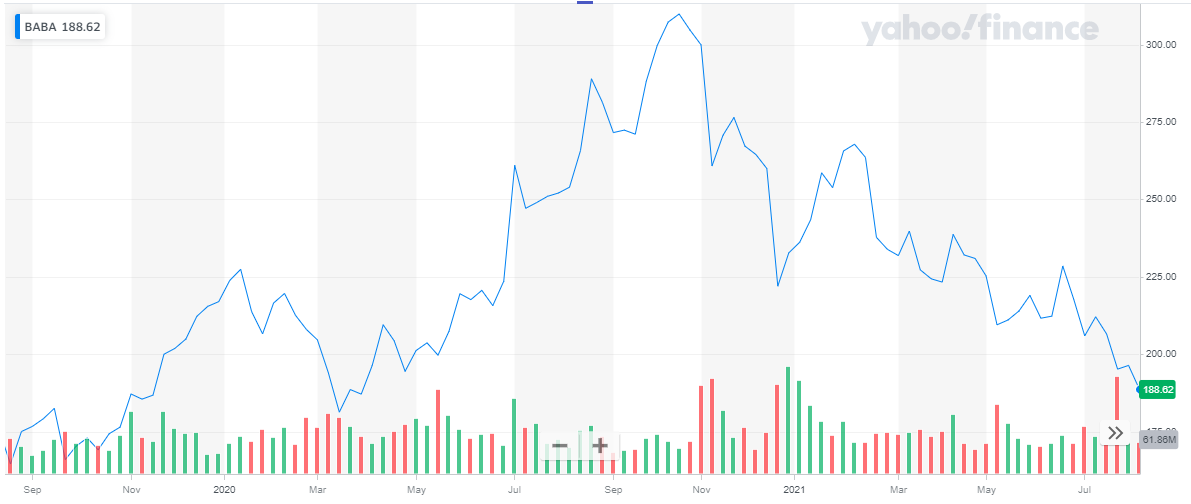 Alibaba plans to continue investing additional capital into programs that support merchants and assists the company in developing new businesses in strategic growth areas. This will ultimately help increase consumer wallet share and penetrate new addressable markets. The e-commerce company has strong profit and cash flow generation capability which enables them to focus on long-term value creation. With these in mind, Alibaba is a great growth stock to invest in in 20212.
Read more:
Amazon
Amazon (Amazon.com) is the world's largest online retailer and a prominent cloud services provider. It sells sell a wide variety of consumer goods and digital media. According to recent industry figures, Amazon is the leading e-retailer in the United States with approx. $386 billion net sales in 2020.
The year 2020 was a great year for Amazon. The company's revenue grew by 37% as compared to the previous year. With the e-commerce platform on the rise due to pandemic-driven lockdown, amazon revenues peaked. The below chart shows the net revenues of Amazon over the past years.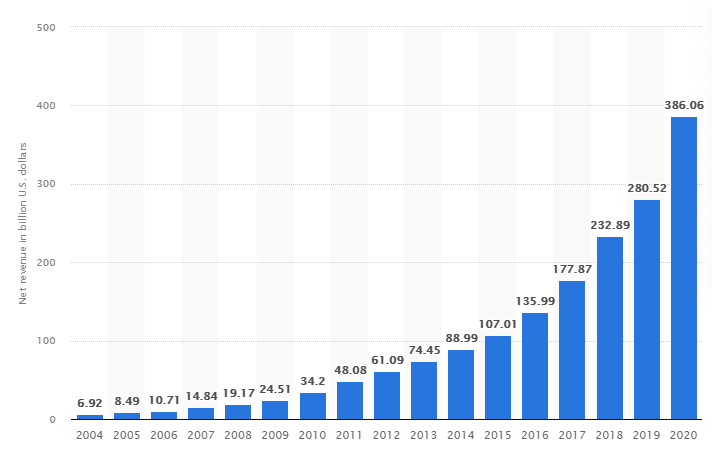 Confused between investing in forex or stocks? read stocks vs forex and make a well informed decison.
Gaining customer trust is a stepping stone toward becoming successful as a company or brand. The trust that Amazon has built with its customers is based on consistent and transparent product experiences. Amazon Prime membership grew to 147 million members in the U.S. as of March 2021, an increase of 24.6%% from 118 million in March 2020, according to CIRP's estimates.
Amazon recently announced its financial results for the second quarter of 2021.
Net sales increased by 27% to $113.1 billion, compared to $88.9 billion in the second quarter of 2020

Net income

 

increased to $7.8 billion in the second quarter as compared to $5.2 billion in second-quarter 2020
Amazon is currently valued at $1.67 Trillion and is amongst the largest companies. Its stock is currently trading at $3,294. The pandemic gave a huge boost to the stock price when online shopping started rising. The multinational company reported a 70% increase in earnings in the first nine months of 2020. As the below chart shows, the stock of Amazon jumped from $1,785 before the COVID-19 hit and has now increased by more than 85% up till today.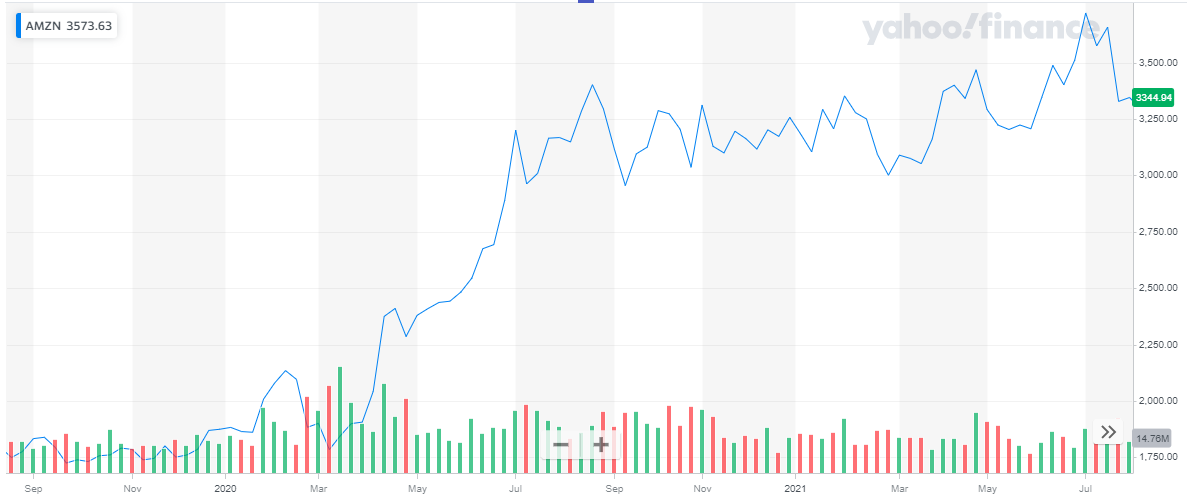 In the coming months, net sales are expected to grow between 10% to 16%. With amazon continuing to enhance user experience on their platforms the growth of revenue is unstoppable. With such a dynamic shift towards an e-commerce platform due to COVID-19, Amazon came out successful in face of all challenges it faced. This stock has great potential to grow and is one of the best growth stocks to invest in today.
Get to know the best covered call stocks to buy now.
Read more:
Netflix
Netflix is a subscription-based streaming service that allows our members to watch TV shows and movies without commercials on an internet-connected device. Netflix has an extensive library of feature films, documentaries, TV shows, anime, award-winning Netflix originals, and more, and subscribers can watch as much as they want. 
The streaming service profit margins have grown 5 times, over the last 5 years. Their absolute profit dollars have grown 20 times as operating income has increased from $100 million to $2 billion in the past 5 years. The company recently posted its second quarterly earnings report:
Revenue increased by 19% to $7.3 billion, year over year

Net income was reported to be $1.4 billion, as compared to $720 million last quarter in 2020

Earnings per share were $2.97, as compared to $1.59 for the same period last year

At the end of the quarter, there were 209 million paid subscribers, an 8.4% increase from last year
If you are looking for stocks that are both cheap and stable is not difficult, invest in undervalued stocks.
Growth has been comparatively slow from last quarter. This slow growth is because of the post-COVID-19 change. During COVID-19 acquisition and engagement per member household spiked which has distorted the year-over-year comparisons. Get to know best vaccine stocks to invest in now.
Netflix is currently valued at $228 billion. Its share is trading at $515.92. COVID-19 gave a huge boost to the stock price. Trading at $332.83 in March-20, the share price has grown more than 50% in the past 17 months.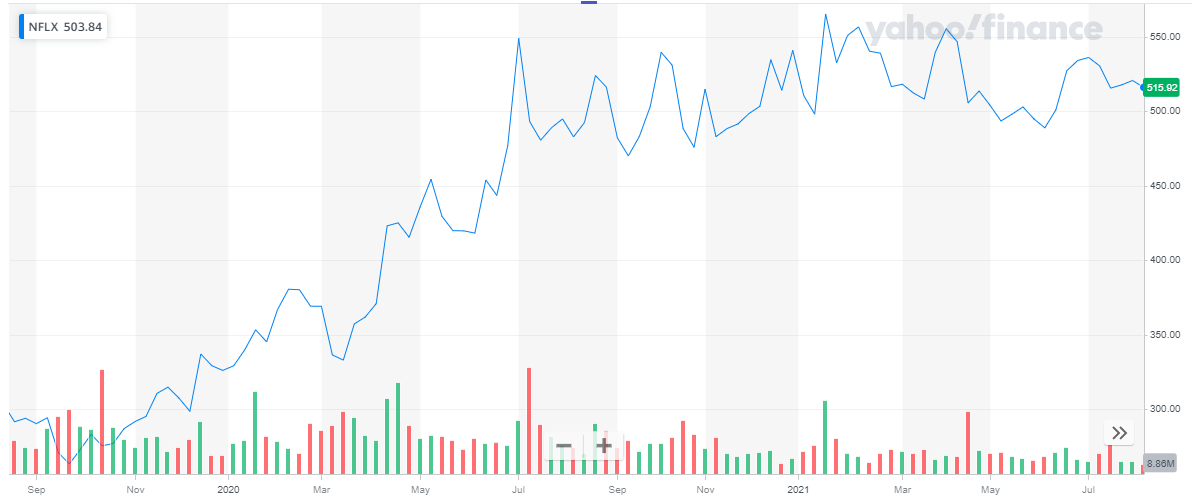 Netflix continues to innovate across a broad range of services, to improve the viewing experience. Streaming is just 27% of the US screen time whereas linear TV still holds 63% of the market. As the company continues to improve service, its goal is to continue to increase screen time in the US and around the world. With c a long runway for growth, Netflix is one of the best growth stocks for investing today.
Gold stocks is a great addition to your portfolio. Gold stocks along with top ETFs for gold provide investors with an easy approach to benefit from gold prices. Read: Best Gold Trading Signal Providers.
Pfizer
Pfizer is the world's premier biopharmaceutical company engaging in the business of discovering innovative solutions to some of the most complicated health challenges of our times. Pfizer made headlines with its COVID-19 vaccines which are amongst the most effective vaccines today. 
In the second-quarter report, the pharma company reported:
Revenues of $19.0 Billion, a 92% change year-on-year

Net Income was reported at $5.6 billion, a 50% change from last year second quarter

EPS of $0.98
The growth driver of revenues was the COVID-19 vaccines, as revenues from vaccines increased by approx. 650% and it contributed approximately 50% of the total revenue.
| | | |
| --- | --- | --- |
| Business Segment | Revenue | Weightage (%) |
| Vaccines | 9,234 | 48.6 |
| Oncology | 3,145 | 16.6 |
| Internal Medicine | 2,403 | 12.7 |
| Hospital | 2,259 | 11.9 |
| Inflammation and Immunology | 1,041 | 5.5 |
| Rare Disease | 895 | 4.7 |
| Total | 18,977 | 100 |
Pfizer is currently valued at $271.8 billion. Its stock is trading at $48.48. Since March'20 the stock of Pfizer has been on a bullish trend and has increased by more than 75% till today.
The company expects higher revenues in the coming months. With the Delta variant of COVID-19 spreading the demand for vaccines has further risen. Pfizer is a great growth stock to invest in today.
Also read: Best Stock Forecasts & Prediction Services
Conclusion
Growth stocks are an excellent opportunity to earn high returns in lesser time. One advantage of investing in growth stocks is its instant reaction to market news and economic changes which can lead to a sharp increase in share price. On the other hand, the risk of sharp decline is also there, hence investment should be made after doing your research. Here we have short-listed 5 companies which have great potential to grow in near future. Moreover, considering the current situation, the share prices of these stocks are likely to rise.
Disclaimer: None of the information published in this article should be construed as investment advice. Article is based on author's independent research, we strongly advise our readers to always do their due diligence before investing.
You may also like reading:
Back