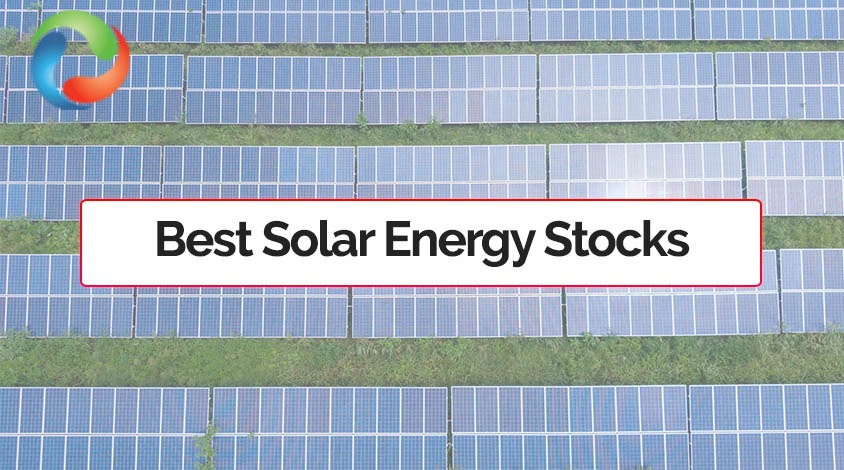 Solar energy collectors and converters are designed and installed by the solar industry. Many companies are collaborating together  to help the global economy shift incessantly from fossil fuels like petroleum and propellant and renewable energy sources. This transformation will cost billions of dollars and take a long time to complete. As a consequence, long-term investors should go for solar.
Solar energy firms have led this quarter's stock market gains. This would make them a target for investors looking for "today's best stocks to buy." While answering this question, most individuals would go for the best value businesses or the most heavily discounted equities. As a consequence, some may argue that, under these circumstances, solar energy businesses are suitable investments.
Several solar energy companies, for example, had a successful year in 2020. In 2021, however, when the reopening trade gathered momentum, the industry lost some of its advantages. Investors may find solar businesses selling at more attractive prices as the economy shifts back to growth sectors. Simultaneously, the industry's potential for development continues to increase. Senator Jon Ossoff of Georgia, a Democrat, introduced new solar legislation on Thursday. The bill would provide manufacturers in the solar energy supply chain tax benefits in particular. Consequently, this may speed up the country's transition to renewable energy while simultaneously expanding solar manufacturing capacity. Simply said, the sector currently enjoys favorable legal conditions and more competitive pricing.
In our opinion, the investors are now looking for the finest solar energy businesses to invest in. There are many hot stock options available in today's stock market. Take ReneSola, a solar energy services company headquartered in Connecticut, as an example (NYSE: SOL). In the past year, SOL's stock has increased by almost 740 percent. In other developments, First Solar (NASDAQ: FSLR) intends to invest $680 million in expanding its manufacturing capacity between now and 2023. Here are three companies that are currently in the limelight as the solar energy industry heats up.
Solar Energy Stocks to Invest in 2023:
Daqo New Energy Corporation (Daqo New Energy Corporation) 
Daqo New Energy Corporation is the first company on today's list. In summary, the Chinese company primarily manufactures monocrystalline and polycrystalline silicon. These are important parts of solar photovoltaic (PV) systems used to generate energy from the sun. Daqo claims that its industry-leading high-purity polysilicon solutions satisfy the global solar PV industry's standards. Daqo is also one of the world's lowest-cost producers of high-purity polysilicon, with a manufacturing capacity of 70,000 tonnes per year.

Read more:
Canadian Solar Inc.
The 2nd best solar energy stock on our list is Canadian Solar. It is a company that specializes in renewable energy (CSIQ). Today, CSIQ, like our previous entries, is a solar energy behemoth. To begin with, the company manufactures solar PV modules and provides solar energy and battery storage solutions. Second, it is a solar and battery storage project developer for utility-scale solar. More than 150 nations now have access to the company's massive 55-gigatonne range of premium solar PV modules. More importantly, the CSIQ stock has risen by almost 130 percent in the past year. Is this a good time to invest?
For one thing, activities at CSIQ are still quite busy. The company recently signed a bilateral corporate facility with Banco Santander, a Spanish bank, for $59.58 million. According to CSIQ, the facility will assist the company's Global Energy business. When CSIQ expands its project development pipeline in Europe, the Middle East, and Africa, this will happen (EMEA). In theory, this would help the business diversify its revenue streams in favorable market conditions. Indeed, according to CSIQ's Global Energy division CEO Dr. Shawn Qu, a significant increase in solar PV installations in the EMEA region is a key growth driver.
Get to know the best covered call stocks to buy now.
Enphase Energy
Enphase Energy is now another well-known name in the solar energy industry. In a nutshell, Enphase develops and sells software for solar energy systems for homes. Solar power and home energy storage, and real-time monitoring and control applications all fall under this category. Enphase offers innovative and easy-to-use solar energy-based household systems through its world-leading micro inverter-based solar-plus-storage solutions. It is an all-in-one intelligent platform that contains all of this. Enphase claims to have shipped over 34 million microinverters and 1.5 million Enphase systems to over 130 countries across the globe.
Now that its products are offered directly to consumers, Enphase would be in a strong position. More consumers may select Enphase for their home energy needs as solar technology becomes more accessible and affordable. Not to add the company's prior experience in this field and global green government initiatives. All of this may pave the way for more exciting times ahead for ENPH stock. In the previous month, the company's stock had already risen by more than 35%.

Also read: Best Stock Forecasts & Prediction Services
SolarEdge Technologies
SolarEdge Technologies (NASDAQ: SEDG) manufactures inverters and power optimizers that convert solar energy into usable electricity. These components have improved how solar panels convert the sun's direct current (DC) electricity into the electrical grid alternating current (AC) energy. SolarEdge's power optimizers are less costly and have less efficiency loss than, say, Enphase Energy's (NASDAQ: ENPH) microinverter.
SolarEdge's focus on low-cost power optimizers has helped them gain market share from competitors as solar project developers emphasize cost. In mandate to promulgate its revenue per installation, the company has also spent money on purchasing and developing new products in the energy storage and energy management sectors, as well as intelligent modules. Read: Best Gold Trading Signal Providers.
A robust and cash-rich balance sheet supports the company's dominating market position. This allows it to invest in expanding its manufacturing capacity and gaining a technological edge over competitors. SolarEdge has also expanded into new energy market segments, including storage, electric vehicle (EV) charging, batteries, uninterruptible power supply (UPS) systems, EV powertrains, and grid services solutions. These qualities will help SolarEdge succeed as it executes its plan to extend its footprint in the fast-growing renewable energy sector. Get to know best vaccine stocks to invest in now.
Brookfield Renewable 
Brookfield Renewable (NYSE: BEP) (NYSE: BEPC) is a sustainable power yield made by driving elective resource supervisor Brookfield Asset Management (NYSE: BAM). The energy organization creates sustainable power that it offers to end clients under long-haul power buy arrangements. This plan of action furnishes it with a consistent income to deliver appealingly yielding profits. 
Brookfield Renewable is a worldwide forerunner in hydroelectric force plants. It praises those offices with quickly extending coastal and seaward wind, utility-scale and dispersed age (e.g., housetop) sun-oriented, and energy stockpiling stages. In any case, the spotless energy organization accepts that sun-based could make up most of its creation limit inside the following decade. That is not because it does not trust in the wind or hydro, but since it sees more noteworthy freedom in sunlight based. Declining costs are making sun-based improvement projects progressively rewarding. 
Brookfield's sunlight-based fueled development has it on target to grow its income per share at an 11% to 16% yearly rate through 2025. That should uphold 5% to 9% yearly expansions in its high-yielding profit. Those two elements ought to empower Brookfield Renewable to create attractive complete returns in the coming years. They likewise make it one of the top environmentally friendly power profit stocks. 

Read more:
First Solar 
First Solar (NASDAQ: FSLR) is a worldwide forerunner in creating sun-powered energy arrangements. It creates, fabricates, and sells progressed sun-powered modules. 
One thing that separates First Solar from other sun-oriented board creators is its attention to assembling a restrictive progressed slender film module. Under ideal conditions, for example, low light and warm climate, these boards perform better than contending ones made with silicon. They are likewise bigger, which lessens the expense per watt. Those components make them ideal for utility-scale sun-based energy projects. 
First Solar further separates itself from its friends in the sun-based area by having one of the most grounded monetary records. It regularly has more money than obligation. That gives it the monetary adaptability to keep executing its creation and building dainty film sun-oriented modules for utility-scale clients. These variables put First Solar in a brilliant situation to flourish as the sun-based industry keeps growing. 

Read more:
Hannon Armstrong Sustainable Infrastructure Capital Inc
Hannon Armstrong is centered around putting resources into environmental change arrangements. It gives cash flow to organizations occupied with energy proficiency, environmentally friendly power, and other manageable framework markets. The organization reported the beginning of May monetary outcomes for Q1 FY 2021, which finished March 31, 2021. Net gain rose 109.8% on income development of 26.6%. Total compensation got a massive lift from a $54 million increase in pay from value technique ventures. 
ReneSola Ltd 
ReneSola is a worldwide sustainable power organization that forms and oversees energy projects. The organization centers around the turn of events, development of the board, and financing of sun-based force projects. ReneSola declared in late May monetary outcomes for Q1 FY 2021, which finished March 31, 2021. Overall gain owing to the organization was $0.8 million, a significant turnaround from the total deficit of $4.4 million in the year-prior quarter. Income became 7.6%. 
Clean Energy Fuels (CLNE)
Clean Energy Fuels is probably the biggest supplier of clean fuel for the transportation market. It endeavors to decarbonize transportation through events and conveyance of sustainable petroleum gas (RNG). The organization basically permits a great many vehicles to diminish their ozone-harming substances. It likewise does this by working an immense organization of energizing stations across the US furthermore, Canada. CLNE stock shut Thursday's exchanging at $7.68 an offer and is up by more than 200% in the previous year. 
In May, the organization declared new RNG contracts as armadas across North America progressively keep on embracing the organization's spotless, low-carbon fuel to control heavy and medium-obligation trucks. "Armadas are discovering that RNG, along with petroleum gas motor innovation, is a demonstrated arrangement that can essentially diminish the effect of hurtful emanations and decrease ozone harming substance outflows," said Chad Lindholm, VP, Clean Energy Fuels. "Clean Energy's corporate vision is straightforwardly attached to working with our clients to develop air quality further and decidedly impact general wellbeing. We will keep on developing the job of RNG in our fuel contributions to give a clean and financially savvy option in contrast to diesel fuel." With that at the top of the priority list, would you add CLNE stock to your watchlist now? 

Before concluding, we would like to demonstrate the unfortunate circumstance of some solar companies such as the GCL-Poly Energy Holdings Ltd
GCL-Poly energy is a Hong Kong-based sun-oriented photovoltaic organization. It supplies photovoltaic materials, for example, polysilicon and silicon wafers, and offers nearby planetary group arrangements. The organization likewise claims a few enormous scope sun-powered homesteads universally. However, the company failed to settle a US$500 million senior note at the end of January. Hence suffering losses. For this reason, it is very important to diversify your portfolio and not put all the eggs in one basket! 
Get to know the best EV stocks to invest in today.
Final Remarks
The sun emanates sufficient force onto Earth each second to fulfill the whole human energy interest for more than two hours. Given that it is promptly accessible and sustainable, sun-based force is an alluring wellspring of energy. Notwithstanding, starting in 2018, under two percent of the world's energy, came from sunlight. Subsequently, Solar energy and Solar energies are viewed as the fate of energies worldwide. Financial backers are pushing to put resources into these stocks on a more extended-term premise. As of now, sun-oriented organizations deal with a couple of issues while finishing sunlight-based fills or sun-powered energy hardware. These issues are identified with the expense productivity; as of now, it is not cost proficient. Notwithstanding, as indicated by various reports, the sun-based energy will be renewed utilizing various parts and hardware that will reduce the creation cost. The in the interim, financial backers should pay extraordinary mind to positive news concerning the sun-powered energy's future advancement to contribute.
Disclaimer: None of the information published in this article should be construed as investment advice. Article is based on author's independent research, we strongly advise our readers to always do their due diligence before investing.
You may also like reading:
Back