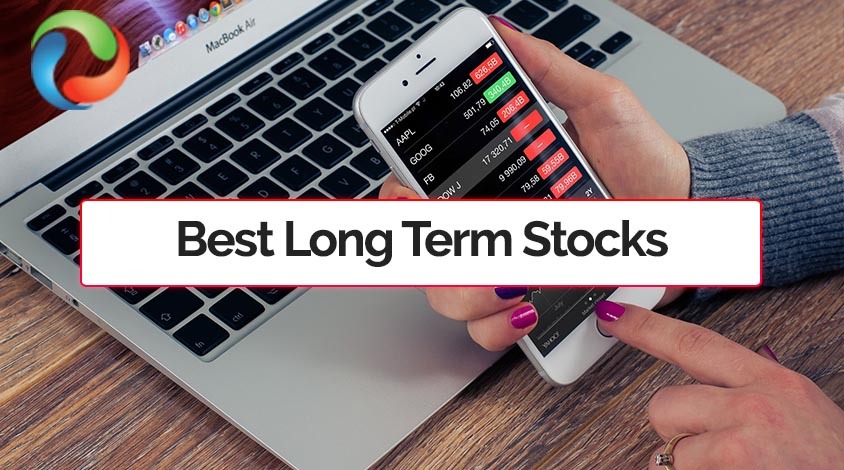 Ever since the financial crisis of 2008 and the Great Recession, there has been a lot of focus on the long-term investment approach. Also, long-term investments have been beneficial for traders around the world. The Global Top 10 companies include the companies Apple and Amazon, which are companies that started small and have grown over the years. An investor, who invested money in these companies, years ago, with a long-term approach in mind, has seen a multifold increase in his/her portfolio today. 
Key Benefits of Long Term Investing
Long-term investing involves building wealth over a long period. With long-term investing, an investor can minimize the risk of price fluctuations. Also, it enables the investor to increase his/her investment by investing small amounts of money regularly over some time. Investing for the long term has a lot of benefits which include:
Emotions do not affect your trades

– long-term investing does not let emotions the trading decisions and helps in making a more rational decision.

Chances of increasing wealth are high

– Historical patterns of long term investments have proved that as an investor you are more likely to make money with this approach. Investors always choose the best brokers that better suit his/her trading goals.

Benefits of Compounding

–

The ability to reinvest profits and dividends over time increases the potential of the portfolio for higher profits.

It is comparatively easy

– an investor can conveniently follow the portfolio of successful investors like Warren Buffet and invest money without a hassle. 
List of Best Long Term Stocks
Tesla
Tesla is known for its Electric Vehicles and has a solid lead in the global EV market. During the third quarter of 2022, alone, the company delivered 241,300 electric vehicles. The Global Electric Vehicle Market size is projected to grow from 4,093,000 units in 2022 to 34,756,000 units by 2030. Growing demand for low emission commuting and governments supporting long-range, zero-emission vehicle demand coupled with rising fuel costs are boosting the demand for EV stocks.
In line with the growing market of EVs, Tesla plans to boost its annual production capacity to one million vehicles in 2021-22.  The company plans to start production soon at its new plants in Berlin, Germany, and Texas, USA, which are currently under construction. From 2021, Tesla's global vehicle deliveries are expected to grow by more than 50% a year on average and exceed one million units in 2022.
The stock of Tesla is on a rising streak since 2020. Starting at $95.63, at the start of the year 2020, the stock has risen by almost 750% in less than 2 years. The share of Tesla is currently trading at $809. With the global EV market expected to soar, and the plans of increased production of EVs, Tesla is one of the best growth stocks which calls for your investment right away.
Microsoft
The Bill Gates company Microsoft is unknown to no one today. The computer software company is the reason technology is used as a means to improve lives. A trillion-dollar tech giant, Microsoft is one of the biggest companies in the US.
The tech giant reported revenue of $41.7 billion and a net income of $15.5 billion in its third quarter of 2021. The performance of the quarter was excellent which was majorly powered by their new and strong segment commercial cloud. Hardware and Windows are the main consumer-facing businesses of Microsoft and the Cloud services are very popular amongst commercial consumers.
Microsoft has segmented its business under three areas: Productivity and Business Processes, Intelligent Cloud, and More Personal Computing. In the recent quarter, these segments contributed $13 billion, $15.1 billion, and $13.6 billion respectively. Using stock indicators, one can make wiser decisions in understanding the underlying market dynamics.
The share of Microsoft is currently trading at $293. It is consistently rising, as seen in the below graph. Despite a humungous market value, Microsoft's business is still growing rapidly.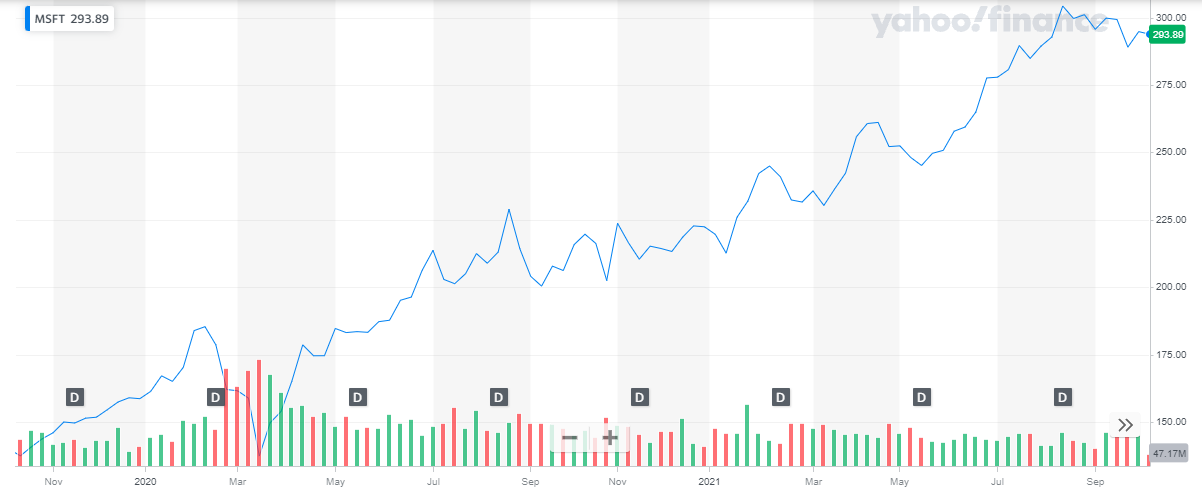 Considering the value of the market capitalizations, the current trading price of the company's stock is very low. As an investor Microsoft is an excellent buy that has a decades-long history of continuous development and improved technological stocks offerings. The company's share is one of the best growth stocks to buy now.
Checkout best solar energy stocks to buy now.
American Express
The credit card company, American Express, has been providing credit facilities to consumers since 1850. The company is very receptive to shifts in consumer spending patterns because card transactions and card loans get affected. American Express was seriously affected by the pandemic lockdown. But strong financial performance during the current year shows that the company has successfully managed itself from the pandemic distress. Moreover, it has also managed to rebuild the growth momentum. Vaccine stocks which have proven in the last year that they are capable of making the best vaccines and are also providing an excellent return to shareholders.
In the second quarter of the current year, the company reported a 33% increase in total revenues reporting at $10 billion. The revenues have exceeded the pre-pandemic levels and the company is optimistic towards its accelerated momentum which is expected to boost the strength of the core businesses of the credit card company. The company's competitive strength is to regularly refresh its product offerings with differentiated offerings, leveraging its digital ecosystem and the diverse network of partners. 
The credit card company was hugely affected by the pandemic. The share price of the company plunged to the lowest levels. Since then, the company has come a long way and more than doubled its share price. With consumer spending coming back to normal and people spending more on vacations and entertainment, the company is expecting better than expected results in coming years.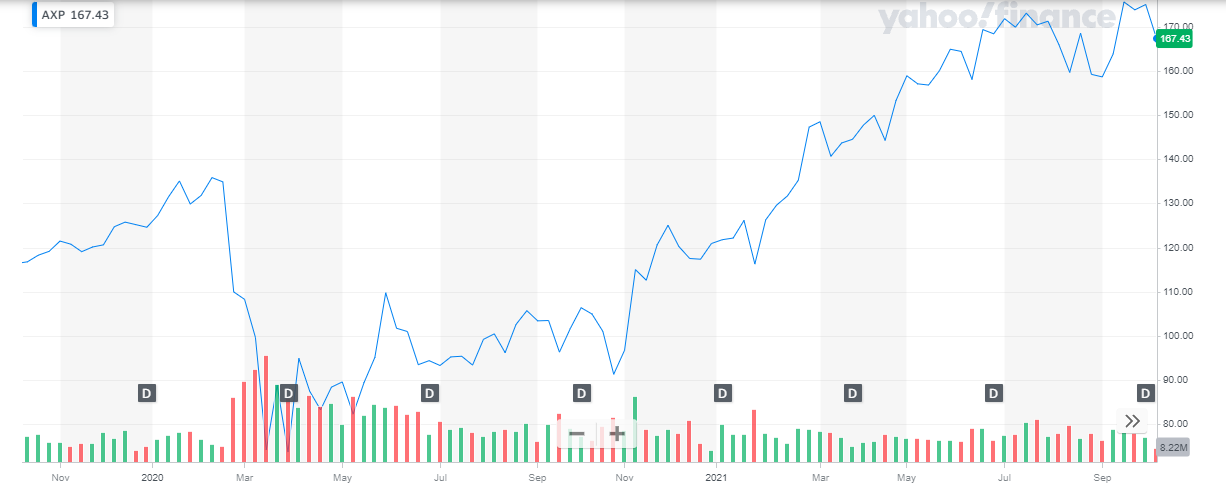 For $167, American Express has shown tremendous growth since the pandemic. Moreover, with the company adapting its strategies according to the shopping patterns of people, the company stock is expected to continue to grow. American Express is one of Warren Buffett's favorite investments which makes it a more attractive investment. It is an excellent growth stock to invest in right now.
Investing in ETFs ESG lowers the investment cost all the while enabling the investors to invest in responsible companies.
Visa Inc.
The electronic fund's transfer company, Visa, is one of the most popular and most commonly used payment systems spanning across 200+ countries. With the largest credit card network, globally, Visa makes money whenever you swipe your card which means whenever you shop. Hence this blue-chip company is an excellent growth stock to invest in, as shopping is a necessity that can never end.
The company's start moves of acquiring and making deals with fintech partners enable it to maintain its top position amongst credit card companies. Other competing companies are making it easier to transfer funds and offering installment plans. Hence the company's regular updating of its systems and offerings helps it secure its leading position. By using the stock signals, you can avoid hours of technical analysis to understand the market.
In its recent quarterly report, the company posted $6 billion in revenues. Credit and face-to-face spending bouncing back while debit and eCommerce volumes remained robust from accelerated cash digitization. Moreover, cross-border travel spending improved as vaccination rates rose and traveling resumed.
With consumer spending highly affected during the pandemic, Visa also received a huge blow. But it has recovered nice and smooth and is currently trading at higher than the pre-pandemic levels.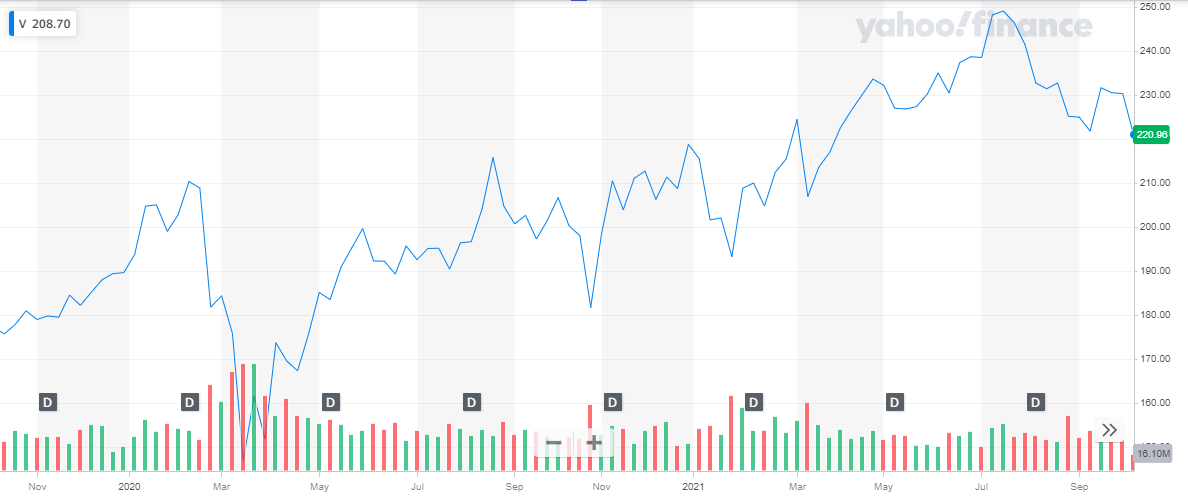 At $220, Visa Inc is an excellent opportunity to buy and invest right now.
Charter Communications Inc.
A leading broadband connectivity company, Charter Communications, is currently serving more than 31 million customers in 41 states through its Spectrum brand. Charter recently announced the launch of a multiyear, multibillion-dollar broadband buildout initiative to deliver gigabit high-speed broadband access to more than 1 million unserved customer locations. The network Charter will build in these rural areas will offer 1 Gbps high–speed broadband access to all newly served customer locations. This expansion of the network will drive additional customer growth via an expanded footprint in unserved areas. Moreover, with a good presence in the rural areas, the Charter will lead the economy towards development. Many traders prefer to manage their trades themselves. but there are comprehensive forex trading platforms to carry out trades.
In its second-quarter report of 2021, Charter reported revenue of $12.8 billion, an increase of 9.5% year-over-year. The company's solid operating strategy has resulted in providing strong customer and financial growth despite an operating environment that has yet to return to normal, due to pandemics. 
The share of Charter Communications is currently trading at $695.63. It has been continuously rising since last year.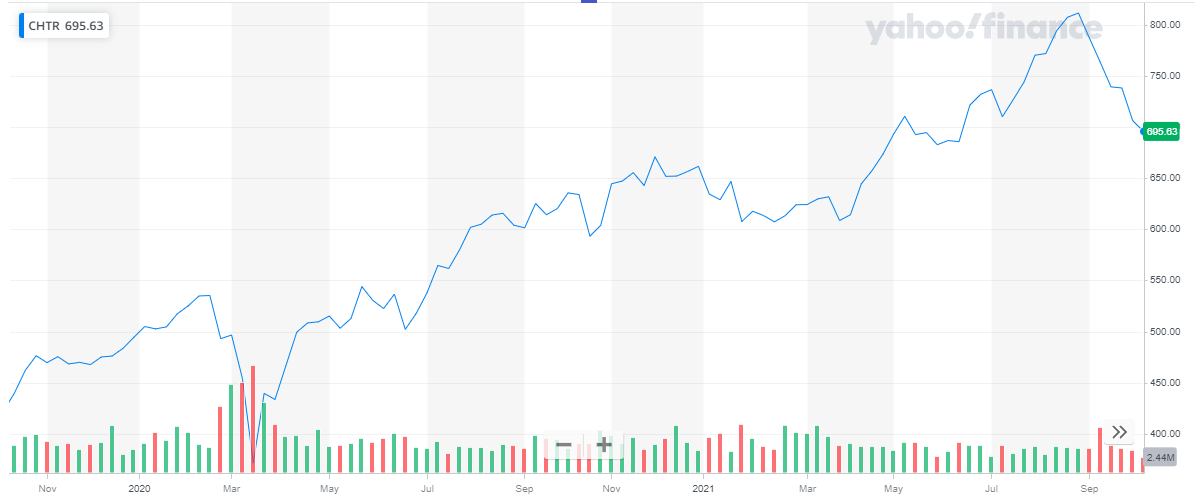 Charter Communications has an excellent earnings growth rate and has higher than average cash-flow growth which makes the company's stock an excellent long-term stock to invest in. Moreover, with the company's expansion plans in action, the new untapped market will bring a huge positive change company's overall reputation along with improved financials.
Also check out our list of best cryptocurrencies.
Amazon
The e-commerce giant, Amazon, has grown into a trillion-dollar business today. It is amongst the biggest five companies in the US today. Founded by Jeff Bezos in 1994, the company's growth journey is amazing and known to many.
During the pandemic, the retail giant made every effort possible to keep up with increasing sales through the digital platform. As a result, sales soared. Today, when the pandemic lockdown is lifted and life is returning to normal, the growth of the company has slowed down but it's still going at a good pace. The pandemic gave a boost to the not-so-new shopping trend that is digital. And it is here to stay. Also, with the company's innovation in its retail stores the just-walkout technology which includes cashier fewer stores are becoming increasingly popular amongst consumers. 
Read more:
The horizontal expansion of the company is proving to be a successful step. Amazon is acquiring other businesses to expand its Amazon web service division, enter into the telecom sector and boost its Amazon Prime Video services.
The stock of Amazon is not cheap. Currently trading at $3,282, the share price has risen considerably since the pandemic.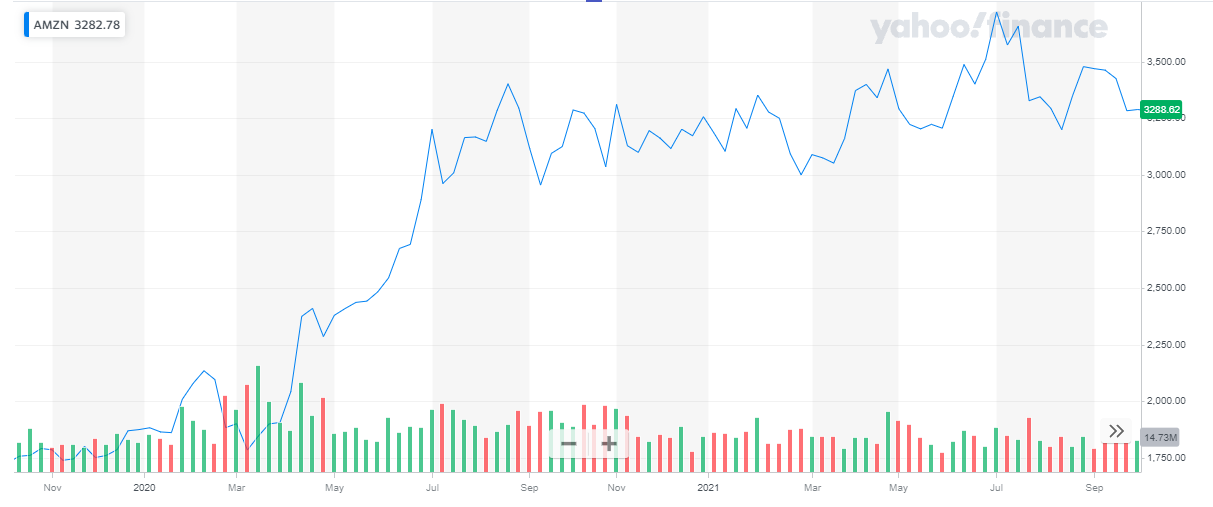 No doubt Amazon is an expensive stock but it's worth the money. With a 74% increase in share price since the start of 2020, the stock of Amazon sees no roadblocks on its success path. With the increased digital push and the wise horizontal expansion strategy, Amazon is all set for excellent growth in the coming years. Hence it is an excellent long-term growth stock to invest in today.
Apple is amongst the best long-term tech stocks to invest in.
Fortinet
Fortinet delivers high-performance network security solutions which protect the user's network and data from continually evolving cyber threats. Its firewall hardware is amongst the best for securing data centers, the computing units that enable cloud-based services, and remote work in the first place. Fortinet is outpacing average industry growth by a wide margin and is a very attractive investment today. It is a highly profitable company with a very high cash flow growth rate. 
With the increase in digital presence around the world, the demand for cybersecurity also spiked. The shares of Fortinet have dazzled investors, with more than 100% growth in the current year. In its last quarterly report, the company reported revenues of $801 million, a 30% year-on-year increase. The company's client portfolio is improving with customers signing longer contracts with them. As per the recent quarterly report, 36.9% of deals for Fortinet's FortiGate next-generation firewall (NGFW) were from high-end customers.
The share of Fortinet is currently trading at $309. The upward flight of the stock can be viewed in the graph below.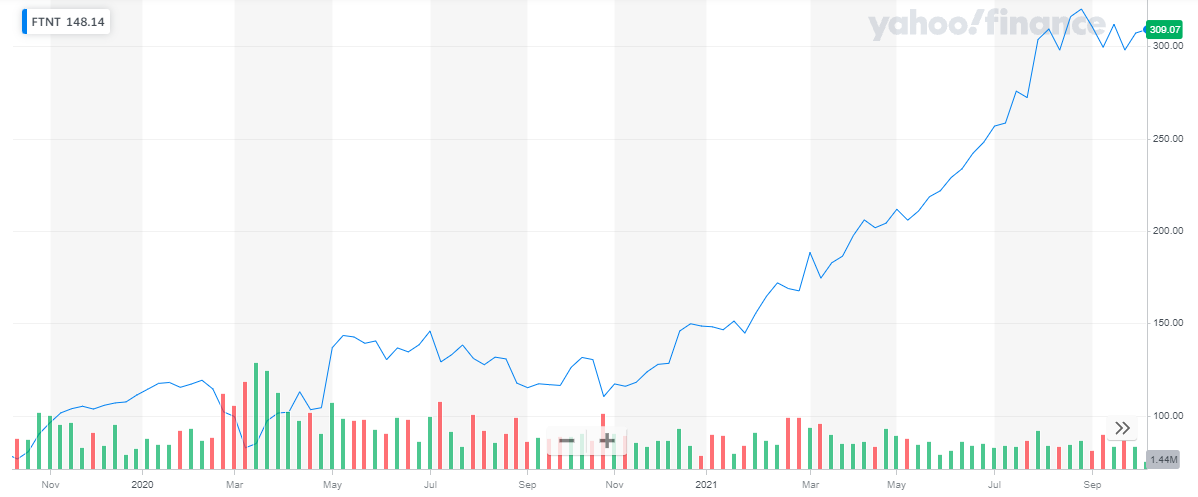 Fortinet's solid outlook indicates that the company can continue to grow at an attractive pace and deliver more upside. Moreover, the cybersecurity company plans to expand its business as data center operators upgrade their firewalls. Fortinet has been reporting strong financial growth and increasing cash flow position. At the current price of $309, it is an excellent long-term stock to invests in right now. You never can guess when the price of Fortinet will skyrocket and multiply your portfolio value.
Conclusion
The above list of stocks has been carefully selected after reviewing the financial successes and the future earnings growth and cash flow position of the companies. Moreover, some of these stocks are a part of Warren Buffett's investment portfolio. Investing your money at the right time is the most sensible decision you can make as an investor. Investing your money today in these companies will give a huge push to your investment portfolio in the long run.
Disclaimer: None of the information published in this article should be construed as investment advice. Article is based on author's independent research, we strongly advise our readers to always do their due diligence before investing.
You may also like reading:
Back