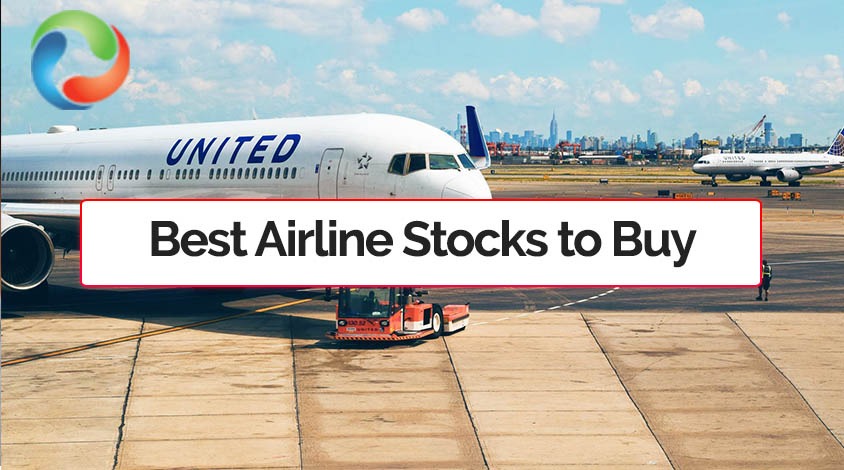 Airlines are an important part of the economy. Shares of airline companies plunged last year as the pandemic hit but with the introduction of vaccines, people are on the go again. As a result, airline stocks have regained their upward momentum as the number of passengers has increased this year.
As per a McKinsey report, the airline industry's revenue totalled $328 billion in 2020. The aviation sector is expected to experience slow growth in coming years and traffic won't return to pre-pandemic levels before 2024. The decline in the overall sector can be identified from the fact that the industry amassed more than $180 billion worth of debt in 2020 alone. This is about half of the industry's revenues that year.
The below graph shows the percentage change in air passenger traffic, shared by Allianz.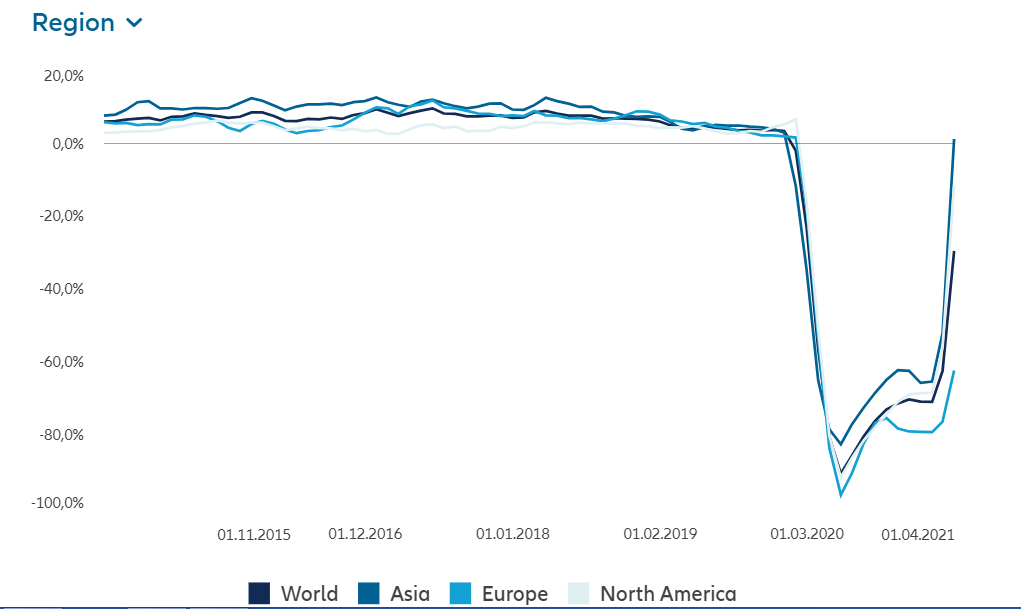 Best Airlines Stocks to Buy in 2022
With the passenger growth rate starting to rise and air traffic increasing, airlines stocks are rising. Here we have compiled a list of the best airline stocks which can give your investment portfolio a huge push upwards.
Southwest Airlines
Southwest is one of the major airlines of the US which continues to differentiate itself from other air carriers by offering exemplary customer service delivered. Before the pandemic era, Southwest provided its services to over 130 million passengers in 2019.
In its second-quarter report, the company posted:
Net income of $348 million

Operating cash flow of $2.0 billion
This quarter marked an important milestone in the pandemic recovery as leisure travel demand surged. Moreover, the airline was able to generate net income, without the cost relief, since the pandemic-driven depression. The improving financials is also enabling the company to pay off its debt. In the second quarter it has paid off $43 million and another $111 million is scheduled to repay in the third quarter. Checkout some of the best renewable energy stocks to invest in now.
Southwest has maintained its status as the only U.S. airline with an investment-grade credit rating, rated by three rating agencies. In addition to it, the company has achieved multiple awards and recognitions in its field: Ranked 3 amongst America's Most Trusted Travel & Hospitality Brands by Morning Consult; Ranked #1 for Most Reliable Airline and #4 for Best Airline by WalletHub.
Southwest is currently valued at $29.6 billion. Its share is trading at $50. Last year in March'20, the share dipped to $23 when the travel was banned due to COVID-19. It has now recovered fully and is trading at double the price.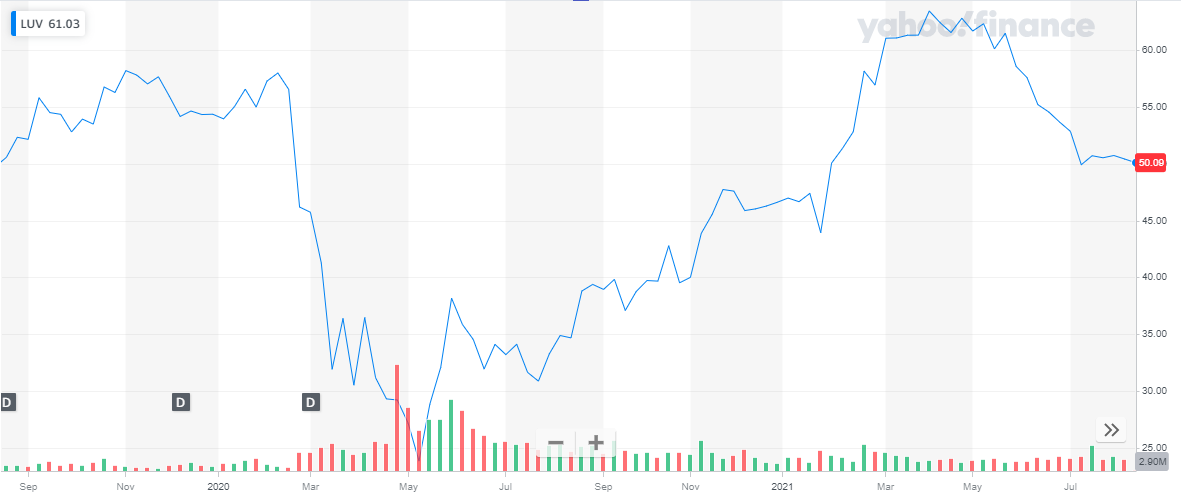 Southwest's customer satisfaction is highest in the airline industry, as per JD Power. The trust in this airline makes its recovery, in the post-COVID-19 era, quick and fast. With air travel resuming along with Southwest's astounding share price recovery, southwest is one of the best airline stocks to buy now. Investing in best ETFs is one of the most easiest and safe investment option.
Ryanair Holdings
Ryanair Holdings is the parent company of Buzz, Lauda, Malta Air & Ryanair, and Europe's largest airline group. With the capacity to fly more than 149 million people, the airline connects over 225 destinations in 37 countries. Ryanair has a fleet of over 470 aircraft.
In its recent quarterly report, the company reported great financials and excellent coverage 
Revenue as reported at Euro 371 million (approx. $435 million)

Net loss was reported to be Euro 185 million (approx. $217 million 

A cash balance of Euro 4.06 billion (approx. $4.76 billion) was reported at June end
Ryanair expects a great improvement in its number of guests who will be traveling via their airlines, as shown in the below graph: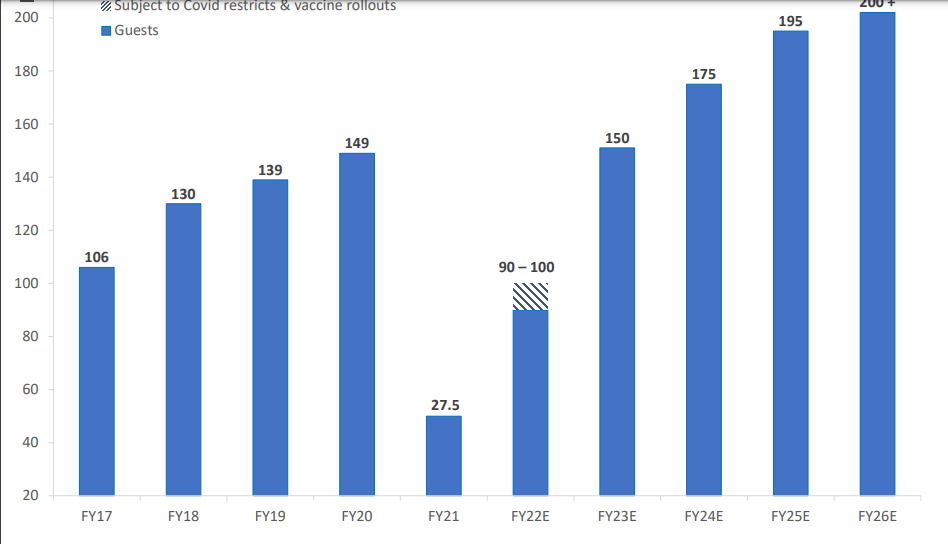 Currently valued at $24 billion, the share of Ryanair Holdings is trading at $105. Despite the huge plunge downwards due to the pandemic, the stock of the airline is performing better than before. Rising from the low levels of approx. $49, the share of Ryanair has risen by more than 100%.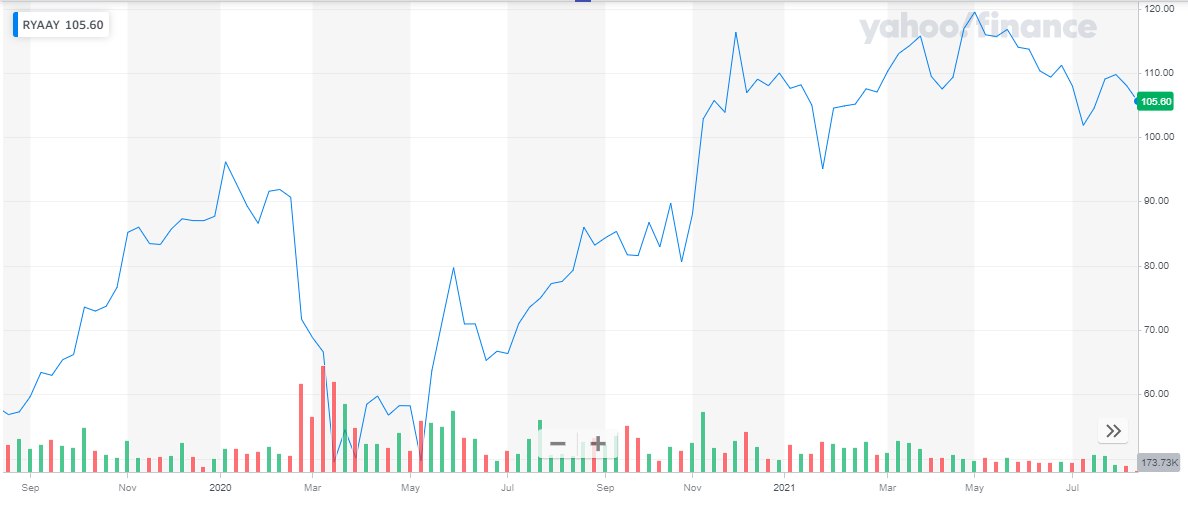 Ryanair has shown tremendous improvement in its stock price and being the preferred airline of Europe Ryanair is one of the best airline stocks to invest in 2022.
Delta Air Lines
Delta is one of the largest airlines in the US with a capacity to accommodate more than 200 million every year. Its airlines travel to more than 300 destinations in 60 countries. Delta is consistently recognized for excellence in everything from passenger experience to customer service, operational performance to workplace culture. The airline company has earned multiple awards and recognitions over the years. 
Despite the pandemic crisis the airline industry faced, Delta was named among the TIME100 Most Influential Companies of 2022. It is the only airline to make the list of "businesses making an extraordinary impact around the world." Moreover, Delta was categorized as a 'leader' for 'thinking ahead,' and for its focus on customers throughout the COVID-19 pandemic. Bonds and Stocks are two major sources of investment. Thinking to invest in bonds? Get to know whether its a good decision to invest in bonds or stocks. 
The company claims that Domestic leisure travel is fully recovered to 2019 levels. This shows that the company is improving in business and international travel. The airline recently posted its second-quarter results for 2021:
Operating revenue of $6.3 billion was reported

Adjusted pre-tax loss of $881 million was reported

$1.9 billion of operating cash flow and $1.5 billion of free cash flow was generated
The operating revenue has improved drastically. A quarterly increase of 76% was reported as compared to the previous quarter. Since October 2020, Delta has reduced its financial obligations by $11 billion.
Delta has a market cap of $25 billion. Its share is trading at around $39. The share price dropped from around $60 to $20 due to COVID-19, last year. Since then, the company has been managing to improve its share performance.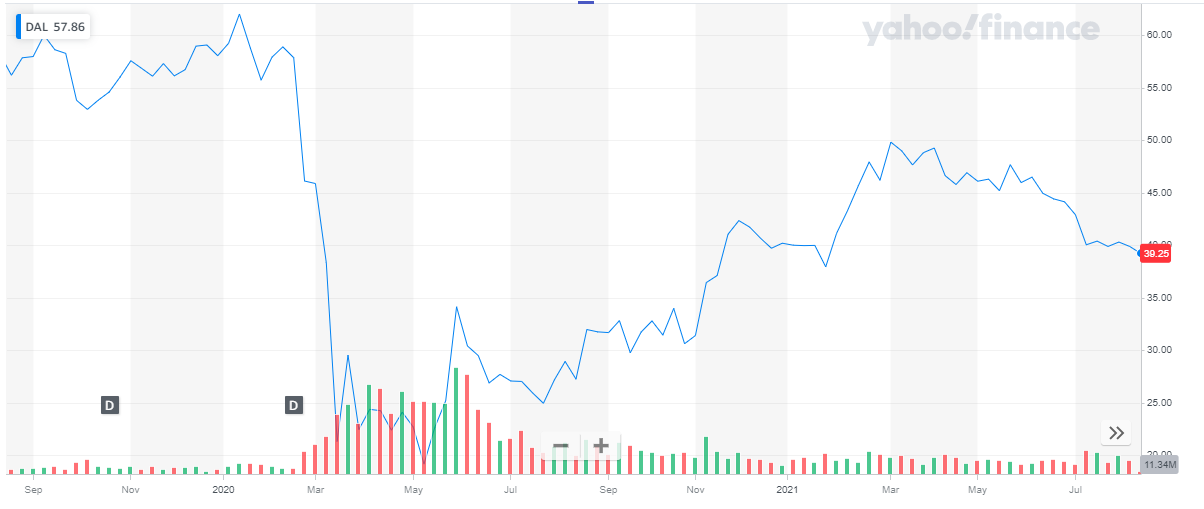 The airline has a great outlook for the remaining part of 2021. They know how to make use of their competitive advantages to drive towards sustainable profitability in the second half of 2021 and enable long-term value creation. This makes Delta one of the best stocks to invest in in 2022.
United Airlines Holdings 
United Airline Holdings is a publicly-traded airline holding company headquartered in Chicago, US. It is a leading passenger and cargo airline operating more than 4,900 flights a day to more than 360 airports.
United Airline Holding recently shared its second-quarter results:
Total operating revenue of $5.5 billion

Net loss of $0.4 billion
The airline company has also announced the purchase of 270 new Boeing and Airbus aircraft. This is the largest combined order in the airline's history and the biggest by an individual carrier in the last decade. United airlines also shipped 225,000 pounds of vaccines within the second quarter. Moreover, the company recently redesigned its app which has been voted as the Best Travel App in the 25th annual Webby Awards. Are you a day trader? Check out some of the best day trading stocks to invest in.
United Airlines Holdings has a market cap of $15 billion. Its share is currently trading at $46.3. Last year, when travel was banned due to COVID-19, the share price dropped to $19 from $90. Since then, the share has been progressing slow and steadily. The vaccine rollout gave a stronger push to share price recovery and now with travel restrictions off, the share price has sped up its upward journey.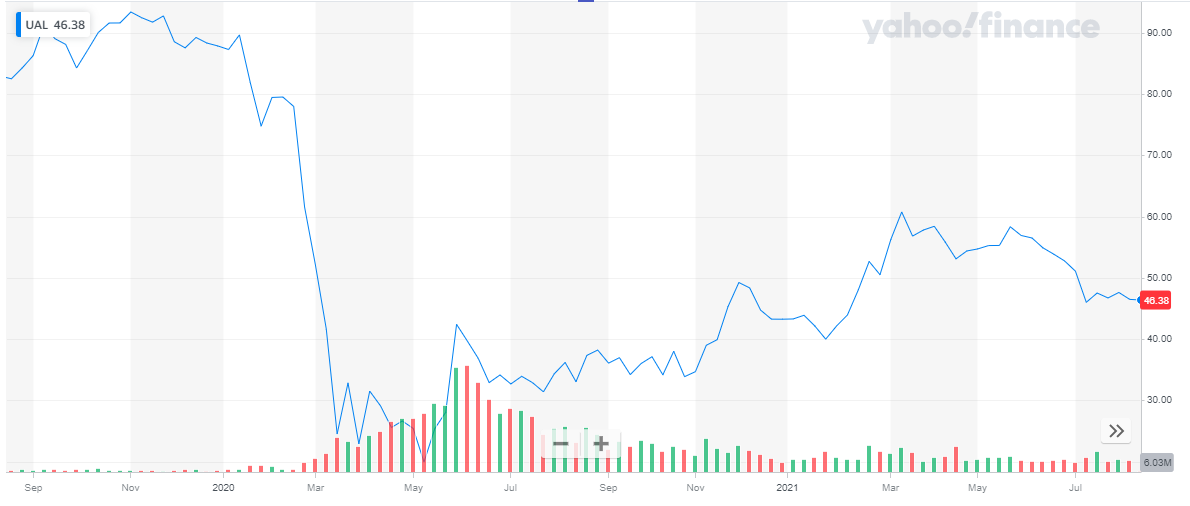 United Airlines Holdings is on the path to recovery. It is amongst those airline stock which has improved with the increase in air traffic. With its current performance, it is one of the best airline stocks to invest in today.
American Airlines Group
American Airlines Group Inc. is the holding company of American Airlines and was established in Dec-2013, following the merger of AMR Corporation (American Airlines) and US Airways Group Inc. (US Airways). It operates an average of nearly 6,700 services per day to 350 destinations in 50 countries. Wholly-owned subsidiaries under the American Airlines Group include the following:
American Airlines

Envoy Air Inc

Piedmont Airlines Inc

PSA Airlines Inc.
The airline company recently posted its second-quarter result:
Net profit of $19 million

Revenue of $7.5 billion
The airline has repaid a $950 million loan during the quarter and plans to pay off $15 billion debt by the end of 2025. American Airlines is poised for a promising post-pandemic recovery. With leisure travel picking up pace, the airline is off to a good recovery path
The stock of American Airline was hit hard by COVID-19.  The share price dropped from $29 to $9. The share has been recovering at a slow pace and has shown great improvement since the start of 2021. The share of the airline company is currently trading at $19.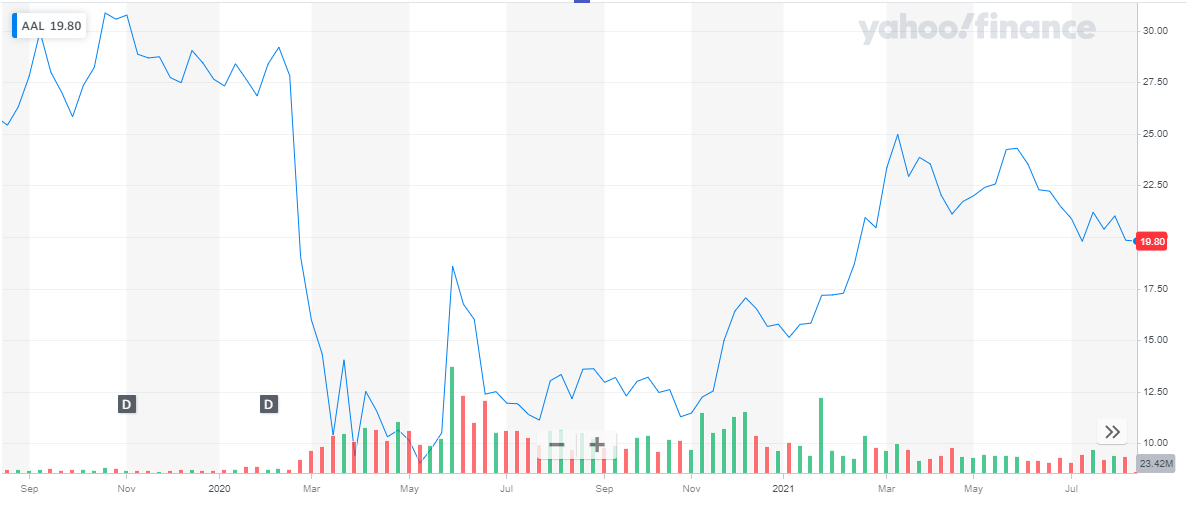 American airline is committed to strengthening its business. Its objectives of creating an excellent customer experience, and adopting a culture to use it for their advantage makes this company stock one of the best airline stocks to buy in 2022.  Here are some of the best forex trading platforms.
Alaska Air Group
Alaska Air Group is the airline holding company of Alaska Airlines and Leviate. It operates an extensive domestic network as well as international services.
The airline recently posted its second-quarter results. After more than a year of reporting losses, the airline successfully reported net profit for this year.
Net income of $397 million

Earnings per share $3.15

Generated $840 million in operating cash flow 
The airline has shown improved performance since the travel ban is off. The passenger revenue for Alaska rose to $1.35 billion, representing a fourfold increase as compared to last year's second quarter. Cargo revenue showed a 46% improvement reporting $57 million for the quarter. Cargo was not highly affected during lockdown
Alaska Airlines is currently valued at $7.8 billion. The share of the airline holding company is trading at $57.36. The pandemic-driven lockdown pushed the stock price to the lowest levels. From roughly $65 the share price dropped to $23. From there onwards, the stock has been progressing slowly and steadily and is near to its pre-pandemic levels.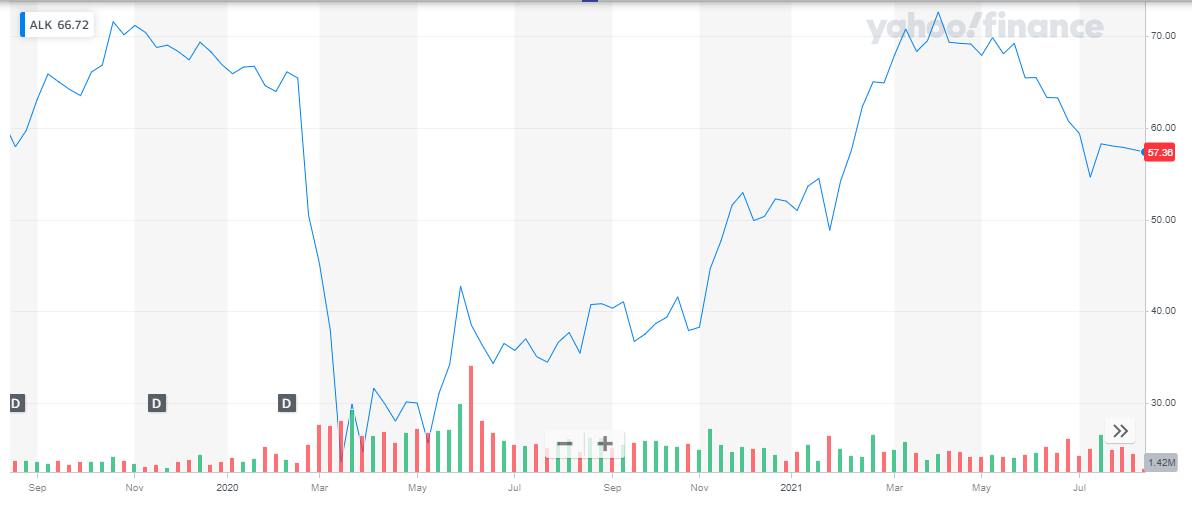 With the airline plans to purchase MAX aircraft as travel demand rises, the company is all set towards growth. The company has great potential to improve and is one of the best airline stocks to invest in today, which can provide multi-fold returns in near future.
Copa Holdings
Copa Holdings is a leading provider of airline passenger and cargo service through their two principal operating subsidiaries, Copa Airlines and Copa Colombia. Copa currently offers approximately 361 daily scheduled flights among 80 destinations in 33 countries.
Copa's base of operations at the geographically central location in Panama provides convenient connections to all the principal markets it operates in which enables Copa to consolidate traffic to serve several destinations that do not generate enough demand to justify point-to-point service.
Copa recently shared its financial results for the second quarter of 2021:
Net profit of US$28.1 million was reported

EPS was reported to be $0.66 per share

Available liquidity was at $1.6 billion which includes $1.3 billion in cash
With the travel demand showing signs of recovery, Copa is also progressing and has generated cash in excess during the quarter after almost a year.
Read: ETF vs Index Fund – Which is more profitable?
The company stands at a valuation of $3 billion and its share is trading at roughly $71. The pandemic gave Copa stock a huge plunge downward, from $110 the share dropped to $31. The stock is progressing slow and steady and is on the path to rejoin the pre-pandemic price levels.
Going forward, the airline company plans to take the most advantage of its prime location. Also, its point-to-point service is expected to become its strength since other airlines are struggling to sustain this service. With a positive outlook for the next quarter, Copa holdings have proved itself to be one of the best airlines stocks for investment in 2022.
Conclusion
The airline industry was struck hard due to the pandemic and it is showing remarkable recovery since the travel ban has been lifted. With airline stocks going up there is huge potential for you as an investor to grow your investments and earn excellent returns. These 7 airline stocks have been shortlisted based on their fast recovery and excellent comeback from the COVID-19 challenges. Now is the best time to invest in them to earn good returns.
Disclaimer: None of the information published in this article should be construed as investment advice. Article is based on author's independent research, we strongly advise our readers to always do their due diligence before investing.
You may also like reading:
Back