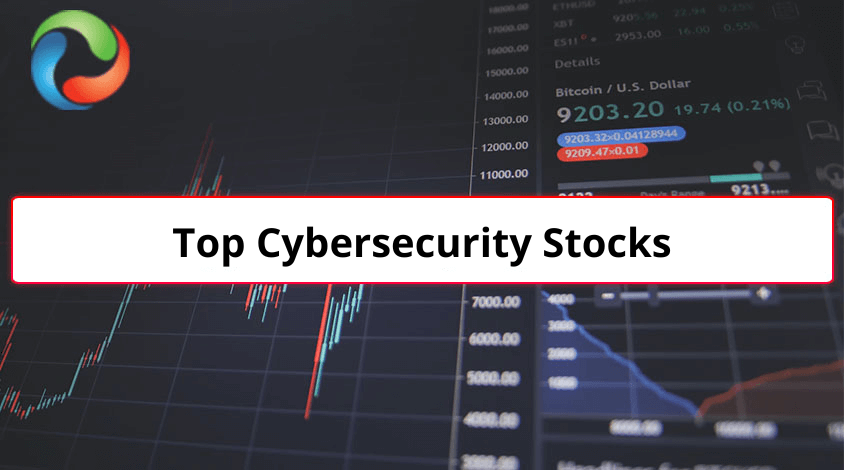 Cybersecurity attacks have increased in frequency in 2021. There have been some major cyberattacks in the current year which have caused serious damage to companies. The top cyber-attacks of 2021 are listed below:
Colonial Pipeline attack – This cyberattacks disrupted gas supplies all along the East Coast of the United States which caused chaos and panic amongst the general public

Brenntag – The chemical distribution company lost 150 GB worth of data

ACER – Acer's files and sensitive financial documents and spreadsheets were attacked

JBS Foods – One of the biggest meat processing companies in the world paid one of the biggest ransom amounts to the hackers 

Quanta – Computer Manufacturer Quanta is one of Apple's major business partners. After leaking Apple product blueprints obtained from Quanta, the hackers threatened to release sensitive documents and data. Get to know the best quantum computing stocks.
CD Projekt – CDProjekt Red is a popular videogame development firm. The company's source code to game projects in development and encrypted devices were attacked.  The demand for crypto mining stocks is continuously rising.
According to Steve Morgan, the founder of Cybersecurity Ventures, Cybercrime damages will cost companies $10.5 trillion by 2025. Therefore, companies need to take cybersecurity seriously. Also, they need to invest a good number of resources to protect their systems and sensitive information. Technology has evolved everyone's lives. The recent stock market growth is majorly concentrated in the tech stocks.
Why Invest in Cybersecurity?
The frequency of cyberattacks are increasing

The cost of a cyberattack in terms of damage is very high

Increased internet users along with increased work-from-home options have raised the risk of cyberattacks

Increased dependency of government agencies and companies on IT systems to process data.
The global spending on cybersecurity products and services will increase to $1.75 trillion. This sector has become a high-growth sector and is attracting a lot of investor attention. It is currently the most sought-after niche within the tech sector. Therefore, knowing which are the top cybersecurity companies to invest in can yield some hefty returns to investors. With the demand for AI technology increasing, investor interest in Artificial Intelligence stocks has also increased.
Also check out our list of best cryptocurrencies.
Top Best Cybersecurity Stocks to Invest In 2023
Here are some of the top cybersecurity stocks to invest in, in 2023:
CrowdStrike Holdings Inc. (NASDAQ: CRWD)
CrowdStrike is a leading cybersecurity company protecting customers from all cyber threats by leveraging its Security Cloud to stop breaches. It provides endpoint security for personal devices which include laptops, PCs, and servers, and any other device connected to a network. Its customers include Goldman Sachs, Amazon Web Services, MIT, and various US states and cities. The company also helps run cybersecurity investigations for the US government. It was involved in tracking down the North Korean hackers.
CrowdStrike Holdings has a market capitalization of $45 billion. Its share is currently trading at $198.7. In line with the increased demand for cybersecurity since the lockdown and work from home trend, the stock of the company is on an upward streak.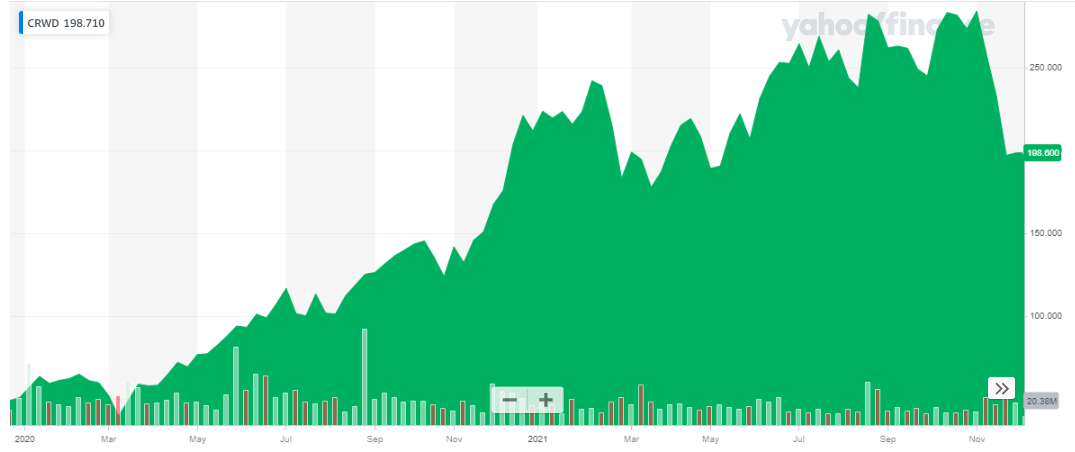 In the third quarter of 2021, the company reported total revenue of $380.1 million reflecting a 63% year-on-year increase. For the fourth quarter, the company forecasts total revenue of more than $400. These numbers indicate the fast-paced growth path of the company.  Moreover, 1,607 new subscription customers were added during the quarter, totaling the subscription count to 14,687. It represents a 75% growth year-over-year.
With its leading technology, unmatched platform, and approach to stopping breaches, ClowdStrike continues to lead the sector while providing tough competition to competitors. Get to know the best EV stocks to invest in today.
Palo Alto Networks Inc. (NASDAQ: PANW)
Palo Alto Networks, the global cybersecurity leader, is a multinational company that offers cybersecurity solutions for organizations. It aims to shape the cloud-centric future with technology that is transforming the way people and organizations operate. It has more than 85,000 customers and operates in more than 150 countries. 
The recent quarterly report was driven by the strength of the company in terms of product sales and Next-Generation Security businesses. Quarterly revenue showed a 32% year-over-year increase to $1.2 billion.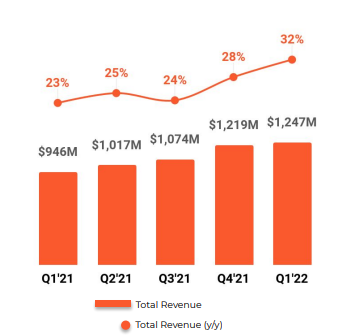 The company is not generating profits. It is investing heavily in the growth of the company through major acquisitions.  In 2020 Palo Alto acquired Expanse which is an automated global Internet intelligence company for $670 million. This is the largest acquisition of Palo Alto to date. The company's other recent acquisitions, worth more than $1 billion, include:
BridgeCrew – D

eveloper of a codified cloud security platform used to help organizations deploy cloud security engineering

Prisma SD-WAN – A

leader in software-defined wide area networks developer

Morta Security – A

stealth-mode startup developing cybersecurity solutions.
The market capitalization of the company is at $53 billion. The stock of the company is trading at $540. The stock performance of Palo Alto is shown in the below chart. The stock of Alo Alto is on a bullish run since 2020. In 2021, the stock has appreciated by 55% to date.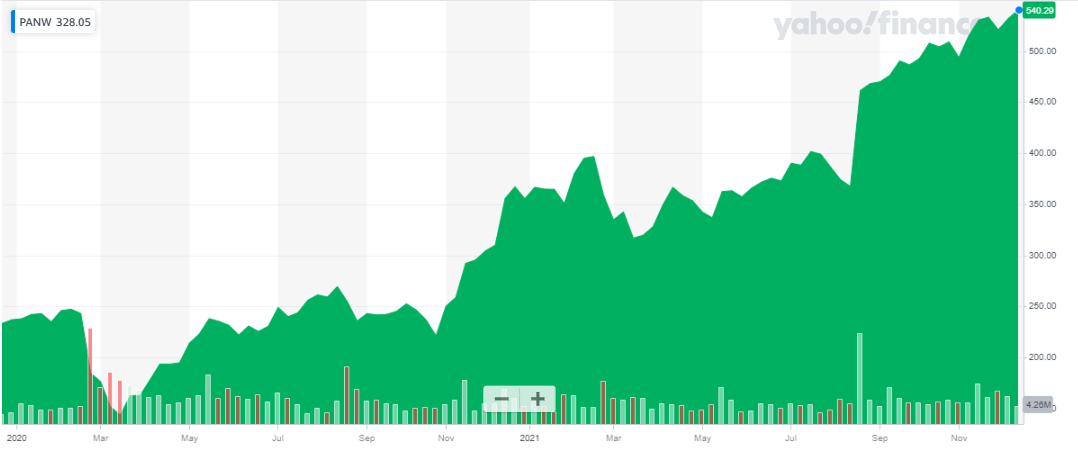 Palo alto has been awarded leadership positions in multiple categories within the cybersecurity sector. Moreover, continuously increasing demand paves way for durable growth making it an excellent cybersecurity stock to invest in.
Also read:
Zscaler Inc. (NASDAQ: ZS)
Zscaler is a cloud-based security company that secures the networks and assets of the organization. Even when employees are accessing the network remotely, Zscaler services are highly efficient in protecting and securing the network. Since its cloud-based, no additional hardware or software is required to avail its services.
Zscaler serves more than 400 Fortune 2000 companies. It owns more than 150 data centers around the world and holds around 20 million licensed seats. And it can handle 150 billion transactions in one single day. Zscaler's companies run very complex networks. Therefore, they vouch for the benefits of Zscaler's cloud-delivered security as a service. One of the biggest clients of Zscaler is Siemens. Siemens manages 350,000 users spread across 180 countries and uses Zscaler to secure its network. The National Health Services of the UK also uses Zscaler security services to manage its one million customers. In addition to it, Zscaler is also an authorized networking partner for Microsoft Office 365. There are many stock advisory services that recommends few of the best stocks to its members and subscribers.
In the recent quarterly report, the company reported a 57% year-over-year increase in revenue and total billings increased by 70% year-on-year. This growth was driven by Zscaler Zero Trust Exchange being the preferred choice for secure digital transformation by companies.
Zscaler has a market capitalization of over $43 billion. Its stock is currently trading at $307. The stock of Zscaler is on an upward streak since the pandemic-driven lockdown in March 2020. In the current year, the stock started trading at $199.7 and is currently trading at a 54% higher price.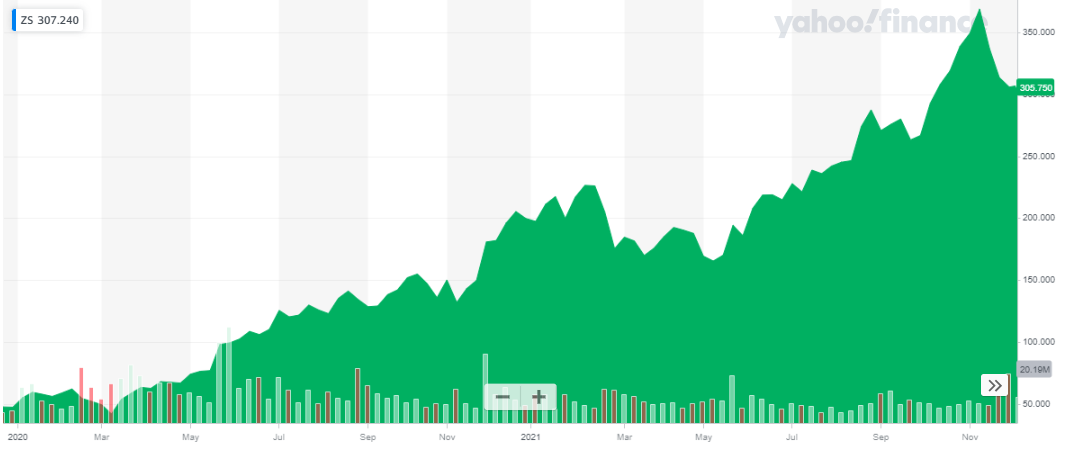 Zscaler accelerates digital transformation to facilitate its. The Zscaler Zero Trust Exchange protects thousands of customers from cyberattacks and data loss making it one of the best Cybersecurity stocks to invest in.
Give a read to a list of the Best NFT Stocks that can earn you great returns if you invest in them today.
Fortinet (NASDAQ: FTNT)
Fortinet secures the largest enterprise, service provider, and government organizations around the world. Fortinet provides its customers with intelligent, seamless protection across their networks which empowers them to improve performance. Fortinet is ranked number one amongst companies that ship secure appliances globally. And more than 500,000 customers trust Fortinet to provide security for their business networks. Get to know everything about high frequency trading.
Fortinet's strong point is its financials. Its product offerings are high in demand and best in class. Fortinet's Secure SD-WAN solution has also been recognized by Gartner as a Leader in the 2021 Magic Quadrant for WAN Edge Infrastructure. In its recent quarterly report, the company achieved the milestone of crossing $1 billion in quarterly billings. Total revenues for the quarter grew by 33% totaling $867.2 million. Also, Fortinet is known for its high cash flow. In this quarter, the total free cash flow was reported to be $329.8 million. By using the stock signals, you can avoid hours of technical analysis to understand the market.
Fortinet is a $55 billion company according to its market valuation. Its share is currently trading at $336.78. 2021 was an excellent year of the company's stock. The share has appreciated by 127% since the start of the year.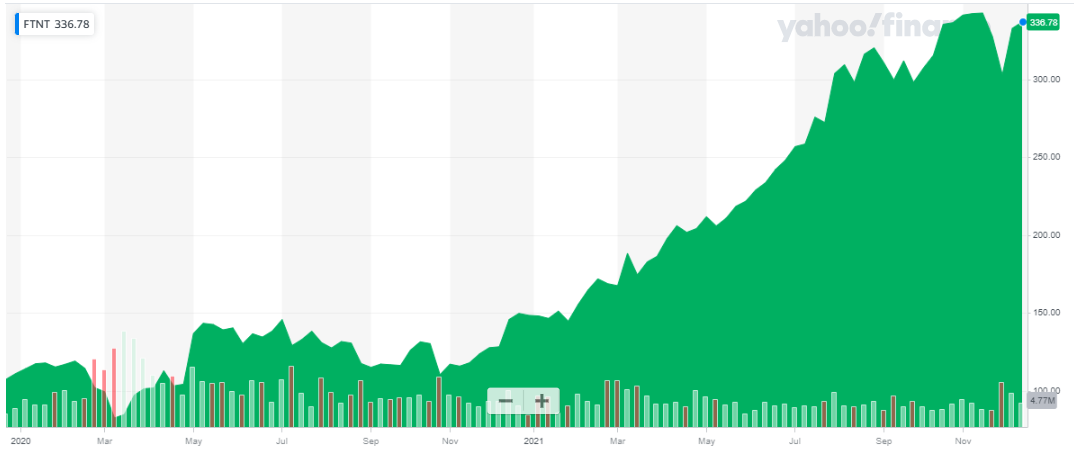 Fortinet is moving at a fast pace and is growing at above industry average rates. It owns a strong position within the cybersecurity industry; hence Fortinet is an excellent cybersecurity stock to invest in. To give investors an idea where to start and which companies to look for investment, we have compiled a list of top best oil and gas ETFs to buy now.
Okta Inc (NASDAQ: OKTA)
Okta is an enterprise-grade, identity management service, built for the cloud, but compatible with many on-premises applications. Okta connects any person with 
Okta was smart enough to take advantage of three megatrends: the deployment of cloud and hybrid IT, digital transformation projects, and the adoption of Zero Trust security environments. Okta is delivering measurable customer value by mitigating risks, accelerating growth and innovation and reducing cost, and streamlining on-prem solutions. If you are seeking a steady stream of income, you should invest in REIT stocks.
In its recent quarterly earnings report, total revenue increased by 61% on a year-on-year basis. Total billings grew by 54% and total customers increased by 48% when compared to the same period last year. 
The market valuation of Okta Inc. is $34 billion. Its share is currently trading at $223. The share price of Okta shot upwards after the March-2020 stock market crash. The stock price peaked at $291 in Feb-2021. Since then it has seen multiple dips and peaks.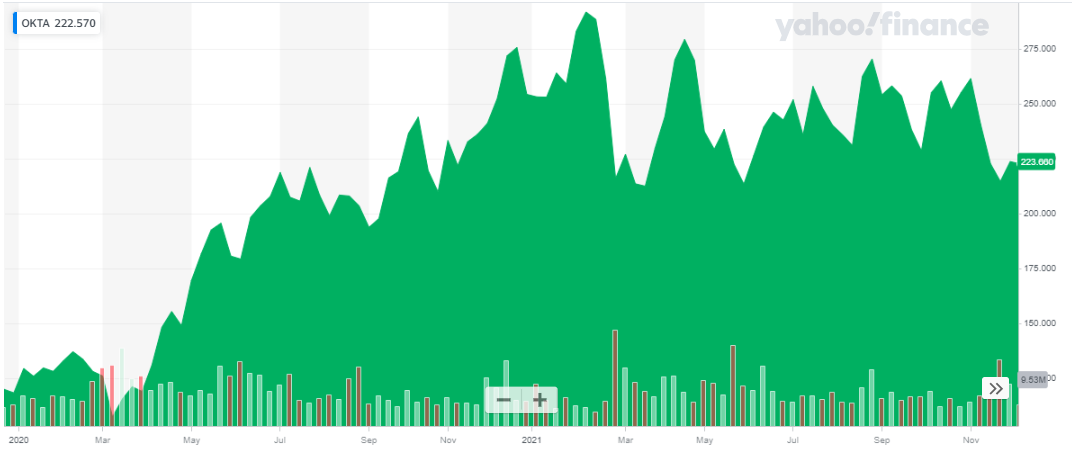 Okta continues to innovate in its platform and network and increasingly invests its efforts in expanding in large companies. Moreover, Okta also focuses on international expansion which accelerates its growth. Therefore, it is an excellent cybersecurity stock to invest in. Also learn about Best Day Trading Stocks
Rapid7 Inc (NASDAQ: RPD)
Rapid7 Inc. provides cyber security solutions. The company offers a cloud-native insight platform that enables customers to create and manage analytics-driven cyber security risk management programs. The company's cyber security solutions simplify the complex problems and help efficient integration of security team with IT which helps improve the system by removing vulnerabilities, monitoring for malicious behavior, investigating and shut down attacks, and automating routine tasks.
Rapid& is setting its mark in the cybersecurity niche. It is continuously expanding through multiple acquisitions. Some major acquisitions this year include:
IntSights – A threat intelligence and remediation company

Alcide.IO – A leading provider of Kubernetes security

Velocidex Enterprises Pty. Ltd – An open-source technology and community platform focused on cybersecurity monitoring tools
In its recent quarterly report, the company's revenue is reported to have increased by 33%. The number of customers has grown by 17% which indicates increased demand and acceptance of Rapid7 cybersecurity solutions. Investors are now looking for the finest solar energy stocks to invest in.
Rapid7 has a market capitalization of $7 billion. Its share is currently trading around $116.  Since 2020, the share of Rapid7 Inc has been steadily accelerating upwards. In 2021, the stock has grown by 30%, from a price of $90 to $116.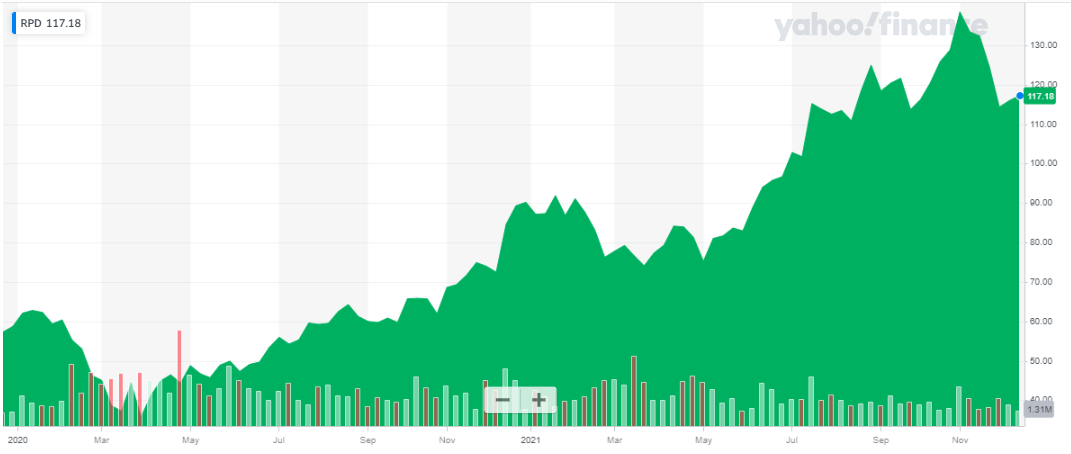 The improved performance of the company was driven by the accelerating demand for security transformation solutions and sustained growth in vulnerability management. Rapid7 continues to navigate an increasingly complex security landscape with an expanding set of capabilities making it an excellent stock to invest in today.
Get to know about RSI trading strategies.
Mimecast Ltd (NASDAQ: MIME)
Mimecast Limited provides cloud security and risk management services for corporate information and email.  Its software platform provides a single system to address e-mail management issues. The company operates in Europe, North America, Africa, and Australia.
In its recent quarterly report, the company reported revenue of $147.2 million, an increase of 16% year-on-year. Net income was $17.6 million, representing a 76% increase from the same period last year. By the end of the quarter, the total customer totaled 39,600 globally. Based on the current performance the company expects full-year revenue to be around $590 million.
Mimecast market capitalization stands at $5.3 billion. Its share is currently trading at $79. The share kicked off the year 2021 at $52. The stock has appreciated more than 50% up till today. Investing for the long term has a lot of benefits. Get to know the best long term stocks to invest in today.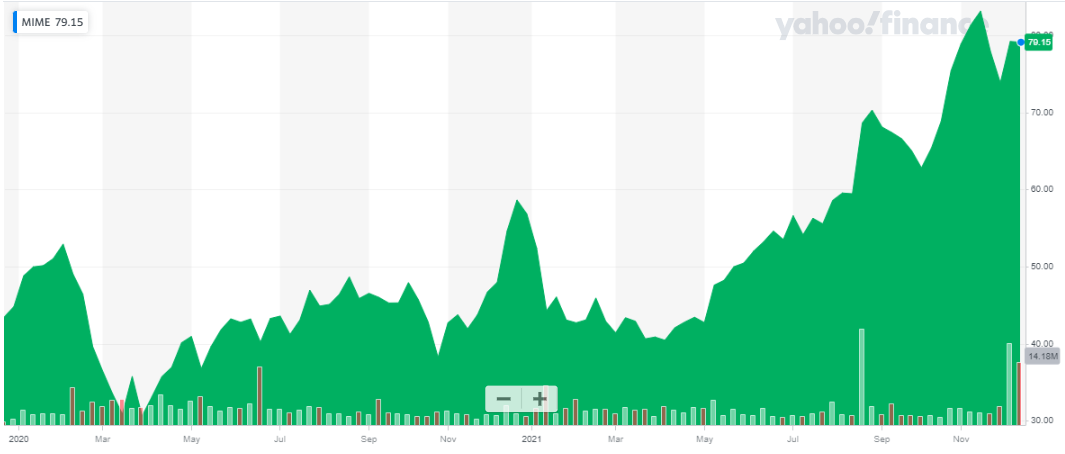 Read more:
Conclusion
Knowing where to invest a very important for investors around the globe. Cybersecurity is currently the hot niche that is accelerating in terms of growth and investor money. The above-listed cybersecurity stocks have been selected based on their accelerated growth and advancement within the sector. Investors always choose the best brokers that better suit his/her trading goals. The shares of the above-listed companies are expected to grow soon. Therefore, now is the best time to invest in these cybersecurity stocks.
Disclaimer: None of the information published in this article should be construed as investment advice. Article is based on author's independent research, we strongly advise our readers to always do their due diligence before investing.
You may also like reading:
Back