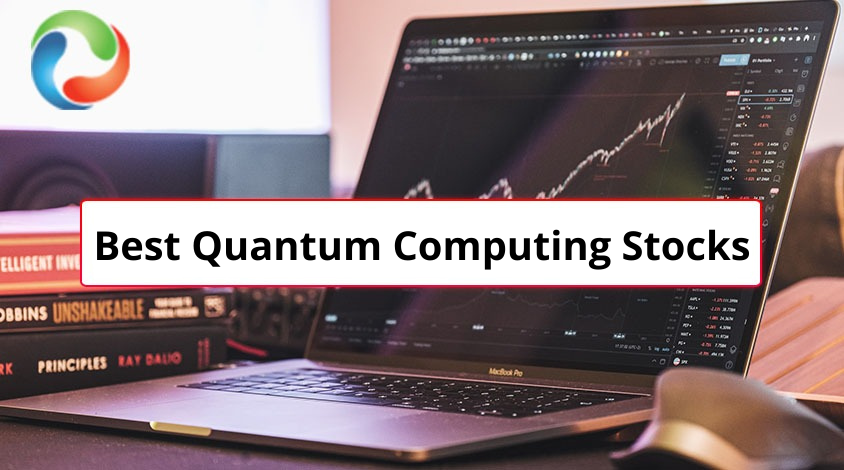 Quantum technology is approaching the mainstream. A quantum computer offers computational power that is 100 million times faster than regular computers today. A detailed study issued under Harvard Business Review explains quantum technology as below:
Quantum translates, in the world of commercial computing, to machines and software that can, in principle, do many of the things that classical digital computers can and in addition do one big thing classical computers can't: perform combinatorics calculations quickly. Technology companies are in focus for investors and offer great opportunities. technology companies are in focus for investors and offer great opportunities. Get to know best tech stocks.
Market Size Forecasts
According to

McKinsey

, quantum technology will have a global market value of $1 trillion by 2035.

According to

Mckinsey

, the automotive sector will be the primary sector to adopt quantum computing with a high impact noticeable by about 2025. Around $2 -$3 billion economic impact is expected by 2030 within the automotive industry

The world will have more than 2000 quantum computers by 2020, according to 

Consultancy. co
Countries around the globe are heavily investing in quantum research and technology. Moreover, investor's interest is spiking in quantum computing stocks.
List of Best Quantum Computing Stocks
Here we have compiled a list of the best Quantum Computing Stocks to Buy in 2023.
Microsoft
Microsoft is a big name in the technology industry that produces computer software, consumer electronics, personal computers, and related services. The company is one of the largest companies which has a humungous market valuation of $2.3 trillion.
The Microsoft Quantum team innovates across every layer of the quantum stack, from software and applications to control and devices. This includes the pursuit of fault-tolerant topological qubits that scale towards a general-purpose quantum computer. Azure Quantum is an open ecosystem of quantum technologies from Microsoft and partners that enable developers, businesses, and researchers to build and deploy quantum computing solutions at scale. This platform assembles and curates some of the most compelling and diverse quantum resources available. Azure Quantum enables you to learn, build, and deploy impactful solutions at scale, helping you harness quantum computing and benefit from the latest innovations.
Microsoft's quantum scientist has a very futuristic approach towards building quantum machines. According to him, speeding up problem-solving is not the role of quantum computing. Because the problems get bigger and bigger. For bigger problems, quantum computers should be able to solve them better quantumly than classically. Artificial Intelligence and Machine Learning have gained much popularity. AI Stocks investment has its own set of Pros and Cons which you should consider as an investor before deciding to invest.
Canadian Researchers have partnered with Microsoft to use quantum computing to research genomic-based treatments for illnesses such as cancer and Alzheimer's disease. Microsoft is also working with Dubai Electricity and Water Authority to explore quantum-inspired solutions for energy applications.
With the etch industry soaring, the stock of Microsoft is on an upward streak. The stock kicked off the year 2022 at $219.6. With an increase of approx. 38% of the share is trading at $302.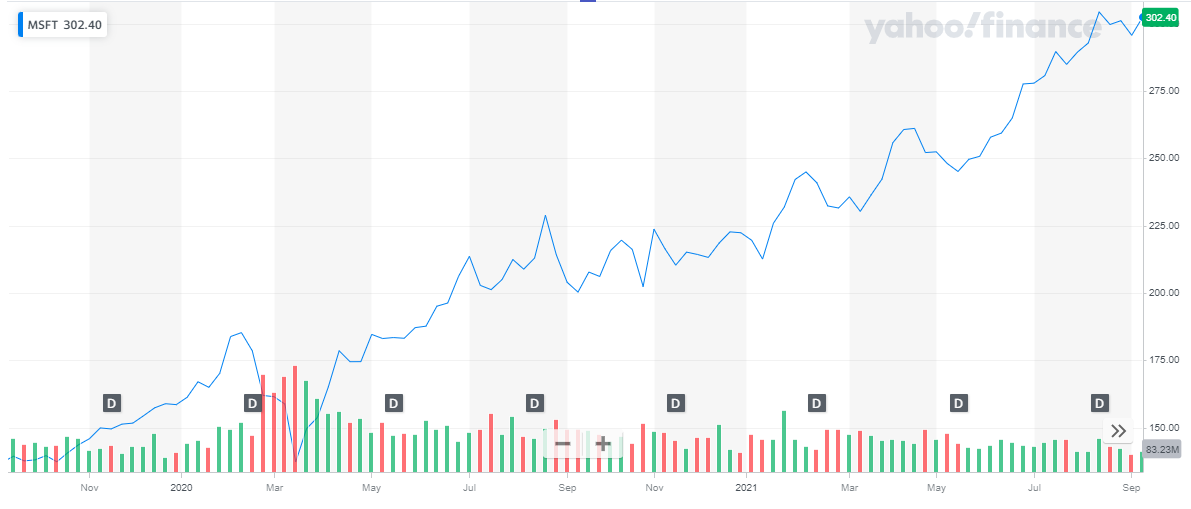 Microsoft is investing heavily in quantum technology to make the technology accessible to all. Through its Azure Quantum platform, Microsoft has partnered up with many quantum computing companies in the market. With the developments accelerating in this sector, Microsoft is one of the hottest quantum computing stocks to buy in 2023.
Nvidia Corporation
Nvidia is a tech giant which designs graphics processing units for the gaming and professional markets, as well as systems on a chip unit for the mobile computing and automotive market
Nvidia entered the world of quantum technology through the launch of cuQuantum SDK, a development platform for simulating quantum circuits on GPU-accelerated systems. The cuQuantum SDK accelerates quantum circuit simulators to help researchers design better quantum computers and verify results, model hybrid-classical systems, and discover more optimal quantum algorithms. It also provides tools for developers to apply to the methods of their choice, supporting different approaches such as the state vector method or the tensor network method. Investors are now looking for the finest solar energy stocks to invest in.
Interestingly, Nvidia's approach towards quantum technology is different from others. The company is not planning to build quantum computers, but it intends to use GPU-accelerated platforms for quantum circuit and algorithm development and testing.
The tech company has a market valuation of around $520 billion.  Since the announcement of cuQuantum SDK, the stock price trend of Nvidia broke its stagnant movement and shot upwards. Since the start of the year, the stock price has grown by roughly 67% and is currently trading at $220.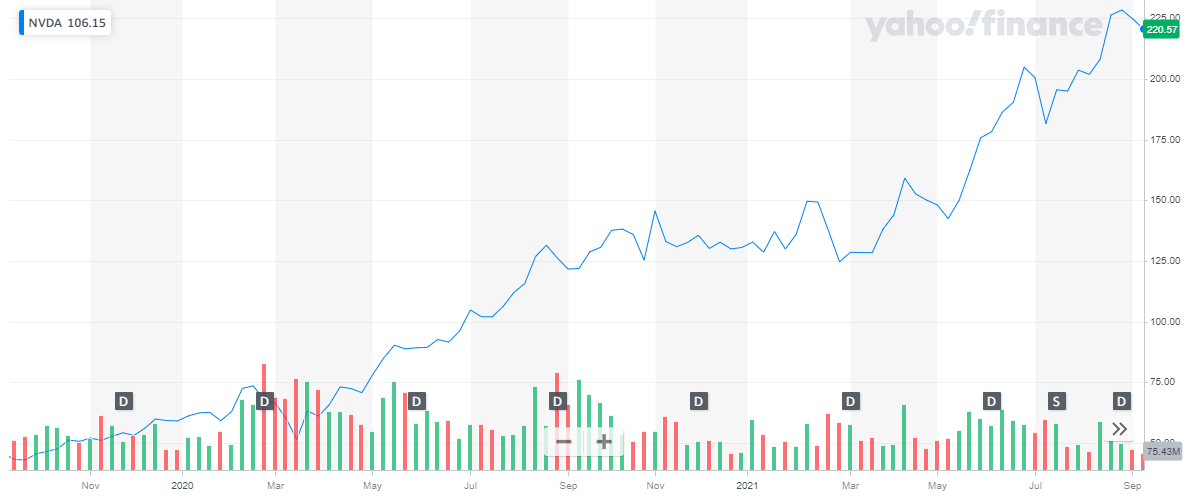 Nvidia is advancing in the world of quantum computing on its path. With every tech company exploring this technology, the future might be running on this technology. And early entrants like Nvidia will be benefitting the most. Therefore, it is the best time to invest in quantum computing stocks like Nvidia.
Read more:
Amazon 
Amazon is an e-commerce platform with also focuses on cloud computing, digital streaming, and artificial intelligence. It is one of the Big Five companies in the U.S. information technology industry.
Amazon Braket is a fully managed service from Amazon that was launched in Dec'2020. Through Braker scientists, researchers, and developers experiment with computers from multiple quantum hardware providers. Amazon is advancing in the field of quantum and has announced a new program, Amazon Quantum Solutions Lab. This will bring together quantum computing experts from Amazon and AWS customers. Also, Amazon has opened an AWS Center for Quantum Computing, which will unite the world's leading quantum computing researchers and engineers to accelerate the development of quantum computing hardware and software.
Amazon is continuously investing in this technology and recently announced a more advanced theoretical blueprint of a quantum computer design which is expected to reduce errors. The researchers at Amazon are now working toward implementing their ideas with hardware
Being one of the big five companies, Amazon has a huge market capitalization of $1.76 trillion The stock of the company is currently trading at $3,469.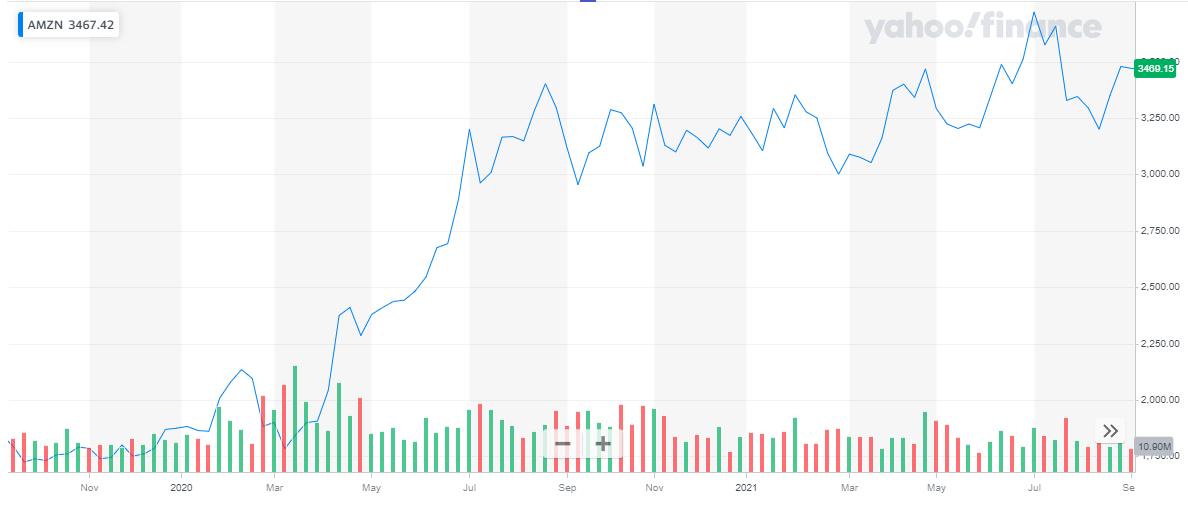 Being a tech giant and one of the largest companies, Amazon is a very good buy. That time is not very far when quantum computing will take over regular computers. When that time comes, Amazon will yield excellent returns as it is continuously advancing in the field of quantum. The best time to invest in quantum computing stocks is now.
Also check out our list of best cryptocurrencies.
International Business Machines Corporation
IBM is the leader in the field of quantum computing. It is the first company that allowed the public to use a quantum computer. In 2016, IBM connected a quantum computer to its clod which represents a key turning point in the advancement of this technology. IBM's public quantum computer allowed outside researchers and developers to explore its possibilities. Then with the opening of Quantum Computation Centre in 2019, the quantum industry thrust forward.
Under the IBM Q Network and the rapidly growing community around Qiskit, IBM's open-source development platform for quantum computing, IBM is leading the way in this technology. Around 100 IBM clients, academic institutions and more than 200,000 registered users can access this technology through the Quantum Computation Center. 
IBM Q Network partners include ExxonMobil, Daimler, JP Morgan Chase, Anthem, Delta Airlines, Los Alamos National Laboratory, Oak Ridge National Laboratory, Georgia Tech University, Keio University, Stanford University's Q-Farm program, and Mitsubishi Chemical among dozens of others.
IBM Q System One is the first circuit-based commercial quantum computer, introduced by IBM in January 2019. IBM has unveiled a brand-new quantum computer in Japan, this year. A Quantum System One, IBM's flagship integrated superconducting quantum computer, is now available for Japanese researchers to run their quantum experiments in fields ranging from chemistry to finance.
IBM has a market of $122 billion. Its stock is currently trading at $136.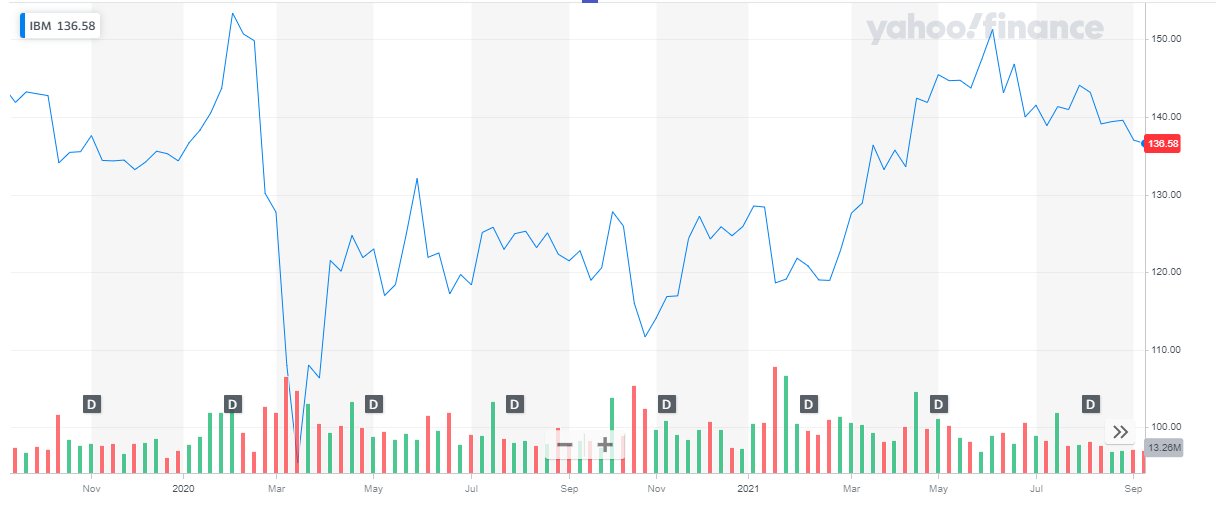 IBM is leading the way towards the future of quantum technology. The Q Network allows the company and others to explore this technology at its max. This will lead to IBM developing a fully equipped workforce that can tackle all problems associated with the technology. IBM is wisely spending its time, money, and effort in the right place to become a future leader in Quantum. IBM is undoubtedly one of the best cloud computing stocks to invest in today.
Apple is amongst the best long-term tech stocks to invest in.
Alphabet
Alphabet is the parent company of Google. Google is the most commonly used search engine globally. Alphabet is amongst the top 5 companies of the US with a market valuation of around $1.9 trillion
In Oct 2019, Google announced it performed a calculation on a quantum processor in 300 seconds that would be impractical with the algorithms available at the time. Since then, the company has been working on this technology. It aims to build software instead of hardware.
Google is making significant inputs in the theories and algorithms of quantum technology by working with universities and research institutions. Google has created Cirq, which is an open-source framework for programming quantum computers. It is a Python software library for writing, manipulating, and optimizing quantum circuits, and then running them on quantum computers and quantum simulators.
Google's new Quantum AI campus is home to a state-of-the-art quantum data center, fabrication facility, research lab, and workspace to enable new advancements in quantum computing
Google has announced its plan to invest billions of dollars to build a quantum computer by 2029. This quantum computer will be able to perform error-free, large-scale business and scientific calculations. Moreover, Google has plans for multiple uses of this technology which are building more energy-efficient batteries, creating a new process of making fertilizer that emits less carbon dioxide, and speeding up training for machine learning, a branch of artificial intelligence.
The stock of Google has been continuously rising and there seems to be no pullback in its journey. In this year alone, the stock of the company has grown by 57 % and is currently trading around $2,.838.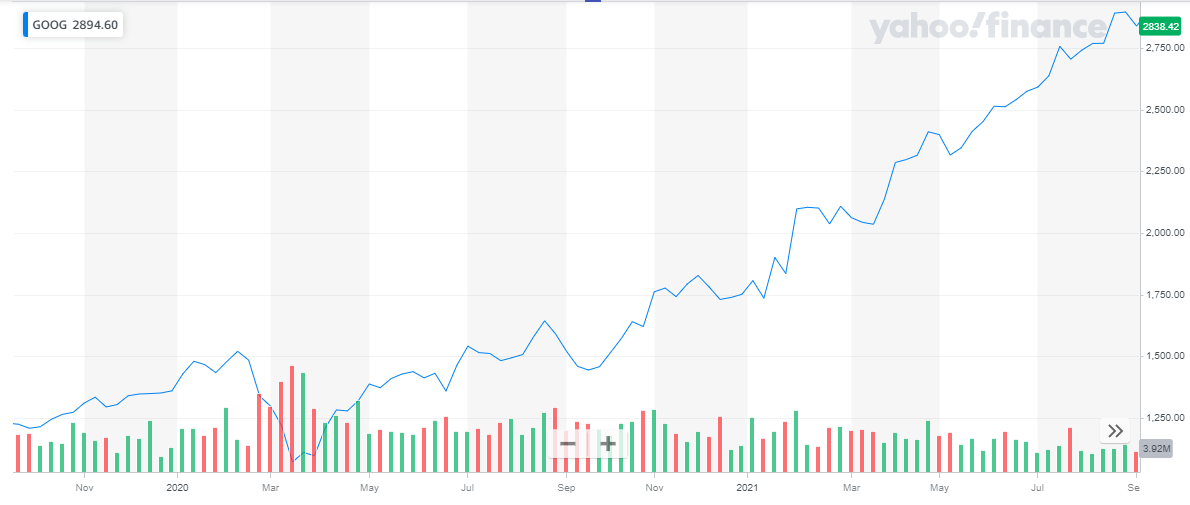 According to the ongoing development and ambitious plans of the company, Google will be creating a huge name for itself in the field of quantum computing. Since the breakthrough in 2019, the company is diligently working towards another breakthrough.  Google is one of the best quantum computing stocks to invest in today.
Get to know about RSI trading strategies.
Honeywell 
Honeywell is a leading technology company. It primarily operates in four areas of business: aerospace, building technologies, performance materials and technologies, and safety and productivity solutions. 
Honeywell makes quantum computers, which are titled H0 and H1. These computers use charged atoms of ytterbium as qubits that can be manipulated with laser beams. The company's H-series quantum computer achieved the world highest demonstrated quantum volume- 1,024 and is delivering on a commitment to increase by at least an order of magnitude a year.
Honeywell's quantum computing unit is merging with Cambridge Quantum Computing, whose expertise is in algorithms and other quantum software matters. They have announced a trio of big leaps forward in quantum computing performance. The focus of both these companies is to build "the world's highest-performing quantum computer and a full suite of quantum software, including the first and most advanced quantum operating system."
To accelerate the transition of the quantum industry the company has great plans. Honeywell plans to co-develop integrated quantum hardware and software through large-scale investment. Also, the company intends to open a one-stop-shop for quantum customers. 
In its second-quarter report the company reported:
$8.8 billion sales am increase of 15% from last year's second quarter

Earnings per share were reported to be $2.02, an increase of 60% from last year's EPS
Currently, at a market valuation of $153 billion, the share of Honeywell is trading at around $221. Since the launch of the H-series of a quantum computer in Oct'2020, investor interest has spiked leading towards a bullish journey of the stock. Since the launch of the h-series, the stock of the company has risen by roughly 34%.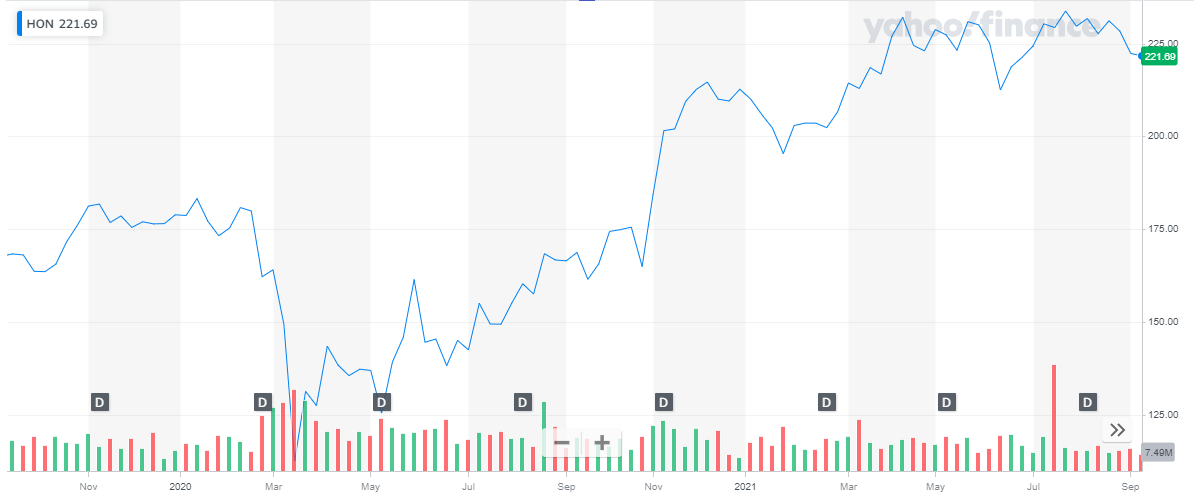 Quantum Computing is becoming more and more popular. With Honeywell investing heavily in this technology and planning to create a unique quantum operating system for quantum platforms, Honeywell is a great quantum computing stock to invest in. 
Conclusion
Quantum computing is a huge area of experimental research and development. Big companies are all investing and developing platforms.  Quantum computing and quantum communication could impact many sectors, including healthcare, energy, finance, security, and entertainment. According to Harvard Business Review,  recent studies predict a multibillion-dollar quantum industry by 2030.
Disclaimer: None of the information published in this article should be construed as investment advice. Article is based on author's independent research, we strongly advise our readers to always do their due diligence before investing.
You may also like reading:
Back