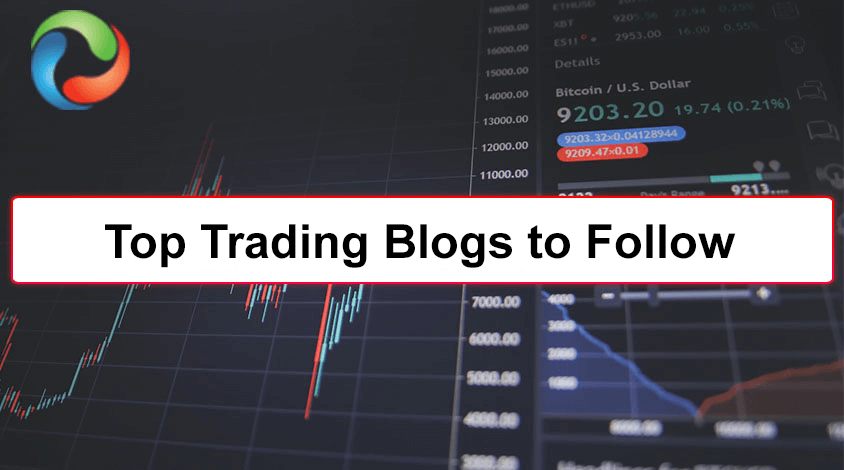 The right education is very important to be a good trader. In fact, it is not only important to be a good trader but also to earn profits. Many traders spend hours and hours on research just to make the right investment decision. 
In today's world where information is just a click away, following the right trading blogs is very important. Moreover, there is a wealth of information on trading blogs and they are a great place to gather information. Like the stock trading advisory websites help investors make the right financial decisions.
Blogs are now deeply embedded in the everyday routine of people who use the internet. In fact, blogs also offer an interactive platform for like-minded people to have a healthy discussion. Therefore, we have compiled a list of the best trading blogs for our readers.
List of Top Trading Blogs to Follow in 2023
Seeking Alpha
Elliott Wave Forecast Blog
Trading with Rayner
Learn To Trade The Market
Vantage Point Trading
Warrior Trading
NinjaTrader
Trading Strategy Guides
Motley Fool
Stock Charts
Benzinga
Optionalpha.com
Light Speed Trading
Day Traders Guide – Trading Sim
Investors Underground
Bulls on Wall Street
Value Walk
Steady Options
Market Rebellion
Market Chess
Trade Brains
Seeking Alpha
Seeking Alpha is one of the world's largest investing communities. Millions of passionate investors and traders connect daily on this trading blog. They can discover and share new investing ideas, discuss the latest news, debate the merits of stocks, and make informed investment decisions. There are many stock forecasting websites providing information required by investors to build and manage a diversified portfolio
Seeking Alpha is a crowd-sourcing platform that sources valuable investment research through a vast consortium of contributors. This trading blog was designed for individual investors who are interested in choosing individual buzzing stocks. Seeking Alpha offers a lot of trading advice to offer to its readers. Also, it has many free services to contribute towards educating its huge community of readers. This trading blog has a massive number of contributors who contribute around 10,000 trading blogs every month. The blog covers investment ideas that revolve around a variety of categories, which include:
Long term investment options

Detailed analysis and study about IPOs that whether they are a good potential investment

Quick investment reading blogs

Sector-wise stock analysis
Despite all the positives, Seeking Alpha might not be a good trading blog that prefers technical trading. Also, investors who choose to invest in its premium service will find the subscription quite expensive. 
Checkout some of the best oil and gas ETFs to buy now.

Elliott Wave-Forecast is one of the largest technical analysis firms in the world which offers a very detailed and educated trading blog to its readers. The team behind this trading blog has an extensive background in the financial market and the technical analysis field. This blog offers comprehensive forecasting and educational solution to all its followers and readers. The best offering of this blog include:
Latest forecast updates on the market

Clean, easy-to-follow, and professional-looking charts

Customer support 24/7
The educational content that the blog offers makes its readers learn enough to find their entry and exit positions in the market. Their blue-box trading method is a huge success within the investor community. 
The paid packages give detailed guidance and knowledge on:
Elliott wave structures and swing sequence

Elliott wave correlation and trading

Elliott wave market dynamics
View all educational products here. 

Trading with Rayner
TradingwithRayner is an educational forex trading blog that offers a range of different trading packages which are designed to teach the readers the dos and donts of the forex market. Its founder Rayner wanted financial freedom and no boss to answer to, which motivated him to learn as much as possible about trading forex. His years and years of personal experience and driven nature towards his goal have made his trading blog an ultimate success. All that he has learned himself is compiles in his trading courses which are available for purchase for all the readers of the blog.
This trading blog has an extensive reader and subscriber list. The blog offers a lot of interesting information on investing and strategizing in the market. To name a few:
MACD indicators- The secrets behind this trading tool

Moving Averages – The secret of this trading technique

The secrets of scholastic

The secret of candlesticks
Go through a list of crypto mining companies that are leading the industry.
Learn To Trade The Market
Learn to Trade the Market is a professional trading education blog. The brains behind this blog, Nial Fuller, is a highly regarded trader, author, and coach with over 20 plus years of experience trading financial markets. He is considered one of the most widely followed trading coaches in the investor community. In 2016, Nial won the Inaugural Million Dollar Trader Competition when he achieved an impressive 369% return in 3 months. Get to know everything about high frequency trading.
Nial's passion for trading makes his trading blog an excellent avenue of trading advice and informative material. He offers plenty of opinions about trades. His trading blog is a great forum for many traders and investors to come together have a healthy professional trade-related conversation. The founder offers loads and loads of trading advice and information. This trading blog has a huge number of readers and followers who actively engage in conversation with the founder about various trading methods, strategies, and opinions upon different investment opportunities. 
On the other hand, like many others trade bloggers, the founder refuses to disclose any trading results. Nor does he conduct live trading. Investing in oil stocks offers great rewards in terms of high returns.
Vantage Point Trading
Vantage Point is a financial trading site that has been educating its readers for more than a decade now. The trading blog offers educative content in form of tutorials, videos, and free e-books. The team behind this trading blog is a diverse group of professionals from different fields. What differentiates this team from other trading blogs is their progressive views about trading. Unlike majority financial firms and websites that follow a loud and fast approach towards investment advice and strategies, this trading blog keeps its goal and vision straight.
VantagePoint is an AI-based trading software designed to assist investors in watching market trends. this lets the investors and readers of the blog make informed trading decisions. With this software, any uncertainty in trading is completely out of the picture. Moreover, it also contributes towards opportunities investors might overlook. And it gives a detailed overview of the market to prepare investors for upcoming market trends and changes. Like semiconductors are the major building blocks of modern electronics and semi conductor stocks are one of the best investment opportunities.
The purpose of this trading blog is to benefit and improve the lives of its employees, customers, partners, and communities. Get to know some of best gaming stocks to invest in now.
Warrior Trading
Warrior Trading is one of the largest communities for active day trading investors. It is a day trading education and chatroom website which was created in 2012 by Ross Cameron.
Warrior Trading's contribution to the trading community has proved to be very impactful. This trading blog was nominated for Best Educator in 2016, 2017, and 2018 at the Benzinga Fintech Awards. This eventually led to Warrior Trading's position as a trading education industry leader.
Warrior Trading also offers free and paid educational courses. It also offers very active and responsive customer support. Not only do its readers get a quick response but they also get personalized attention from the customer support agents. Investing in value stocks is a long-term investment.
The platform Warrior Trading offers is an excellent place for novice investors and offers great investing advice for day traders. At Warrior Trading, investors can access trading advice and have full liberty to make the most of their time. The trading blog has a large community of traders and has extensive trading materials to offer to its readers.
On the other hand, this trading blog and its information is somehow not good for investors with low-risk acceptance.  Also, the investing advice and trading material are majorly for short-term investors. For long-term investing, traders need to explore other blog options to educate themselves. 
Get to know the best quantum computing stocks.
NinjaTrader 
NinjaTrader is a US-based software company that provides a great trading platform with advanced research tools. It is an ideal forum for active traders who need detailed technical analysis tools for their trades. 
This blog offers excellent charts, great technical analysis tools, and full strategy automation. It also has multiple apps for its users to access. Moreover, this blog comes with a dummy platform for practicing trading before investing real money in the market. The charts available on this blog are easily customizable and the followers and members of this website can insert technical indicators, strategies, and drawing tools. The cybersecurity stocks have become a high-growth sector and is attracting a lot of investor attention.
On the other hand, this bog and its features are not a suitable match with long-term investors. This trading blog offers no portfolio analysis or reports that would help assist investors in making long-term investment decisions.
NinjaTrader is oriented toward an investor which is interested in trading active futures and forex trading. Therefore, this platform has all the tools and features it needs to be successful. It offers detailed technical analysis.
Check our updated for NASDAQ Forecast.
Trading Strategy Guides
Trading Strategy Guides offers stock trading guides and strategies for traders and investors. Be it, novice traders or experts, the knowledge shared on this trading blog is for all. The goal of the team behind this blog is to solve the problem faced by many traders that is a lack of quality trading information. Also, the wealth of information available on the blog is highly educative and beneficial for traders.
The trading blog has an active follower list of over 200,000 and over 12,000 members of the community. The trading strategies proposed by the analysts of this blog are used and widely discussed on multiple other trade forums. Give a read to a list of the Best NFT Stocks that can earn you great returns if you invest in them today.
It is an excellent trading blog for new traders. Its four-step procedure for beginners makes it an excellent platform to start trading. The four steps are:
View the Trading Blog

Use the free tools

Listen to the available podcasts

Follow the videos on YouTube
Also read: Forex trading vs Stocks trading.
Motley Fool
The Motley Fool has been providing investing insights and financial advice to millions of people for over 25 years. It is a private financial investment advice website. Members of the blog's research team make stock recommendations based on their research, knowledge, and understanding of the market. Members and readers of this blog get access to better stock picks. 
For all its readers Motley fool offers investment advice under the title "Best Stocks to Buy Now". This list includes around 8-10 stock recommendations from the team of Motley Fool. There is a vast array of trading courses available online which you can join, each with its own merits and every course suitable for different types of traders.
The trading blog also offers paid stock advisor programs where members get stock recommendations every month. This comes with a detailed research and analysis study of the companies to educate the members. The best thing about this trading blog is its transparency. Motley Fool openly displays its record of both successful and unsuccessful investments.
This trading blog also provides top-notch educative information and short programs about trading. They aim to make their members know about the market so that they can make independent trading decisions. Motley Fool outperformed the S&P 500 on four occasions. 
Get to know some of best blue-chip stocks to invest in now.
Stock Charts
StockCharts is an award-winning charting tools provider that allows access to real-time intraday data. it offers a variety of charts to all of its followers and readers, which include:
PerfCharts

CandleGlance Groups

Seasonality

GalleryView

MarketCarpets

Relative Rotation Graphs

Dynamic Yield Curve
With the tools available for charts at Stock charts, members have the option of finding stocks and other financial instruments which meet the investor's criteria. Members also have access to technical alerts giving one an edge against the market and other traders.
Get to know about bonds vs stocks – where to invest.
Stock Charts is a great provider of investment tools that helps traders organize and run customer alerts. It also offers technical scans, analysis from industry experts, and a huge number of educational resources.
Benzinga 
Benzinga Pro is a popular stock screener app with exceptional functionalities and has about 16 million visitors a month. The company provides up-to-the-minute data, a unique perspective on the market, and original educational content to users online and through its mobile app. Currently, it offers:
A stock scanner

Stock screener

Trade signals feature

The trading chat room
It is a web-based app that can be operated on any mobile device. 
Benzinga offers investors a tremendous amount of information free of charge. Many investors will find everything they need on the company's website for free. But in order to avail of the comprehensive information and stay up to date with all the recent information investors have to avail of their paid packages. They also offer a 14-day free trial.
The company publishes a massive amount of data and research and many perspectives on the market which are available on the website. It can be valuable as well as very overwhelming for beginners.
There are three subscription plans available: Basic, Essential, and Options Mentorship.
Basic – The Basic package is the lowest membership plan and unlocks delayed quotes, watchlist alerts, the Movers feature, newsfeed access (without advanced filtering), and Benzinga Premium articles.

Essential – The Essential package is the most popular plan and comes with every Basic feature plus real-time quote, real-time-scanner access with advanced filtering, audio squawk, chat room access, sentiment indicators, the Calendar, and the Signals feature.

Options Mentorship – The Benzinga Options Mentorship plan is the highest tier and includes everything from the Essential package plus all mentorship, education, and options pick features.
Optionalpha.com
Option Alpha is an online coaching service and trading platform. This platform specializes in options and offers a wide range of options trading strategies.
Option Alpha is a useful online resource for those traders who want to learn how to trade options successfully, as well as for those traders who already have a particular experience in this area.
This website has over 47,000 traders registered users. Option Alpha offers free training courses on how to trade options, what are the best and most effective tools, which software is better to choose, how to configure alerts, etc. 
In addition to it, Option Alpha provides free options that provide access to educational material available upon subscription. It gives free access to a vast amount of quality training and tutorial videos.
Option Alpha also provides traders with various paid services. It offers:
Professional – Professional memberships cost $99 a month, and it comes with daily optional trading notifications, reviews of trades, and forum access

Elite paid memberships – Elite memberships are $299 a month. It provides users with access to all other membership functions and opportunities, such as weekly reports and workshops, options-related coaching, video commentary with analysis, and discounts for the newest software.
Beginners and advanced traders both can find a lot of useful information, services, and functions on this website.
Option Alpha members have access to alerts provided by this trading service. It can assist users by planning and executing their trades. OptionAlpha.Com has also developed specialized software to assist traders.
Light Speed Trading
Lightspeed is a great platform for active traders. It caters to active day traders, professional traders, trading groups, active traders, traders, institutions, and hedge funds.
There are several trading platforms offered by the company, including its flagship Lightspeed Trader platform, Lightspeed Web & Mobile platform, and Sterling Trader Pro, which provides advanced charting and Level II functionality.
LightSpeed offers the most popular tools within a simplified desktop interface and mobile app platform. It was designed to also be the fastest platform. Traders can trade in all equities, options, and futures with Lightspeed. Their customer service is very fast during trading hours. Advanced charting and real-time streaming quotes offer the best suggestions for high-velocity day traders. 
On the other hand, this platform is not for beginners or investors who trade part-time. They have a very high minimum account balance requirement which is not possible for beginners. 
The powerful technology, range of options, and valuable tools make Lightspeed one of the best platforms for day trading.
Day Traders Guide – Trading Sim
TradingSim is a 100% web-based trading simulator that enables traders to paper trade on historical intraday data. The goal of the platform is to allow day traders of all experience levels to practice and test strategies. It is a real-life backtest that actually controls for the human element involved in execution, emotions, and stock selection.
TradingSim has three different pricing tiers.
Equities Only – It is priced at $ 49 per month or $ 300 per year

Futures Only – It is priced at $ 49 per month or $ 300 per year

Equities & Futures – It is priced at $ 79 per month or $ 432 per year
TraidngSim also offers a 7-day free trial.
This platform offers a comfortable trading platform and detailed charting for all visitors to benefit from. 
Investors Underground
Investors Underground is one of the most well-known chat rooms on the internet. 
Investors Underground is a day trading community, chat room, and education service.
In reference to educative material, the website offers two trading courses, which are very knowledgeable for new traders:
Textbook Trading is a beginner-day trading course

Tandem Trader offers advanced trading strategies as well as real-time trade analyses
Investors underground have multiple trading chat rooms that are segmented based on trading style. The service offers chat rooms for momentum trading, swing trading, and penny stock trading.
Investors Underground offers one of the most diverse trading services. Most of the trading done at Investors Underground is based on technical analysis. Investors Underground hosts a few members-only webinars every month. Members can send in questions and get answers during the webinar. The webinars also go over recent trading activity in a bit more depth than the video lessons.
Investors Underground is best suited for traders who already have a decent understanding of how the market works. Investors Underground is one of the best supports for traders who regularly trade and/or watch the market. They get to learn every day with this trading website.
Bulls on Wall Street
Bulls on Wall Street is one of the best trading blogs that offer information and knowledge to practice profitable trading.  They provide service for new traders who want to learn how to trade stocks, while watching our live stream and market updates, or for experienced traders to join a room of well-respected and full-time traders who live and breathe the market day in and day out. Whatever day trading style the user possesses, they offer a trader that you can buddy up with or learn from.
The website offers a Bulls Trading Kit which is the most basic service. Visitors sign up for a free account using their email address. Members receive the Bulls Trading Handbook, beginning trading courses, and individual trading consultations. The Bulls Trading Handbook is 27 pages and covers the terminology, strategy, and function of the technical analysis.
The introductory trading course gives 4 videos that include Market Basics, How We Trade, Technical Analysis, and Charting Setup. Each video provides an overview of Bulls on Wall Street's approaches.
This blog also offers a Live 60-Day Trading Boot Camp that is in 2 parts: live trading. The live trading section is 4 days a week for 1 month. You do evening classes focused on charting, technical analysis, fundamentals, trading approaches, trends, psychology, and risk management.
Bulls on Wall Street offers different pricing plans:
The Live 60-Day Trading Boot Camp is $2,850 for access to all courses and services.

The Day Trading and Swing Trading plans are $199 monthly or $1,499 yearly.

The TC2000 software gives 2 pricing options for gold and platinum members. The gold plan is $4.98 per month. The platinum is $64.97 per month.
Value Walk
Founded in 2011, ValueWalk.com is a highly regarded, non-partisan site – the website provides unique coverage on hedge funds, large asset managers, and value investing. ValueWalk also contains archives of famous investors and features many investor resource pages. ValueWalk.com is well known throughout the value investing community to be a key source for both current and continuously relevant content. It is read on a daily basis by senior-level executives at the largest banks, hedge funds, asset managers, and Fortune 500 companies.
ValueWalk's content is free – the newsletter is also 100% free. The website has gained in popularity around the investment world due to its breaking stories regarding hedge funds, and investigative reports on investments by major funds- stories regarding performance, personnel changes, and any significant events for large/famous hedge funds.
ValueWalk is considered an authoritative financial news source, especially in the asset management industry, and is frequently cited as a source in industry research.
Steady Options
SteadyOptions is an options advisory service that uses diversified options trading strategies for steady and consistent gains. We provide a comprehensive trading plan and teach members how to make money in any market. Our service offers high-quality options education and actionable trade ideas.
They implement a mix of short- and medium-term options trading strategies based on Implied Volatility via the below services:
Comprehensive Trading Plan

Backtested Strategies

The Most Active Trading Forum

Quick Response to Questions

Valuable and Helpful Community
Market Rebellion
Market Rebellion was established to help traders get an edge on trading options, stocks, and crypto. To equip traders, this blog developed training programs and tools to enhance their technical and fundamental analysis, as well as teach them the psychology of trading.
Its services are very costly, which is one of the biggest disadvantages of using the services of this blog however below are the benefits it offers to members are:
Offers experienced personal mentors

Online programs and one-on-one coaching

Market alerts and trading strategies via newsletter

Learning at your pace

Educational programs tailored for traders of all levels

Various products to suit needs and skill levels

Member rooms encouraging interaction with pro traders
Market Rebellion caters to the whole investor community and offers several benefits to traders of all levels and financial markets.:
Unusual Options Activity – This feature is perfect for expert traders. Traders receive alerts about stocks and industries that could provide significant price action. The company's HeatSeeker algorithm identifies unusual options activity and institutional trades, which Market Rebellion shares with subscribers.

Rebel Pit – The Rebel Pit is a trading room led by Chief Options Strategist Ryan Mastro. If you're a trader who prefers to see what the pros are trading and how they analyze markets, Rebel Pit provides you access to them.

Smart Spreads – Smart Spreads is a product for beginners and pro traders. Market Rebellion designed this program to provide trading ideas that have the highest probability of success long term.

Equity Oracle – Equity Oracle is for traders seeking technical analysis guidance about the stock market. Chartered Market Technician AJ Monte provides technical analysis to beginner and intermediate traders by showing swing trades to enter, coupled with a risk management plan.

Oracle Hour – Traders wanting live interaction via webinars for equities will find Oracle Hour appealing. AJ Monte provides technical analysis for 30 stocks chosen by members.

Crypto Trading Room – Market Rebellion designed a comprehensive crypto program to help to begin to advanced traders take advantage of big crypto moves. It's a course designed to help beginners open trades and pro traders receive the best strategies by using advanced tools.
Market Chess
Market Chess is led by a single man operating under the pseudonym "chessNwine". He has been a popular trader/investor and financial writer since 2009. His work has appeared in The Wall Street Journal Online Edition, Yahoo Finance, TheStreet.com, MarketWatch.com, and the "Suggested" stream on Stocktwits.com.
The blog offers much more free content over the years than anyone in the financial blogosphere. And it has no free trials policy.
The blog and the brains behind it endeavor to enhance the trading process of its members and improve as an overall market player. The founder just guides and the members manage their money themselves.
The blog provides the founder's trades in real-time, with entries, stop-losses, rough targets, position sizing, rationale, and exits, for educational purposes. But the larger goal of the service is to provide a steady stream of actionable ideas, educational content, and timely market commentary to enhance the members' own process.
The website offers subscription videos for starters and has paid plans to further provide for the investors.
Trade Brains
Trade Brains is a Stock Analytics, Market News, and Financial Education Service Platform in India. Its mission is to simplify Stock Market to help people invest better by providing all essential data and analysis tools.
Trade Brains is currently catering to day-to-day retail investors in India by providing necessary investing/trading tools and education. We are focused to teach stock market investing to DIY Investors in order to invest, grow, & even spend money wisely.
Since their inception in Jan 2017, they have been serving the needs of thousands of people to help them take a significant step into the world of investing. The blog offers educational investing articles, a stock research portal, videos, free and premium courses, discussion forums, learning app, financial calculators, and more to our audience.
The offers these services:
Trade Brains Portal – Trade Brains portal helps investors make efficient stock research and analysis by providing quality fundamental data with insightful visuals.

Trade brains academy – Self-paced Best online stock market courses. Comprehensive Trading and Investing courses to kick-start your stock market journey.

Stock Market Learning App – more than 70,000 Downloads with 4.5/5 ratings on Google Playstore. This stock market learning app is focused to simplify investing and financial concepts
Conclusion
Learning is a way to move towards progression. For traders, learning can never stop. Because every day the challenges the stock market throws at investors and traders are unique. And to deal with their information and education is very important.
The above-mentioned blogs are for serious traders which offer detailed guides and information about trading tips and tricks and the overall market dynamics. All have their unique offering which makes them stand out in the online trading community of bloggers. Without a doubt, these trading blogs will add value to your trading and boost your confidence.
Disclaimer: None of the information published in this article should be construed as investment advice. Article is based on author's independent research, we strongly advise our readers to always do their due diligence before investing.
You may also like reading:
Back