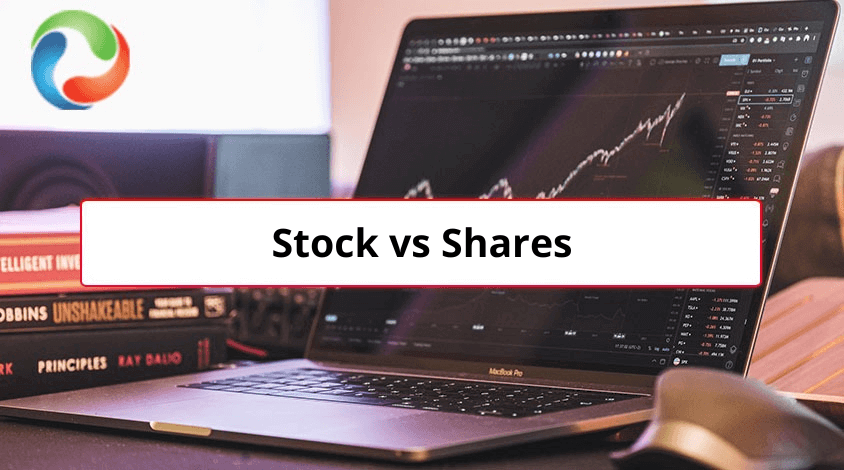 While many people believe the term stock and shares mean the same and tend to use the term interchangeably, they are not. There are some basic differences between both which are explained below:
What are Stocks?
Stocks are units of ownership in a company. This term has a broader meaning and is used in a more generic context. An example of this is "I own Apple stock."
What are Shares?
Shares are units of stock. They refer to the lowest denomination of stock in a firm. An example of this is "I own 10 shares of Apple."
The term share refers to the exact size of one's investment in a particular firm.
While many investors can talk about owning stock, the shares held by everyone are not always the same.
Types of Stock
There are four types of stocks:
Common stock

– This is the most common and the most talked about share type. Common stock is where an investor invests his/her money in. This type of stock represents the majority of the stock issued. The common stock owner also has voting rights, typically one vote per share of stock.

Preferred stock

– Preferred stock is not a common type of investment where every investor can invest. This type of stock does not give voting rights to owners. However, they hold preference over common stock in case the company goes defaults.

Class A stock

– This is a type of common stock that has voting rights

Class B stock

– This a type of common stock but with fewer voting rights when compared with Class B stock
Also read:
Why Stocks are Purchased?
Generally, people buy stocks with the aim or target to earn a return on their invested money.
There are two ways to earn money through stock ownership: 
Dividends

– Dividends are payouts made by a company to its shareholders. A company chooses to distribute its profits amongst its shareholders through dividend payments. Usually, companies have a specified schedule for dividend payments. However, there is no hard and fast rule, they can pay them at any time.

Capital Appreciation

– The second way to earn money is through capital appreciation, which is when a stock's price increases above the purchase price. A fact worth mentioning here is that this increase in value stays on paper until the investor chooses to sell his stocks at the increased value. And when investors realize a profit, they have to pay capital gains taxes on the windfall.
Also, learn:
How are Stocks Categorized?
Investors can buy and sell many different types of stocks. However, there are certain ways in which investors can categorize stocks which can assist them in making sound investment decisions:
By Different Styles of Investing
Investors can divide up stocks of different companies into different categories like value and growth stocks. This is done to support the investment style of the investor.
Growth stocks are companies that have the potential for high earnings and can outpace the market. These companies usually reinvest all of their profits back into the business to support growth, hence they are no dividends. The return expected from these stocks is in the form of capital gains. Growth stocks are often tech, biotech, and some consumer discretionary companies. 

Value stocks, on the other hand, are those stocks that investors believe are trading below the market price. They have a lower price-to-earnings ratio. Investors who practice value investing buy the stock when its price is low relative to its earnings. They then hold the stock till the market corrects and the stock price goes up.
By Market Cap
Market cap is a measure of a company's value. Below is a breakdown of market cap categories:
Micro-Cap: $50 million to $300 million

Small-Cap: $300 million to $2 billion

Mid-Cap: $2 billion to $10 billion

Large-Cap: $10 billion or higher

Mega-Cap: $200 billion or higher
An investor can choose to invest in any of the above-mentioned categories of companies. Large-cap companies have decades of experience and are more established. Whereas, smaller-cap stocks are fairly young and less established.
Checkout:
Types of Shares
There are different types of shares discussed below:
Ordinary shares –

Also known as the common stock.

Cumulative preferred shares

– These are a type of preferred stock that requires payment of missed dividends ahead of other types of shares.

Deferred shares

– These types of shares come last in the event of bankruptcy. After preferred and common stockholders have been paid, then deferred shares are paid.

Non-voting shares

– As the name suggest they have no voting rights. These types of shares are issued to employees and family members of primary shareholders.

Preference shares

– Also known as the preferred stock.

Redeemable shares

: These shares come with a built-in call option. They can be repurchased by the company on or after a predetermined date or following a specific event, as specified.

Redeemable preference shares –

These are preferred stocks with a call option.
Key Differences Between Stocks and Shares
| | | |
| --- | --- | --- |
| Basis for comparison | Stocks | Shares |
| Meaning | It is the larger form of a share. | It is a smaller unit of stock. |
| Ownership | When the owner owns the shares of several companies, we say that the owner owns stocks. | When the owner owns the shares of a particular company, we say that the owner owns shares. |
| Term and Denomination | Stock is a generic term. When an owner owns stocks, we can't specify them as shares of a particular company. | Share is a specific term. When the owner owns shares, we can ask about a particular company. |
| Issuance | Stocks can be issued anytime | Shares remain fixed |
| Nominal value | No nominal value | Have a fixed nominal value |
| Paid up value | Always fully paid up | Either fully paid up or partially paid up. |
| Preference  | Lower  | Higher |
Checkout:
Ownership

– An investor who owns stocks may hold ownership in one or more companies, whereas, investors talking about owning shares have ownership of just one particular company.
Denomination –

Investors owning stocks might have ownership of different values of the stock. For example, an investor might have stocks of Tesla and Google, both of which have different valuations. Whereas investors owning shares of a particular company have a fixed value. For example, an investor owns 10 shares of Tesla which have a set value.
Original issue

– Stocks can be issued by a company anytime to raise capital. However, the number of shares, trading on the stock market, remains the same.
Nominal value

– Stocks have no nominal value attached to them, whereas shares tend to have a nominal value associated with them, such as $ 5 a share.
Numeric value –

Shares have a definite number known as a distinctive number; a stock doesn't have any such numb

Paid-up value –

Stocks are always fully paid up by their nature; shares can be either fully paid up or partially paid up.

Preference

: In terms of transfer, stocks' preference is lower because they can't be in fractions; shares have a higher preference because they can be in fractions in a transfer.
Wrap up
While the terms stock and share are used interchangeably, there is an important difference between them. Stock is a generic term referring to an ownership interest in a publicly owned company. While the share is specific and refers to the smallest denomination of a company's stock. A stock has no value whereas shares come with a specific value.
The only thing common in both is that both these terminologies belong to the investor world!
Also read:
Back