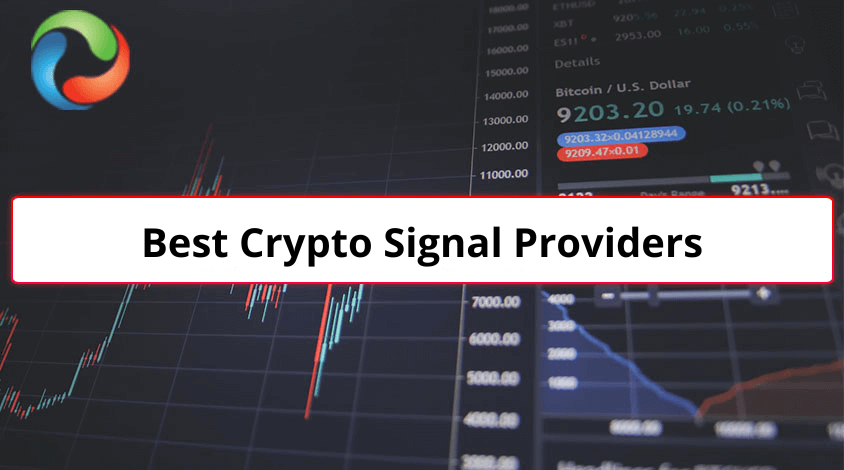 Traders who have minimal knowledge about how the crypto market works and what makes cryptocurrencies spike or drop usually employ the services of an expert. These experts do all the research and analysis by studying charts and keeping tabs on the latest industry news and eventually guide its members on what to buy in the form of trade signals.
What is a Crypto Signal?
A crypto signal is a trade signal which is researched and analyzed by an expert. These signals indicate what and when a coin or token should be purchased at a specific price. 
This information is usually shared with subscribers or paid members of a community, as the signals are derived after thorough research, most of which involves following news updates of the coin, as well as studying its market data.  
The two main parameters that usually guide a crypto signal provider's trade calls are fundamental analysis and technical analysis.
A signal usually includes:
Project Trends

– This is identified by scanning through a few of the available cryptocurrencies and examining their market data such as the price trends and moving averages.

Buy Range

– The signal professional conducts a full-time TA on cryptos. When the coin that is considered a good buy is spotted, the signal expert carefully analyzes its market data to identify what price level is suitable for entry.

Exit Strategy

-The signal professional would also provide the price level you are expected to sell to lock in a profit or mitigate your losses. This encompasses the Sell Target (ST) and the Stop Loss (SL). Sell Target is the price you're willing to sell to make a gain, while Stop Loss is the price level you want to sell to reduce your losses in case things do not go as planned.

Trade Duration

– The timeframe for the trade is expected to achieve its goal will be clearly stated. The signal provider usually indicates this by stating whether the trade is short-term, mid-term, or long-term. This would help guide traders' decisions about whether to join the trade or ignore it.
Checkout:
Best Crypto Signal Providers
Here is a list of the Best Crypto Signal Providers
Elliott Wave Forecast is a very popular and is known for using blue boxes for trading. They offer a comprehensive website that caters to traders and investors seeking insights into the financial markets. With a primary focus on the Elliott Wave theory, the platform offers expert analysis, signals, and valuable information across various financial instruments including crypto.
This signal provider provides a clean and intuitive user interface. It offers a user-friendly platform that ensures ease of navigation for both beginners and experienced traders. The well-organized layout allows users to access the desired information effortlessly. 
Elliot Wave provides Regular Cryptocurrencies Forecast and Signals, which include:
Weekly, Daily, 4 Hour and 1 Hour Elliott Wave Forecasts

Live Analysis and Live Trading Sessions

Daily, Weekly Videos & Chat Room

Free Education & Learning
A typical crypto signal at Elliot Wave has the following characteristics:
Direction of the trade – Indicating whether to Buy or Sell

Entry level – the point signaling when to buy or sell

Stop loss level – Signaling the point where to place stop loss to control risk

Take profit level – Signaling the point where to close the trade for profit

Trade Management – How to manage the trade once it gets filled
Elliott Wave Forecast provides a 14-Day Trial which give you access to premium forecasts for 14 days for a nominal $9.99 only. 
Its paid package include:
Silver is at $ 99.99, which offers

26 Instruments

Market Overview

Sequences Report

Intra-Day Videos

Gold is at $ 199.99 per month, which offers

26 Instruments

 Market Overview

 Sequences Report

 Daily Technical Video

 Weekend Technical Video

 Live Analysis Session

 24 Hour Chat Room
Platinum is at $ 299.99 per month which offers

52 Instruments

Daily & Weekly Technical Videos

Live analysis sessions

24 Hour Chat Rooms

 Live Trading Room (Trading Signals)

Diamond package is at $ 399.99 per month, which offers

78 Instruments

 Market Overview

  Daily Technical Videos

 Weekend Technical Videos

 Live Analysis Sessions

 24 Hour Chat Rooms

 Live Trading Room (Trading Signals)

 Quarterly Forecasts

 Yearly Forecast

 Trading Execution Module

Signal Blue
Signals Blue is one of the top paid crypto signals, trading providers. They have a team of professionals working for them which provides authentic fact-based information and signals to its members. In addition to it, the team also educated its members on how to read crypto trade signals cryptocurrency. Their team of professionals is their biggest asset as they have considerable experience and offer ample educational content in the field of cryptocurrencies (not necessarily related to signals for crypto markets).
VIP crypto signals are sent using the Telegram messenger and are given after a proper technical analysis of different coins. Through it, we receive bitcoin signals and altcoin signals, notifications about achieved targets, as well as general info crypto signals.
Each signal they send includes:
targets value

stop-loss value

crypto exchange (where to buy)
Their customer support is also top-notch. The team efficiently manages all member queries with utmost satisfaction. 
The team of SignalBlue relies on the most popular solution for sharing crypto signals – the Telegram messenger. For more advanced users, they also send signals via API (webhook, JSON). Members can also use Cornix Automation, which is fully supported by Signals Blue. Cornix is one of the most popular auto-trading solutions. By using the Cornix service linked with Binance, KuCoin, or Huobi you can automate with success the whole trading process based on signals. The crypto signals we publish are always supported by analysis and consultation with experienced traders and specialists in trading. Also, whenever possible they provide their members with analysis and charts.
Read:
CryptoAlarm
Cryptoalarm is one of the oldest cryptocurrency signal providers. They have been offering crypto services since 2017. They are a Telegram crypto signals group.
Their customer support is applaud worthy. They provide the answer to all our questions. Their team has knowledge and experience in terms of cryptocurrency area of expertise and other aspects. 
Their team is constantly working and developing. They are all knowledgeable analysts. Their team is able to cope during the bear market. Sometimes there are several days of downtime in giving crypto signals, which is not surprising at all. They assume that it is worth providing information about signals, which can bring profits, rather than giving anything and waiting for a possible loss.
According to one of its subscribers, CryptoAlarm is a great option for high-risk long-term investments. They provide the best binance signals, as well as a huge amount of data on current values. This makes them a valuable resource for anyone interested in making informed decisions about their investments.
There are 3 types of signals given:
Short-term, 

Mid-term 

Long Term signals. 
However, research shows that CryptoAlarm gives the most short-term signals.
Crypto Alarm signals are highly effective. They often hit all the sales targets given in the signal. Of course, there are stop-loss situations in signals. Members receive an average of 30 signals during the month.
Moreover, while using signals from CryptoAlam the best platforms to trade the signals are:
For users using these exchanges, signals from cryptoalarm.net will be an ideal solution.
They have excellent customer support also, which provides round-the-clock assistance.
Crypto Alarm telegram signals offer three subscription packages:
Trial – It is the first paid subscription option. It costs $297 per month ($9.3 for one day of subscription). 

Premium- It automates signals using the Cornix bot. The Premium package costs $1279 and is valid for one year. In this case, for one day of membership in CryptoAlarm, we will pay only $3.5, which is much less than with the aforementioned "Trial". 

"Pro" option – a one-time, lifetime payment, Cornix automation, premature access to new features in CryptoAlarm. We will pay $1979 for such a package, and as we mentioned above – this is only one payment entitling us to unlimited use of Crypto Alarm signals.
Also, read:
Bitcoin Bullets 
Bitcoin Bullets is a popular and highly accurate crypto trading signals service on Telegram. It is run by a professional group of traders spread across Europe, all of whom have good experience in the crypto market.
Bitcoin Bullets provides a whole lot of information to help traders get the most out of the service and beat the crypto market. At the start of every month, traders receive a rundown with all of the key information they need to know. This includes how the market as a whole is set up, what trader sentiment is like, and what trading opportunities are on the horizon.
Bitcoin Bullets offers 1-2 trading signals every day. Additionally, they also provide updates on open trades. The team also sends updates about crypto-related news that could result in new trading opportunities. The signals they send can be used on Binance as well as other popular crypto exchanges. The service has an overall accuracy of more than 95%, according to the website. 
Bitcoin Bullets has several features that are intended to make cryptocurrency trading more accessible and efficient for consumers. Some of the primary aspects of Bitcoin Bullets are as follows:
Real-time trading signals: To assist customers in making educated decisions about buying and selling cryptocurrency, Bitcoin Bullets offers real-time trading signals and insights. These market-based signals are created to assist consumers in maximizing their gains and lowering their risks.

Deep market analysis: This section of the channel also provides in-depth market analysis on a variety of subjects, such as technical analysis, fundamental analysis, and current events. Market trends may be kept up to date and more strategic trading decisions can be made with the aid of this study.

Active community: Techniques are shared by the channel's active trading community. For traders wishing to network with like-minded people and keep up with the most recent market developments, this might be useful
Bitcoin bullets offer regular updates on open trades and major news headlines. They have a user-friendly and secure interface.
One of the drawbacks highlighted by its members is that the team of Bitcoin Bullets does not provide information in detail. The signals don't always offer a detailed explanation. For traders interested in educative material along with signals, this is not a good service to opt for. Also, this service is only available on Telegram and may not be accessible to everyone.
Learn2Trade
Learn2Trade is a trading signal platform that focuses on different financial instruments, including cryptocurrency, forex, and stocks. It offers both paid and free signals. Their paid signals options are very good with a VIP telegram group, a VIP crypto signal telegram group, and a VIP swing trader telegram group. What makes them good is that they provide complete analysis of every signal which is a good way to educate its members also. 
One unique feature of this service is that they introduce their analysts to its members. This level of transparency is uncommon in the crypto trading world. It gives members the choice to follow whichever analyst they feel comfortable with. This transparent service has led to gathering a whopping 50,000 members. 
One of the most important features of this signal provider is:
It offers a free crypto education program for everyone. 

High win rate

The signals are a combination of analyzing over 80 technical indicators backed up by the FA. 

Provides daily news updates about what's happening in the cryptocurrency market. 

Multi-lingual support.  
Learn2Trade provides 24/7 customer support via email and its customer service number. It provides all its paid and unpaid members with a free cryptocurrency signal Telegram group. They have a team of veteran traders and analysts who provide free signals to all members. Daily they give out 3 signals.
One of the few drawbacks of using this service is that it does not offer any automated trading bot. Moreover, there is no full record of the VIP group's past performances which makes it difficult for new members to analyze the efficiency of their services. 
Also, learn:
2Moon
2Moon is one of the best free crypto trade signals groups which has been operating since 2017.
They give around 4-5 signals a week on average, which averages to 20-25 signals a month. The profit/loss results of the four months published range from a minimum profit of 251 % and a maximum of 357 %. Other sources indicate an 80 % success rate, which would tally with the very high-profit margins.
Key features of 2Moon:
An absence of pump and dump signals

Presence of crypto suggestions that are short, medium, and long-term in nature 

For all subscribers to the service, customer support is accessible on a 24/7 basis

Signals are provided for both Binance and Bitmex
They have round-the-clock customer support available via chat from the website. 
There are 4 subscription packages available:
1-month for $ 279

3-month for $ 397

7-month for $ 597

UNLIMITED package for $ 997
One of the few drawbacks of using this service is that it does not offer any automated trading bot. Also, this service does not have a long list of members. But then again this is a bearish time in the crypto market and attracting new members is difficult. Also, there lacks a knowledge about the team at the back end making it difficult for members to blindly trust their service. 
4C Trading Signal
4C Trading Signal is amongst the best signal providers in the market right now. They have a team of professional analysts and industry experts with years of experience in the cryptocurrency world. This service provider has been able to make a good reputation for itself with a record of giving investors good value for their money. They give out 5 – 10 signals weekly.
4C Trading also runs a crypto education program to enlighten newbies about the industry and how to grow into pro traders.  Furthermore, investors are taught about executing proper risk management, as this seems to be the major issue facing a large percentage of traders.
Key Features of 4C Trading Signal 
Automated bots that execute BTC, ETH, and LINK trade on behalf of subscribers.

Crypto education. 

Transparent cryptocurrency signal 

Experts combine both TA and FA to arrive at signals. 

Bots' past reports available upon signup

Referral program.

4C Investor Club
It offers three different packages:
$ 59 monthly for beginners

$ 139 monthly for advanced traders

$ 179/month for expert traders
4C Trading Signals offers a free 7-day trial on all its subscription packages. This is an excellent feature as it allows all investors to test the reliability of each service and whether the chosen service is according to their investment strategy. Another benefit of their service is the webinars conducted with industry experts; this is an excellent knowledge-earning experience for all members of the service. 
Their team of analysts is a group of professionals who are available to help and assist all members. Even with zero crypto knowledge members can start trading and learning with the 4C Trading signal service. In addition to it, their service is fast and secure with no unnecessary delays.
Despite their long list of excellent features, there are a few drawbacks that withhold members from using their service. Firstly, their Automated bots only work on Binance. For people who do not trade on Binance, this is a genuine issue. Also, each bot requires setting up separate Binance accounts, which further increases the vulnerability of investors to avail of their service.
Checkout:
Zignaly
Zignal is one of the most unique and cheapest trading signal platforms anyone can think of. It runs an initiative where traders can follow professional analysts and copy their trade signals. Signing up for an account on Zignaly is absolutely free. However, members who want to use the Zignaly trading bot, which supports unlimited amounts of crypto pairs and positions, will have to pay a monthly fee.
What makes Zignaly a good option for traders to adopt their service is the choice they are given to choose from a pool of professional signal providers. Unlike other services which just offer signals with no option to choose from analysts, Zignaly stands out amongst all. Also, Zignaly helps eliminate fraud by becoming the middleman between signal providers and traders. They offer rich content and their signal accuracy is clear to all. 
However, despite being claimed free, there is a certain amount of fee which users have to pay. This is not to Zignaly. Clients who want to use the Zignaly trading bot, which supports unlimited amounts of crypto pairs and positions, will have to pay a monthly fee. And this fee is usually not stated and comes as a shock for many traders.
Wolf of Trading
Wolf of Trading is one of the best free crypto signals platforms to join today. The service issues 2-3 signals per week on Telegram at absolutely no cost to traders.
Wolf of Trading mainly focuses on BTC and ETH trading, although the service occasionally issues signals for other altcoins. Every signal comes with an annotated chart and a minimum of 3 successive price targets for the trade. Signals also include an entry price and stop loss, which makes them easy to automate.
Wolf of Trading also posts a fear/greed indicator each day. Not every subscriber can understand what this means and the team of Wolf of Trading is also not keen at educating its followers. However, for traders who have knowledge about the market and how these indicators work, this is an excellent value-adding service.
Since this is a free service there is nothing to lose for traders.
Luxury Crypto Club
Luxury Crypto Club is one of a kind. 
This is the only group that imposes limitations as far as the number of members is concerned. 
here are two ways of joining the club:
By choosing a one-month or three-month subscription (the number of members for this type of subscription is 70)

By choosing to choose the "FOREVER" package with up to 30 members that gives lifetime access to the channel, which is made for crypto signals premium users.
Their idea is really interesting the limited number of "entries" is a great way to set a higher entry price.
According to reviews, their altcoin signals were legit in 80-90 % of cases. It is one of the best telegram crypto signals providers.
Except for crypto signaling, we can also see a lot of novelties from the world of cryptocurrencies. What's more, if you are interested in ICO signals, you will find them here. It is necessary to have a Telegram communicator in order to collect signals. Use an e-mail address or Skype application to contact support.
Also read:
Alt Signals
Since 2017, AltSignals is committed to helping its clients create wealth in the crypto space by offering them steady, professional, and adequate signals to help them succeed in the ever-volatile market. They offer over 4 signals every week.
Their paid packages are:
$ 112 monthly

0.016 BTC quarterly

$ 508 for a Lifetime plan
AltSignals offers reliable trading signals. What furthers adds to the credibility of this website is the whopping 50,000-member community it has. Alt Signals offers the following type of trades:
Short-term, 

Mid-term 

Long Term trade 
However, their team usually recommends long-term trades.
 They also offer crypto education to their members. In addition to it, they also offer a free Telegram signal group to enable intending users to test its accuracy and a functional web platform.
Its key features include:
Risk management analysis. 

Telegram support. 

Altcoin algorithm indicator

Offers both major and minor crypto trading signals. 

Supported exchanges include Binance, BitMEX, and ByBit.

A strong community of both crypto beginners and professionals.

Cornix bot support
Some of the benefits of using Alt signals is
It provides a free Telegram channel

It is backed by a professional trading team

Monthly record of performance is available for everyone to view and analyze their service

Free crypto education for all members

Helps traders diversify their portfolios for massive returns while mitigating losses. 

Regular market updates about the industry

Members can easily pay via credit and/or debit card for most plans.
Despite the many benefits, not every service can offer it all. There are a few drawbacks of this service:
Supports only BTC payments for the quarterly plan.

Supports fewer exchanges compared to competitors.
Checkout:
Back