Good day Traders and Investors. In today's article, we are going to follow up on Canopy Growth Corporation ($CGC) forecast posted back in April 2022 and take a look at the latest 4H count. You can find the article here: https://elliottwave-forecast.com/stock-market/canopy-growth-corporation-cgc-lucrative-investment/
Company Profile:
"Canopy is a global, best-in-class cannabis company and CPG organization with the intention to unleash the power of cannabis to improve lives. From expanding personal health and wellness to creating economic opportunity and working on social justice initiatives, Canopy is demonstrating the ability of cannabis as a positive agent for change.
Canopy Growth and its medical division Spectrum Therapeutics advance a range of research initiatives aimed at furthering the understanding of – and unleashing – the full potential of cannabis.
Canopy Growth has conducted research into the long-term impacts of CBD, as well as the potential for cannabinoids to displace other less desirable drugs in long-term care, while also exploring the role cannabis can play in helping people with opioid use disorder stay on their treatment plans. Through Spectrum Therapeutics, we undertook the important work of identifying the tolerability and safety of cannabinoids in cats and dogs to help determine appropriate dosing levels."
Canopy Growth Corporation Elliottwave April 2022 View (Weekly):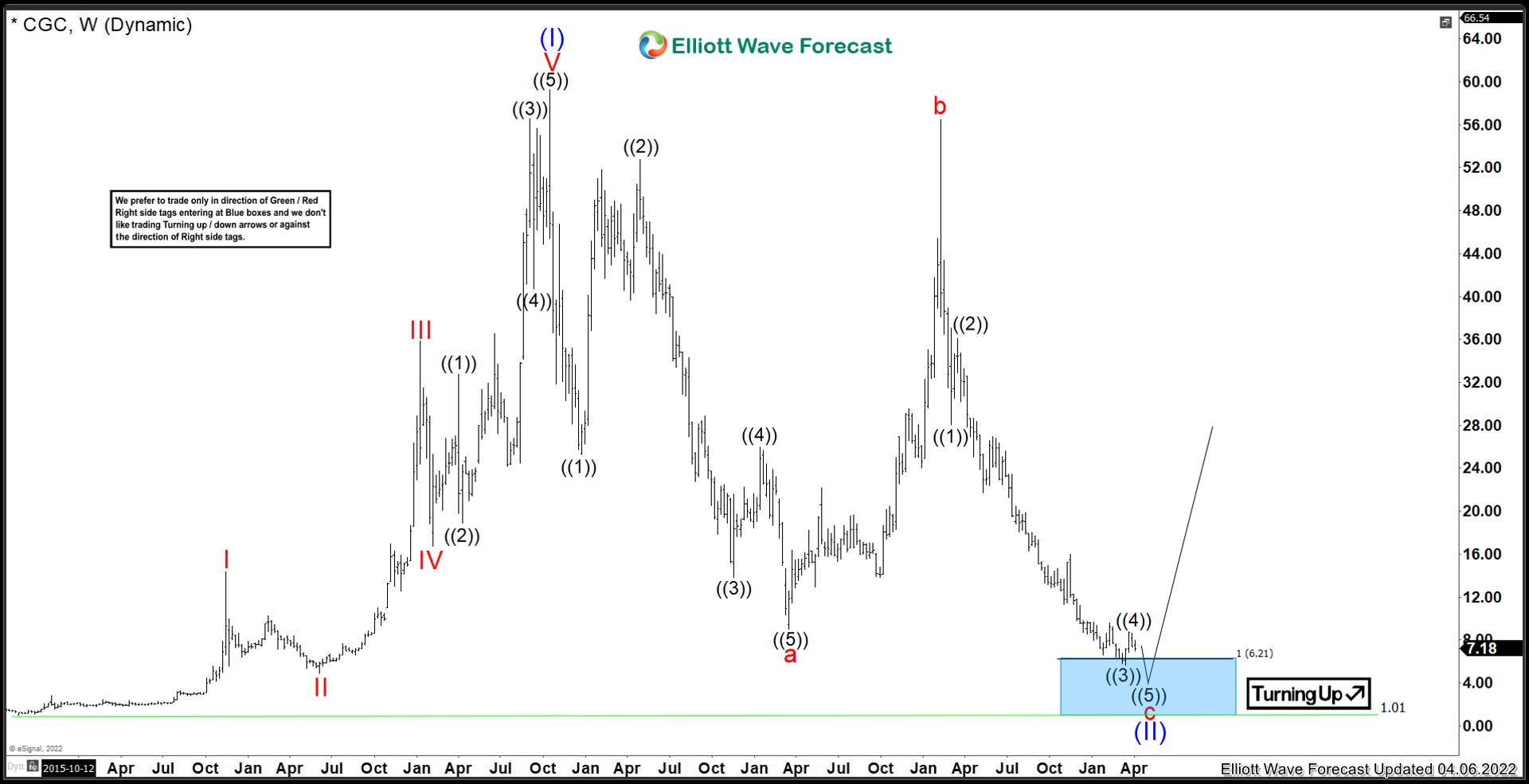 The cycle from the peak remains alive and the decline has extended in the Blue Box Area ($6.21 – 1.01). How deep can wave ((5)) extend before finding buyers? Lets downgrade to the 4H to find out.
Canopy Growth Corporation Elliottwave Latest View (4H)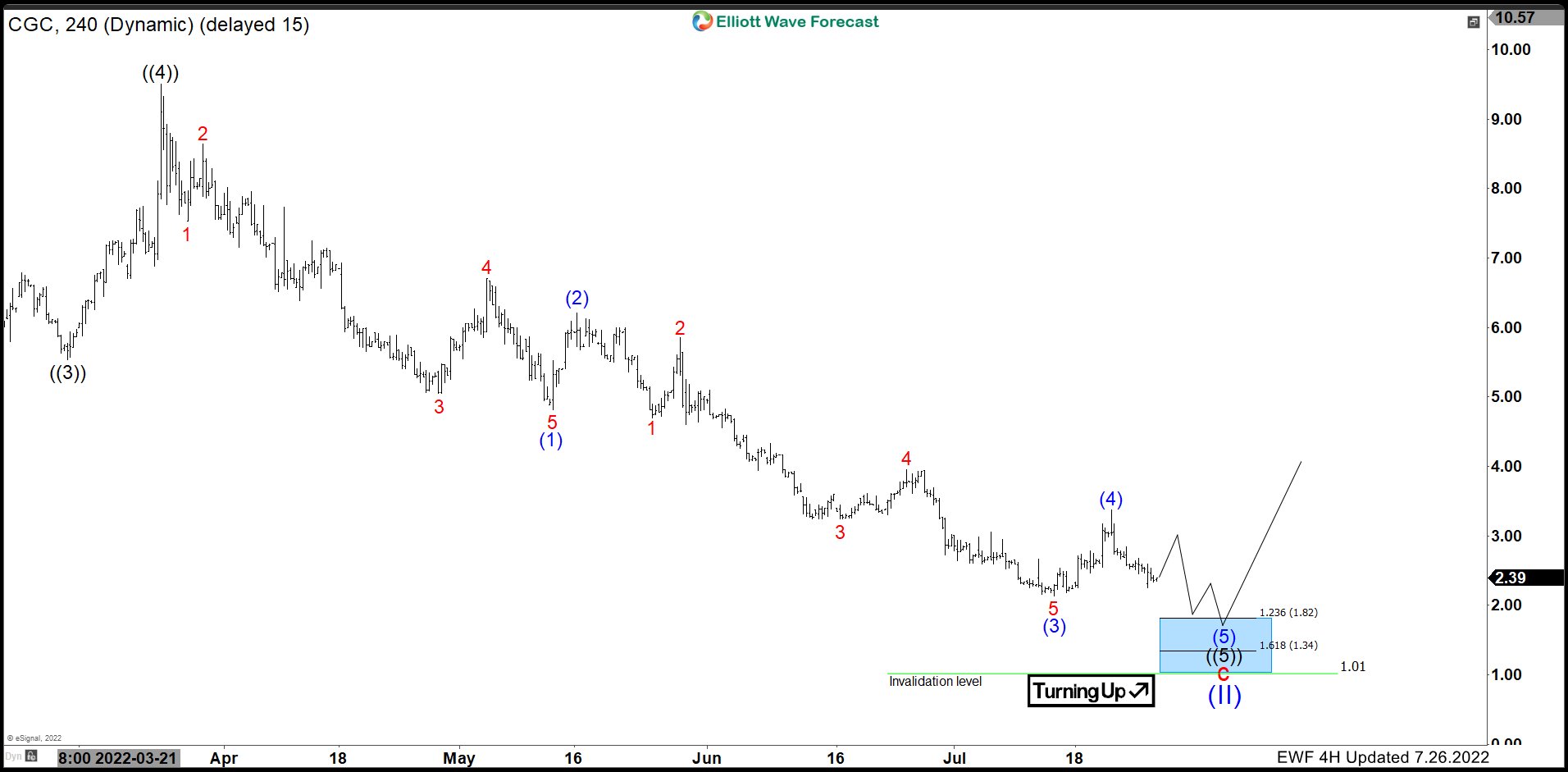 The decline since the wave ((4)) peak has been pretty technical, unfolding in 5 waves. We can be trading at the tail end of this decline and do one more push lower in 5 waves from (4) to end (5) of ((5)) of c of (II). The area where buyers will be waiting to appear comes at $1.82 – 1.34 (1.236 – 1.1618 inverse fib). As long as the Invalidation level at $1.01 remains intact, we expect buyers to appear to start the next leg higher or produce a bounce in minimum 3 swings higher.
Risk Management
Using proper risk management is absolutely essential when trading or investing in volatile stocks.  Elliott Wave counts can evolve quickly, be sure to have your stops in and define your risk when trading.
Elliott Wave Forecast
We cover 78 instruments in total, but not every chart is a trading recommendation. We present Official Trading Recommendations in the Live Trading Room. If not a member yet,  Sign Up for Free 14 days Trial now and get access to new trading opportunities. Through time we have developed a very respectable trading strategy. It defines Entry, Stop Loss and Take Profit levels with high accuracy.
Welcome to Elliott Wave Forecast!
Back