Today I am looking at Canopy Growth Corporation.  I am pretty sure everyone remembers the cannabis rally of 2018.  When every trader, including their family members, were asking which cannabis company to buy to make money.  Yes, cannabis had an incredible run from 2015 to 2018 peak, but like everything, it has pulled back and consolidated.  But is it time to get back into the sector for the next multi year run?  Canopy Growth Corporation is arguably the largest cannabis company in the world, so I would like to analyze this one first.  Lets take a look at their company profile:
"Canopy is a global, best-in-class cannabis company and CPG organization with the intention to unleash the power of cannabis to improve lives. From expanding personal health and wellness to creating economic opportunity and working on social justice initiatives, Canopy is demonstrating the ability of cannabis as a positive agent for change.
Canopy Growth and its medical division Spectrum Therapeutics advance a range of research initiatives aimed at furthering the understanding of – and unleashing – the full potential of cannabis.
Canopy Growth has conducted research into the long-term impacts of CBD, as well as the potential for cannabinoids to displace other less desirable drugs in long-term care, while also exploring the role cannabis can play in helping people with opioid use disorder stay on their treatment plans. Through Spectrum Therapeutics, we undertook the important work of identifying the tolerability and safety of cannabinoids in cats and dogs to help determine appropriate dosing levels."
Lets dig into the charts.
Canopy Growth Corporation Elliottwave View (Weekly):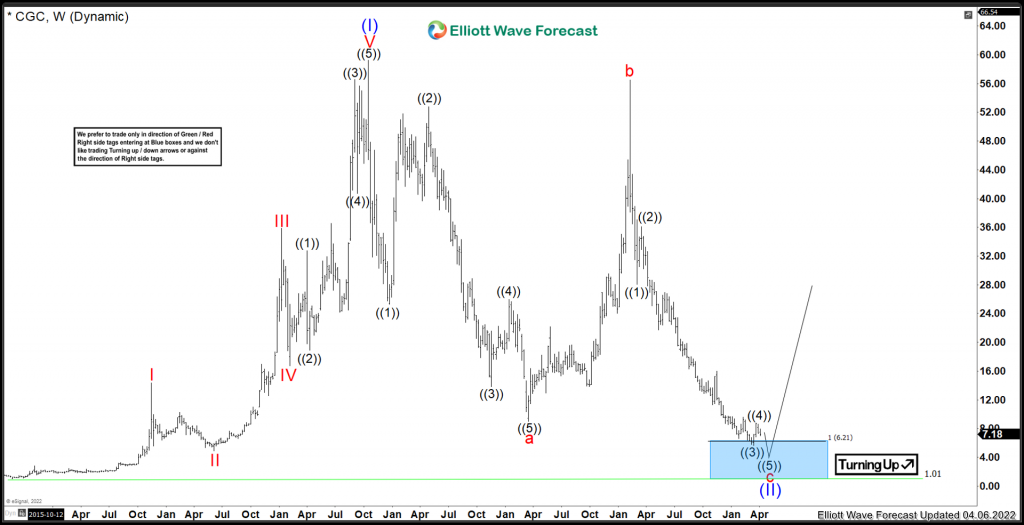 Long term view since the lows set in 2015.  This stock has a fairly clear technical picture.  The Market rallied for 3 years in a clear 5 waves advance.  This advance comes with momentum divergence at the (I) Peak.  This peak was set in October of 2018 at 59.25.  After that, a very long and drawn out correction has taken place.  Wave a took nearly two years to decline, before a large bounce in b took place.  After that, another decline in 5 waves is underway.  The stock is currently within a blue box 100% area.  This is an area where Algos like to trade.  Traders that sold the highs are likely to start taking profits.  As long as the lows at 1.01 remain intact, the blue box can produce a reaction in 3 waves at least.
Risk Management
Using proper risk management is absolutely essential when trading or investing in a volatile stocks.  Elliott Wave counts can evolve quickly, be sure to have your stops in and define your risk when trading.
Improve your trading success and master Elliott Wave like a pro with our 14 day trial today.  Get free Elliott Wave Analysis on over 70 instruments.  Including stocks like GOOGL, TSLA, AAPL, FB, MSFT and many many more.
Back