Exxon Mobil Presentation & News
Exxon Mobil Corporation the largest of the world's super-majors Oil and Gas companies , it's also the 8th largest company by revenue and 5th largest publicly traded company by market capitalization . The Corporation was formed on November 30, 1999 by the merger of Exxon (formerly Standard Oil Company of New Jersey) and Mobil (formerly the Standard Oil Company of New York).
Yesterday Exxon Mobil shares was gaining after Donald Trump announced his decision to nominate the current CEO Rex Tillerson for secretary of state but what really sent XOM stock soaring since the start of the week was that a group of heavyweight producers ( like Russia ) outside of the Organization of the Petroleum Exporting Countries (OPEC) agreed to scale back production by 558,000 barrels a day which made Oil price hits it's highest since June last year which gave a boost to Oil companies .
Elliott Wave Technical Analysis
XOM peaked in July 2014 at $104.76 from which it did a triple three correction which ended in August 2015 low $72.07 and the stock has resumed the bullish trend looking to make new all time highs around $110 area if it maintain the current move to the upside within its channel .  The structure from $72.07 low needs a break above this year's high $95.55 to become a bullish sequence and confirm the view . However without making new highs above July 2014 peak there is still a possibility that XOM will turn into a diagonal or a triple three structure which mean a deeper correction could happen before a continuation to the upside .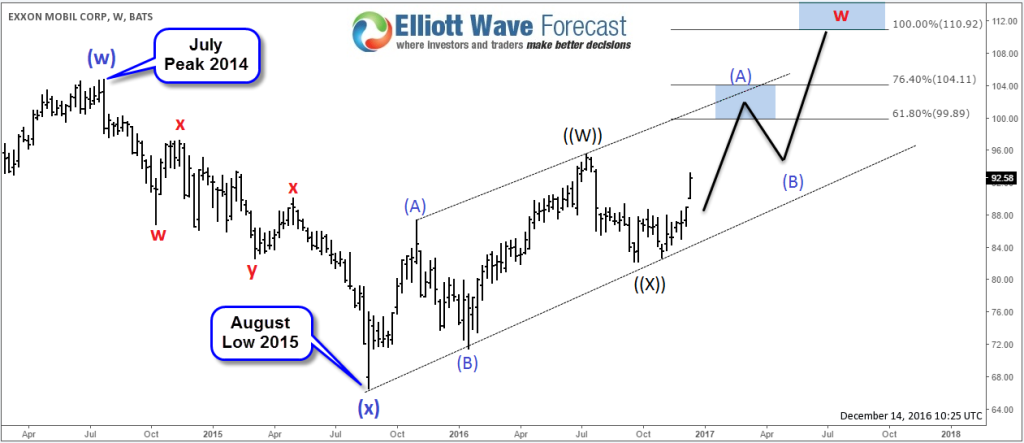 Moving to the daily chart , we can notice the recent upside move which was expected as the price already made new high before the weekend calling for more upside . The stock should be ending double three from September lows $82.29 and could see 50% – 61.8% Fibonacci retracement levels before resuming higher . The pullback could just correct the cycle from November low which could turn the structure to a diagonal with the current peak as wave ((iii)) as it came without divergence .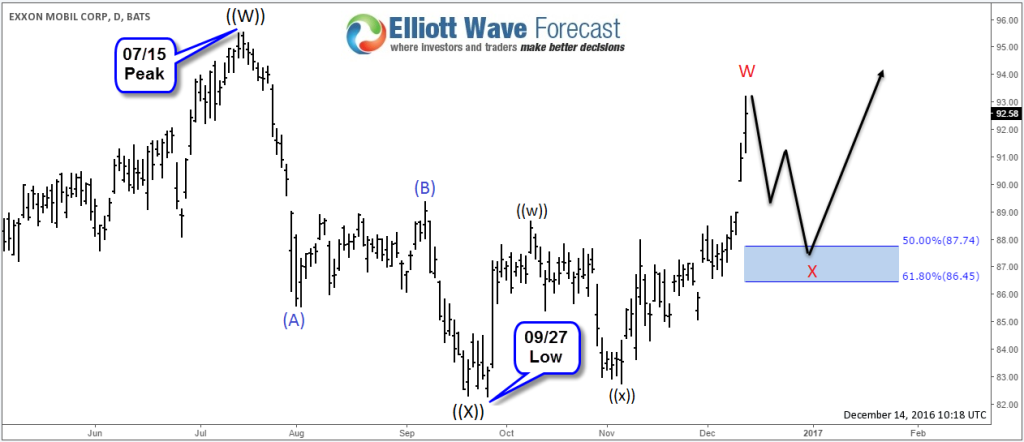 The important level for Exxon Mobil stock will remain 07/15 peak ( $95.55 ) which needs to be taking out to open the extension to the upside otherwise XOM can do a double correction in wave ((X)) against the August 2015 low . The overall picture remain positive as we are expecting a brighter future for the Energy Sector and with the Bullish Sequence of Oil , energy prices are expected to be higher which will be a blessing for Exxon stock and its shareholders.
For further information on how to trade forex, indices, commodities and stocks using Elliott Wave technique ,  try us 14 days for FREE . You will get access to our Professional Elliott Wave analysis in 4 different time frames, Daily Elliott Wave Setup Videos , Live Trading Room and 2 Live Analysis Session done by our Expert Analysts every day, 24 hour chat room support, Weekly Technical videos and much more so if you are not a member yet, use this opportunity and sign up to get your FREE trial . If you enjoyed this post, feel free to read other articles at our Technical Blog and also check our Chart of The Day .
Back