Scientists are looking to power the planet with renewable energy by the year 2030 , till that happens the main source for the world energy will remain OIL , GAS and Coal as we can see it clearly in the world energy demand figure which proves that Energy Sector is still among the strongest investment for the future even many are expecting it to reach the end of an era which could drive the public away from investing in its related stocks .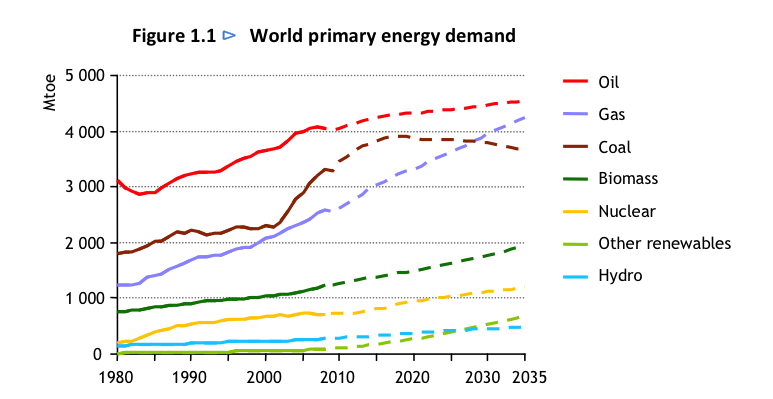 To have a better understanding let's check The Energy Select SPDR (XLE) which is an Exchange Traded Fund (ETF) that tracks the Energy Sector Index and the fund invests up to 95% of its total assets in common stocks in the Oil and Natural Gas industries .
The technical chart of $XLE is clearly showing an uptrend started in 2002 lasting for almost 6 years before sharply correcting for 1 year , after that the cycle repeated it self by rallying from 2009 to 2014 then started dropping till January 2016 when OIL & GAS also formed a bottom early this year. Each swing since 2002 lows was a 3 waves move reaching equal legs area before reversing and currently while it is holding the uptrend channel and more specifically the 01.20.2016 low formed after a 3 wave down it's targeting new highs in the future to become a triple three structure WXYXZ ( 11 swings ) , worst case scenario for $XLE is that it ended a 7 swings move at the 06.23.2014 highs forming a double three structure ( WXY ) making the current bounce fail around 50%-61.8% Fibonacci retracement which is still up ahead for the instrument.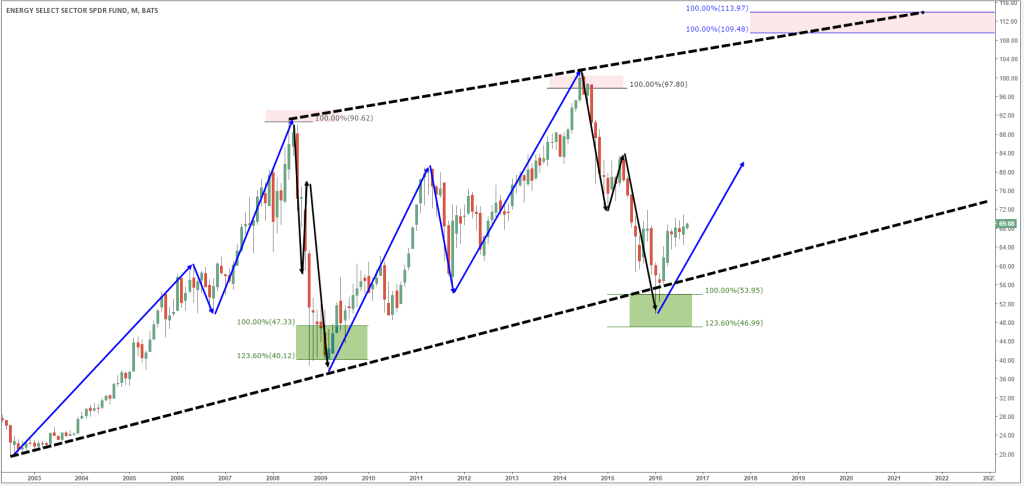 As mentioned earlier the energy sector is heavily weighted in Oil & Gas which is a commodity instrument , so if you take a look at Gold , Silver and Copper it has the same path early this year forming important lows driving the whole commodity sector to the upside which we at EWF were aware of it and our client were in right side of the market , even if you don't trade $XLE you could be interested in it's top holding multinational oil and gas corporation like Exxon Mobil & Chevron or you could be looking to invest in Gold so you have to understand the correlation between different instrument and how that affects the global market .
---
If you're interested in getting more insights about the Energy Sector then take this opportunity and try our services 14 days for Free to learn how to trade Stocks and ETFs using our blue boxes and the 3, 7 or 11 swings sequence. You will get access to our 78 instruments updated in 4 different time frames, Live Trading & Analysis Session done by our Expert Analysts every day, 24-hour chat room support and much more.
Back