Hello Traders! Today, we will look at the Grand Super Cycle of W. P. Carey Inc. ($WPC) and explain why the stock is at a Generational low and a Multi Year Rally should happen soon.
W. P. Carey Inc. is a real estate investment trust that invests in properties leased to single tenants via NNN leases. The company is organized in Maryland, with its primary office in New York City. As of December 31, 2019, the company owned 1,214 properties in 25 countries leased to 345 tenants. Approximately 64% of the company's revenue is derived in United States and 36% in Europe.
$WPC Monthly Elliott Wave View Sep 05 2023: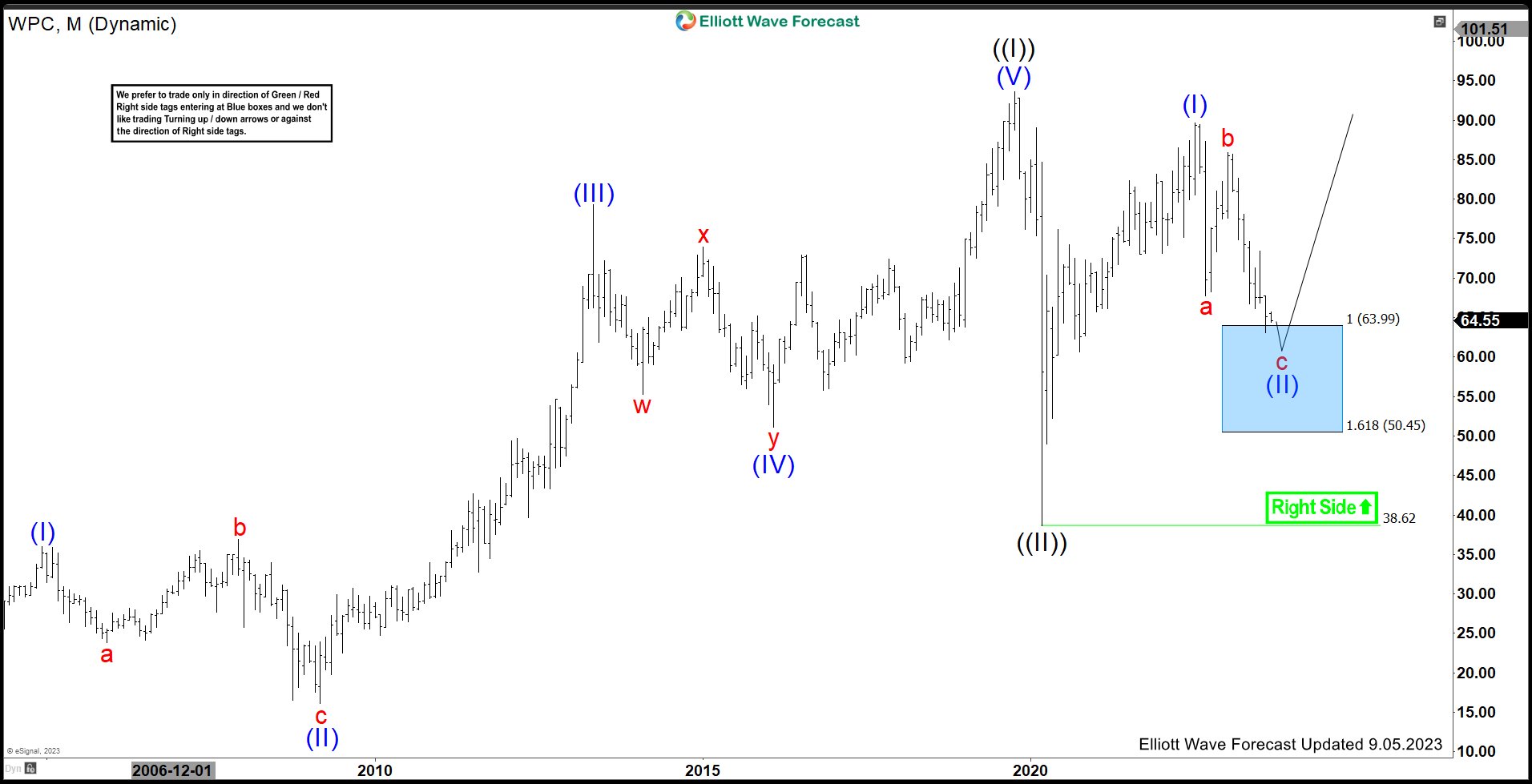 The Monthly chart above shows the Grand super cycle from Jan 1998 low unfolded in a 5 wave impulsive structure suggesting a bullish sequence. The rally peaked on Oct 2019 and started the pullback to correct the entire cycle. The pullback ended at ((II)) on March 2020 and started a new cycle higher.
The cycle from March 2020 also unfolded in a 5 wave impulsive structure suggesting another bullish sequence. The rally peaked on July 2022 and started a pullback to correct it. The pullback also unfolded in a corrective structure (abc) and has entered our Blue Box area (63.99 – 50.45) where buyers are expected to appear soon. As long as price remains above the invalidation level at $50.45, $WPC is expected to rally soon. Remember, corrections run in 3, 7 or 11 swings, so risk management should be exercised. The market could bounce and end up doing 7 swings lower before higher so we like to book partial profits and get risk free once the bounce takes place from the blue box.
$WPC Elliott Wave Video Analysis
We cover 78 instruments, but not every chart is a trading recommendation. We present Official Trading Recommendations in the Live Trading Room. If not a member yet,  Sign Up for Free 14 days Trial now and get access to new trading opportunities.
Welcome to Elliott Wave Forecast!
Back