Speculation on ECB Fresh Bond Buying Put Pressure to Euro Dollars
ECB President Mario Draghi gave a hint last month that the central bank will need to add monetary stimulus if the economic outlook doesn't improve. The Euro Zone economy has been in a slump for more than 1 year as global trade tensions and political uncertainties impede the business confidence. Moreover, inflation is consistently below the 2% target. The Executive Board member Benoit Coecure also said on Monday that loose policy is needed now more than ever. Both interest rate cuts and quantitative easing are on the table. He further stated that they could hypothetically restart net asset purchases again if circumstances make it necessary.
The recent remark by ECB policy makers has developed speculation by market participants that the quantitative easing tool will soon make a comeback. Most participants have already factored in a rate cut by September. However, there is still a mixed view on whether ECB will do more QE. Some financial institutions believe ECB can relaunch bond purchase as soon as September. Others believe ECB can announce the intention soon, but start buying by early next year.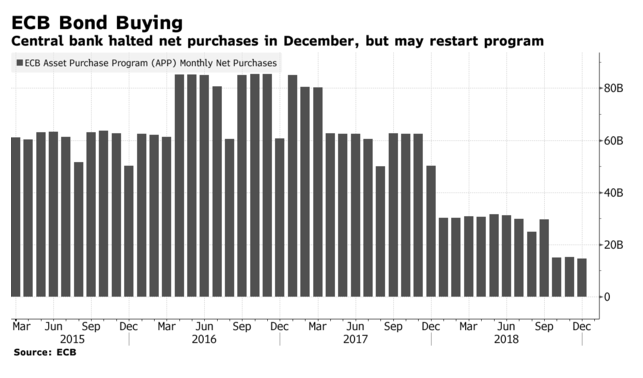 The nomination of  International Monetary Fund (IMF) chief Christine Laggard as the successor of Mario Draghi increases the odd of bond purchases. Ms. Laggard has in the past publicly supported the bond purchases as a policy tool. Thus, her nomination should enable a smooth transition from ECB's policy in case they decide to do more QE.
EURCAD Daily Chart Elliott Wave View
The EURCAD has broken below October 3, 2018 low (1.4761) and shows a lower low sequence from March 19, 2018 high, favoring further downside. The decline from March 19, 2018 high is unfolding as a double three Elliott Wave structure. Down from March 19, 2018 high (1.6153), wave W ended at 1.476 and wave X ended at 1.573. The pair has a 100% – 123.6% extension target towards 1.402 – 1.435 area to end the 7 swing WXY structure. Rally can continue to see sellers in the sequence of 3-7-11 swing as far as pivot at 1.573 high stays intact.
EURCAD Daily Chart Elliott Wave Video
For more analysis and Elliott Wave charts for 78 instrument, new members can try our service 14 days FREE here –> 14 days FREE Trial.
Back