Nifty Trade Video Clip from Tuesday 16 Jan 2018 Live Trading Room
We told members early this week that Nifty is showing a nice structure to trade. The Index has a bullish sequence from Sept 2017 low which favors more upside. In addition, the Index also shows what looks to be a 5 waves up and Index is correcting the 5 waves rally within wave B that is expected to end at the blue box as the 1 hour chart below shows.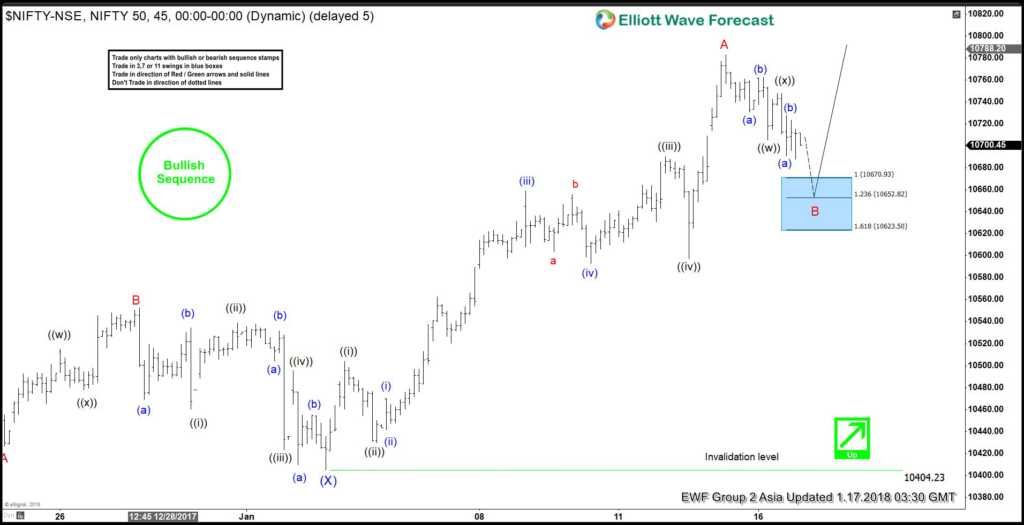 In the Live Trading Room, we proposed a trade to buy wave B dips at 10672 for a 100% target from Sept 2017 low at 10869. Below is the entry in our trading journal that we provided to members during the Live Trading Room
Below is the video clip summary of our recommendation to members
We reached our target profit at 10869 on Thursday 18 Jan. Since the trade has initial risk to reward of 2.6, with a 2% risk in the trade, we got 5.2% profit for this trade.
We hold Live Trading Room for Group 1 daily at 6 AM EST / 11 AM GMT. Live Trading Room Group 2 starts at 5 AM EST / 1 0 AM GMT. Join us everyday to get trading idea and learn how to execute trades using our technique of 3, 7, and 11 swing. Take the 14 days TRIAL without any commitment to check our work. You will get access to Live Trading Room, Elliott wave charts for 52 instrument, live sessions, 24 hour chat room, and more today.
Back