EURCAD Trade Video Clip from 9 Jan 2018 Live Trading Room
EURCAD shows a bullish sequence in 4 hour chart, thus we were looking for opportunities to buy in 3-7-11 swing for at least a 3 waves bounce. On 9 Jan, we got our chance to buy dips in 7 swing at the green box. We bought it at 1.4845 in Live Trading Room. Our target is 1.54 which was reached on 25 January. Below is the 4 hour chart where we bought the pair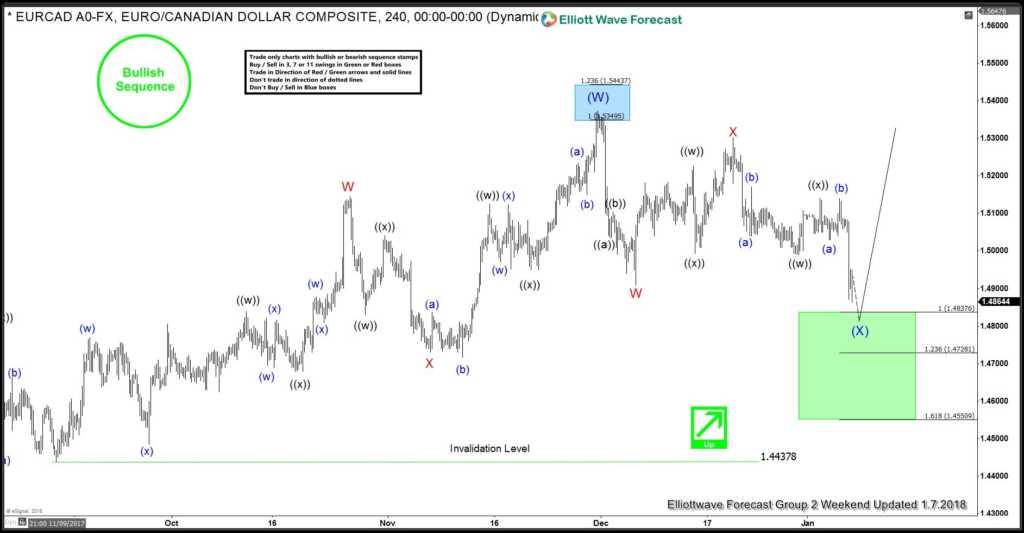 Below is our trade setup presented in trading journal:
The trade has 1.8 Risk to Reward Ratio. Upon hitting the target, we have 555 pips profit, but in terms of percentage, members profit 1.8% to 3.6%, depending on the risk taken (we recommend between 1% to 2% risk / trade).
In Live Trading Room, we emphasize risk management & risk control. We also use a trading technique to allow us create risk free position as soon as possible when pair moves in our favor. For more trading ideas and to learn how to trade the right way and the right side, join us in Live Trading Room everyday. Live Trading Room Group 1 starts at 6 AM EST / 11 AM GMT. Live Trading Room Group 2 starts at 5 AM EST / 1 0 AM GMT. Take the 14 days TRIAL without any commitment to check our service. You will get access to Live Trading Room, Elliott wave charts in 4 time frames, live sessions, 24 hour chat room, and much more.
Back