Oil (CL_F) is showing a bullish sequence in the daily time frame from 2/12/2016 low, favoring further upside. We like to buy the pullbacks in two areas. Watch the video, chart and commentary below:
Oil Video
Oil Chart and Commentary
While Oil stays below 54.1, but more importantly as far as pivot at 55.24 stays intact, it is expected to turn lower to correct the cycle from 8/3 low (39.19) as a double three structure. A double three is a 7 swing corrective structure labelled as WXY. Below is the 4 hour chart of CL_F
Cycle from 8/3 low (39.19) ended with Intermediate wave (W) at 55.24. From there, Oil is pulling back in Intermediate wave (X) in 3, 7, or 11 swing to correct cycle from 8/3 low before Oil resumes the rally higher. Internal of Intermediate wave (X) is unfolding in a WXY double three structure where wave Minor wave W ended at 50.71 and minor wave X ended at 54.1. While Oil stays below 54.1, it has scope to turn lower initially towards 51 – 51.96 area to complete Minute wave ((w)), then it should bounce in Minute wave ((x)) to correct cycle from 1/27 peak (54.1) before turning lower again towards as low as 48.47 – 49.54 area. We prefer buying the pullback from two areas: 51.51.96 area as the first area, and 48.47 – 49.54 as the second area (if it can be reached).
If you are interested to learn more about our service, we invite you to take our 14 days risk free trial here –> 14 Day Trial  With the risk free trial, you can get access to our service without commitment, including: Professional-grade Elliott Wave forecast for 52 instrument in 4 time frames, Live Trading Room, Live Sessions, 24 hour chat room, and much more!
Elliott Wave Cycle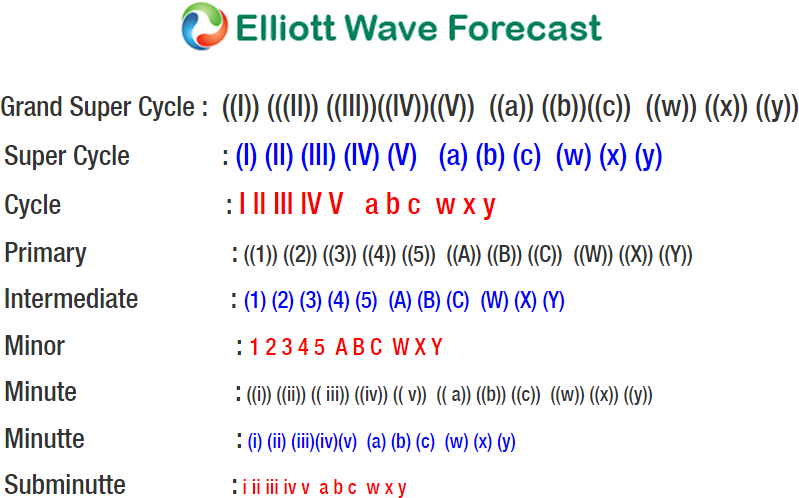 Back