This is Elliott Wave analysis video on SPX and DJUSRE (Dow Jones Real Estate Index) in which we are going to take a look if SPX can reach the 3189 area to the upside before ending the all time cycle. In order to answer it, we will look for a clue in the market by analyzing DJUSRE. The DJUSRE (Dow Jones Real Estate Index) is following similar cycles with the world indices, but correlating DJUSRE with SPX and other world indices, DJUSRE is lagging and hasn't broken the 2007 peak yet. If the Real Estate Index manages to break above 2007 peak, it will show incomplete bullish sequence and can eventually see 454- 541 area to the upside. That area in DJUSRE then can allow SPX to see the 3189 area next before ending the cycle from 2009 lows and index should correct the all time cycle.
SPX Upside Target Area Video
DJUSRE Long Term Elliott Wave View
SPX Long Term Elliott Wave Chart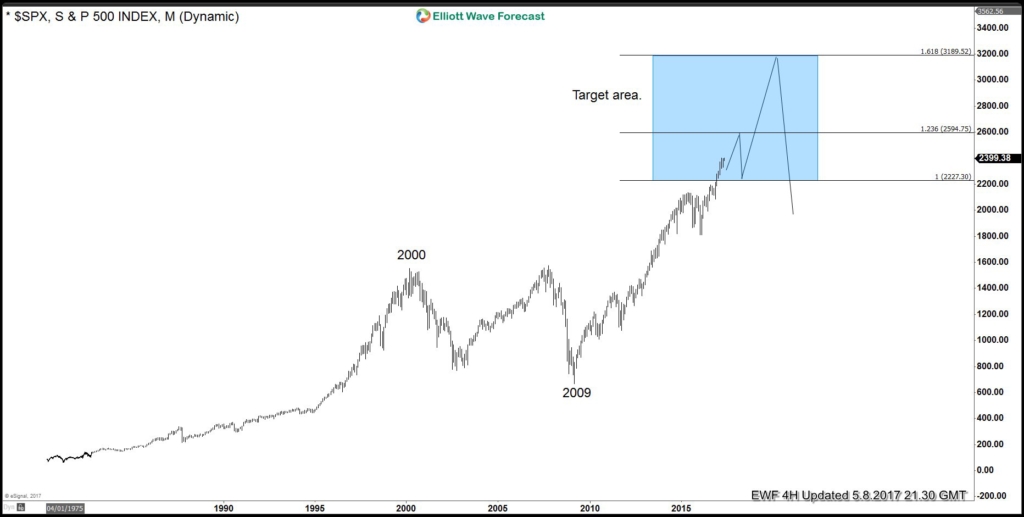 This the link of our public seminar on 8/28/2017 in which we discussed S&P and the state of World Indices at this time. We explained "The Big long (Grand Super cycle)", how this can affect the rest of the market and how we would like to still only favor the long side of the market.
If you are interested in further structures and sequences and you want to learn more about Elliott Wave Theory and our trading technique of 3, 7 or 11 swings, check out our Educational classes and sign up for a Free 14 day Trial.  At Elliott Wave Forecast, we cover 78 instruments in different asset classes from forex, commodities, indices and stocks. We provide Elliott wave forecast in 4 different time frames, Live Trading Room, 24 hour chat room, live sessions, and much more.
Back