Dow Futures ticker symbol: YM_F short-term Elliott wave view suggests that the rally from 6/28/2018 low cycle to 25572 high on 7/27/2018 peak ended Minor wave 1. The internals of that rally higher took place as an impulse structure with sub-division of 5 waves structure in each leg higher. Down from there, the index corrected the 6/28/2018 cycle in 3 swings pullback & ended Minor wave 2 at 25086 low.
The internals of that pullback unfolded as Elliott wave Zigzag correction with the sub-division of 5-3-5 structure in Minute wave ((a)), ((b)), ((c)). Down from 7/27 peak, the decline to 25264 low ended Minute wave ((a)) in 5 waves structure. From there, the rally to 25486 high ended Minute wave ((b)) and the subsequent move lower to 25086 low ended Minute wave ((c)) of 2 in 5 waves structure. Minor wave 2 ended within the 25174 – 25100 area, which is 100%-123.6% Fibonacci extension of ((a))-((b)), as indicated by the blue box.
Up from 25086, the index is reacting higher in 3 swings so far and longs from blue box area should be risk-free (stop loss at break even) already. The right side tag, combined with the blue box, help to identify the right trading strategy. Near-term, as far as dips remain above 25086 low, the right side of the market remains to the upside. Expect the Index to resume the next extension higher in Minor wave 3, but a break above 25572 high remains to be seen for final confirmation and to avoid double correction lower in Minor wave 2 pullback. We don't like selling it.
YM_F 1 Hour Elliott Wave Chart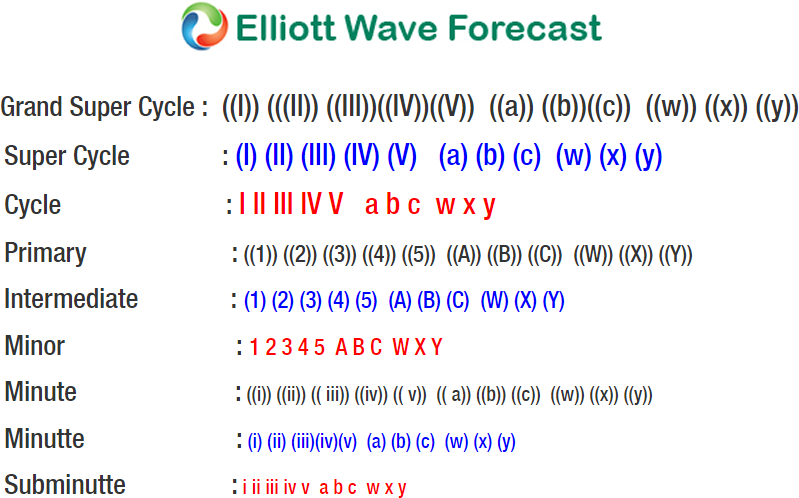 Back