BJRI

The California chain BJ's Restaurants was founded in 1978 and went public in 1996 by raising $9.4 million . In 2010 , the National Retail Federation named it as one of the 10 fastest growing restaurants in the U.S. based on year-over-year sales as it keeps expanding by adding new locations and offering new services.
Technical analysis of BJRI is showing that the stock is still in a corrective mod since making the 2011 peak $56.64 , it already bounced from 50%-61.8% Fibonacci retracement area of the all time rally from 1997 lows but it failed to break to new highs opening the possibility for a double three correction toward $23.8 – $22.1 area before resuming higher.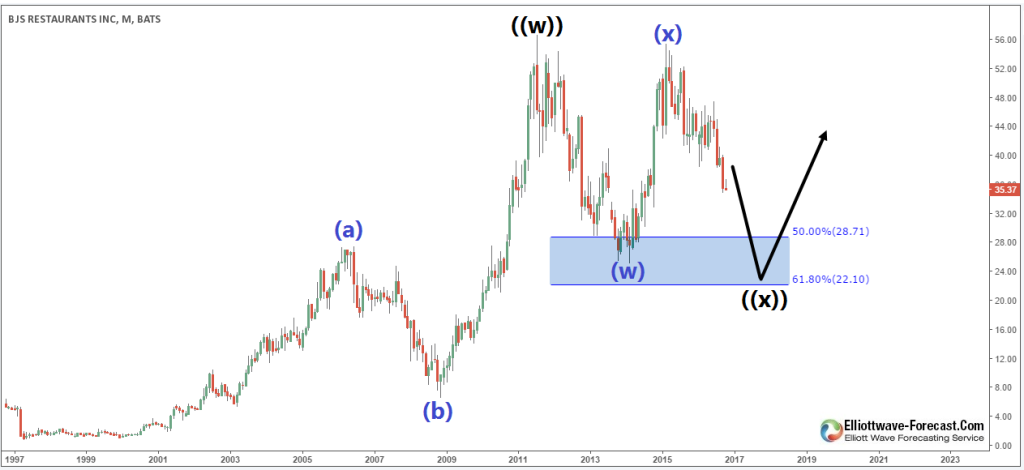 Moving to the weekly chart , BJRI is showing 5 swings bearish sequence from  2015 peak $55.44 so after doing a 6th swing pullback the stock is expected to continue lower toward $30 – $26 area retesting 2014 lows before bouncing higher . It doesn't need to break the lows to end the corrective cycle but if it does then it will be reaching equal legs from 2011 peak at $23.8 so either ways it will end up resuming to new highs or bouncing in 3 waves at least .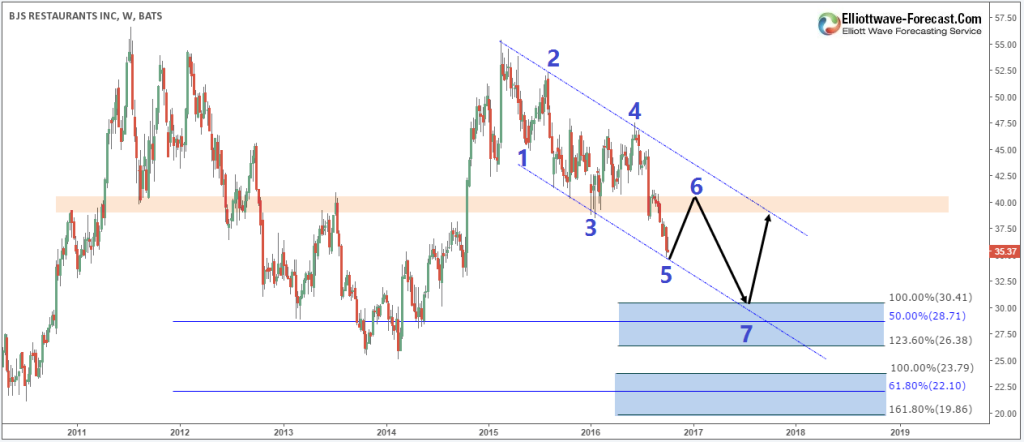 To make a conclusion , if you are trading the stock market in both direction you may want to look for short opportunities in BJRI in the 6th swing pullback for a move lower but if you are the investor type who just buys then holds for years you need to wait for the stock price to reach the blue box area $30.4 – $19.9 in 7 or 11 swings before you can look for buying opportunities .

For further information on how to find levels to trade forex, indices, and stocks using Elliott Wave and the 3 , 7 or 11 swings technique,  try us free for 14 days. You will get access to Professional Elliott Wave analysis in 4 different time frames, Daily Elliott Wave Setup Videos , Live Trading Room and 2 live Analysis Session done by our Expert Analysts every day, 24 hour chat room support, market overview, weekly technical videos and much more so if you are not a member yet, use this opportunity and sign up to get your free trial . If you enjoyed this article, feel free to read other diversified articles at our Technical Blogs and also check Chart of The Day .
Back