More coverage on the theme of Precious Metals market series that I am doing right now.  I am looking for Jr. producers that offer lucrative setups and are technically clean from the March cycle low.  StrikePoint has a fairly clean chart, but is in deep penny stock territory.  Rallying from a low of 0.01 cents to a high of 0.21 into the September Peak represents a very nice 2100% gain.  StrikePoint is an exploration company, and thus, represents extreme risk.  But the chart has followed the precious metals sector very closely off the March low, so there is no reason to believe it will be any different on another swing higher in Gold and Silver.
We are going to take a look at chart since the all time low set in March 2020.  This is an OTC ticker, the Canadian Symbol SKP.CA and they are listed on the TSX Venture exchange in Canada.  The Canadian chart will have different pricing, but the structure will be the same.
StrikePoint Elliottwave View: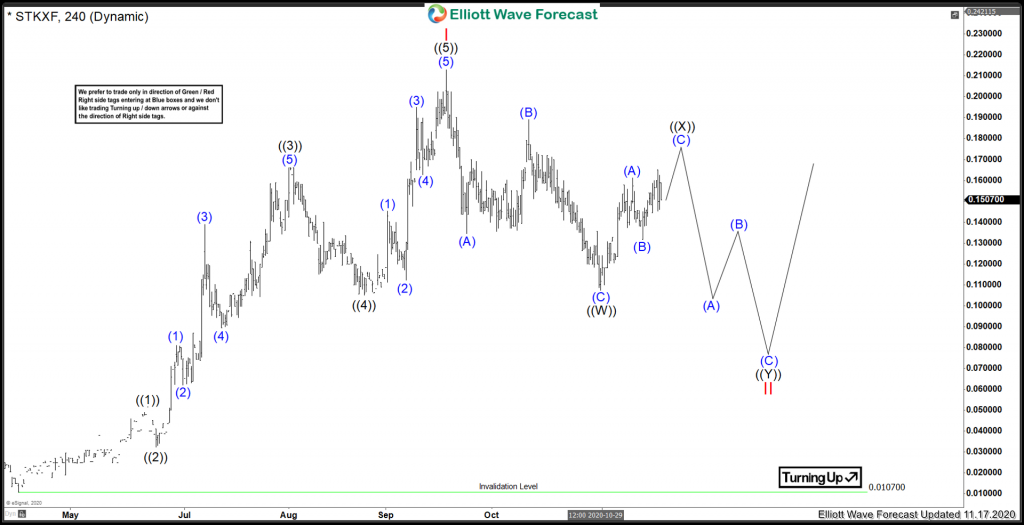 Since the March 2020 lows, the count is showing a clear impulsive structure into the September Peak.  Red I is favoured to have set at 0.21 on September 18. It is possible that this correction has completed at the ((W)) low.  However, our current expectation with gold and silver, is that there is still more downside possible.  With this in mind, I am looking for lower prices still on this stock.  There is no extreme area to measure since the connector ((X)) is not yet complete.  the 0.618 retrace for the rally from March low, to September peak, comes in at around 0.08.  So that may the area where a low may occur.  We do not like to trade the middle of a trend, but like to trade extreme areas.
This stock seems to be tracking Silver, more than Gold.  It really started to outperform when Silver broke out above $19.  Presently, the chart is still favouring one more swing lower in a double correction. As this is a penny stock, it is important to use proper risk management.  The technicals on this chart are fairly clean, and I favour the price structure to track silver closely until silver sets a low also.
Risk Management
Using proper risk management is absolutely essential when trading or investing in a volatile stocks.  Elliott Wave counts can evolve quickly, be sure to have your stops in and define your risk when trading.
Improve your trading success and master Elliott Wave like a pro with our free 14 day trial today.  Get free Elliott Wave Analysis on over 70 instruments including stocks like GOOGL, TSLA, AAPL, FB, MSFT and many many more.
Back