The Corona Virus has had its toll on the marketplace in general. But some select names have rallied sharply off the March 2020 lows, Square is one of those names.  Square has rallied from a low of 32.33 to a high of 133.81 recently.  Lets take a look at what the company does:
"Square, Inc. is an American financial services, merchant services aggregator, and mobile payment company based in San Francisco, California. The company markets software and hardware payments products and has expanded into small business services. The company was founded in 2009 by Jack Dorsey and Jim McKelvey and launched its first app and service in 2010. It has been traded as a public company on the New York Stock Exchange since November 2015 with the ticker symbol SQ.  Currently, More than 64 million businesses use this technology to facilitate credit card payments and track sales as of mid-2020."
Square is showing a beautiful count off the IPO low, lets take a look at the Elliott Waves on SQ.
Square Elliott Wave Weekly View: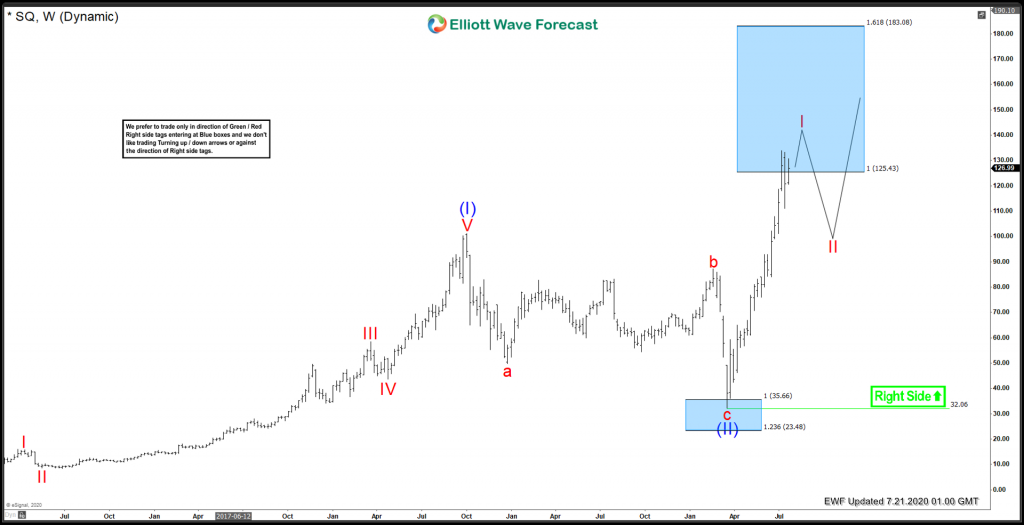 On a longer term view, Square shows a complete 5 waves sequence into the 2018 peak.  From the Blue (I) top in 2018, Square is favoured to have set an abc structure for Blue (II), which bottomed in March 2020 with the rest of the general market.  It has since gone to make new all time highs off that low which gives it a bullish sequence.  In the longer term view, a Red I high is favoured to materialize in the months ahead, before a deeper retrace for Red II.  Before that happens though, there is more upside favoured to take place to complete the cycle off the March 2020 low.  Currently, prices are within the blue box extreme on a weekly view, this is an area that buyers can take profits for a pullback in 3,7 or 11 swings.
Square 4H Elliott wave view: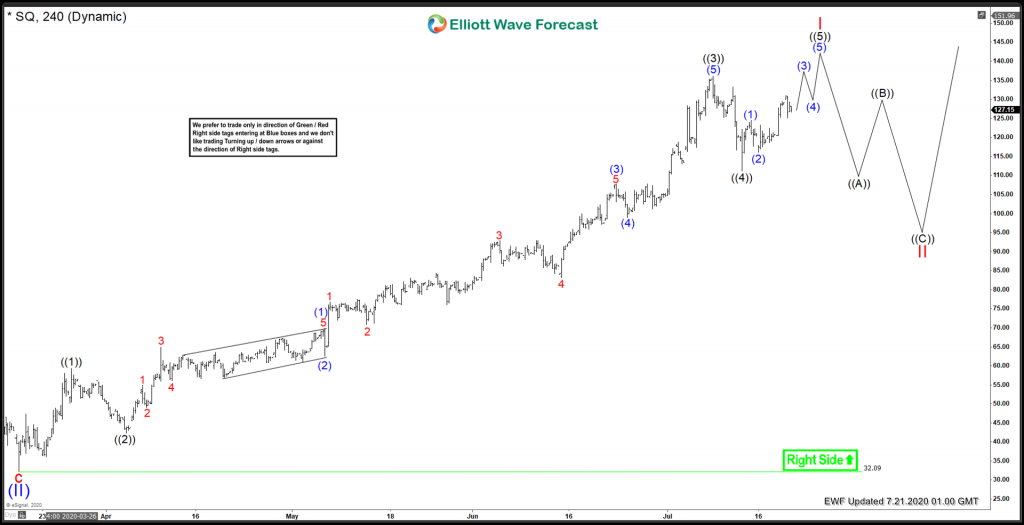 Medium term term view from 3/18/2020 lows of 32.33. Wave ((1)) is set at 59.25 on 3/26/2020 and wave ((2)) at 42.33 on 4/03/2020.  After that, an extended Black ((3)) took place, which is favoured topped on 7/09/2020 at 133.81.  After that, it is favoured that Square bottomed in Black ((4)) at 111.14 on 7/14/2020.  Presently, it is favored to extend higher in Black ((5)) of Red I before a larger correction can take place.  We do not favour to sell/short Equities, or high cap tech names, Square would be included in that category.
In conclusion, Square is favoured to advance higher in ((5)) of Red I.  It is getting late in the cycle from March 2020 low.  The risk is high to add new positions at this time, but further upside is expected nonetheless.
Risk Management
Using proper risk management is absolutely essential when trading or investing in a volatile stocks.  Elliott Wave counts can evolve quickly, be sure to have your stops in and define your risk when trading.
Improve your trading success and master Elliott Wave like a pro with our free 14 day trial today.
Back