NextEra Energy Inc. ticker symbol: $NEE is an electric power and energy infrastructure company. The company was founded in 1984 and is headquartered in Juno Beach, FL. It operates through the following segments: FPL and NEER. The FPL segment engages primarily in the generation, transmission, distribution, and sale of electric energy in Florida. The NEER segment produces electricity from clean and renewable sources, including wind and solar. It provides full energy and capacity requirements services, and engages in power and gas marketing and trading activities. It participates in natural gas production and pipeline infrastructure development and owns a retail electricity provider. We will look at the Elliott wave view for NEE below:
NextEra Energy Weekly Elliott Wave Chart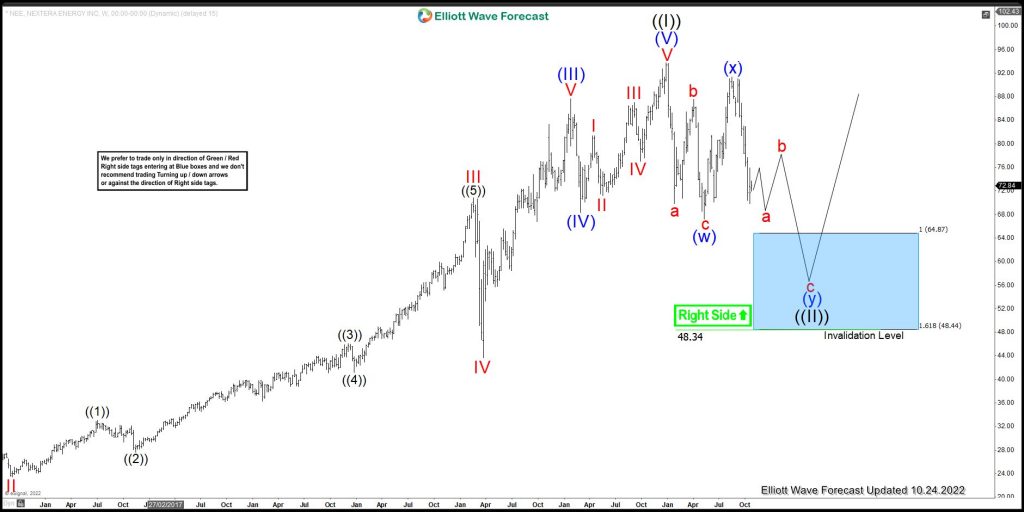 Above is the Weekly time frame Elliott wave chart of NextEra Energy. In which, the stock is correcting the cycle from all-time lows. So far the decline from the 31 December 2021 peak is unfolding as an Elliott wave double three structure where the first leg ended in the wave (w) at $67.22 low. Up from there, a bounce to $91.35 high ended wave (x) and started the (y) leg lower. Now, as far as it remains below $91.35 high expect the stock to extend lower towards the $64.87- $48.44 blue box area. From there, buyers are expected to appear looking for the next cycle higher or should do a big 3 wave bounce at least.
If you are looking for real-time analysis in stocks & ETFs then join us with a 14-Day Trial for the latest updates & price action in the market.
Success in trading requires proper risk and money management as well as an understanding of Elliott Wave theory, cycle analysis, and correlation. We have developed a very good trading strategy that defines the entry.
Stop loss and take profit levels with high accuracy and allow you to take a risk-free position, shortly after taking it by protecting your wallet. If you want to learn all about it and become a professional trader. Then join our service by taking a Trial.
Back