The Industrial Select Sector SPDR Fund  XLI tracks a market-cap-weighted index of industrial-sector stocks drawn from the S&P 500.
Industries in the Index include aerospace and defense, building products, construction and engineering, electrical equipment, commercial services and supplies, airlines, marine, etc. It provides investors with broad US industrial exposure that's cheap to hold and extremely easy to trade.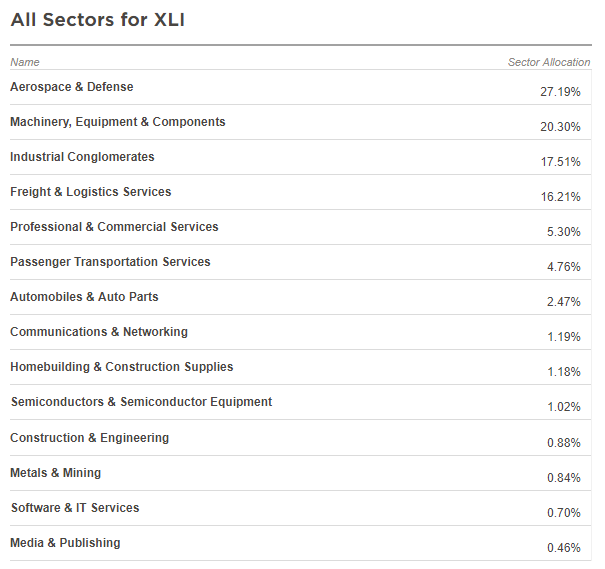 The fund selects from the S&P 500, limiting its small- and midcap exposure and producing a more concentrated portfolio. Boeing, GE, 3M, and Honeywell are among the largest components by market capitalization in this sector.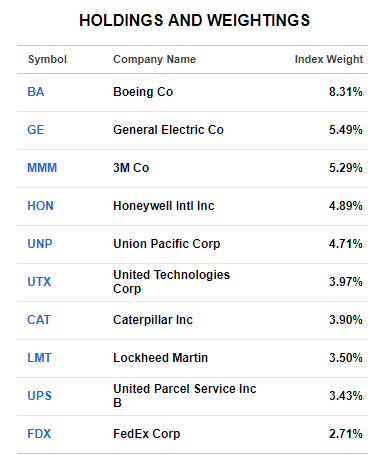 Trading stocks among the same sector can be tricky when each one is showing a different structure and can be giving opposite signals. However, Identifying the main cycle and sequences for the whole sector can help traders to remain on the right side.
Since 01/29 peak, XLI is doing a larger degree 3 swings correction to the downside ( blue count ) and the internals of the 3rd swing is only showing 5 swings lower ( red count ). This is different from the regular Elliott Wave labeling as we are only counting the swings.
For this case, we consider that XLI is showing an incomplete bearish sequence from both 01/29 and 02/27 peak. Therefore the Etfs is still missing a 6th swing bounce followed by a 7th swing lower to finish a double three corrective structure.
XLI Number of Swings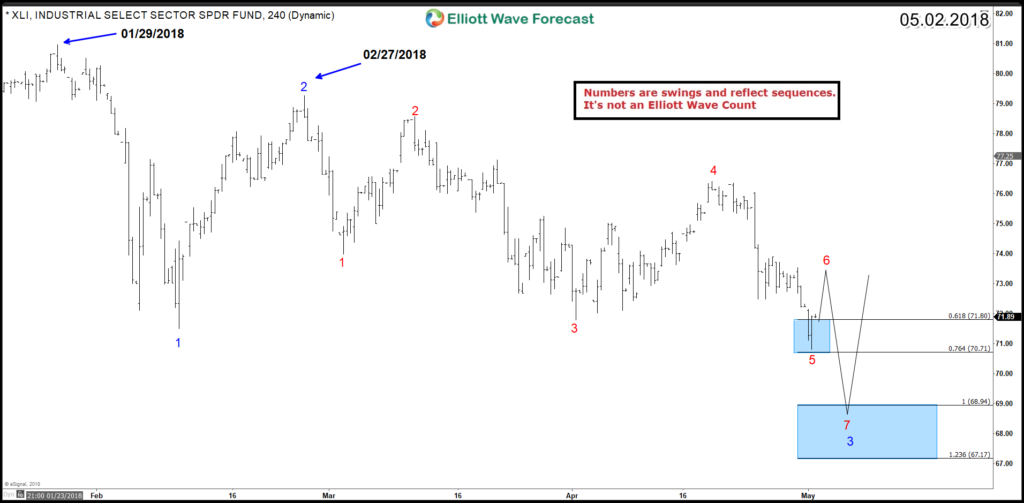 In  7 swings WXY double three structure, the instrument does 3 waves move, then it corrects in 3 waves followed with another 3 waves move to the same direction of the previous 3 waves. In total, it has 7 swings which can be seen in the 4H Chart of XLI as the stock has been declining since January in corrective structures.
Taking a look at the Technical Elliott Wave Structure of the move :
XLI Elliott Wave 4H Chart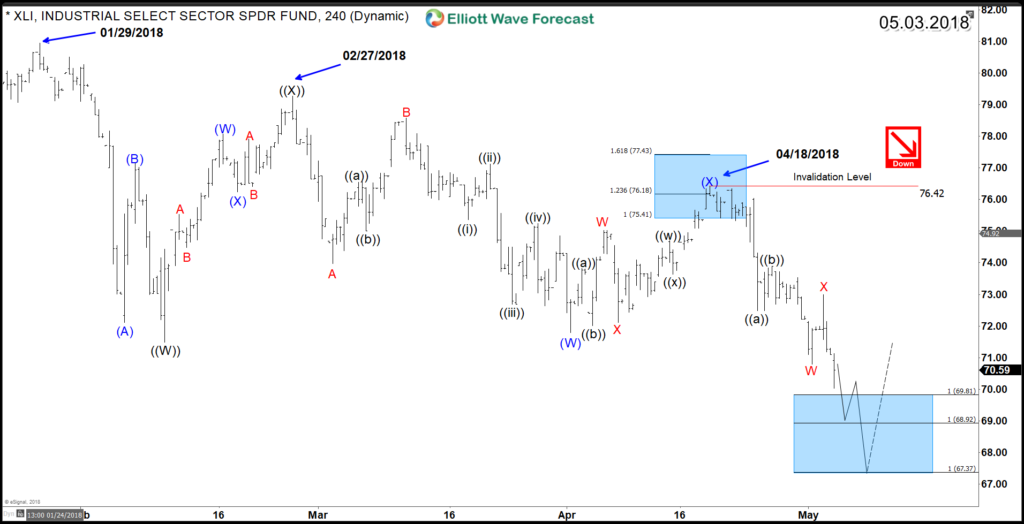 The main cycle for XLI started since 01/29/2018 and setting the first target of the ((W)) – ((X)) at 100% area $69.8. In addition to the incomplete sequence from 02/27 and 04/18 peaks, the Etf has more downside targets around $68.9 – $67.3 which puts more pressure on its relates stocks. Consequently, as long as the bounces remain below 04/18 peak ( $76.42 ) then the industrial sector is expected to remain heavy and trade lower until the end of that cycle.
---
Diversify your trading and get further structures & sequences about the Industrial sector by taking this opportunity to try our services 14 days to learn how to trade Stocks and ETFs using the 3, 7 or 11 swings sequence and our blue boxes. You will get access to our 78 instruments updated in 4 different time frames, Live Trading & Analysis Session done by our Expert Analysts every day, 24-hour chat room support and much more.
Back