Since the crash of March 2020, all stocks have tried to recover what they lost and Disney was no exception. Disney did not only recover the lost, but It also reached historic highs. Now, we are going to try to build an impulse from the March 2020 lows with a target around $230. Target measured from 0 to 2019's high projected from March's low, equal legs.
Disney Daily Chart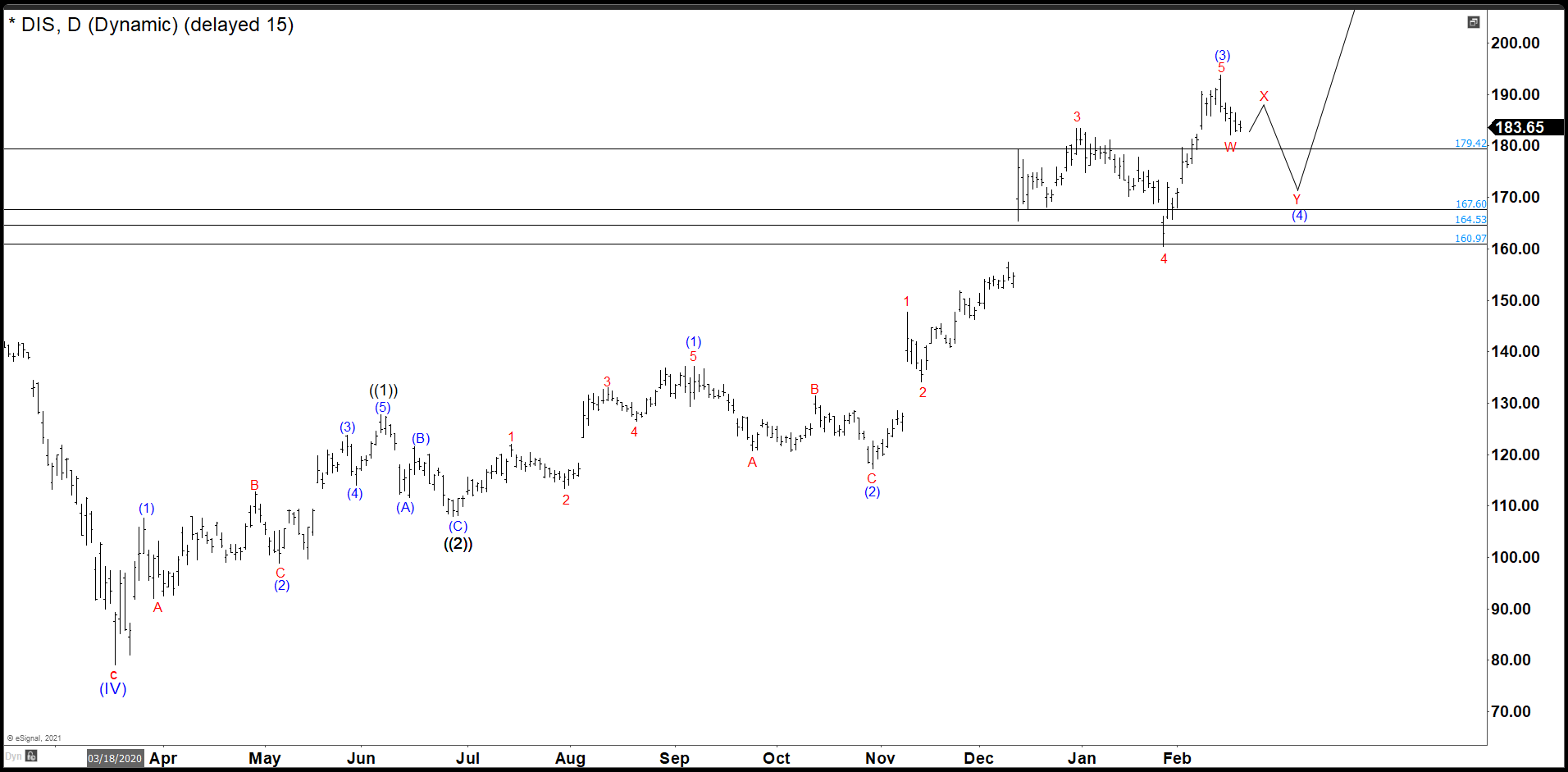 As we see in the daily chart, the waves ((1)) and ((2)) of the impulse have completed and currently we are building the wave ((3)). We hit our first target at 190.88. The target gave us a return of +18.58% from 160.97. We believe that 198.77 is the end of the wave (3) of ((3)) and wave (4) of ((3)) began to build. The area to watch to complete this wave (4) is between 180.93 – 164.53 where we must continue the rally to find out a new historical high and complete the wave (5) of ((3)).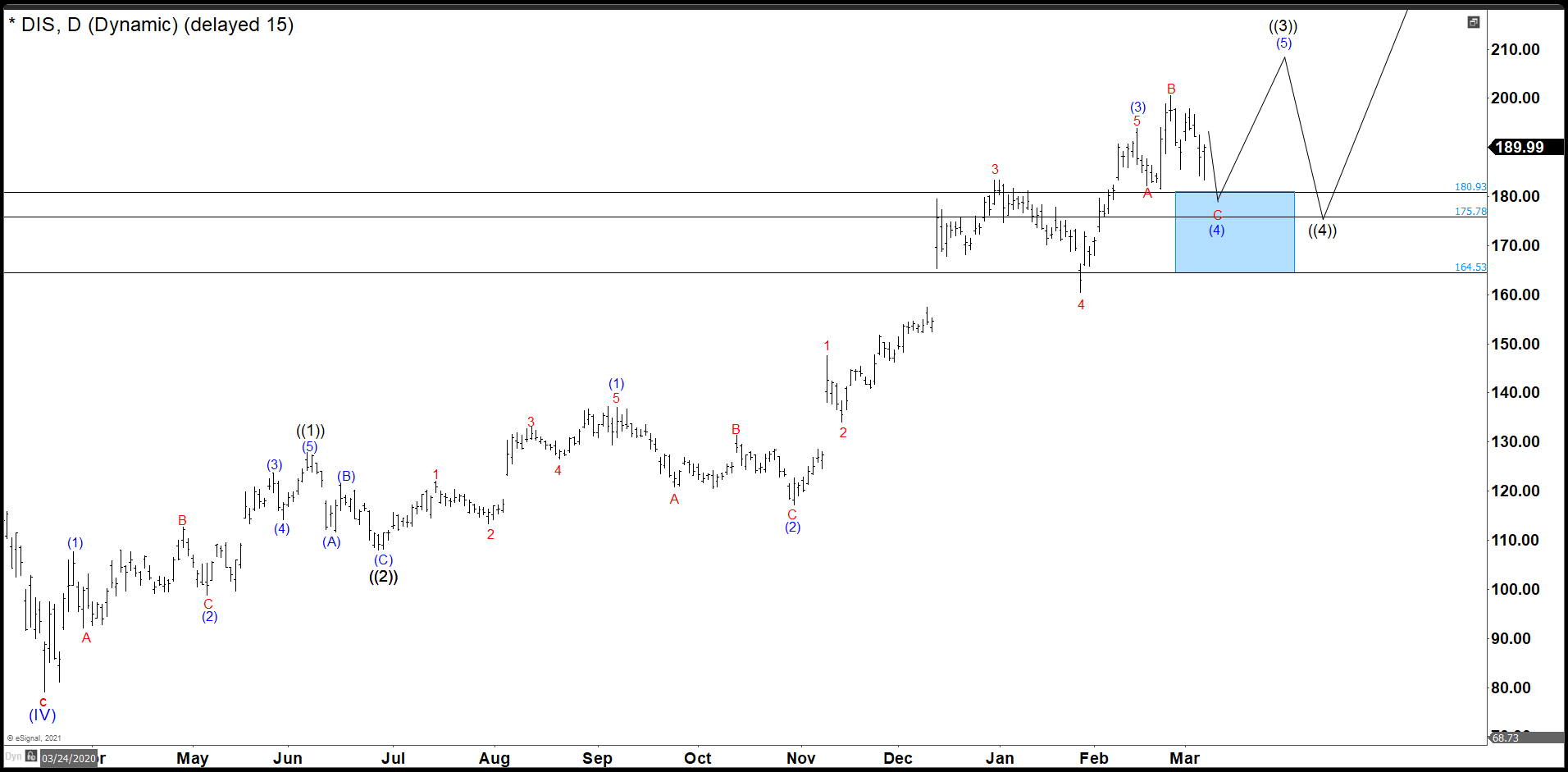 Last two week the share has been ranging. Disney continue with the pullback, but we change the count from WXY to ABC as irregular flat correction. (If you want to learn more about Elliott Wave Theory, please follow this link: Elliott Wave Theory). Wave B moved further than the peak of the wave (3), that is a characteristic of a irregular flat, then we should look for a 5 waves down as a impulse to complete the ABC correction and wave (4).
Disney 30 Min Chart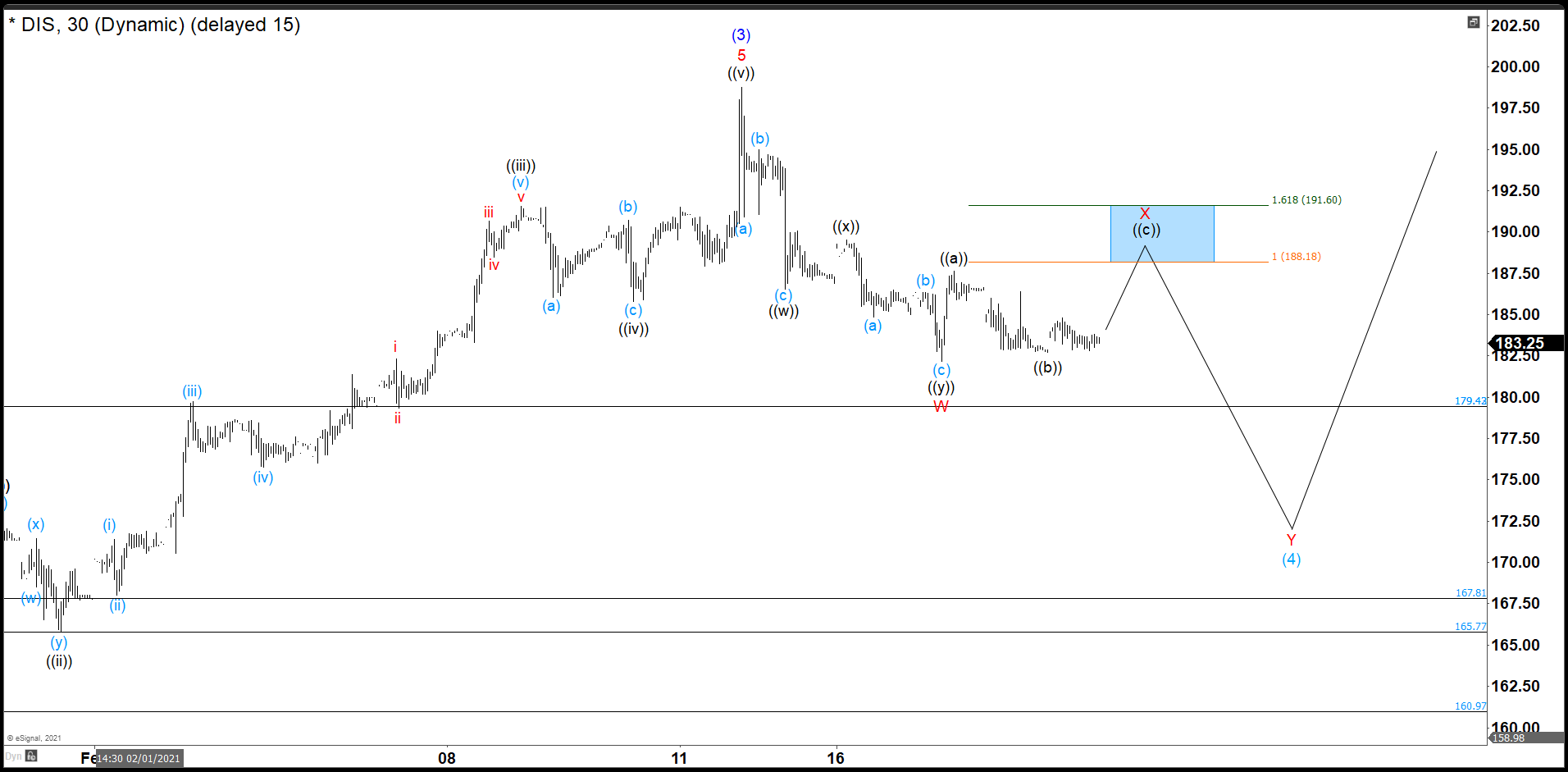 Wave W had ended and wave X had begun. The pullback of the wave ((b)) has been very depth and wave X could be a flat correction, so we expect a strong move higher to complete X in 188.18 – 191.60 area and then continue lower. If the market breaks the W low, the structure still could be an irregular flat for wave X and see the bounce that we are expecting.
Wave X was too strong than expected and we change the view to an ABC structure. That means if this is an irregular flat, we need to end the last wave C as an impulse or ending diagonal. The movement given last week suggest wave C is developing an ending diagonal, then we need 3 swings down as it is in the chart to complete the structure and also the end the wave (4) to continue the rally to look for wave (5) of ((3)).
In Elliottwave Forecast we update one-hour charts 4 times a day and 4-hour charts once a day for all our 78 instruments. Wn.ne do a daily live session where we guide our clients on the right side of the market. In addition, we have a chat room where our moderators will help you with any questions you have about what is happening in the market at the moment. Let's trial for 14 days totally free here: I want 14 days of free trial.
Back