CVR Energy Presentation & News
CVR Energy ( NYSE:CVI ) is a diversified holding company primarily engaged in the petroleum refining and nitrogen fertilizer manufacturing industries through its holdings in two limited partnerships, CVR Refining ( NYSE:CVRR ) and CVR Partners ( NYSE:UAN ).
The largest shareholder of CVR Energy is Carl Icahn, who, through Icahn Enterprises, owns 82% of shares and being named by the new elected President Donald Trump as his Special Adviser on Regulatory Reform . The activist investor Carl ,who is the 26th richest man on the planet according to Forbes, clearly fits the roll as Trump was looking for "people that made a fortune" and he's also a his business partner .
Wall Street is probably referring to this news as the reason for the +100% rise of CVR Energy since last month low because small-cap stocks, such as CVI, are popular for their explosive growth and sensitive to geopolitical changes . So the recent decision made by OPEC & other countries to cut OIL production for the first time in 8 years will have a big influence on the company's stock in the future .
Elliott Wave Technical Analysis
CVI saw a 83.3% decline since 2013 peak in which it corrected the rally from 2008 low in 3 big swings ( WXY ) that looks to have ended in 2nd November 2016 after it reached the equal legs area $12.08 . So if wave ((x)) is done then the stock is ready to resume its rally for new all time highs above $80 or at least do a 3 waves bounce toward the 50% – 61.8% Fibonacci area around ( $42 – $49 ) . This move is supported by the fact that the company partners stocks UAN & CVRR have enough number of swings to call cycles from 2012 & 2013 peaks completed and start bouncing higher .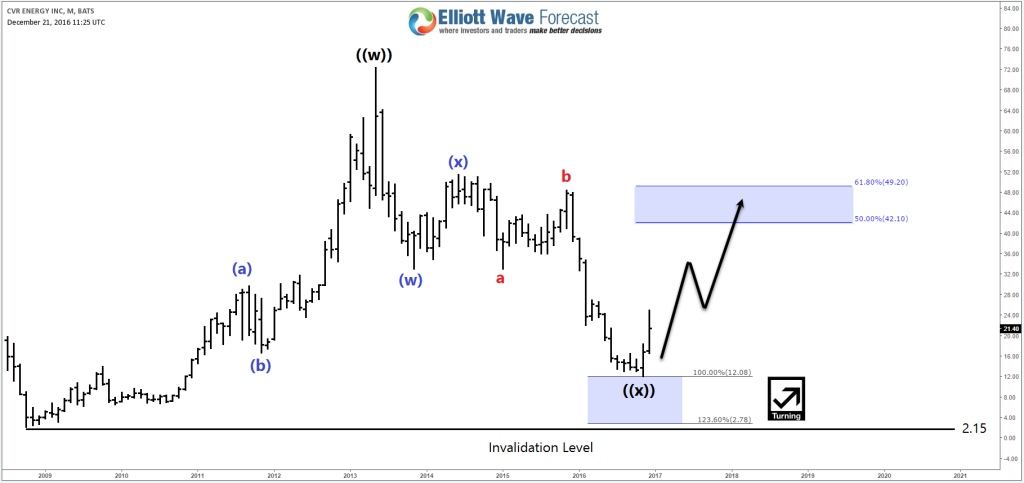 Looking closer at the shorter term cycles , CVI is proposed to be doing a 5 waves impulsive move from 11/02 low and currently still needs 1 more leg higher before it can end that cycle and start pulling back in 3 waves which can represent an opportunity to buy the stock later on next year. If CVI fails to break the previous peak then November cycle has already ended as 3 waves Zigzag move ( ABC ) and the stock will be looking to finish 7 swings lower as a double against $12.03 low before resuming higher.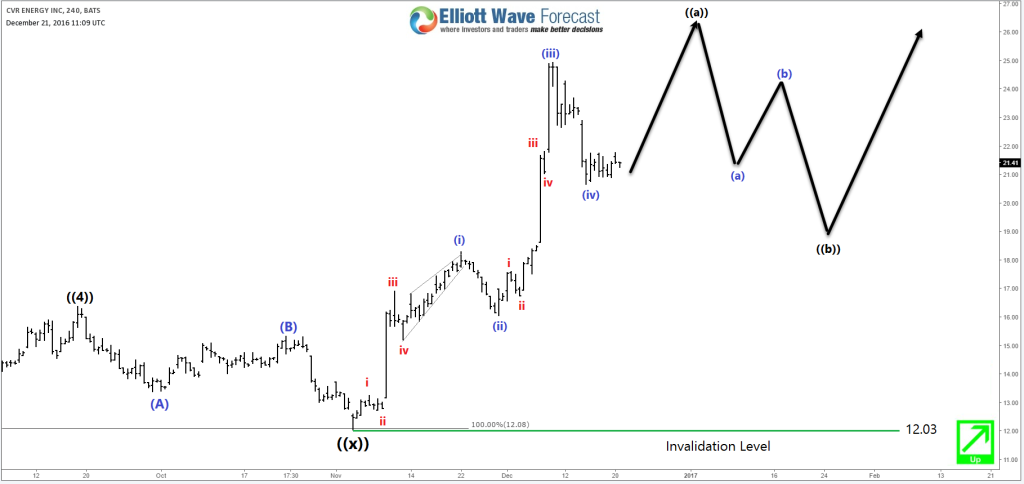 Recap
In the recent surge higher CVI clearly outperformed OIL & its related stocks like Exxon Mobile ( XOM ) and Chevron ( CVX ) which saw a double digit rise that didn't exceed +20% unlike CVI which saw +98% . This amazing performance will attract more investors to buy the stock so I recommend that you add it to your watch-list and wait for the next pullback to happen before you can look for an opportunity to join this bullish reversal .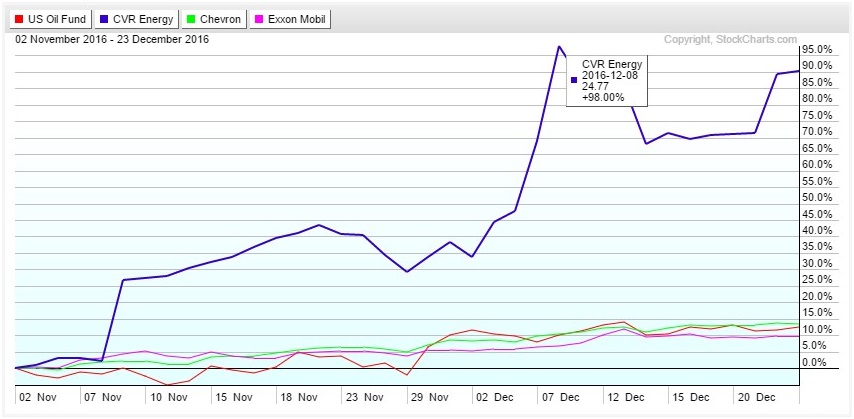 If you enjoyed this post, feel free to read other articles at our Technical Blog and also check our Chart of The Day . For further information on how to trade forex, indices, commodities and stocks using Elliott Wave technique ,  try us 14 days for FREE . You will get access to our Professional Elliott Wave analysis in 4 different time frames, Daily Elliott Wave Setup Videos , Live Trading Room and 2 Live Analysis Session done by our Expert Analysts every day, 24 hour chat room support, Weekly Technical videos and much more so if you are not a member yet, use this opportunity and sign up to get your FREE trial .
Back