CrowdStrike Holdings, Inc ticker symbol CRWD. provides cybersecurity products and services to stop breaches. It offers cloud-delivered protection across endpoints, cloud workloads, identity, and data. Threat intelligence, managed security services, IT operations management, threat hunting, Zero Trust identity protection, and log management. CrowdStrike serves customers worldwide. In this technical blog, we will be going to look at the Elliott wave analysis below:
 CRWD Weekly Elliott Wave View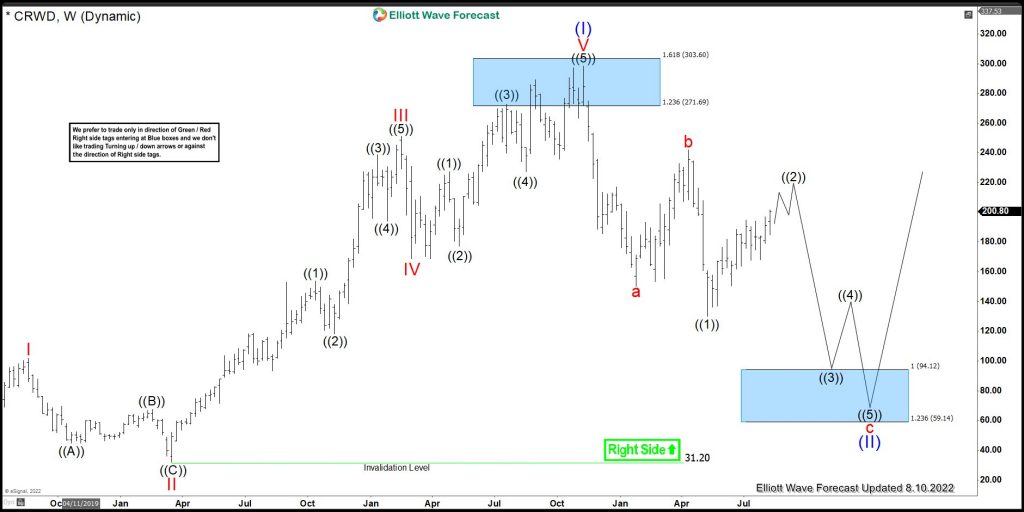 Above is the Weekly Elliott wave view from 8/10/2022. In which, the cycle from all-time low has ended in 5 waves impulse sequence & now doing a pullback. The pullback from the 11/10/2021 peak is unfolding as Elliott wave zigzag correction & shows a lower low sequence. While the initial decline to $150.02 low ended wave of a zigzag correction & made a bounce higher. Which then ended at $242 high. Down from there, the stock can be looking to extend lower towards $94.12- $59.14 area lower to reach the extreme before finding buyers again.
CRWD Daily Elliott Wave View

Above is the Daily Elliott wave view showing lesser degree oscillations taking place. Near-term, as far as it remains below the $242.02 high some more downside is expected to take place to complete the zigzag correction from November 2021 peak.
If you are looking for real-time analysis in stocks & ETFs then join us with a 14-Day Trial for the latest updates & price action.
Success in trading requires proper risk and money management as well as an understanding of Elliott Wave theory, cycle analysis, and correlation. We have developed a very good trading strategy that defines the entry.
Stop loss and take profit levels with high accuracy and allow you to take a risk-free position, shortly after taking it by protecting your wallet. If you want to learn all about it and become a professional trader. Then join our service by taking a Trial.
Back