Bitcoin miners and hardware makers have had a breathtaking January and February.  But is there more upside still to be had?
Today we'll be taking a look at Canaan Creative ($CAN).  They are a hardware manufacturer who makes Bitcoin mining equipment.  Lets take a look at the company profile:
"Canaan Creative, known simply as Canaan, is a China-based computer hardware manufacturer. Established in 2013 by N.G. Zhang, Canaan specializes in Blockchain servers and ASIC microprocessor solutions [3] for use in bitcoin mining. 
Initially, Canaan mainly developed FPGA products based on the SHA-256 algorithm. After that, it released Avalon Blockchain ASIC. In 2018, Canaan's 7nm chips, and K210 chips, which are based on RISC-V, achieved mass production."
As you can see on the chart below, there has been quite a large pullback from the recent peak.  Lets take a look at the Elliottwave View.
Canaan Elliottwave 4H View: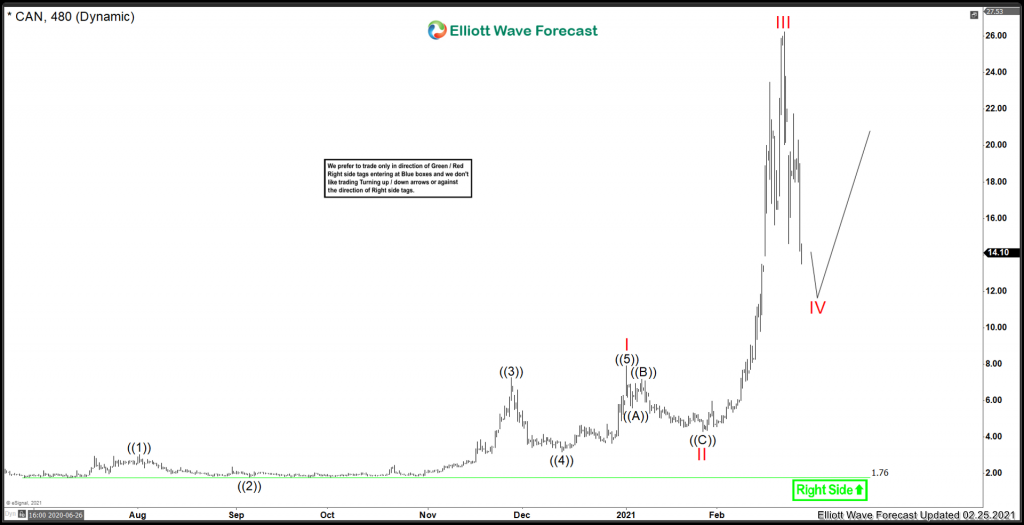 Medium term term view from the all time low in June 2020.  Canaan was fairly choppy leading into a Red I degree peak in early 2021.  From there, a pullback took place into the end of January in Red II.  After that low set, the stock exploded higher in the short span of 3-4 weeks moving from 4.30 to 26.23 peak.  since that peak it is favoured to be correcting in a 3 waves structure that needs a bit more downside to complete.  Currently, the RSI momentum is supporting the view that this is a wave IV correction, if momentum starts to pick up to the downside, it may be the case that this has peaked in a higher degree wave (I).
In Conclusion, with the data that is present, this stock is favouring further extension higher in at least one more high before correcting in a larger degree.  But at this point, it is important to observe good risk management as the 5th wave can take on many shapes and forms.
Risk Management
Using proper risk management is absolutely essential when trading or investing in a volatile stocks.  Elliott Wave counts can evolve quickly, be sure to have your stops in and define your risk when trading.
Improve your trading success and master Elliott Wave like a pro with our free 14 day trial today.  Get free Elliott Wave Analysis on over 70 instruments including GOOGL, TSLA, AAPL, FB, MSFT, GDX and many many more.
Back