Allegiant Air is an American low-cost airline that operates scheduled and charter flights owned by Allegiant Travel Company (NASDAQ: ALGT) . The Company offers low-cost passenger air travel to residents of small, under-served cities in the U.S. and last year is started flying to Newark Airport. On January, the airline announced 17 new routes that will begin service by end of May 2017, which further increases the company's growth potential for the new year . So let's take a look at the technical picture of its stock to see if is it supporting an increase in profits .
Allegiant Air Technical Elliott Wave View :
Last year, ALGT ended the downtrend cycle from 2015 peak which represented the 3rd wave c of a corrective Flat structure which means the stock has resumed a new cycle to the upside looking for new highs or it will be at least doing a bounce against all time highs. ALGT rallied 49% from August low before ending that cycle early this year and starting a 3 waves pullback in wave ((X)) which is reaching equal legs area at $153 – $147 where the stock should be finding buyers as long as pivot at $121 low is holding. The first target to the upside if it manage to make a move higher would be around $210 area then depending of the structure of the move we can define the next path .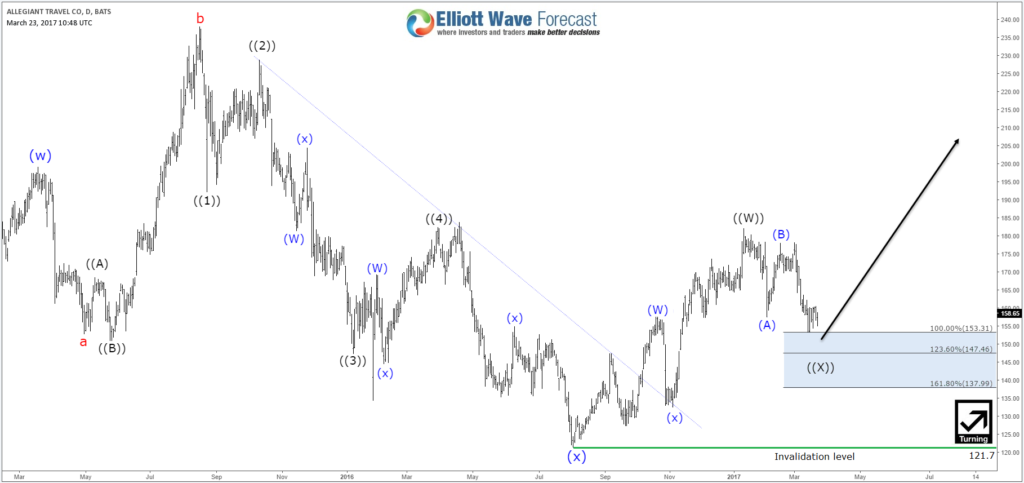 In the shorter term, ALGT still has the possibility to see another leg lower to end the 5th wave in wave (C) around $153-$147  area in case it's doing a flat in wave ((X)). However if it starts rallying from current level then wave ((X)) ended as a double three structure and the stock would have missed the equal legs area by few points.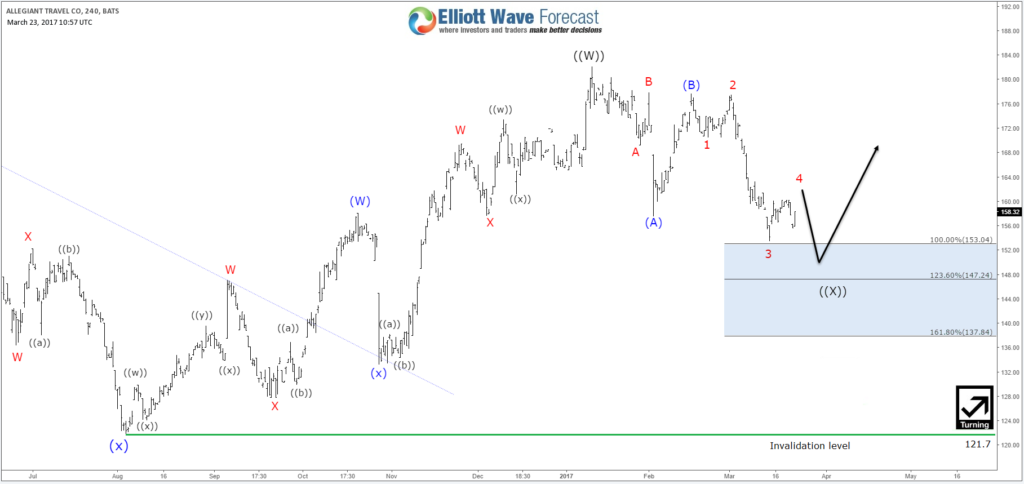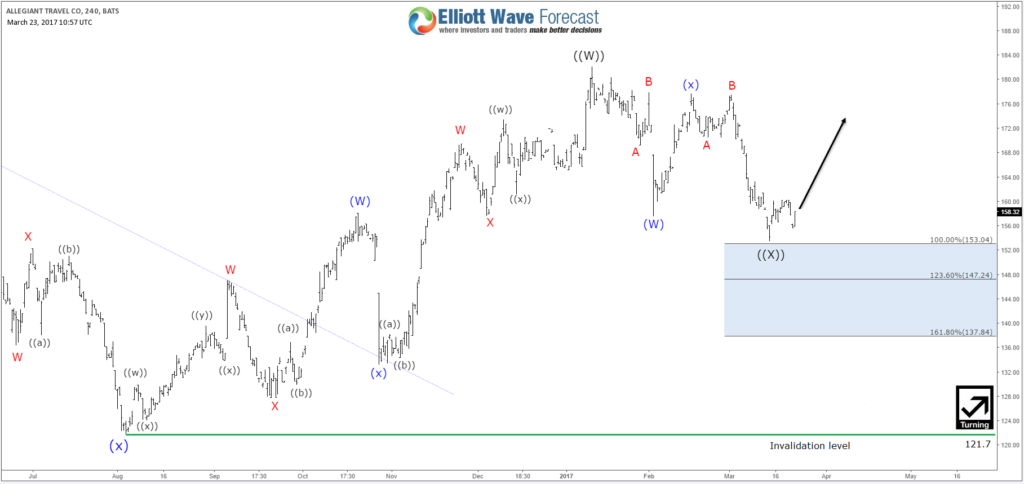 Both scenarios are supporting at least a 3 waves bounce in the near term and ALGT needs to break above January 2017 peak to open further extension to the upside, otherwise it can still make the double correction in wave ((x)) against the $121 low.
Recap:
The summer season is approaching and Allegiant Air seems to be ready for a busy schedule with its new routes. The technical view for the stock is pointing to a recovery with more gains to come in the coming months so the company may enjoy an amazing year with a phenomenal growth .
---
If you enjoyed this article, feel free to take a look at our Technical Blog and also check the Chart of The Day .
For further information on how to trade forex, indices, commodities and stocks using Elliott Wave technique ,  try us 14 days for FREE . You will get access to our Professional Elliott Wave analysis in 4 different time frames, Daily Elliott Wave Setup Videos , Live Trading Room and 2 Live Analysis Session done by our Expert Analysts every day, 24 hour chat room support, Weekly Technical videos and much more so if you are not a member yet, use this opportunity and sign up to get your FREE trial .
Back