Alibaba Group Holding Limited (NYSE: BABA) is a Chinese e-commerce company that provides sales services via web portals. It also provides electronic payment services, a shopping search engine and data-centric cloud computing services. Alibaba is one of the largest Internet companies as its online sales & profits surpassed all US retailers (including Walmart, Amazon and eBay) combined in 2015 and it now considered as the world's largest retailer surpassing Walmart.
Alibaba Shares recently managed to make new all time highs after breaking above 2014 peak $120 and investors are still looking for more gains to come. Let's jump into the Elliott Wave technical analysis to see how bullish is it ?
BABA Double Three Structure
Since 2015 low, BABA started trading in 3 waves move to the upside which currently is forming 5 swings sequence with divergence which we consider as an incomplete bullish sequence as part of a double three structure. So according to the swing structure , the stock is ending the 5th swing around equal legs area $120 – $125 from December 2016 low and it should then pullback in 3 waves against 86.01 low. The 6th swing pullback should ideally hold above the bullish channel to be able to resume the rally toward equal legs area $138 from September 2015.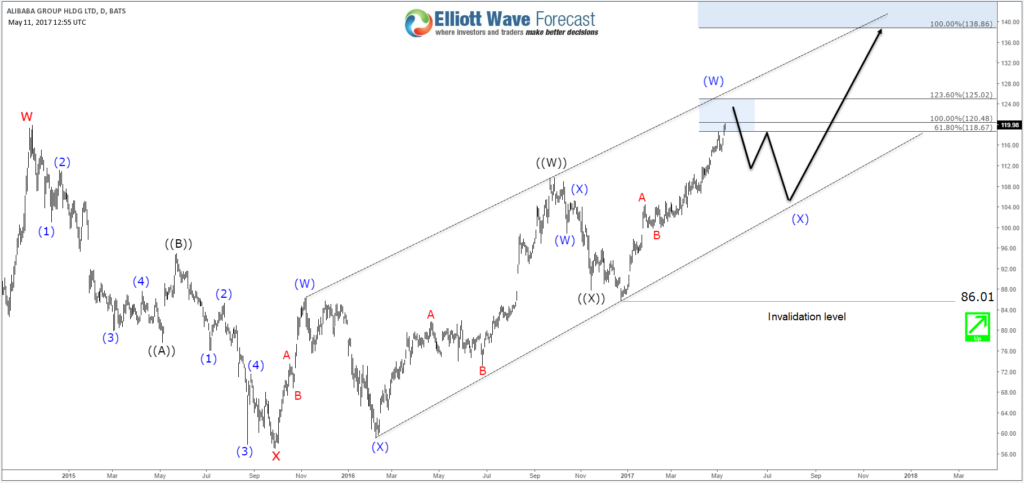 BABA Leading Diagonal Structure
The second scenario for BABA would be represented when the pivot at $86.01 low gives up later on, which will mean the stock has ended the cycle from from September 2015 low and in that case it can be counted as a leading diagonal because it has 5 corrective waves holding the divergence. Consequently , the correction can extend toward $90 area and take longer time before the stock resume the move to the upside.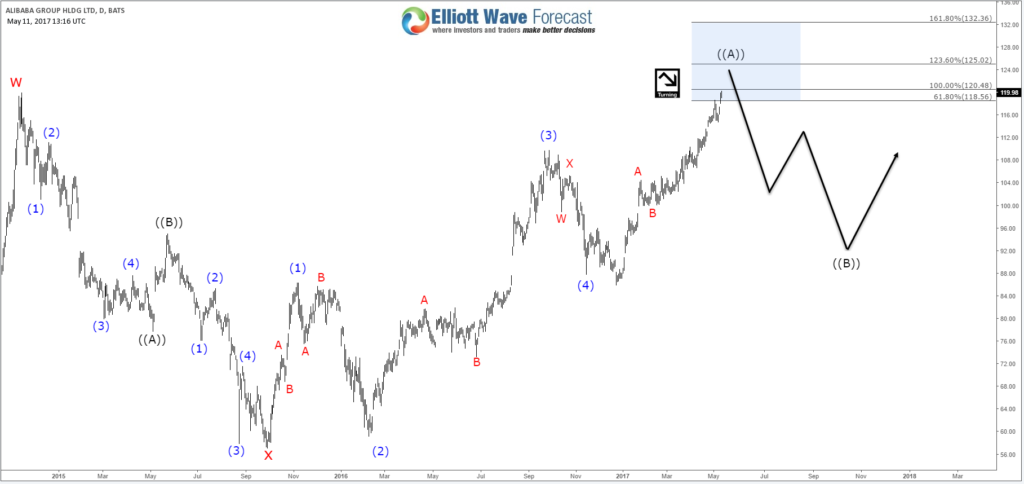 Recap:
Alibaba Shares ( BABA ) has a daily bullish structure suggesting more upside in the future. However currently the stock has reached the extreme area $120 – $125 from December 2016 low so no matter which scenario will play out there will be a 3 waves pullback before buyers starts showing up again. Depending on the speed & structure of the correction we'll know exactly which cycle has ended and where & when will be the ideal area to look for buying opportunities.
---
For further information on how to trade forex, indices, commodities and stocks using Elliott Wave theory , take this opportunity and Try our services 14 days for FREE . You will get access to our 52 instruments updated in 4 different time frames, Live Trading Room and 2 Live Analysis Session done by our Expert Analysts every day, 24 hour chat room support and much more.
Back