Walmart (NYSE: WMT) is the world's largest company by revenue as well as the largest private employer in the world with 2.3 million employees. It's an American multinational retailing corporation that operates as a chain of hypermarkets, discount department stores, and grocery stores. Despite being the biggest physical retailer in the world, Wal-Mart is still trailing back in e-commerce business as there is increased competition from online retailers in particular Amazon (NASDAQ: AMZN) which continues to gain market share as the world is merging to online shopping.
Warren Buffet reduced his shares in Wal-Mart, which he held since 2005, by roughly 90% last quarter. He indicated that the retail sector now looks too challenging and  fewer people are choosing to go to physical stores, so Walmart's competitive advantages in scale & distribution may not be as valuable as they once were.
Walmart's stock is only up +9% this year compared to Amazon +19% rally which already made new all time high while WMT is still far from breaking its 2015 peak. However , last week it managed to break above 2016 peak so let's the consequence for this technical move as the giant corporation already acquired a number of e-commerce companies, which means it's looking seriously to move into the online retail world and investors seems to be liking the new changes.
Walmart Elliott Wave View:
Walmart stock dropped 37% from 01/13/2015 peak at $90.8 before finding ground later that year. So from 2015 low, WMT could either has started a new cycle to the upside as the weekly trend remain bullish or the stock is only bouncing to correct that cycle before doing the double three correction from $90.8. Either way, the recent break above 2016 peak opened a new short term extension to the upside as WMT is now showing 5 swing bullish sequence from November 2015 low. So unless the move truncates or it's a part of an irregular correction, then the stock has a new target that can take it toward $84 area before a larger pullback is seen.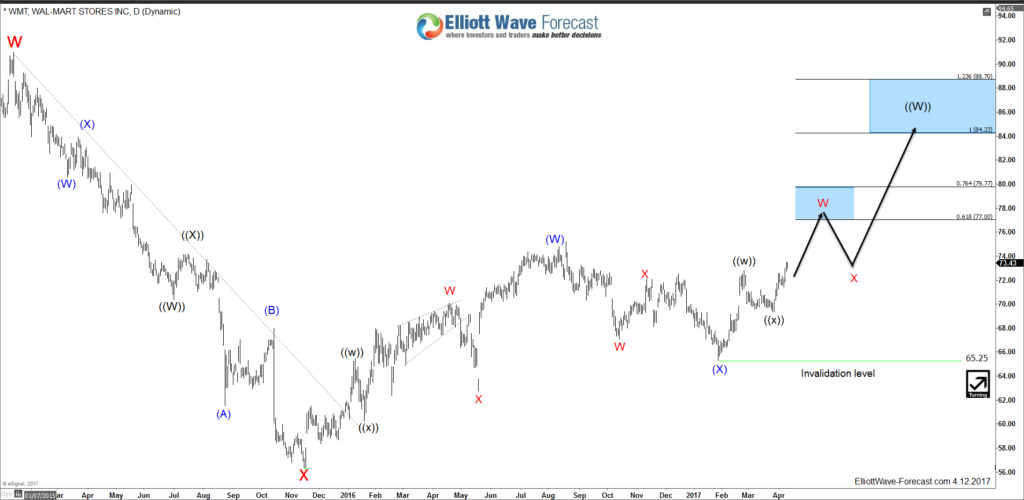 WMT established a low early this year at $65.25, from which it started a 7 swings structure move looking for a first target at equal legs area $76.62 – $78.61. From there the stock should pullback in 3 waves at least in red wave X  before resuming the move higher while holding above January 2017 low.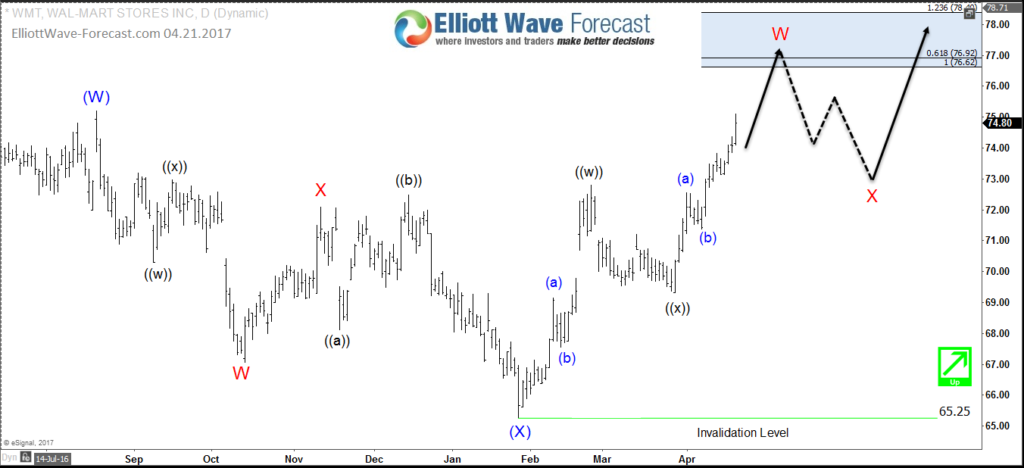 The stock doesn't need a large pullback and could keep extending higher forming a diagonal with the current leg as wave ((iii)). The surprise would happen if the current leg higher is wave B of a Flat structure  in wave (X) which means there will be a sharp 5 waves decline after ending the current leg higher.  But we don't call Flats against the main trend which remain bullish until the move happens.
Recap:
Walmart may not look as a good long term investment as it used to be but the technical bullish sequence is suggesting that WMT price will see more gains during the rest of 2017 as short term investors still believe in the company. So while this year's low is holding, corrective pullbacks will remain supported by the bulls.
---
For further information on how to trade forex, indices, commodities and stocks using Elliott Wave theory , take this opportunity and try our services 14 days for FREE . You will get access to our 52 instruments updated in 4 different time frames, Live Trading Room and 2 Live Analysis Session done by our Expert Analysts every day, 24 hour chat room support and much more.
Back