In an interview with CNBC last Thursday, President Trump indicated that he is not thrilled about interest rate hikes. He went on to say that he did not agree with the Fed's decision to keep raising the rate. Trump argued that the higher rate puts the U.S. at a disadvantage compared to the European Union and China. His remark suggests that he believes the rate disparity is one of the reasons for the big trade imbalance.
WATCH: President Trump lays into the Fed, telling CNBC that he's 'not thrilled' about interest rate hikes https://t.co/5JKBCYHe0g pic.twitter.com/0AJjOX7NbK

— CNBC Now (@CNBCnow) July 19, 2018
One day later on Friday, President Trump doubled down on his criticism of the Fed and global monetary policy in his tweet. He first accused the European Union and China of manipulating their currencies and interest rates lower to the detriment of the U.S.
China, the European Union and others have been manipulating their currencies and interest rates lower, while the U.S. is raising rates while the dollars gets stronger and stronger with each passing day – taking away our big competitive edge. As usual, not a level playing field…

— Donald J. Trump (@realDonaldTrump) July 20, 2018
He then attacked the Fed for tightening the monetary policy as it thwarts the economic recovery and everything he has done to level the playing field between the U.S. and other nations. The president thus looks to be lining up Fed Chairman Jerome Powell to be the fall guy if the president's trade and tax policies don't succeed.
….The United States should not be penalized because we are doing so well. Tightening now hurts all that we have done. The U.S. should be allowed to recapture what was lost due to illegal currency manipulation and BAD Trade Deals. Debt coming due & we are raising rates – Really?

— Donald J. Trump (@realDonaldTrump) July 20, 2018
Right after Trump's tweet, it was the US Dollar's turn to "drop like a rock". EURUSD soared from 1.1645 to 1.1722. USDJPY dropped from 112.45 to 111.72, while USDCAD collapsed from 1.325 to 1.311.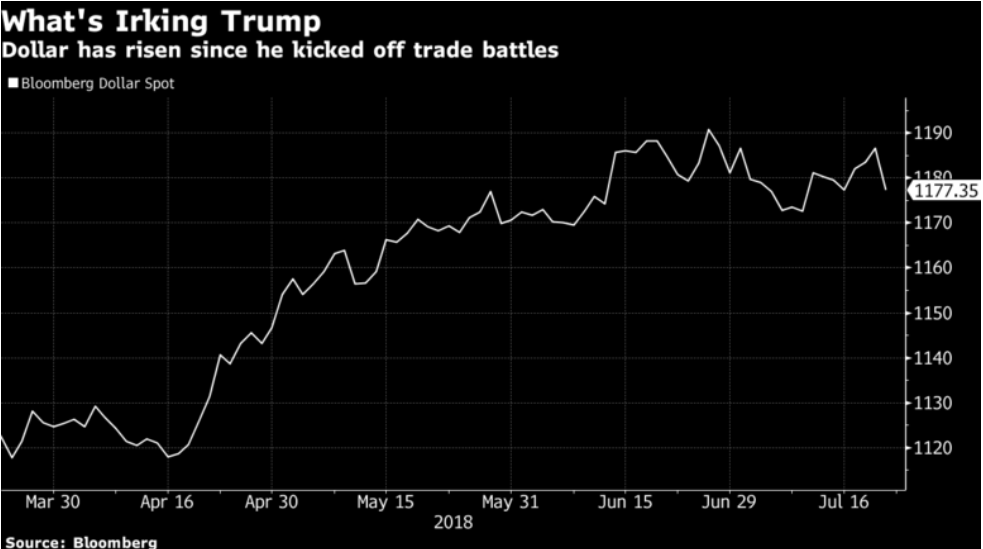 A White House aide however said that President Trump is aware of the Fed's independence. The Fed funds future market is currently pricing in an 89% chance of a September hike and 58% chance of a December hike.
Short Term Outlook for the US Dollar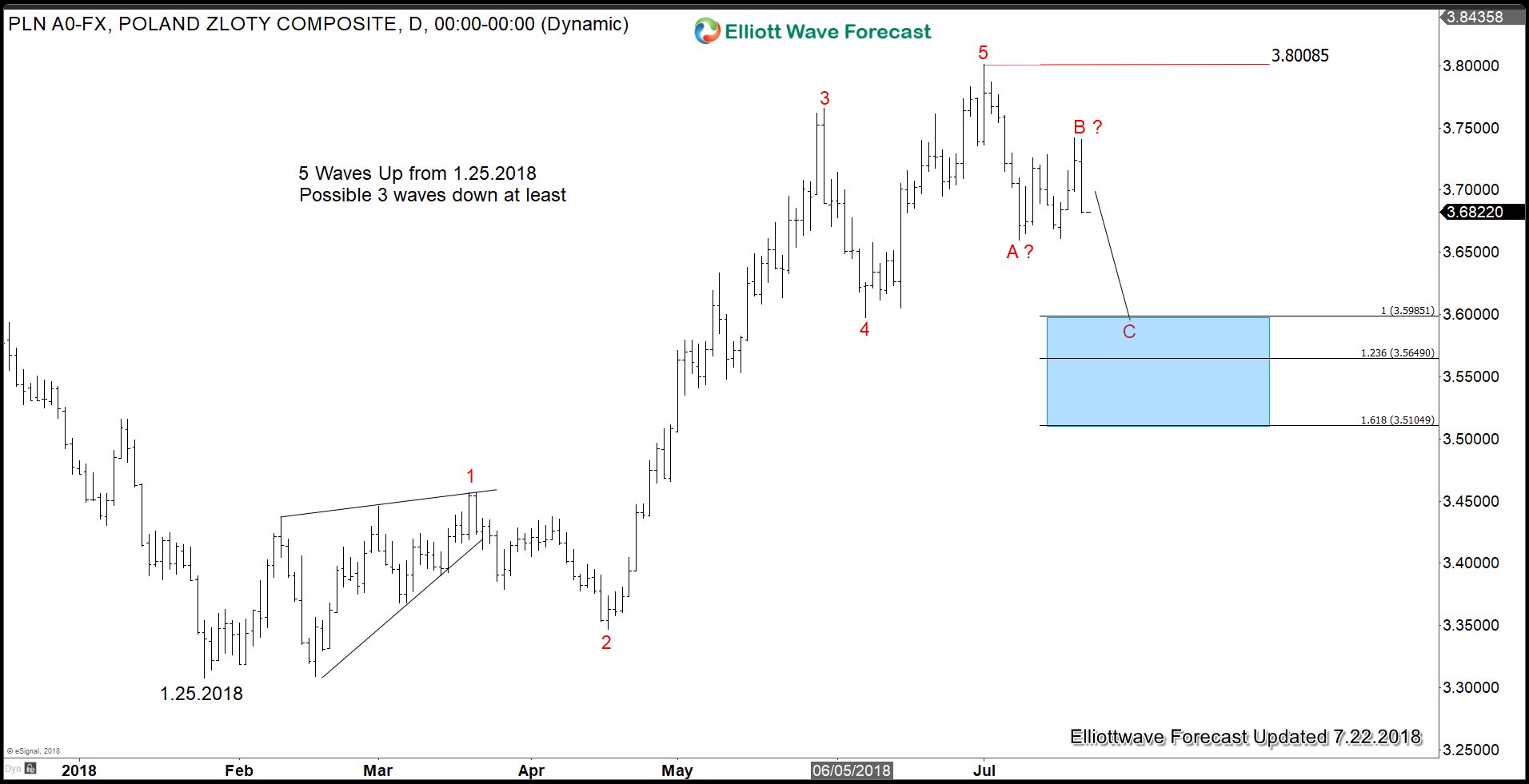 We use USDPLN (Poland's Zloty) as a proxy to tell us the direction of the US Dollar. The pair has a very strong correlation with U.S. Dollar Index (DXY) which makes it a good pair to analyze. The rally from 1.25.2018 low to 3.8 high appears to be taking the form of Elliott Wave Impulse. The correction so far seems to be missing another leg lower and the remark by President Trump may be the catalyst for the pair to see 1 more leg lower next week.
If pair breaks below wave A at 3.66 next week, then it should see more downside to 3.565 – 3.598. This should drive U.S. Dollar down across the board. We won't wait too long to see if we can get a short term follow up to the U. S. Dollar weakness next week. You can also watch this video analysis on the longer term U.S. Dollar view "Is U.S. Dollar About to Turn?"
To get the latest updates and forecast for 78 instrument (forex, commodities, and Index), feel free to take our 14 days FREE Trial. We provide Elliott Wave forecast in 4 time frames, live session, live trading room, 24 hour chat room, and more. Welcome to EWF.
Back