Short term Elliott wave view of USDPLN (Poland Zloty) suggests that the pair is on the verge of breaking above the 2.15.2017 high at 4.0883. Rally from 2.2.2017 low (3.9722) is unfolding as a double correction Elliott Wave structure where wave W ended at 4.0883 and wave X is proposed complete at 4.0352. Internal of wave W is unfolding as a zigzag Elliott wave structure where wave ((a)) ended at 4.0584, wave ((b)) ended at 4.0324, and wave ((c)) completed at 4.0883. Internal of wave X also unfolded as a zig zag where wave ((a)) ended at 4.057 and wave ((b)) ended at 4.0726, and wave ((c)) of X ended at 4.0352. Near term, while pair stays above 4.0584, expect pair to break above 2.15.2017 high (4.0883) and open further extension higher in the 15 minute cycle. This suggests that the US Dollar and USDX will remain supported in the short term and that we should see USD strength in the short term.
USDPLN  1 Hour chart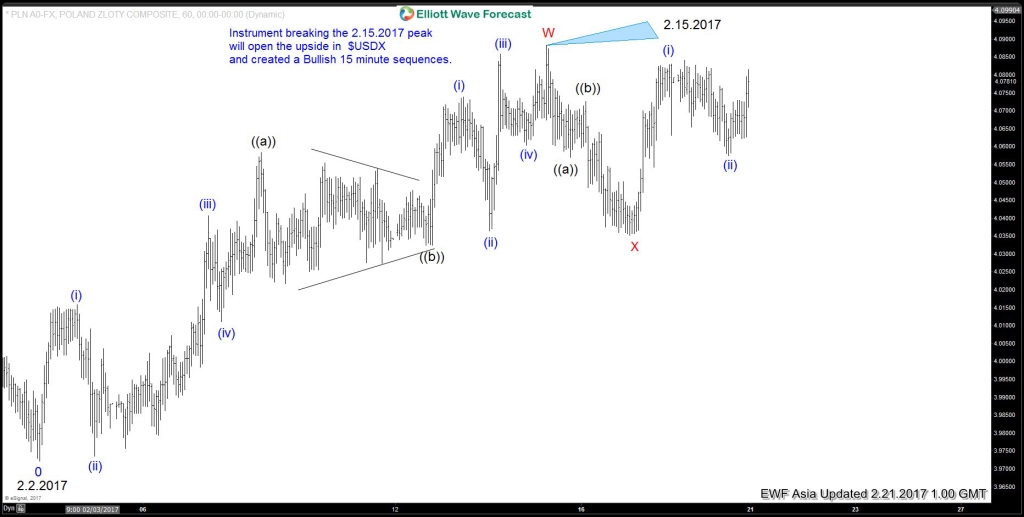 If you enjoyed this article, feel free to try our Free 14 day trial . we provide Elliott Wave charts in 4 different time frames, up to 4 times a day update in 1 hour chart, two live sessions by our expert analysts, 24 hour chat room moderated by our expert analysts, market overview, and much more! Try us out for Free 14 day trial & starts making profits with us.
Back