Revised Elliott Wave view in NZDUSD suggests the decline from 3/21 high (0.709) is unfolding as a leading diagonal Elliott Wave structure where Minute wave ((i)) ended at 0.6905, Minute wave ((ii)) ended at 0.7053, Minute wave ((iii)) ended at 0.6844, Minute wave ((iv)) ended at 0.6968. and Minute wave ((v)) of A ended at 0.6835. Pair is bouncing within Minor wave B to correct cycle from 3/21 high before the decline resumes. We don't like buying the proposed bounce and expect sellers to appear once wave X bounce is complete in 3, 7, or 11 swing provided that pivot at 3/21 high (0.709) remains intact.
NZDUSD 1 Hour Elliott Wave Chart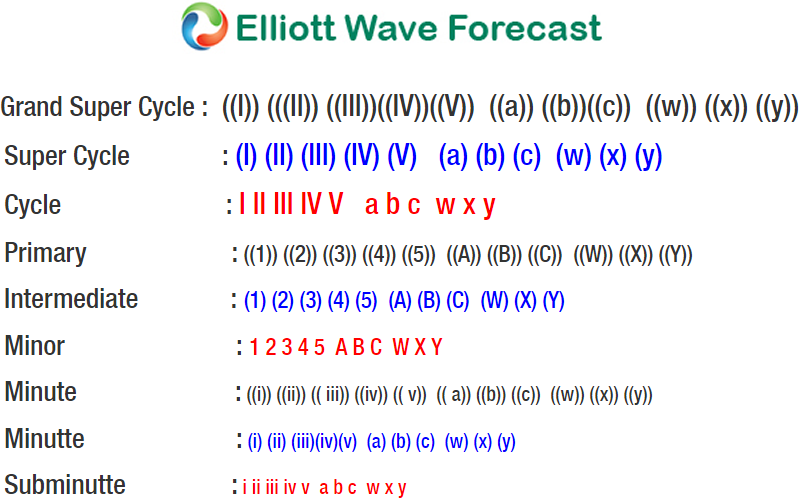 We provide precise forecasts with up-to-date analysis for 78 instruments. These include Forex, Commodities, World Indices, Stocks, ETFs and Bitcoin. Our clients also have immediate access to Market Overview, Sequences Report, 1 Hour, 4 Hour, Daily & Weekly Wave Counts. In addition, we also provide Daily & Weekend Technical Videos, Live Screen Sharing Sessions, Live Trading Rooms and Chat room where clients get live updates and answers to their questions. The guidance of ElliottWave-Forecast gives subscribers the wherewithal to position themselves for proper entry and exit in the markets. We believe our disciplined methodology and Right side system is pivotal for long-term success in trading.
Back