Summary
The months-long trade negotiation between the U.S and China has failed to reach an agreement.
Sticking points of the negotiation centers around intellectual property and technology transfer. The two sides can not come into agreement yet.
The U.S. has increased the tariffs and China has retaliated, effectively escalating the trade war.
One of the hardest casualties of this trade war from U.S side is U.S farmers. China has targeted them as they are Trump's political base supporters.
Soybean extended lower after the failure of the talk and made 10 year low. Elliott Wave outlook still looks for further downside.
In our previous article, we highlighted the risk of failure after the U.S. alleged China backtracking on their previously agreed positions. Trump followed through on his threat on raising tariffs after the breakdown in the negotiation. On Friday, the U.S. increased tariffs on $200 billion of Chinese goods. Then on Monday, China retaliated by raising tariffs on $60 billion of American goods in 5000 types of American products. China outlined their requirements for the trade deal to the state media.
There are three key demands by China:
Removal of all U.S. tariff.
Purchases of U.S goods needs to align with market demand.
Trade agreement should have balanced text to preserve sovereignty and dignity of China.
The sticking issue is on U.S. demand to China to pass a law to provide legal option for foreign companies in China. This is to give assistance when foreign companies are forced to transfer their technology or intellectual property. The Chinese though believes that passing such law at the request of foreign power is violation of its sovereignty. To Trump's team, it's one of the ways to enforce the deal and it won't remove tariffs until they see the laws in place.
Another issue is Trump administration's demand for China to buy goods more than they need. To meet the US $1.2 trillion of additional goods to China over six years, it will require major adjustment in global supply chain.
One of the biggest casualties in this trade war from U.S side is U.S. farmers. China has purposefully targeted the agriculture industry as that's where Trump's supporter base is. Last summer, after the Trump administration announced tariffs on Chinese goods, China lowered its commitment to buy 366,000 metric tons of U.S. soybeans for the 2018.  The value of soybeans exported to China from American dropped 75% from $12 billion in 2017 to only $3.1 billion in 2018. The price of a bushel of soybeans dropped more than 20% from $10.50 per bushel to $8.
With the current trade escalation, U.S. farmers are even more vulnerable. Soybean prices hit a 10-year low when markets opened on Monday. China did not levy any new tariff against U.S. soybean, but farmers have suffered since China applied 25% tariff last July. China has also said that it may stop purchasing U.S. agricultural products. With realistically no breakthrough in the near term, the pain may continue for a little longer  for U.S farmers. Technical outlook using Elliott Wave for Soybean also suggests that there is still more downside.
Soybean Elliott Wave Sequence Chart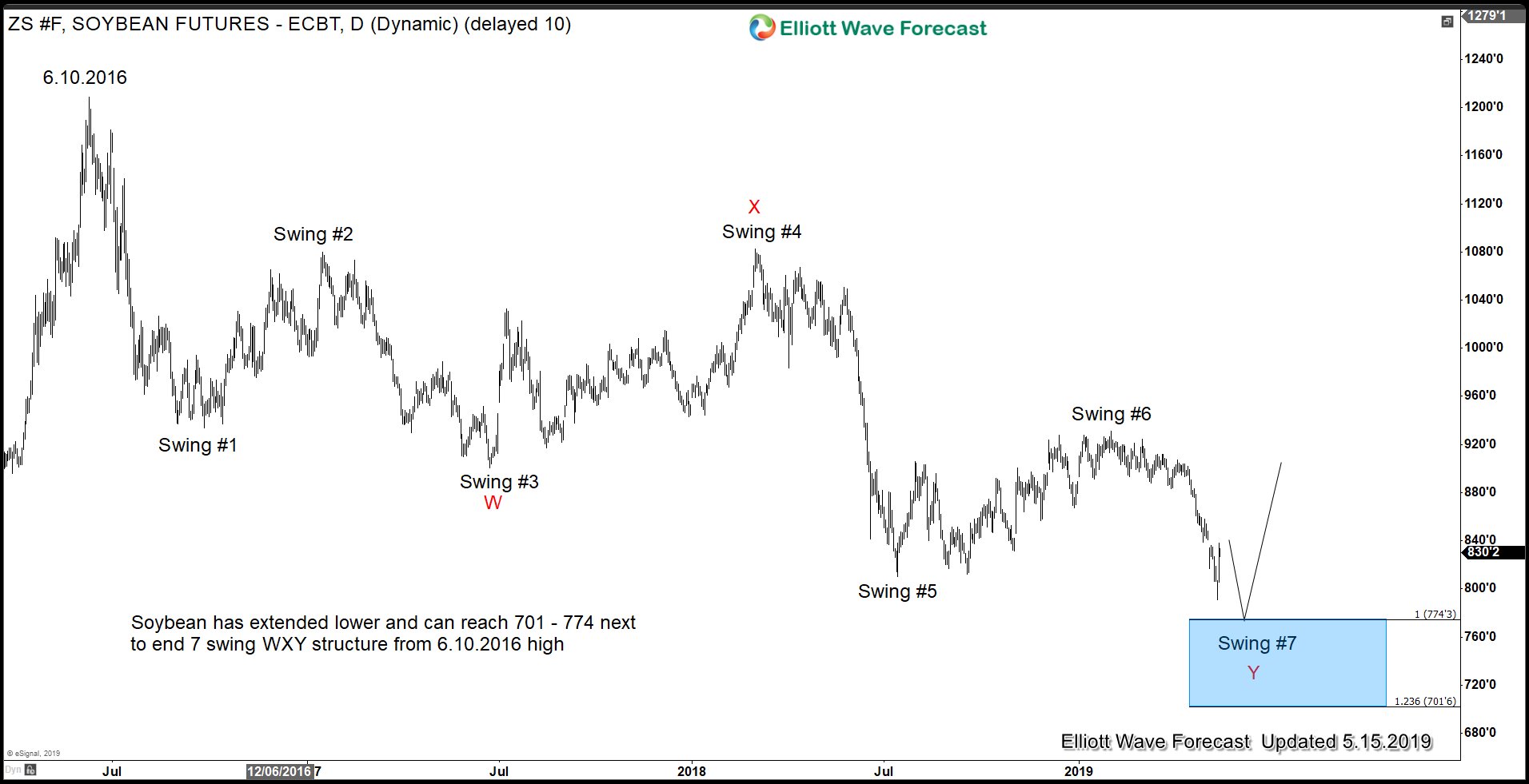 The Daily chart of Soybean above shows an incomplete 7 swing structure from June 10, 2016 high. A 100% area extension from June 2016 high can see Soybean reaching $7 – $7.74 per bushel.  With trade war still ongoing with no clear resolution, Soybean can see further extension lower to reach the target area. We understand that at current price, farmers are below the break even price, so at some points supply and demand imbalance will finally cause Soybean to rally.
Please note that market is dynamic and the view may have changed since the writing time of the article. For the latest update of 78 instrument, you are welcome to check our service with 14 days FREE Trial.
Back